U.S. Federal Shutdown Information
At this time, all of Utah's national parks, monuments and recreation areas remain open.
Learn more.
Family and Budget Guide to the One and Only Ski City: Salt Lake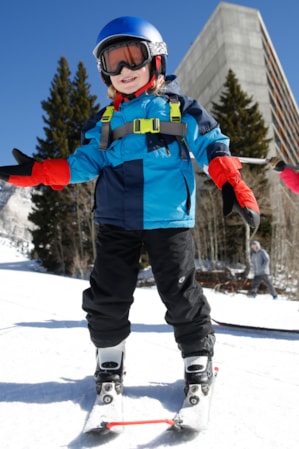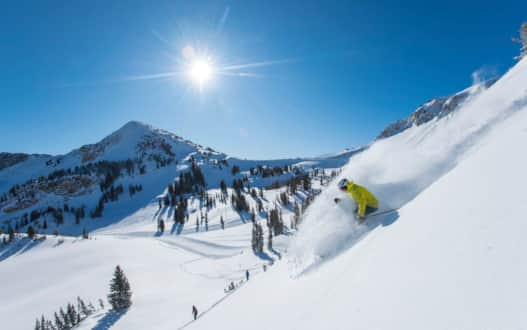 Alta: For Skiers Only
Alta is a skier's dream (no snowboarding allowed) that receives 550 inches of the fluffy white stuff per year on average. This powder skiing paradise offers challenging terrain as well as great beginner and intermediate skiing options with six lifts to access 116 runs. With a 2,538-foot vertical drop, you'll find plenty of elevation to get your laps in with a view you won't soon forget. Snowcat skiing is available in Grizzly Gulch Bowl and Nordic skiers can enjoy 5 km of groomed track for classic or skate skiing.

The resort offers ski-in/ski-out lodges, with packages that include breakfast and dinner, as well as fireplaces and cozy gathering spaces. Home and condo rentals are available with convenient shuttle service to the lifts. Up high on the mountain, your dining options range from hamburgers to white tablecloth options for a fancy night out, if you've included it in your budget. Check out Alta Lodge, Rustler Lodge and the Peruvian, among other Little Cottonwood Canyon-area lodges (Alta is adjacent to Snowbird Ski Resort). The least expensive options on the slope are typically dorm-style rooms or browse accommodations in the nearby Salt Lake Valley, below.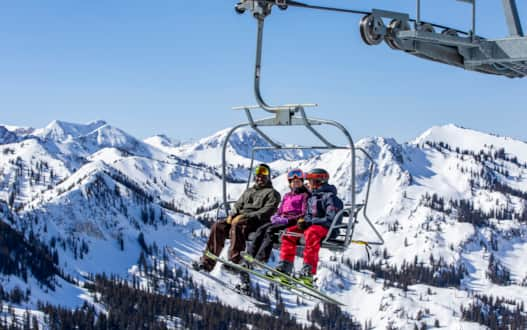 Brighton: Family-Friendly Resort
This family-friendly ski and snowboard area is a great place to learn the sport and many locals take their first laps at this resort. With mellow runs and a friendly attitude, this is one of the best family Salt Lake City skiing destinations in the area, frequently drawing younger skiers and snowboarders and families. The 66 runs are accessed from six different lifts and you'll enjoy 1,875 vertical feet of exploration. This resort shares a boundary with Solitude and you can access both resorts with the SOLBRIGHT Pass. The park and super pipe area has 40 rails and boxes, a booming sound system, and a 350-foot-long super pipe that's 15 feet deep to practice tricks and catch a little air.

Night skiing lets you explore after the sun goes down with 200 acres of lighted runs. Base area accommodation options include cabins and vacation home rentals, the 20-room Brighton Lodge where children under 10 stay free, Molly Green's Tavern and places to grab a burger and some nachos. Three miles down the road is the shuttle-served Silver Fork Lodge and Restaurant, Big Cottonwood Canyon's only bed and breakfast.
"Stay slopeside or rest your head in Salt Lake City proper — each option offers a huge number of perks."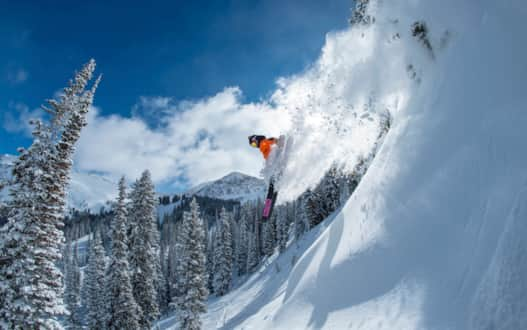 Snowbird: For the Adventurers
Absorb the extraordinary view as you take the Aerial Tram to the 11,000-foot top of Hidden Peak and enjoy the fast, steep and deep runs on Snowbird's legendary mountain. Carve wide-open bowls, fly down steep chutes and make your way through the mountain itself on North America's only ski tunnel — a 600-foot underground conveyor belt to access Mineral Basin. Don't worry, intermediate skiers and boarders will find plenty of mellow terrain here too.

And the snow sticks around for a long time — some years you can ski on the Fourth of July. The resort offers a 3,240-foot vertical drop with 168 runs, fairly evenly spread among between beginner, intermediate and expert terrain. Take a mountain tour, go snowcat skiing in the Upper American Fork Canyon, go snowshoeing, or take a snowmobile tour. With all of these options, there's something for everyone to create special memories to value for a lifetime. Condos and lodges are available to rent slopeside — including the Lodge at Snowbird, Inn at Snowbird and iconic Cliff Lodge — and mountain dining options including burgers, chili, pizza and salads.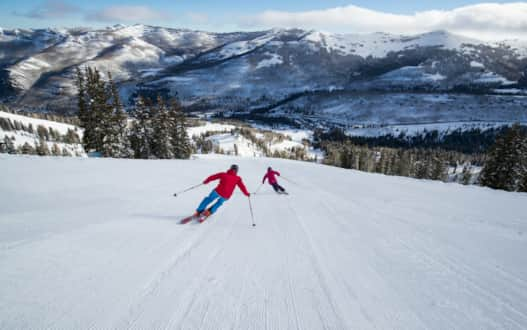 Solitude: Skiing, Snowshoe Trails, and Campfires
You can find peace and quiet at this 1,200-acre resort with 82 runs to explore. Enjoy eight lifts and a 2,494-foot vertical drop with six percent beginner runs, 43 percent intermediate, and 51 percent advanced/expert terrain. Spend some peaceful time on 10 km of snowshoe trails or cross-country skiing on 20 km of trails at the Nordic Center. Solitude was acquired by Alterra Mountain Company in 2018 and continues to maintain a whole European-style village of great accommodations and activities to explore.
"With big city, world-class amenities galore and 10 different resorts within an hour of Salt Lake City International Airport, a trip to Salt Lake City can satiate any skier's or snowboarder's bucket list."
Stay and Play Downtown
Salt Lake City offers over 150 hotels and a wide array of other lodging options, including home and condominium rentals. Stay slopeside or rest your head in Salt Lake City proper — each option offers a huge number of perks. Basically, along the I-15 corridor of Salt Lake County there exists a continuous stream of potential accommodations with balanced access to Ski City resorts or the Olympic Oval, described below. Or stick to downtown to enjoy an impressive performing arts portfolio, established breweries, a burgeoning craft cocktail scene and great cultural experiences. (Read: "Destination Ski City: Culture Élevé")
With public transportation to all four resorts you won't even have to worry about slick roads if you stay in town. Others prefer to stay slopeside to be first in the morning lift lines. The city is minutes away from the Wasatch Range and the options are endless. Between all the great places to stay you'll uncover dining options ranging from locally renowned taco carts in the Sears parking lot to an array of can't-miss sit-down dining, including a number of hot spots featured on Food Network's "Diners, Drive-Ins and Dives" (Read: "The Best Restaurants in Salt Lake City"). There's also a thriving performing arts scene, part of Salt Lake City's cultured amenities after dark and much of it is connected by TRAX, Salt Lake's light rail service. (Read: "Digging Salt Lake City for 48 Hours")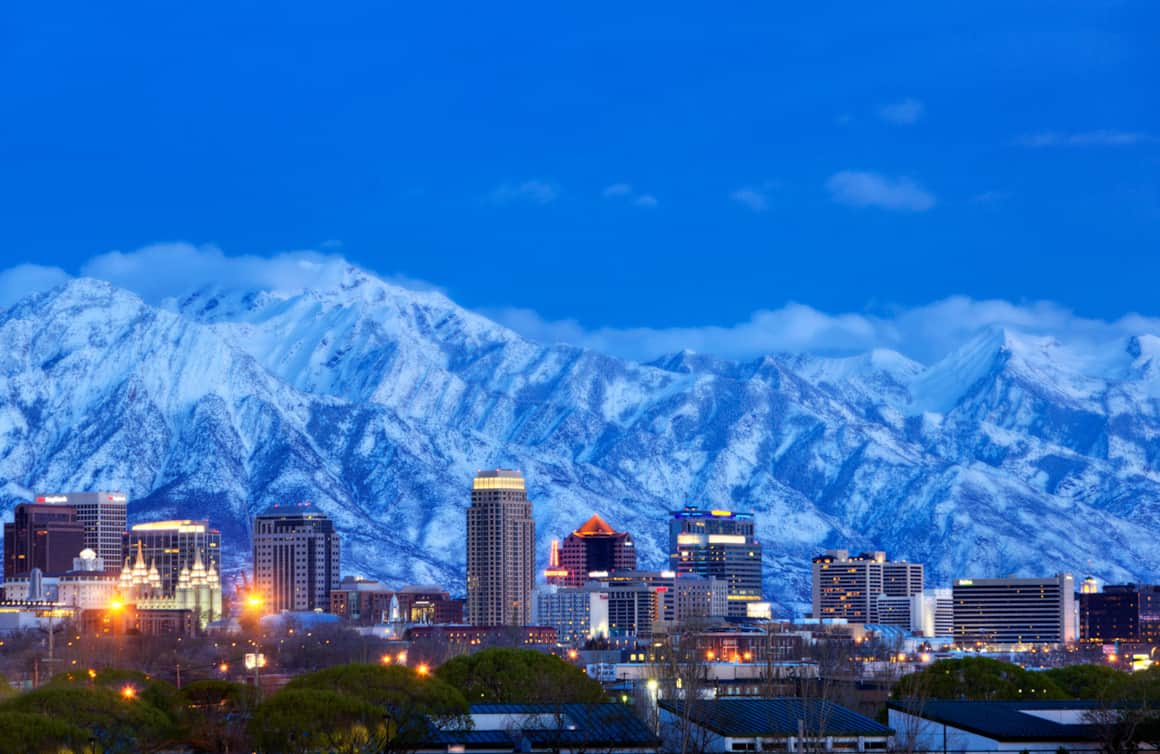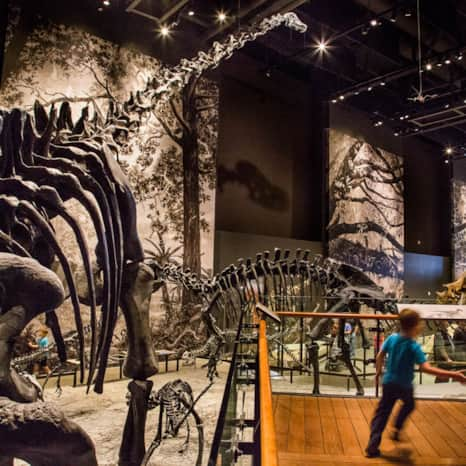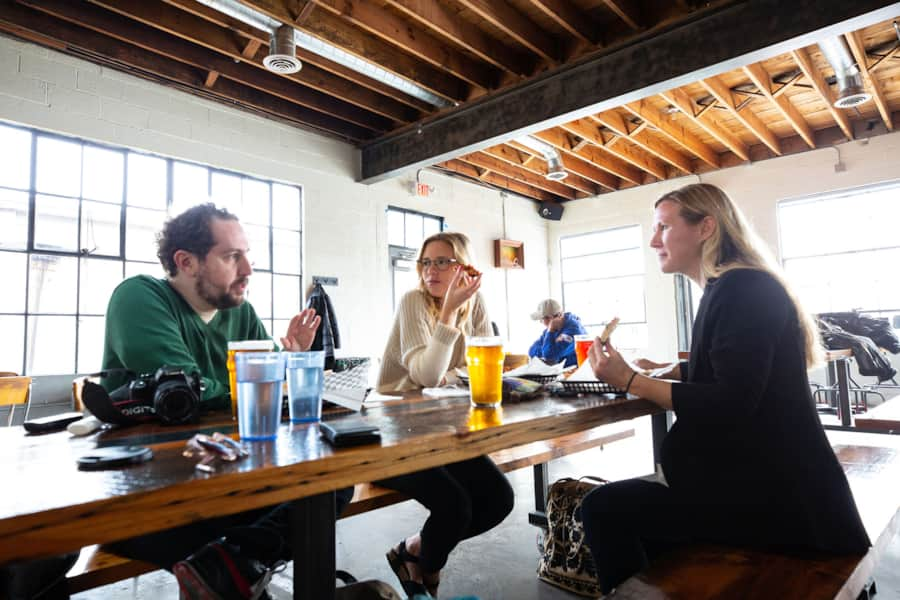 Don't Miss Ski City's Museums and Entertainment
In addition to Salt Lake City skiing, you'll find entertainment galore with world-class amenities and great options for the whole family.
Discounts and Deals
A big part of what makes Utah home of the best family ski resorts is its affordability: fourth, fifth or sixth graders are eligible to participate in the Ski Utah Passport program. For $69, these grade schoolers can ski or ride three days at each of Utah's 15 resorts. This offer isn't just for Utah-based families — all families can take advantage of this opportunity to ski The Greatest Snow On Earth®. See more beginner and kid ski deals.
The Salt Lake Ski Super Pass is your discounted lift ticket to Alta, Brighton, Snowbird, or Solitude — with some of the area's lowest prices for lift tickets at these four resorts.
Frequent skiers will love the Ski Utah Yeti Pass which allows access to all Utah resorts for less than you'd pay for a single season pass. This pass provides one ticket to each resort, which comes down to less than $50 per ticket — a great deal for frequent riders. Snag a transferable Ski Utah Gold Pass and share it with family and friends all season long. Seniors and military members can also receive reduced price passes at some Utah resorts.