Flood Safety
Due to record snowpack and high amounts of spring runoff, please be advised of potential flooding that could impact travel plans.
Learn more
Music of the Cottonwoods: High-Elevation Inspiration
Spring skiing, end-of-season parties and the inspiration of Salt Lake City's backyard mountains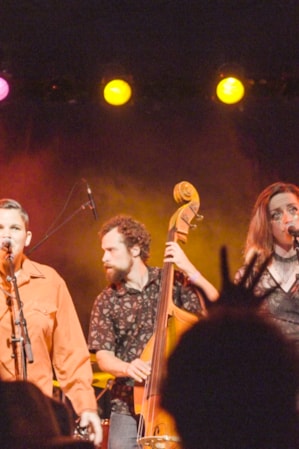 "Spring opens in the valleys with great suddenness, all is bloom and beauty below, whilst the snow line creeps lingeringly up the mountain side, and does not disappear till the middle of June ... behind us [rose] the massive forms of the Wasatch Mountains, robed in forests, mist-crowned, and showing a single streak of white, which entitles them to the poetical boast of eternal snow." — Sir Richard F. Burton
In 1860, Burton set foot in what was then called Great Salt Lake City and he recorded his visit in his, "The City of the Saints." What the British Renaissance man observed then remains true today, both poetically and, to an extent, in reality: Deep within the backyard canyons of the Wasatch Mountains, Salt Lake City's four ski resorts cradle deep pockets of snow throughout the spring and, some years, into early summer.
As rain falls in the valley in March, April and even May, locals know it can mean fresh powder in the mountains and will plan for an early start with some of the best skiing coming in the morning hours. As things warm up on the slopes, the base of the resorts come alive with the energy of spring skiing.
The energy spills off the slopes and infuses the canyons and valley floor with the renewing vigor of the changing season. Utah's evocative canyons inspire those fortunate enough to dwell in their presence. Local artists express their fortune in many forms, but there's something about the thaw of spring and late-season skiing that brings out the music.
"Just being able to ski and really appreciate nature," Talia Keys says, "It's affected how my music is written, how it's played and how I perform it."
And for Pixie and the Partygrass Boys, it's a mutually symbiotic relationship: "Call me superstitious, but I actually do believe that really good music with a little bit of intention behind it can shake loose a storm."
We may pray for snow, but we also play for snow.
"Really good music with a little bit of intention behind it can shake loose a storm."
Tips for Visiting Utah in the Spring
Springtime visitors to Utah have a couple of excellent options:
1) Plan a trip specifically for the skiing — many resorts offer discounted lodging options in March and April. Read the story: Skiing Served Warm
2) Plan a spring trip to take advantage of perfect valley weather for lower elevation cycling, hiking and golfing, then rent equipment for a quick dash up the canyon for a ski day. Some people like to ski and golf on the same day. The close proximity of Utah's ski resorts to the major cities of the Wasatch Front make this possible.
Beyond the outdoor adventure, Salt Lake's musicians also draw inspiration from the local food scene, from artisan cheese and chocolate to breweries and distilleries. Once you're ready to sit down for a meal, it's worth noting that Wine Enthusiast Magazine named Salt Lake City one of America's 5 New Foodie Cities in 2014, and things have only gotten better.