Another Day in Powadise
Citizens of Mountain Time: Cat driver Kevin Irons takes skiers to magical powder stashes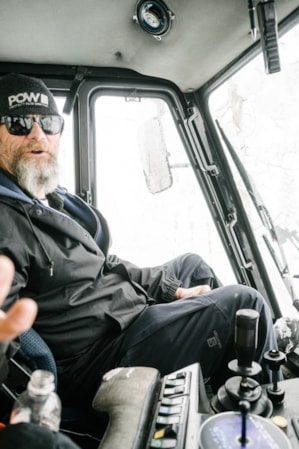 To-go pizza slices add a delicious perfume to the cab of Kevin Irons' ski cat.
"They only bring me lunch on powder days," he says with a laugh. "Everyone tries to butter you, you know."
A series of strong storms have left Powder Mountain with several feet of its namesake, and today is the first day that Lightning Ridge has opened since the heavy snowfall.
There is so much snow that ski patrol had to literally dig out a snowbank so it wouldn't obstruct a nearby lift's operation. Needless to say, the stoke is high, and the excitement is electrified on Lightning Ridge, an expansive mountain landscape home to little-tracked sidecountry skiing and riding.
Skiers and riders pile into Irons' bright yellow 15-person powdercat. A guttural hum breaks through the giddy chatter. Their ticket-to-ride gets them to the top of the ridge for access to indelible powder turns; Irons benefits with a delicious, gifted lunch.
"The most amazing thing is that there's hardly anyone here in relation to most other ski resorts."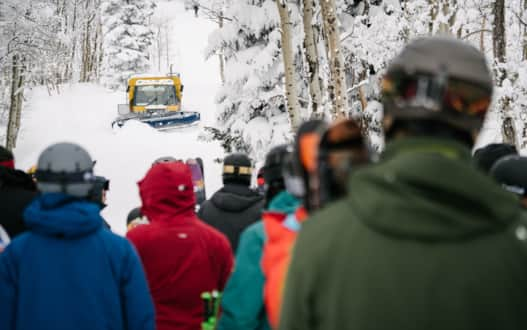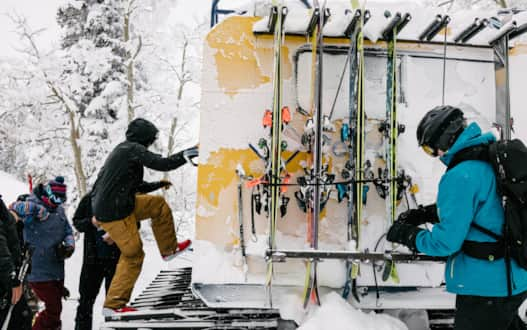 Lightning Ridge is one of Powder Mountain's three single-ride cat areas, which in total amount to 1,300-plus skiable acres. There's three more all-day reservation-based cat ski areas adding to the gigantion nature of the resort. The total skiable terrain here is staggering at 8,000 acres, making it one of America's largest ski resorts. And the most amazing thing is that there's hardly anyone here in relation to most other ski resorts.
This is Irons third year as the weekday Lightning Ridge cat driver, and his fourth year at Powder. "I fell in love with being up here and the laid-back vibe," he says. Irons definitely adds to that vibe as he motions a shaka sign — "hang loose" — to patrons before shutting the door and taking the powderhounds to Powder Mountain cat skiing Utah paradise.
The Ride Up
The beauty of the ski cat is that it takes patrons to places they can't access by lifts and that might be too arduous to trek to on foot. With advances in climbing technology, cat skiing now rivals heli-skiing in providing access to remote parts of the mountain and certainly surpasses it in price.
Irons' ski cat is similar in size and mechanics to the massive cats that groom the resort runs — with all-traction tires and tons of torque in the engine to get to where it wants — but this one has a big compartment for people transportation. On a busy day, Irons will lap Lightning Ridge about 40 times, delivering upwards to 350 people.
"I love that everyone is so excited on a powder day. They just get that huge smile on their faces," Irons says. What's behind that smile is knowing they might just get the turns of their life in about 15 minutes.
Since Irons works Monday through Friday, he takes his turns on the weekends. Even on Saturday, though, Powder Mountain is fairly calm — a mountain mostly for Ogdenites — so he nevertheless gets his powder fix.
Irons himself takes occasional laps on Lightning Ridge. He relates the irony of his first time out cat skiing Utah: As the ski cat was heading up the hill — with Irons in the back this time — it slid into a snowbank and got stuck. So on the route that he takes hundreds of people up every day, on his first trip as a patron, he had to walk up halfway. "Good thing it's a really pleasant hike," he says.
In fact, we pass a number of hikers who didn't want to pay the $20 (with a season pass) or $25 (with a lift pass) add-on price for the single-ride cat. But inside the ski cat, it's filled to the brim with happy folk. The sticker-laden windows are foggy as people chat amongst themselves about their route. Most everyone is embarking on what locals call a "super loop."
"Cat skiing can seem steep, deep, and scary to some who fear it's only for pro-level skiers. But Powder Mountain offers mixed terrain from its three single-ride cats ... It's an accessible adventure for almost everyone."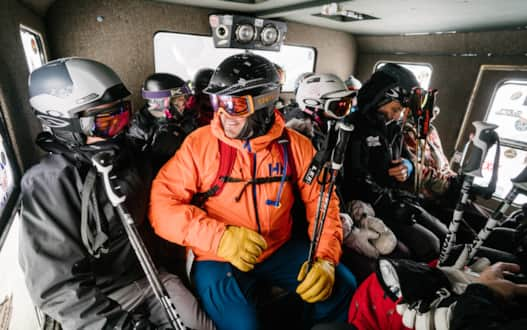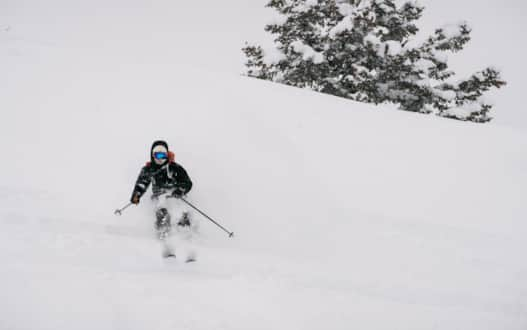 The Run Down
An interesting aspect of Powder Mountain is that it's a top-down resort, where you drive to the top and ski down to the lifts. With so much skiable terrain, there are only nine lifts, though so skiers and riders get to choose their own adventure to get around the mountain, which can take quite awhile.
Most people will begin piecing together a two-hour super loop by taking Sundown Lift and skiing to the Lightning Ridge pickup. Then, they'll take the cat to the drop-off and ski down the ridge. Most of these runs funnel to Paradise Lift. Then, it gets option-filled, where a skier will negotiate the mountain and, potentially a bus ride, all the while stopping for lunch and making their way back to Lightning Ridge. Two super loops over variable terrain are often enough before calling it in for the day.
Snowcat skiing Utah can seem steep, deep and scary to some who fear it's only for pro-level skiers. But Powder Mountain offers mixed terrain from its three single-ride cats, from intermediate-level glades to black diamond tree skiing to expert-level chutes. It's an accessible adventure that gives almost everyone an opportunity to ski Powder Mountain.
A few patrons ask for tips on where to drop in, and Irons happily obliges. They're appreciative of the advice and quickly buckle into their bindings before heading down the mountain. "Even though I drive the same route every day, it's always different and it's always a joy to be up here," Irons says.
Irons doesn't see himself going anywhere else anytime soon. "I want to work here in any capacity as long as I can," he says. Once you find powadise, you obviously never want to leave.
Meet More Citizens of Mountain Time
No matter your itinerary, there are people — and dogs — enhancing your More Mountain Time™ with their skill, passion and shared love for this incredible place. These people are your friends, and not only because they groom the trails, truck you to powder stashes or help you pair a wine with your meal. They truly care. They are the Citizens of Mountain Time.