COVID-19 Travel
Please adhere to local guidelines for safe and responsible travel, including following the statewide mask mandate.
Read more
Q. Is skiing safe during the COVID-19 pandemic?
Skiing and snowboarding, as activities, carry inherent risks that are spelled out on the waivers printed on the backs of every resort's lift ticket, but resorts and guests attempt to reduce those risks by taking precautions and acting responsibly. The same applies during the COVID-19 pandemic, where the risks center on avoiding spread of the virus among people. This is done by, among other things: wearing masks and face coverings, being outdoors, limiting groups and reducing contact among people. Masks, required by all Utah resorts and many surrounding counties to reduce the spread of the virus, are common already when skiing to keep warm. So, pack a mask to make your ski trip comfortable and keep you and others healthy. On the resort side, all have implemented proscriptions and protocols from lift lines and chairs to restaurants and moved more amenities outdoors or online to reduce congestion among guests (which might be a noticeable improvement in some places). Some of these involve online reservations for lift tickets or parking, so check resort websites for information and updates. Consult our COVID-19 Utah traveler resources for more information, and learn more about planning your ski trip during COVID-19 pandemic.
Q. What should I pack?
Let's start with the basics: clothing. It's all about layers that you can mix and match with increase in activity, especially insulating, breathable base and mid-layers leading to quality waterproof top layers.
For a ski vacation, you want plenty of snow and that's what you're bound to get. While you can easily rent some items, or buy other necessities, it's always helpful to have a system to plan ahead and pack wisely. That way, when you realize you've forgotten something, it's less likely to derail the trip. Read How to Pack for a Family Snow and Ski Trip in Utah for more winter travel tips.
Now what about gear? Since Utah boasts uniquely velvety powder conditions that you're not likely to find anywhere else, the right skis will make a difference — and renting ski gear is always an option. Your choice also has a lot do with where you want to ski.
Read our Ski Gear Expert advice for helpful ideas as you plan ahead.
If you're heading to a Southern Utah winter destination, the arid, high-elevation climate means long stretches of sunshine with chilly evenings and occasional snowfall. Read our Stay Warm in Southern Utah guide to assure that you have the essentials for your winter vacation.
Q. How do I drive safely in the snow?
There are a few things you should know about driving in the snow, whether you're driving in your own vehicle or renting a car. Here are a few tips to get you started:
A safe trip begins with clearing all snow and ice off your car before driving, including mirrors, headlights and signals.
Drive carefully, putting more distance between you and others and avoiding quick maneuvers.
Slow down in inclement weather: The posted speed limit is for dry, ideal conditions.
Four-wheel drive or all-wheel drive are helpful, but not foolproof.
Learn more about winter driving in Utah and stay up to date with road conditions and weather.
Utah's Highway Patrol maintains a helpful web resource at utahwinterdriving.org.
Q. When's the best time to ski?
There's no shame in trying to plan for powder. While there's no way to demand fluffy white goodness be sent from the heavens on any given weekend, Utah resorts average 500 inches of snowfall per year. Compared to other U.S. ski destinations you already have a much better chance of satisfying your snow craving by focusing on Utah. December to April are the prime ski months with March typically achieving the highest averages at 100 inches.
If you're the kind of traveler that makes your decisions based on fun facts, January 13 is known as the golden winter day on Utah's Wasatch Front. According to historical data this day has the highest likelihood of receiving snowfall over any other winter day.
Keep an eye on affordable airfare and pick the resort that best fits your ski style. (See "Which resort is right for me?" below.) If you're traveling from within driving distance, you can keep an eye on current skiing conditions. You can even download the OpenSnow app for immediate updates or view live webcams on the mountains.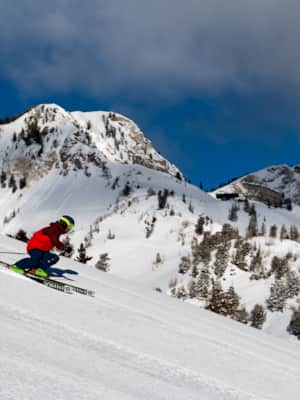 When to Ski and Eat and Play in Utah
From Thanksgiving to Memorial Day, travelers come to Utah to enjoy all that Mountain Time offers, but when is the best to time visit? The answer is: OFTEN!
Q. Where should I stay?
Utah offers you your choice of a big city ski vacation or a mountain escape to Park City and beyond. Even better, it offers you the chance to try out both ski experiences in one trip. There are 10 resorts less than one hour from Salt Lake City aka "Ski City" (now that's easy access), as well as boutique and family-oriented resorts of Northern Utah and Southern Utah. Use our budget and luxury Salt Lake City guides, or our Ogden and Park City quick guides to get you started.
Q. What should I know about Utah's liquor laws?
Do you meet the legal drinking age? Do you have legal ID? Then you won't have a problem getting a drink in Utah just like any other state. You may get asked to show your ID no matter your age, so be prepared. While the state has wrestled with unusual drinking laws in the past, these days things are pretty simple. For complete information, visit the Utah Department of Alcoholic Beverage Control's website and FAQs, but here are a few notes:
It is important to notice that places licensed as "Bars" are strictly 21-and-over establishments and you are not required to order food. Places licensed as "Restaurants" require patrons to order food with consumption of alcohol.
Packaged liquor, wine and beer over 5% must be purchased from a Utah state liquor store or a package agency. This isn't a problem since Utah offers 44 state stores (including three specialty wine stores) and 111 smaller package agencies. These can also be purchased at bars, but are not available at grocery or convenience stories. Find a nearby store or package agency
Public consumption is typically restricted, and drinking and driving don't mix. Utah's DUI limit is 0.05%. Drivers and passengers are not allowed to have open containers in the vehicle.
Now that we've settled that, check out our 11 Après-Ski Spots From Slopeside to Downtown Salt Lake (Ski City) or if you're interested in digging a little deeper, read our Utah Spirits Tour about four Beehive State distilleries on the rise.
Q. Should I try out ski lessons?
Lessons are great for first-timers and skiers and snowboarders looking to refine their skills. You'll see people ranging from age 2–60+ learning the ropes with talented ski instructors at Utah's resorts. Lessons can be private or customizable, and some ski schools have adaptive lessons for people of all abilities and their families. View the complete list of ski schools.
January, known as Learn to Ski & Snowboard month, is a particularly great month to try out lessons and many resorts over great discounts. Learn more.
Still not convinced? Even if you've been skiing or riding every season since you were a kid in ski school, there are benefits to hiring an instructor or joining a group when you're visiting a mountain or region that's new to you. Learn how to Up Your Game for Utah's Downhill or find out why locals recommend ski school.
Q. Which resort is right for me?
A lot of decisions play a role in picking out the right resort for your vacation. A good starting point is to decide on your ideal base camp. Do you want to get to know historic and lively Ogden? Or the quaint-meets-luxurious Park City? Does the allure of Salt Lake City being not a ski town, but a ski city capture your imagination? Or does the rustic charm of Robert Redford's Provo-area resort appeal?
If you're looking for something off the beaten path, resorts in Northern Utah (Cherry Peak and Beaver Mountain) or Southern Utah (Eagle Point or Brian Head) are unique and memorable.
And, of course, if you're looking to snowboard, cross Alta Ski Area and Deer Valley Resort off your list, as they are ski-only resorts. To help you decide, read the overviews of each of our 15 resorts, or search our inspiration archives for top luxury ski opportunities, adventure-packed experiences, family-friendly activities and backcountry offerings.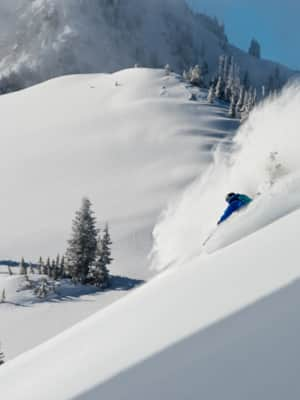 Utah Resort Roundup: What Kind of Vacation do I Want?
Wondering where to ski in Utah? The real question is, "What kind of experience do you want?" Get helpful information on ski areas, resorts, activities and more.