Camping in Northern Utah
Antelope Island State Park

Antelope Island is actually a peninsula that juts out into the Great Salt Lake just west of Salt Lake City. There, Antelope Island State Park features four different campgrounds to explore: Bridger Bay, White Rock, Lakeside and Ladyfinger. Ladyfinger is a hike-in spot about 100 yards from the parking lot, while the other three are open for RVs and car camping. You'll find flush toilets at Bridger Bay, the rest have pit toilets. The island is well known for its wildlife, including bighorn sheep, mule deer, pronghorn antelope and one of the largest free-roaming bison herds in the country.

Bear Lake State Park

Another unique Utah gem, Bear Lake is a 20-mile long natural lake, with the northern half located in Idaho and the southern half in Utah. The incredible turquoise color, which comes from calcium carbonate deposits, led to its nickname as the "Caribbean of the Rockies." It's also a prime spot for watersports and hiking in the nearby mountains. Campers will find that Bear Lake State Park serves as a great basecamp to explore it all.

Big Cottonwood Canyon

The Spruces and Redman campgrounds in Big Cottonwood Canyon are two great options near Salt Lake City. Both offer excellent access to hiking, mountain biking and fishing. While RV camping is permitted at both, there are no electrical, water or sewage hookups. All of the sites offer campfire rings and picnic tables, and visitors have access to flush toilets and drinking water. Spruces also has charcoal grills at each site, and the campground features a baseball field, volleyball court and horseshoe pit. Redman — located next to the Solitude Ski Resort at an elevation of 8,300 feet — is a smaller, less crowded camping option. Because Big Cottonwood Canyon is part of the Salt Lake City watershed, no pets are permitted at either campground.

Dinosaur National Monument

The name says it all about this area in northeastern Utah that's known for its abundance of fossils. Located on the border of Utah and Colorado, the national monument is filled with hiking trails and scenic drives to see the rugged, one-of-a-kind terrain. Tour the dinosaur quarry to get an up-close look at the fossils. But you can also spend time biking and whitewater river running. You'll find six different campgrounds here, with more than 120 sites.

Flaming Gorge

The Flaming Gorge National Recreation Area features some of the best water sports in the state. The Flaming Gorge Reservoir covers more than 42,000 acres, and the 70-degree water temperature in the summer makes it the perfect spot for water skiing, wakeboarding and jet skiing. It's also become an increasingly popular spot for kayaking and stand-up paddleboarding. Anglers will find some of the country's best fishing here and on the Green River for several miles beyond the dam. The recreation area is home to 43 different campgrounds and more than 700 individual campsites.

Little Cottonwood Canyon

While Salt Lake City is known for its urban amenities, you can still find plenty of excellent camping within a short drive. The Albion Basin Campground in Little Cottonwood Canyon (near the Alta Ski Area) offers excellent access to hiking, fishing, mountain biking and rock climbing. Check out the stunning wildflowers in late July and August. Snowbird Resort, located just a few miles away from Albion Basin, offers scenic tram rides, zip lines and an Alpine slide to enjoy — plus lift-accessed mountain bike trails.

Uinta Mountains

This is one of the few U.S. mountain ranges that runs east to west, and it's famous for its top-notch backpacking. You'll find massive stands of pines leading to alpine basins and cirques. Small lakes generously dot the backcountry, and fishing in the High Uintas is lightning fast at times for those willing to venture into the backcountry. There are more than 500 lakes in this alpine mountain range that are managed for fishing. Climbing Kings Peak (the highest in Utah at 13,534 feet) and Bald Mountain (at 11,947 feet) are both popular alpine routes. You'll find endless camping opportunities in the Uinta-Wasatch-Cache National Forest, including cabins, campgrounds and dispersed camping.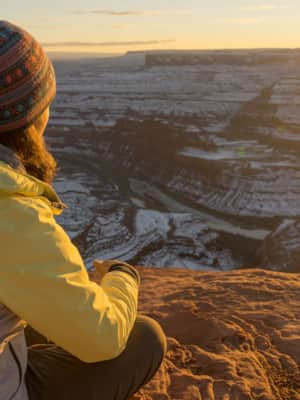 Winter Camping
As temperatures drop and the days get shorter, planning a winter camping trip may sound daunting, but a little extra preparation goes a long way and pays off in the form of finding solace in the desert landscape.