Dog-Friendly Utah: The Road to Mighty
The Best Monuments, State Parks and Open Lands for Dogs on Utah's Road to Mighty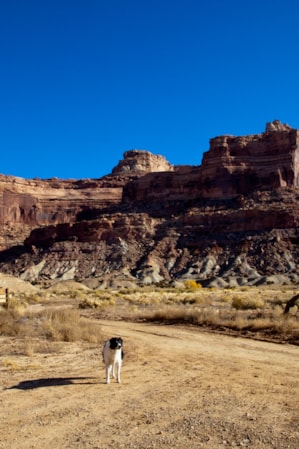 Discovering the great outdoors is twice as fun with dogs. Their unbridled enthusiasm for something new, or even the same old thing, gives humans the encouragement to let go of our expectations and merely experience something as it's happening. So, when traveling in Utah with your furry best friend, why not pick spots that you'll both enjoy? While Utah's national parks have only a few places to take your four-legged friend, the Road to Mighty features monuments, parks, forest and BLM land perfect for stretching those doggie legs. Here are some of the best destinations for dog lovers in Central and Southern Utah. Please note, many popular trails where dogs are permitted still require dogs to be on-leash. Check locally and at trailheads for more information. Be courteous to other visitors — excessive barking or overly zealous greetings by their buddies will not be welcome by everyone.
Southeastern Utah (Near Arches and Canyonlands national parks)
Moab Area
The Moab area has a wealth of pet-friendly trails on the public lands surrounding the national parks, from cool stream-side hikes to spectacular sandstone arches. Start off with a jaunt along the Grandstaff Trail (aka Negro Bill Canyon), named after one of Moab's first settlers. There are several stream crossings on the way to Morning Glory Natural Bridge.
Another water-rich hike is at Mary Jane Canyon and Professor Creek, which goes up an active streambed into a canyon that grows deeper and narrower before the hike's turnaround, a double-spouted waterfall. Pups who love water (and mud), will enjoy this path—and you'll both be thankful to be walking in cool water on sunny summer days.
In the Manti-La Sal National Forest, no trails are off limits for outdoor people with their dogs. The canine policy is for dogs to be on leash, especially in campgrounds and around wildlife (there are black bears in this region) and grazing livestock. When you have a wealth of choices, it's sometimes hard to know where to start, so begin by checking out the 5.1-mile Warner Lake/Beaver Basin Trail, 2.2-mile Clark Lake Trail (which passes by the fun-to-say Oowah Lake), or the new 3-mile (round-trip) Gold Knob Trail with spectacular views.
Pets are allowed on leash at Dead Horse Point State Park except on the Intrepid Mountain Biking Trails, in the yurts, or left in vehicles.
Green River Area
The San Rafael Swell contains wild land with streams cutting through slot canyons, and towering pinnacles rising from the desert floor. And while it has sights that can be seen in some of the national parks, the Swell is managed by the BLM, which means it's less crowded and ideal for those who want to bring their best canine friend along.
The area has many great hiking trails for dogs, including: Little Grand Canyon (Good Water Rim), Black Dragon Canyon, Wild Horse Creek, Chute and Crack Canyon, Eardley Canyon to the Amazing Pool, Ernie Canyon, Old Woman Wash, Iron Wash, Mexican Mountain Airstrip, and Five Hole Arch. The Chute of Muddy Creek, true to its name, is in water the majority of the time so if your dog is a little water shy, consider choosing another trail. Many of the other popular hikes are slot canyons, which can be difficult for pets, so they're not recommended.
Monticello Area
Arch Canyon, a 12-mile-long box canyon, has beautiful red-rock walls and several arches. While you're hiking, look along the canyon walls for hanging gardens, where cliff dwellings can also be spotted. Dogs won't care so much about that part, but they can accidentally damage sacred and delicate sites, so keep an eye on your pup.
Dogs are allowed on trails and in the campground at Hovenweep National Monument. You must have them on a leash at all times and dispose of their waste properly. Pets should not be left unattended in vehicles. Dogs are not permitted on the trails at Natural Bridges National Monument, however.
The pup may travel with you on the self-drive tour of Monument Valley Navajo Tribal Park, but you'll miss the closer look that a guided tour offers. TripAdvisor users recommended keeping a close eye on dogs, especially small breeds, as semi-feral dogs and coyotes may be present.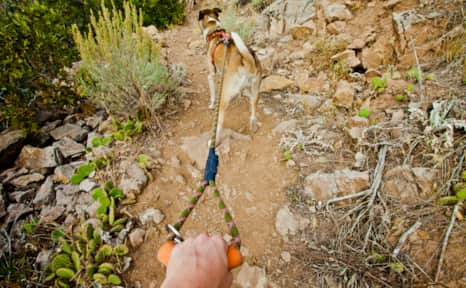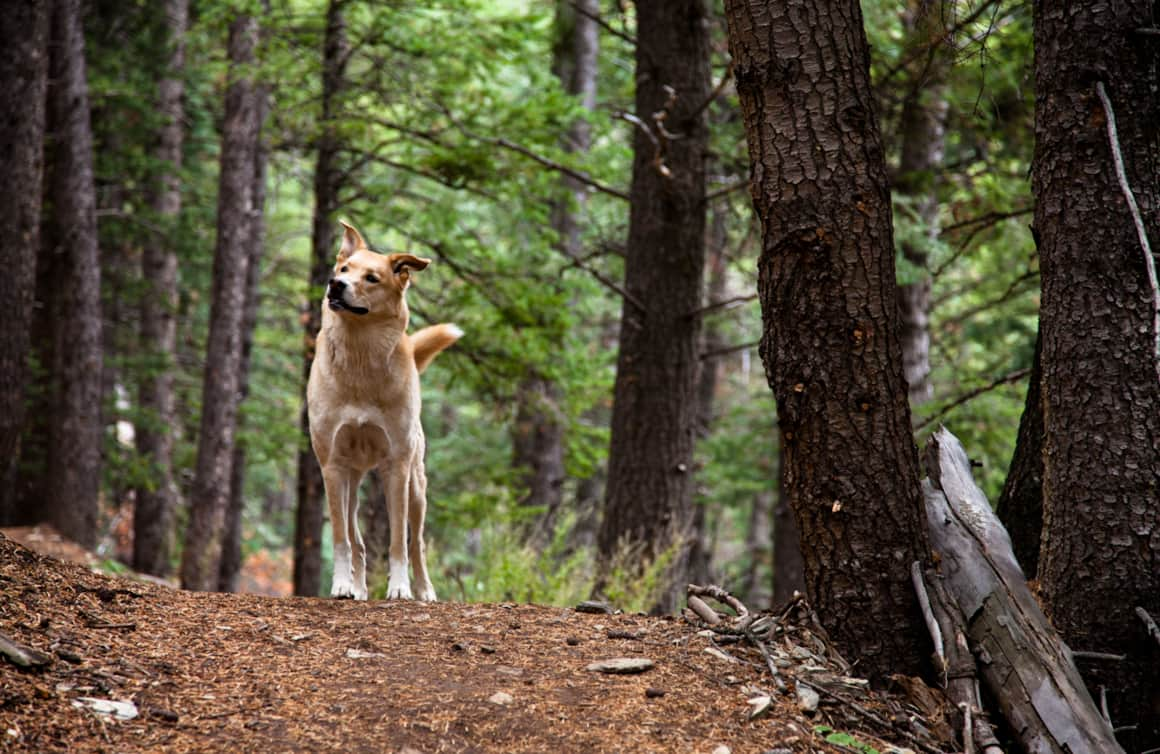 Southwestern Utah (near Bryce Canyon and Zion national parks)
Cedar City and St. George Area
Three Peaks Recreation Area is a multi-use area that provides a variety of recreation opportunities for people traveling with and without pets. Hiking opportunities with varied terrain are scattered throughout the area, including Rocky Peak Trail, which leads to the top of one of the peaks in the area. While this is BLM land and dogs are invited to walk with their people while off leash, there have been reports of traps that dogs can get caught in, so either leash your pet or watch it closely on your adventures.
All the trails in the Dixie National Forest are pet friendly, as long as you keep them on leash. Some favorite trails are the Bristlecone Pine Trail (these trees can live to be thousands of years old), Duck Creek and Aspen Mirror Pond Trails (flat trails on the shores of alpine lakes), and Cascade Falls (on the Markagunt Plateau, the source for the falls is Navajo Lake).
This stretch of the Dixie National Forest is just north of Zion National Park, but has considerably fewer visitors.
Note: Dogs are not permitted on the popular Kanarraville Falls trail.
There are four beautiful state parks in the St. George area including three reservoirs and the iconic red rock of Snow Canyon. At Snow Canyon, dogs are allowed on-leash around the campground, and on the Whiptail Trail and the West Canyon Rim Trail only. Pets are generally welcome at Quail Creek, Sand Hollow and Gunlock, however, they must be on a maximum six foot leash and not left unattended. Pets are not allowed in buildings, on beaches, or in the lakes or reservoirs.
Cannonville Area
Try to resist singing the Simon & Garfunkel song when you and your dog pal wander the trails of Kodachrome Basin State Park, named for the popular color film. Remember that dogs always need to be on leash in state parks, but hit the Angels' Palace Trail (a 1.5-mile trail with red rock hoodoos and beautiful views) or the Shakespeare Arch – Sentinel Trail (with the only large natural arch within the park) for the best experience.
If you'd rather let your well-behaved dog run free (within reason), choose the Grand Staircase–Escalante National Monument, where your pal can do just that—with a few exceptions. Hiking trails are plentiful, with distances ranging from 0.1 mile to 20.5 miles. The only places you need to keep fluffy on a leash are Lower Calf Creek Falls Trail and within Glen Canyon National Recreation Area. Dogs are banned from Coyote Gulch. Otherwise, have at it and have fun.
Park Pet Tips
Some of the simplest tips for bringing your dog to parks and wilderness are often overlooked. You and your pup want to have a great time, and you also want to make sure other visitors are, too. Bring a leash, as well as bags to pick up after your pet (and dispose of solid waste in appropriate containers). Not all water sources are good for drinking, which is a good reason for you to bring water for both you and your pet. Good etiquette also means that humans should consider that excessive barking or overly zealous greetings by their buddies will not be welcome by everyone.
Dogs must be on-leash in Utah parks. Owners let dogs run free in many areas of national forest and BLM land, though not in campgrounds. Regardless, chasing wildlife is both a danger to the pet and owner, but stresses wildlife and could endanger the animals. Dogs can bring wildlife back to their owner when they return, which may threaten the owner with a wildlife encounter. Keep your dog leashed if you're not sure, especially if the terrain is new or your dog is not under your vocal control.
If you're visiting a park during the warm months and want to hit a trail where your pal isn't allowed, keep in mind that car temperatures rise very quickly in the sun, even with windows cracked, and even on days that seem to be cool and overcast, leading to heat exhaustion and possible death. It is best not to leave pets in vehicles. Plan for a doggy daycare where your pup will have a great time and not be in danger of overheating.
Central Utah
Richfield Area
Fishermen who love to travel with their dogs love Otter Creek State Park, where there's year-round fishing for rainbow trout, as well as camping facilities. Those who don't need to camp overnight can also fish at the Koosharem Reservoir, which has day-use facilities only. The good news is that dogs want to be where you are, whether camping or in a dog-friendly hotel. As long as you're having fun together, they don't mind.
Fremont Area
Trails in the Fishlake National Forest are so plentiful that you might have trouble choosing which ones to explore. If you and your pooch make Fish Lake your home base while visiting (especially if you both enjoy fishing), try the Lakeshore National Recreation Trail, which is comprised of four distinct sections that vary in difficulty, mileage (from 2.5 to 5.5 miles) and views. This forest spans 1.5 million acres, so travel around within the area and give another region a try during your travels. The Bullion Falls Trail System allows views of a system of waterfalls adorning parts of Bullion Canyon, and the nearby Miner's Park Interpretive Area gives you a peek into early gold mining life in the canyon.
Price Area
In the Manti-La Sal National Forest, you can hit every single trail with your pup. Just remember your leash and watch for wildlife and grazing animals. Get a taste for the area on the Left Fork Trail, which is 1.6 miles long but definitely challenging. Want a longer challenge? Choose the Fish Creek National Recreation Trail that runs for 10 miles, starting at Fish Creek Campground. In between these two favorite trails, there are plenty more to choose from, so measure your stamina and desire for landscape views against the mileage, and hit the trail.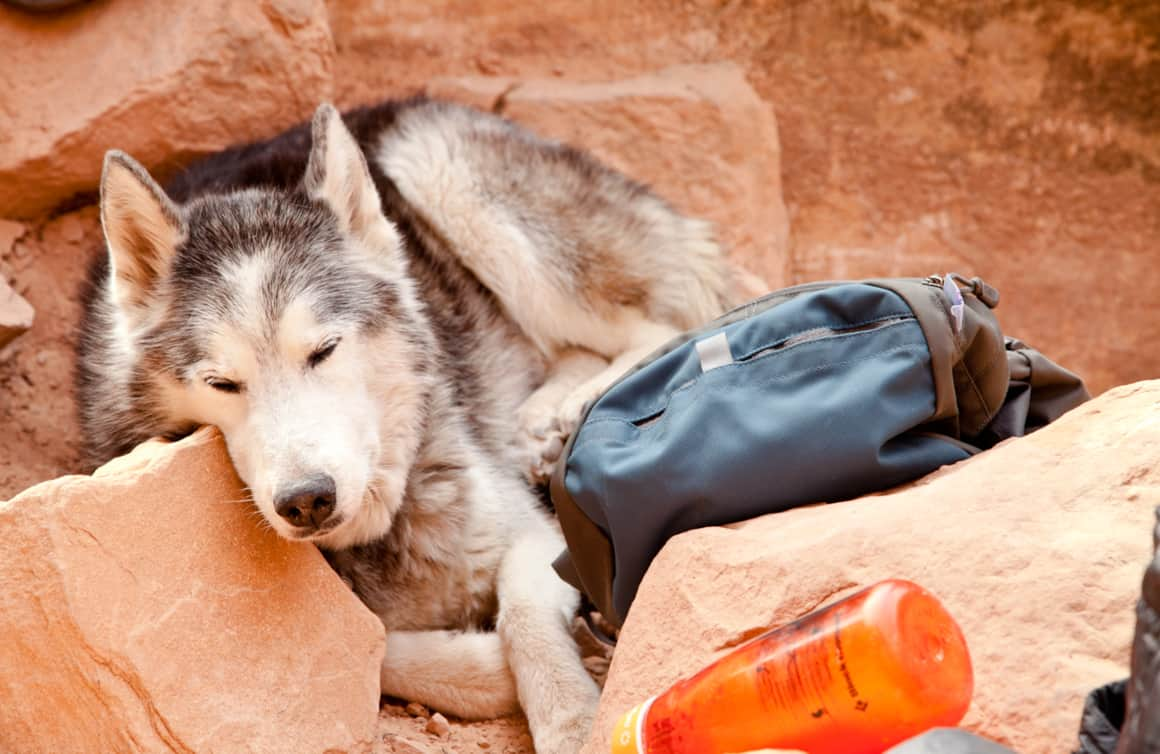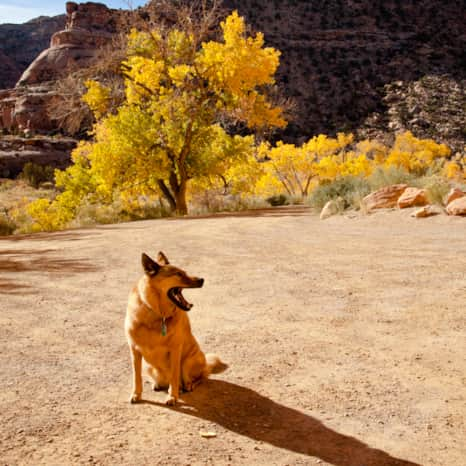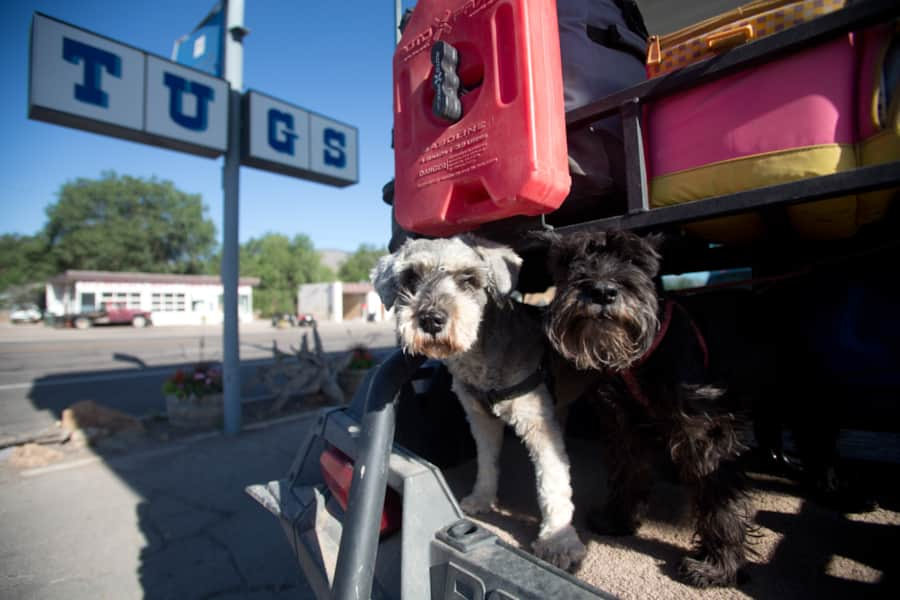 Eastern Utah (near Flaming Gorge National Recreation Area and Dinosaur National Monument)
Vernal Area
Utah is known for its scenic collection of natural arches, and Moonshine Arch Recreation Site is a great place to share with your pup, especially since it's not heavily visited — so you get all that beautiful desert terrain to yourselves. The trail out and back is 2.4 total miles, which is enough to enjoy the outdoors, but not to poop out your pooch.
The Battleships Trail, among large slick rock faces, as well as the river corridor from below Little Hole on sections B and C on the BLM land, are both ideal outings for you and your dog. While on the Battleships Trail, however, be sure to keep an eye out for mountain bikers on the first mile and a half, where it shares a portion of its track before becoming a dedicated hiking trail.
Kennels, Lodging and Grooming
What if you want to hit some trails and your pooch wants to take a break? Or your Road to Mighty itinerary includes stops at a national park? That's acceptable when you have great canine daycare and spa options. In Vernal, Give a Dog a Choice provides boarding, daycare and grooming services. In the Moab area, Karen's Canine Campground is a popular spot for four-legged pals, so be sure to make an advanced reservation if you can. The Moab Veterinary Clinic also provides doggie daycare, just in case Karen's is full. Cedar City's Red Rover retreat lets your pup romp for the day, stay overnight, or get groomed and fancy.
If you want to find a sweet home away from home for both you and your dog, there are a handful of dog-friendly options. In the Vernal area, the Econo Lodge Downtown welcomes two pets of any size for an additional fee of $20 per pet, net night. The Holiday Inn Express & Suites Vernal – Dinosaurland lets one dog of any size stay for a fee of $50 per stay. Two hotel properties in the Moab area know the key to a dog parent's heart: No pet fee. La Quinta Inn & Suites Moab allows two pets of any size for no additional fee, plus there's a dog park on property. The Motel 6 Moab welcomes one pet of up to 50 pounds for no fee. In Green River, the Holiday Inn Express allow two dogs of any size for a fee of $10 per pet, pet night. Check in at the Days Inn Cedar City, and two canine pals under 50 pounds can be your roomies for no additional fee. In Richfield, the Days Inn welcomes two pets of any size for an additional fee of $10 per pet, per night.