Traveling with Dogs: The Mighty 5 National Parks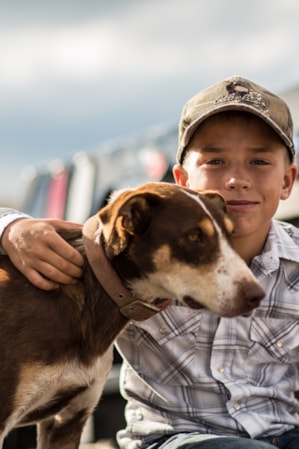 At all of The Mighty 5® national parks, activities with pets are extremely limited, and every time your dog is out of your vehicle, it must be restrained in a crate, cage, or on a leash (of no more than 6 feet). Carrying your pet does not count, in this case. When in doubt of the rules, it's best to ask the park staff for clarification, as some sections of the Federal Regulations give some discretion to the park superintendent to make park-specific rules.
Restrictions may seem harsh, however many pets leave behind a "predator" scent that can linger in the area for long periods of time, which can disrupt or alter the behavior of the native animals the park has been set aside to protect. In addition, pets may scare, chase, or transmit diseases to wild animals. Though there are some restrictions, these somewhat dog-friendly national parks are still well-worth a visit with Fido in tow.
Canyonlands National Park
In Canyonlands National Park, paved scenic drives and parking lots, as well as the Potash/Shafer Canyon road between Moab and Island in the Sky, are welcome places for people and their dogs to enjoy the outdoors. Pets must be leashed at all times inside Island in the Sky (Willow Flat) and The Needles campgrounds. Note that there are some very specific places that you can't bring your pet at all: overlooks, rivers, hiking trails, anywhere in the backcountry and on any backcountry roads (even if you leave your pet in the vehicle).
Arches National Park
At Arches National Park, feel free to walk your pet on park roads for public vehicular use, established picnic areas, Devils Garden Campground or in parking lots, as long as you remember that they must be leashed at all times. In only one place (a paid-for campsite in the Devils Garden campground) are you permitted to leave your pet unattended, but only if it does not cause a disturbance. Pets are not allowed on any hiking trails, nor in the visitor center.
Capitol Reef National Park
Pets are allowed on leash only in the developed areas of Capitol Reef National Park: in campgrounds, in the picnic area, in the orchards when they are open and along paved and dirt roadways. The park does not permit pets in the backcountry, on hiking trails, or in public buildings.
Bryce Canyon National Park
All paved surfaces in Bryce Canyon National Park are open to pets and their humans, including: campgrounds, paved roads, parking lots, paved viewpoint areas and on the paved Shared Use Path between the park entrance and Inspiration Point. No pets are allowed in public buildings, on public transportation vehicles, or on unpaved trails and viewpoints. Don't leave your dog unattended, or tied to an object in the park, and park staff may be required to check out reports of excessive noise by your pet — even if it's on a leash.
Zion National Park
At Zion National Park, pets are allowed along public roads and parking areas, in developed campgrounds and picnic areas, on the grounds of the Zion Lodge, and on the Pa'rus Trail. All public buildings, wilderness areas, trails other than the Pa'rus and the shuttle buses are off-limits to pets. The only exception is that service animals (as defined by the Americans with Disabilities Act) are allowed on shuttle buses. When environmental conditions are safe for the animal, if you must leave your unattended pet in an undeveloped campground, the pet must be properly restrained and not making an unreasonable noise.
Read these additional resources to learn how to travel thoughtfully and experience the national parks most fully.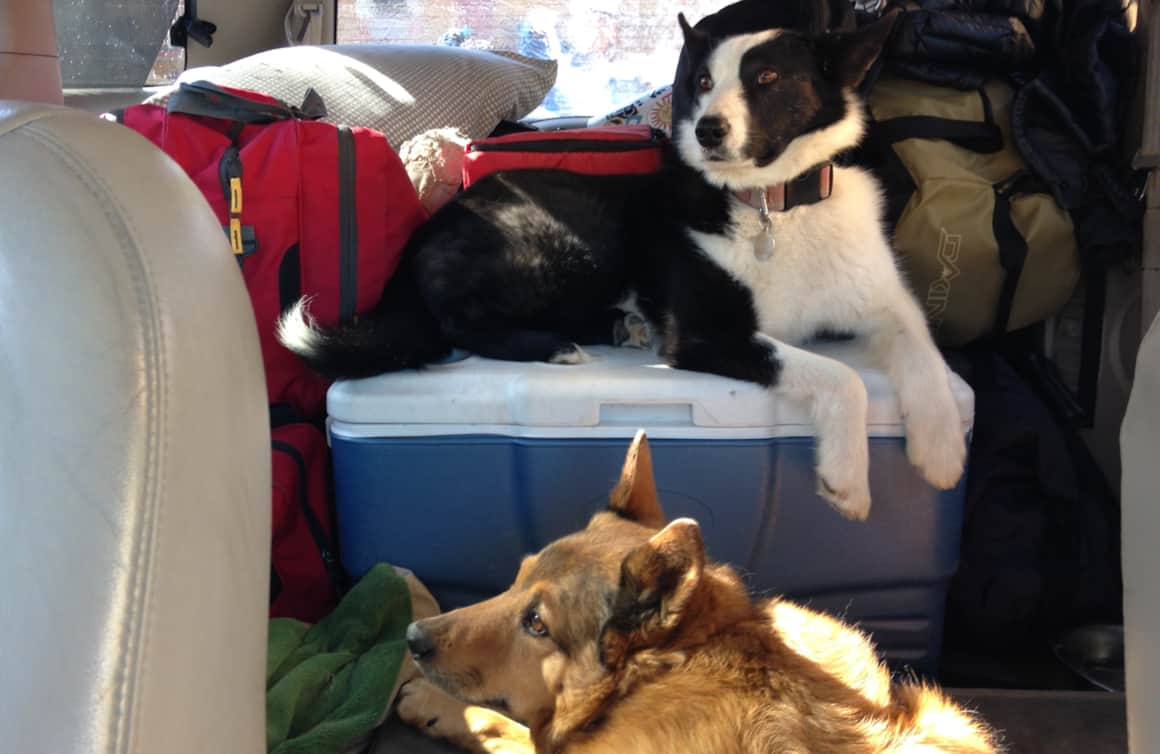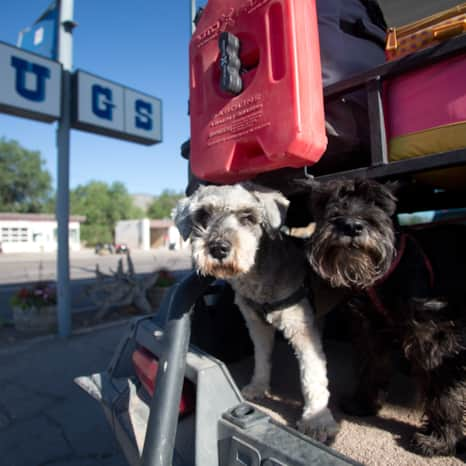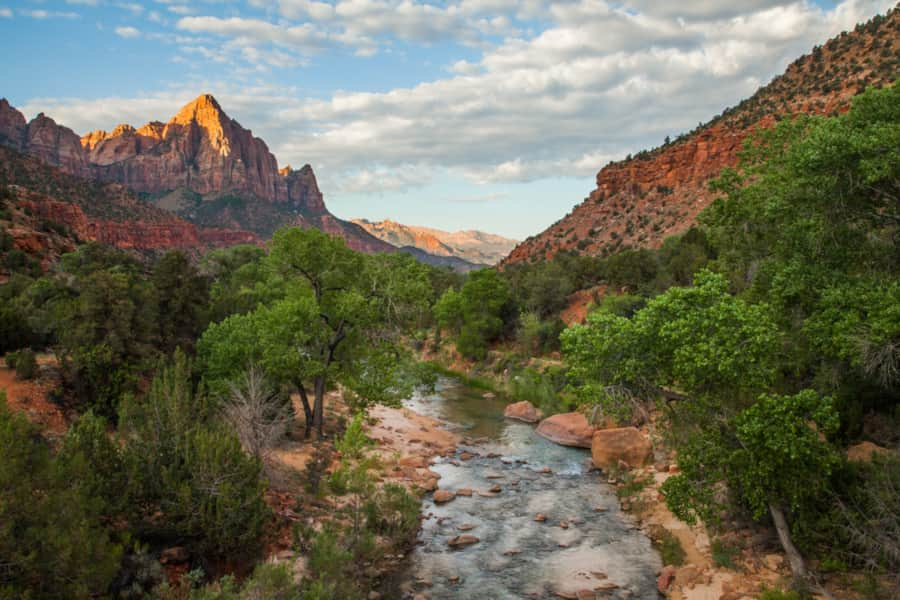 Park Pet Tips
While it's understandable that you may want to bring your best buddy along when you visit the Mighty 5, it's important to know that the desert can be deadly for pets. Car temperatures rise quickly in the sun, even on days that seem to be cool, leading to heat exhaustion and possible death. If you are leaving a pet in a car, crack the windows as much as possible and leave water to drink. The parks recommend that you not leave pets in the car at all when temperatures are above 68 degrees, even with the windows cracked.
Human companions are required to watch and pick up after their pets and dispose of solid waste in appropriate containers. Good pet etiquette also means that humans should consider that excessive barking or overly zealous greetings may not be appreciated by all visitors to the park.
While these favorite Utah parks aren't the most dog-friendly national parks, you are still welcome to bring them along for the ride and enjoy an authentic Utah adventure with them.
Kennels and Lodging
If you've brought your pet to the park, but realize that you'd like to do some hiking on trails or head out for longer adventures that won't allow your best friend, nearby towns often have kennels that can accommodate your situation. In Moab, find Karen's Canine Campground and the Moab Veterinary Clinic. Just south of Moab is a B&B just for dogs called Tracey's Bed and Biscuit Kennel, which offers boarding and daycare as well as dog-walking services.
Dog Walkers, Pet Boarding/Pet Sitting Pawz Dogz, located in Panguitch is the choice for boarding, and in Rockville, send your furry pal to the Doggy Dude Ranch.
Want to stay at a hotel that lets your pet stay, too? A handful of properties outside the parks are pet friendly, such as:
Moab — Compare 11 pet friendly hotels
Panguitch — Color Country Motel and Bryce Gateway Inn
Springdale — Holiday Inn Express Springdale and La Quinta Inn & Suites at Zion Park