Flood Safety
Due to record snowpack and high amounts of spring runoff, please be advised of potential flooding that could impact travel plans.
Learn more
Moonscapes, Marscapes and More
If you want to know what Mars looks like — then the dramatic terrain of Capitol Reef National Park and the surrounding lands are a good place to start.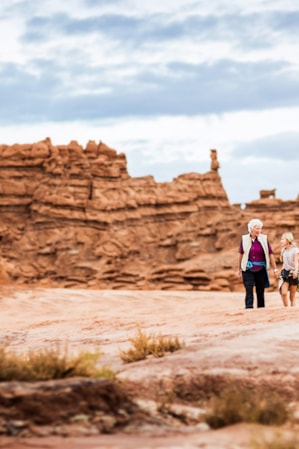 It's cold outside. But it's sunny. Blue skies over red rock and sand paint a vivid backdrop that stretches on in every direction. A two-story structure, like a squat, fat silo painted white stands next to a second building, like an over-sized whiskey barrel on its side. For the Mars scientists housed within the habitat, it's not just a regular day. Today, they're going to step out into the fresh air. Of Southern Utah.
While many field seasons at the Mars Desert Research Station go unheralded, in December 2016 Facebook premiered its first-ever Facebook 360 livestream to welcome 8 scientists back to the real world after more than 80 days in an isolated Mars habitat simulation.
Apparently the Mars Society, like Hollywood, sees something extraterrestrial in the landscapes of Southern Utah.
You will too.
Utah's topography is world renowned; from skiable slopes in the north to climbable slickrock in the south. Red rock canyons are familiar backdrops in grandpa's John Wayne westerns, but it's the barren landscape and plains that sit east and south of Capitol Reef National Park that appear in your sci-fi favorites. From the 1960s Planet of the Apes to 2012's John Carter, Utah's landscapes have provided film locations with everything from tranquil and beautiful to distinctly western to disconcertingly alien.
If you want to know what Mars looks like or see what it would look like if you were on the moon — or simply soak-in some of the most beautiful views around — then the dramatic terrain of Capitol Reef National Park and the surrounding lands of San Rafael Country are a good place to start. From Goblin Valley State Park through the San Rafael Reef, there's no shortage of otherworldly vistas.
Ultra-peak and Moonlike
If you're feeling really adventurous, read on. But note: this trip into the wilderness requires a high-clearance, four-drive vehicle and excellent fitness.
Taking a day trip to Mount Ellen, the highest peak in the Henry Mountains and classified as one of 57 "ultra-peaks" in the lower 48, will not only give you stunning views, but bring you through alien landscapes to get there. What is an ultra-peak? It's a peak with at least 5,000 feet of prominence, which is essentially the part of the mountain above the ground elevation.
To get there from the Capitol Reef visitor center, drive east to Hanksville. This journey will bring you through areas that feel otherworldly. The bald, desert formations have been shaped and etched by wind and water, and when one mineral is more prominent than others, the landscape becomes white and moonlike. Just down the road, everything is monochromatically greenish-gray or iron red — very Mars-like. It's like being on a completely different planet with every few mile markers.
There are several pull-outs to view the different areas. The actual formations are very delicate — climbing them would be very destructive. Stick to roads, pullouts,and established trails when you get out to explore and take pictures. Be sure to stop at one of the unique roadside pinenut stands or seasonal cafes along the way for a snack.
Once you arrive in Hanksville, stop at or contact the local BLM office and get the latest on road conditions, closures, and water levels for the creeks you need to ford to get up the mountain. If it's wet it can make the journey very tricky, and if the roads haven't been graded after winter, a passenger car won't be able to get to the Bull Creek Pass trailhead. High clearance vehicles will be able to take most of the conditions, but in general it's best to be prepared for rough roads.
The range is not regularly patrolled and you may not see another party the entire time you are in the pure wilderness of the Henry Mountains, so carry more water than you think you need and consider bringing a second vehicle. Even if you are in a four-wheel drive, snow may make one route or the other impassable. Peak hike season is late May to October.
Mount Ellen is named for expedition botanist, Ellen Powell Thompson, sister of John Wesley Powell and wife of his second-in-command during the 1870s survey expeditions. After the snows melt, many of the wildflowers you see coloring your trek bear her name.
Along the top ridge, there are three peaks: South Peak, North Peak (also called Mount Ellen), and the Mt. Ellen Peak. From Bull Creek Pass, it is only a mile to the South Peak but it's a 2,000 thousand-foot elevation gain. The trail to North Ridge and Mt. Ellen Peak is almost six miles round trip with just over a thousand-foot elevation gain.
Along your way up you will certainly see traces of the Henry Mountain, Utah bison herd, the only free-roaming bison herd in the states—add this to your list of uncommonly seen sites in Capitol Reef. You may not meet any on your hike, but if you do, give them a wide berth, respecting them as wild animals with quick tempers, and they'll leave you alone. Most bison-related injuries happen when people think "buffalo" are like docile cattle. If you're lucky enough, you may also spot bighorn sheep.
Once you clear the tree line, the stony ridge is exposed and windy. The North Peak summit sits at 11,522 feet. You'll reach a false peak with a tall stone cairn, but continue until you reach the true peak with mailbox register and smaller cairn. Prepare for the elevation change with hats and jackets. Gloves and great boots are happy additions as well.
The panorama here is like no other. You'll stand at the top of a green island with the outstanding red and sun-bleached desert on all sides. Canyonlands National Park is to the west with Arches just beyond, and the geologic fold of Capitol Reef running along the east. Glen Canyon is at the south with all the twists and canyons of Lake Powell.
Once you've reached the summit, it is a fairly easy trek to the Ellen Peak which is the most popular of the three peaks. You can make both North Peak and Ellen Peak round trip in about a half a day from the trailhead at Bull Creek Pass. Just be sure to give yourself enough daylight to get down off the mountain.
Extend the Stay
If you would like more time to explore the Henry Mountains and enjoy the beautiful vistas from their peaks, extend your day trip to multiple days and camp. McMillan Springs Campground is within five miles of Bull Creek Pass and remains a favorite base camp for the peaks. Wikiup Pass campground is approximately 25 miles from the trailhead, and Lonesome Beaver is closer. There are no restrooms and any of these locations, so plan on bringing in your own water, and stick to Leave No Trace guidelines. Make plans to check out the otherworldly landscapes of the Henry Mountains, Utah.