6 Steps to Family Mountain Biking on the White Rim Trail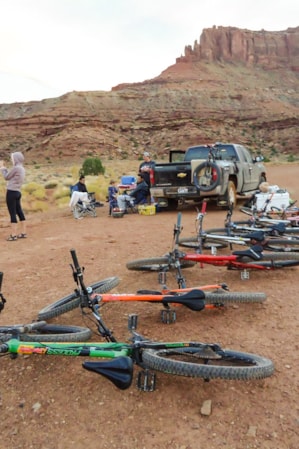 In a dirt parking lot, a few miles from the entrance to Canyonlands National Park, we crammed gear into the back of our support vehicle. "Are you sure we have enough water?" I asked for the third time. My husband nodded, rolled his eyes, and went back to jamming sleeping bags between the half-dozen water jugs.
Our crew of eight mountain bikers were headed out on Canyonlands' 100-mile White Rim Trail for three days and two nights. Water was the most critical item in our pile of gear, but we also needed food, camping equipment and emergency supplies (Read: How To Stay Safe in the Outdoors). The only provisions available in the Island in the Sky backcountry are what you pack yourself.
Planning a Family MTB Trip on the White Rim Trail
If 100 miles of mountain biking and two nights of backcountry camping surrounded epic red rock views sounds like a good time to you — and your kids — here's everything you need for your own multi-day mountain bike trip on the White Rim Trail. (Read: Why Your Kids Need a Utah Trip)
1. Use a Support Vehicle
Unless you have lots of experience in multi-day bikepacking expeditions, or you plan to do the entire 100-mile route in a single day, you will need a support vehicle. Although the White Rim trail is a dirt road, it is no Sunday drive. The Park Service requires all vehicles to have four-wheel drive and high-clearance.
2. Pack Plenty of Food and Water
You will go through way more food and water than expected. Plan on packing one gallon of water per person per day, and a minimum of 2,000 calories per person per day.
3. Prep Your Mountain Bikes
There aren't any bike shops in the backcountry, so make sure that your mountain bike is in good working order and that you have all the basic tools and spare parts that you might need to do repairs along the route. On our trip, we had a few flat tires and a lost suspension bolt.
If you need to rent a bike or grab a few spare tubes there are numerous shops in Moab. It's always worth stopping by for advice, pro tips and last-minute supplies before heading out. Check out Poison Spider Bicycles, Moab Cyclery, Chile Pepper Bike Shop and Bike Fiend, among others.
4. Reserve Permits in Advance
The hardest part of planning a White Rim trip is obtaining the necessary permits and reservations. Camping along the route is allowed only in designated sites, and during the spring and fall, reservations are competitive. Snag your spots via the Backcountry Reservation System up to four months in advance.
In addition to the permit fees, you will also need to pay an entry fee to the park. If you bike in, the cost is $15 per cyclist. Otherwise, it's $30 per car.
5. Check the Weather
Spring and fall are the most enjoyable times of year to do this trip. Summer is unbearably hot and winter can be snowy. At any time of year, make sure to pack clothes for a wide range of temperatures and conditions. (Read: How to Pack for Southern Utah)
6. Confirm the Route
Although you can ride the White Rim in either direction, I've done it both ways and clockwise is considerably less difficult. Before you go, make sure to download and print a map from the Canyonlands National Park. It is difficult to get lost, but you'll want the map for finding camp spots and judging distance.