How to Backcountry Camp Responsibly
Four tips from outdoors experts to help you prepare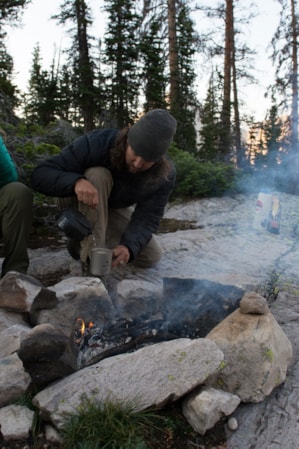 Venturing beyond the more predictable, and sometimes crowded, public campgrounds to camp in the backcountry can be a thrilling adventure, one where wildness feels closer and solitude deeper. It's a great way to experience the great outdoors, but it also requires thorough preparation and care.
Whether you're going for the first time or the fiftieth, here are some important ways to camp more thoughtfully and responsibly off-the-beaten-path and beyond the expected.
Learn about the regulations in the areas where you're camping
Lack of amenities does not mean lack of rules, and it's important to learn what regulations are in place for the area you'll be camping in before you go. Along with lands managed by the Forest Service and the National Park Service, nearly 23 million acres of land in Utah is managed by the Bureau of Land Management (BLM), and they all have regulations regarding things like campfires, interactions with wildlife, and how far from natural water sources you need to set up camp. Some areas have stricter rules because the landscape is more fragile. Others require permits.
Check on the NPS website or with local land management like the BLM ahead of time to make sure you have the necessary permits and know the rules of the area you'll be camping in.
Practice Leave No Trace principles
Wildlife is more present and ecosystems are often more delicate in the backcountry, so it's particularly important to practice Leave No Trace principles. These include setting up camp on durable surfaces, respecting the wildlife, and making the least disruption to the environment as possible. Another critical principle is to properly dispose of waste. (Read: "How to Poop in the Outdoors")
Tyler Callantine, a river guide with Dinosaur River Expeditions, says lack of proper waste disposal is the biggest issue he sees from backcountry campers. Instead of digging shallow holes for fecal waste, Callantine says in many areas, in particular when close to rivers, campers need to know when the right thing to do is to pack their fecal waste out or use proper means of disposal.
"There are WAG Bags, portable toilets," he said, "or look for areas with outhouses or restrooms nearby."
That goes for food and other waste, too: pack it out and dispose of it properly.
You can learn more about responsible camping at the Leave No Trace website.
Pack and map properly
Success in the backcountry largely comes down to your level of preparation. It's important to consider factors like the terrain of the place you'll be camping in, the length of time you'll be there, what the weather will be like, and the physical and mental limitations of your group members. Backcountry camping requires different gear and apparel than car camping, so another way you should prepare for it is to make sure you know how your gear works and that you have everything you'll need. Break in your pack and hiking boots beforehand so that pain and discomfort won't be uninvited companions on your trip.
One of the most important supplies you should come prepared with is water. Callantine recommends one gallon per person per day for drinking, cleaning the dishes, and other uses. It may sound like a lot to lug around, but less is definitely not more when it comes to hydration, especially not in remote areas. Land managers can help you know if there are reliable water sources for filtration to lessen your carrying load. In Southern Utah, water-full areas are hard to come by, but in Northern Utah, water along backpacking and backcountry routes is more reliable.
Plan for emergencies
"It is easy to get in some remote areas and lose cell phone service and you may not see other people," Callantine says. That's why he recommends that campers always let someone know where they are going and how long they're expected to be there when they choose to camp in the backcountry. Arming your contacts with a mapped itinerary as well as developing a plan for emergency for your group beforehand are two ways to help your trip be and feel safer so that, ultimately, it can be more enjoyable. You should also know the information for search and rescue, and bring a spot device. Learn more about how you can support Utah's local search and rescue teams with a Utah Search and Rescue Assistance card.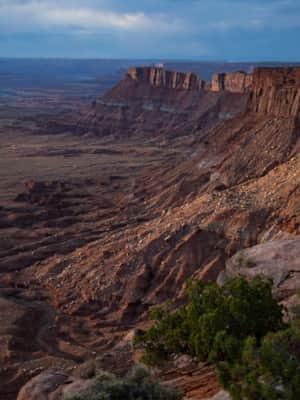 Be Prepared for the Southern Utah Backcountry
Prepare for a trip out into Utah's rugged red rock backcountry by learning as much as possible about the area before heading out. Stop by a ranger station to educate yourself and pick up necessary permits. Always practice good backcountry ethics and proper safety techniques for a safe and enjoyable adventure.