U.S. Federal Shutdown Information
At this time, all of Utah's national parks, monuments and recreation areas remain open.
Learn more.
Planning Ahead for Your Utah Adventure: Outdoors Tips for Three-Season Fun
Whether you're planning a one-day hike in Utah or longer camping or road trip, the common rule is that it's best to be prepared. Here are a few tips to consider before your trip.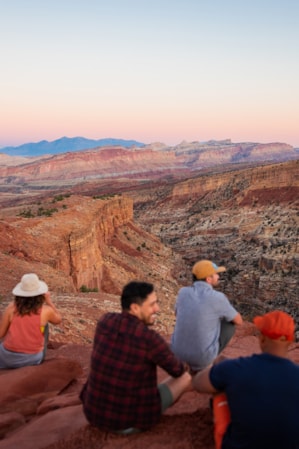 You don't have to be an intrepid adventurer to enjoy time in Utah's great outdoors. Whether you're planning a one-day hike or longer camping trip, the common rule for Utah outdoor adventures is that it's best to be prepared. Some parks may have shops that provide essentials, but the more you consider what you'll need in advance, the less likely you'll be surprised by the unexpected. Here are a few tips to consider before your trip.
Clothing
One of the most important keys for clothing is layers. Some hikers opt for a long-sleeve, though lightweight, base layer even when the summer sun is shining on the slickrock sandstone of Southern Utah. And in the height of summer when you think the weather won't vary from extremely hot, the temperatures in some regions can plummet in the evenings. Consider moisture-wicking clothing made with synthetic fabrics and wool, that pull the moisture away from your skin and lets it dissipate into the air. Sure, bring shorts, but also pants, long sleeves, a hat, a heavier sweater/jacket layer and a pocket-size, fold-up rain poncho (available in all sporting-goods stores).
Shoes
Flip flops are fantastic for when you're relaxing around the campground, or after a long hike. But they won't protect your feet from hazards like rocks, thorns and animals, nor will they provide support or traction when you need it — a lesson you don't want to learn the hard way. Southern Utah has some of the most diverse and exciting trails of any region. Wear sturdy, closed-toe hiking boots (bring a supply of socks, too), with soles that can grip rock, sand, gravel and whatever the trail throws at you — even in the national parks. Don't buy boots at the last minute. Make sure you try them on, wear them around the house and even for a short hike or two — just to make sure they work well for you.
"Southern Utah has some of the most diverse and exciting trails of any region."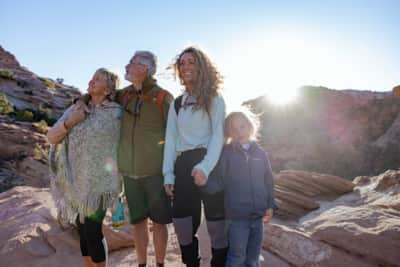 Hydration
Your body is like an engine, and it requires fluids to keep it cool, lubricated and performing well, regardless of your level of fitness. It doesn't matter whether you're embarking on an extreme adventure or an easy hike — you need water, and lots of it, for outdoor activities on a hot Utah day. A quick rule of thumb is that you should expect to consume at least 16 ounces of water or more per hour in hot weather. In addition to drinking frequently during any outdoor activity, you should drink plenty of fluid before you go. Even if you only plan to be on the trail for a couple of hours, bring much more water, in case something happens and you're detained. Also, don't expect to find drinking water on many Southern Utah trails, especially outside of the developed parks. Yes, water is heavy, but think of it this way: Your pack will get lighter as you drink the water you bring.
Food
While you're packing the water, make sure you bring fuel for your body in the form of food, too. Nutrient-dense foods like jerky, trail mix, dried fruit, canned fish or tuna pouches and nuts or nut butters are also lightweight — don't worry though, for all but the most serious backpackers, these are just to tide you over. Most great Utah outdoor adventures and destinations are near welcoming cities and towns with several local options for a hot meal. (Explore dining in Utah)
Reservations & Permits
Wherever you choose to recreate, be sure to secure your preferred lodging and activities with advance reservations. From April 1 through October 31, daytime visitors to Arches National Park are required to have a timed entry ticket to enter the park. And for visitors to Zion National Park, the popular Angels Landing hike requires a permit. Be sure to research the area or park your plan to visit and find out if reservations or permits are required. And if you're heading somewhere unfamiliar or remote, consider hiring a local guide. Guides can help eliminate wayfinding stressors, but they also know Utah's lands intimately, and offer unique local perspectives and geological insights.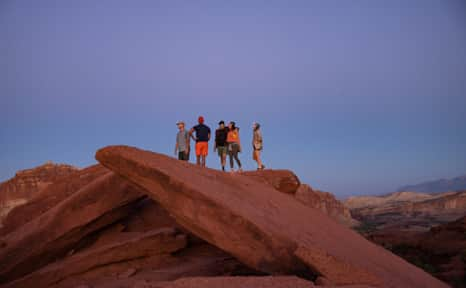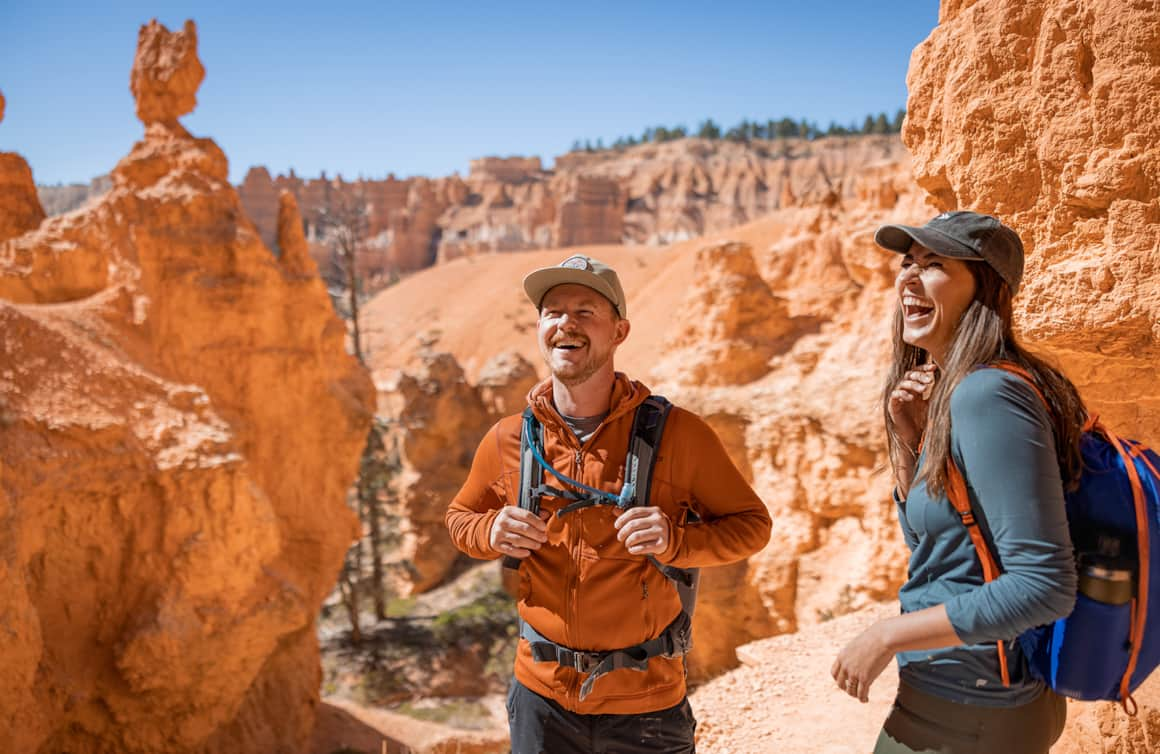 Communicate Your Plan
If you're headed out into the wilderness alone, into the backcountry with others, or even on a hike that's beyond an easy distance, be sure to tell someone where you're going and when you expect to return. And then, check in with them when you have returned, so you can close the loop. If you don't have a good sense of the trails in the region, check in with the visitor center to ask about the weather forecast, trail conditions and recommendations from the experienced staff.
Navigation
A cell phone is handy to have on your adventure, but be prepared for it to not work in remote areas, or perhaps work only on ridgelines and peaks. Don't kill your battery letting your phone continually look for a signal — use airplane mode until you do need a signal. Instead, consider carrying a map and compass or a GPS device. And bring along an external battery charger (that's already been charged up), just in case. As you plan your route, consider the abilities of everyone in your group and familiarize yourself with Leave No Trace principles. A little extra planning can expand your knowledge, reduce your impact and improve your adventure.
Additional Gear
It's always helpful to have a backpack on hand, if only to carry your water, snacks and those extra clothing layers. And even if the day looks cloudy, don't forget sunscreen and a hat. Weather changes easily and according to the Skin Cancer Foundation, up to 80 percent of the sun's UV rays can pass through clouds. Some basic first-aid materials are also helpful to have on the hiking trail, especially if your traveling with kids. The most basic day-packer kits contain adhesive bandages, gauze and medical tape, antiseptic towelettes, antibiotic ointment, sting-relief wipes, antacid tablets, ibuprofen tablets, allergy-relief tablets, moleskin, bandage scissors and tweezers. You can assemble one at home, or buy one from a sporting-goods store. If you get stuck somewhere and need people to find you, having a signaling device (such as a mirror) and emergency whistle in your pack will help you catch someone's attention. Add a mylar "space" blanket, in case you need to wait for rescue, or get caught in weather conditions you didn't anticipate. (Read: How To Stay Safe in the Outdoors)
Enjoying the Utah outdoors is an unforgettable experience; seeing wildlife, learning about the area's geologic history (Read: View Millions of Years of Geologic History in an Afternoon) and getting active are all part of the fun here. Follow these guidelines to stay safe and you'll remember your Utah adventures for all the right reasons. Start planning your getaway today!