5 Reasons to Hire a Guide to Run Utah's Rivers
Unless you are an experienced river rat and are lucky, chances are slim that you'll snag a permit to take a multi-day trip down the Green River. Here are five reasons why you should hire an experienced outfitter.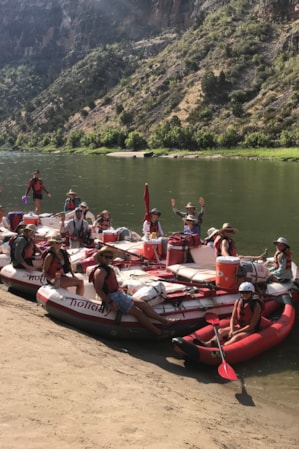 There is no alarm clock in the wilderness. When it's time to rise from our tent, pitched on a bank of the Green River in Dinosaur National Monument, one of our Holiday River Expeditions guides raises a cedar flute and plays a melody suited for meditating. It's followed by shouts of "Breakfast! Coffee!"
When we arrive at the tables that serve as the kitchen just feet from the river, mushrooms, peppers, cheese and spinach for made-to-order omelets are cut and the eggs scrambled. The coffee is steaming.
While we eat and splash in the river to escape the early morning heat, the four guides will wash the dishes, break down camp, load our bags on the rafts and discretely stow the toilet.
Before we push off for another day of floating past a ship-sized mass of sandstone or canyon walls that look like they're made of blocks of red-tinted chocolate fudge, the guides will remind us to apply sunscreen and drink plenty of water.
Turns out that guiding is a small part of the job description. River guides are lifeguards, cooks, parents, sanitation workers, butlers, storytellers, teachers and camp counselors. (Read: "Five Reasons to Hire a Guide to Run Utah's Rivers").
"You can train a monkey to row. It's mainly people skills, cooking and interpreting," says Justin Malloy, the head guide for our four-day trip, of Holiday River Expeditions, and one of multiple excellent guides in the Vernal area.
Here are the top five reasons to leave the rowing to those jack of all trades:
Access
For the novice rower, there's no way to spend several days on the Green River in the monument without a commercial river guide. Private rafting trips are allowed, but are only allowed for experienced rowers, and permits are required. During the summer high season, just one or two private parties can launch a day — and 3,900 people applied in 2017.
Much of the remote canyons of Dinosaur National Monument, in northeastern Utah, can only be experienced on the river, and the National Park Service limits visitors to leave them pristine for future boaters and to protect their natural and cultural resources. All river adventures require a commitment, and experiences range from a short float or paddle to multi-day guided excursions. Local guides and outfitters can help you access the best river rafting in Utah, not only on the Green River, but also on the Colorado River and San Juan River and more. Read the stories of Utah's best river rafting here:
Safety
Before we even think about needing help, Malloy hops in an inflatable kayak and positions himself downstream of the giant rock to catch anyone who gets sucked in the current. The boulder near our campsite was perfect for jumping off of into an eddy, but difficult even for adults to grasp and get on top of because of the current. Malloy was there, just in case. He and the other guides kept a watch as we kayaked the easier rapids. Or told us when it was deep enough to slide from our rafts into the river. Or pointed out poison ivy on the trails we hiked. Or told us a buckle on our life jackets was undone.
Together the guides have decades of years of experience rafting — crucial for navigating what can be dangerous waters. The Green boasts some Class IV difficult rapids, requiring complex maneuvers through narrow passages. Our guides scouted the Green's most technical rapids — stopping to hike downstream to determine the route before we resumed the trip.
Before we encountered whitewater, Malloy explained what would happen if we fell out: we'd pop up next to the boat and we'd want to keep our feet up.
Not to worry. Because of their skills, no rescues required.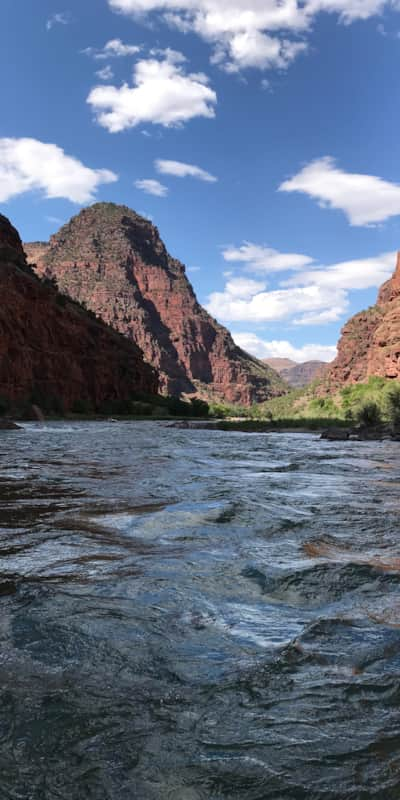 Comfort
At mealtime, we often wondered where they had packed all the goodies: Blueberry and walnut-banana pancakes, yogurt and granola, sausage and bacon. Chicken-caesar salad wraps. Cold-cut buffets with avocado, pickles, olives and red onions. Filet mignon or salmon. Strawberry shortcake and s'mores made without a campfire.
You won't find a better view from the perch of a toilet seat than on the river. At each campsite, the Holiday guides staked out our "baño" in a secluded spot with views of the river and canyon cliffs. They taught us "Leave No Trace" outdoor toilet etiquette to keep odors at bay and whisked it away while we played. The solids were kept on the rafts for four hot days without the guests being the wiser.
Education
Part of Holiday's mission is to teach its guests about the natural world so that we will help preserve it. This was evident in lots of ways:
On our first night, when about a gazillion stars appeared in the blackout sky, we not only learned a little bit about the galaxy, but also how to protect those dark skies by using red lights in our headlamps so we could preserve our and others' night vision.
The guides pointed out 1,000-year-old petroglyphs and explained about the Fremont people who left them. They identified the birds and fish we spied, and the tracks left in the mud. The geology is astounding in the monument, and the guides made sure we knew the ages of the rocks and explained the forces of nature that made and exposed them.
They also made sure we left no trace, picking up every scrap of trash — even going out of their way to gather an oar and helmet lost by another company and pinned near a cliff wall.
Entertainment
Guides have to know how to read the crowd to decide what excursions to take or when it's time to take a break and just chill. On one hike, one of our guides played a flute as we relaxed at the top near a waterfall. At another point, another guide read a passage from the diary of a 1930s-era river runner. On the last day, a guide let some of us take a turn at rowing (during the flat parts).
And another guide was full of surprises — just right for the kids on the boat. Just as we were about to descend into a raging spectacle he covered his head in a cheetah-print shower cap and revealed a gown he'd been wearing under his life vest. At the end of the rapid, he pulled onto the bank next to the other rafts and declared, "Anyone can do it in shorts."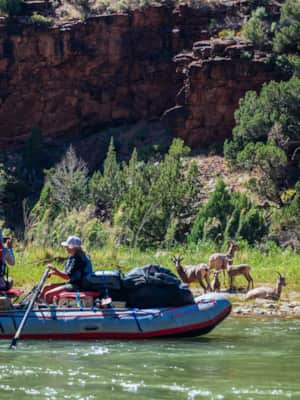 How to Find a Guided Outdoors Experience
You might not be a pro climber, camper or explorer, but Utah's diverse collection of outdoor guides has all of the expertise you need to have an adventure worth getting stoked about.