6 Surprising Activities That Take Place at Homestead Crater
From soaking to scuba diving, this hot spring has a lot to offer.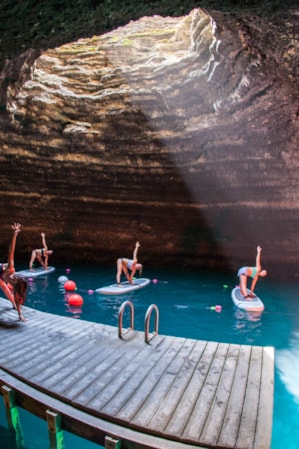 There is a hidden underground cave about an hour outside of Salt Lake City in Heber Valley. One of Utah's most unique destinations, the Homestead Crater at the Homestead Resort in Midway is a geothermal hot springs that lives inside a 55-foot dome of limestone rock. The mineral rich water maintains a balmy 90-96 Fahrenheit year-round.
The springs' size (65 feet deep and 400 feet wide at the base) and warm temps make the crater a bastion of activities in addition to the traditional hot springs soak. In fact, it's large enough that PFDs (personal flotation devices) are included within the soak/float fee and generally mandatory to wear.
From scuba diving and yoga to swimming and snorkeling, here are six activities that attract visitors from across the country to the hot springs' underground waters. Just remember to make your reservations well in advance.
1. Scuba Diving
When you think of scuba diving destinations, Utah probably doesn't come to mind. After all, the closest ocean is about 700 miles away from the state's western border. Even though Utah is a landlocked state, people from around the world travel to the area to scuba dive. Believe it or not, Utah is home to the only warm scuba diving destination in the continental United States.
Although divers won't see any real aquatic life in the geothermal spring water at the Homestead Crater, there's still a lot to explore (there are also several plastic figurines for fun). Since the crater is covered by a large dome, the natural light that enters the crater is limited. There are mounted lights strategically placed at about 20 and 40 feet deep that help illuminate the hourglass-shaped walls formed by mineral deposits. There is also an entire underwater dive course that individuals can use to obtain their open water scuba diving certifications.
If you're interested in diving at the Homestead Crater, there is an in-house dive shop that offers all the scuba diving equipment you need.
"The mineral rich water maintains a balmy 90-96 Fahrenheit year-round."
2. SUP Yoga
Stand-up paddling (SUP) in the Homestead Crater is an amazing, otherworldly experience. Whether you're new to SUP or a SUP savant, exploring this hot spring by paddleboard is a bucket-list-worthy activity. If you'd like, you can take a SUP yoga class surrounded by the crater's ancient stone and with the knowledge that the water temps will not shock you from your yoga mind space if you happen to tip in. SUP yoga is offered year-round, several times a week via Park City Yoga Adventures. They also offer a sunrise or sunset hike/snowshoe followed by paddleboard yoga in the winter.
3. Mineral Soaks
The crystal-clear water in the Homestead Crater is filled with minerals, which can be very therapeutic when you soak in them. Some believe that the different minerals found in hot springs, such as calcium and sodium bicarbonate, can help improve your body's circulation. The naturally warm water also helps relax tense muscles, which can improve your overall feeling of well-being and lead to more restful sleep and lower stress levels. Explore more of Utah's hot springs.
4. Swimming
In addition to scuba diving, you can explore the Homestead Crater by swimming in its warm waters year-round, seven days a week. Unlike other hot springs, which are usually only large enough to sit in and soak, the Homestead Crater is large enough to actually move around and get in some strokes.
There is even a "floating hot tub" that is made specifically for swimmers who want to sit on benches in the water and relax or take a break from swimming around what feels like the most unique bathtub in the entire world.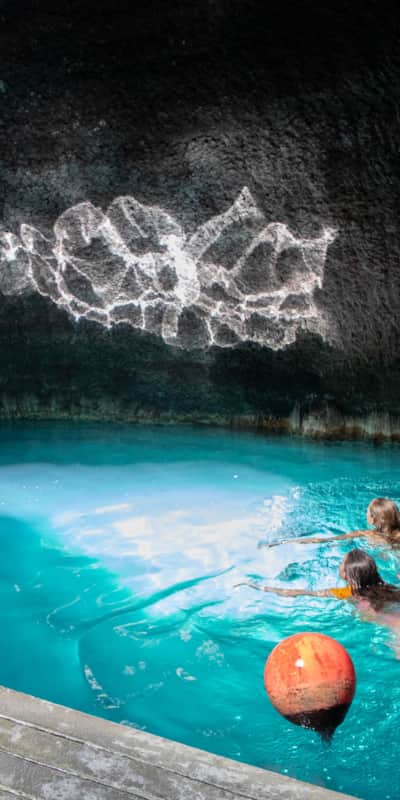 5. Snorkeling
If you are torn between scuba and swimming, there's a third option for you to explore the crater — snorkeling. While there isn't a whole lot to see, you can snorkel around the edges and take in the walls of the dome from an underwater perspective or just relax as you watch scuba divers swimming around in the dark waters below you. It's also easier for kids to snorkel rather than scuba dive so this is a nice option for families.
Since the water is so temperate, all you need to snorkel are fins, a mask and a snorkel. Snorkeling equipment is available for rent inside the crater, and it provides a more affordable option than scuba equipment. The water is warm enough that many people opt out of using a wetsuit, although they are also available for rent.
6. Crater Tours
The self-guided crater tour is great for people who want to explore the crater and see what it is all about but don't actually want to get into the water. The tour explains the history, archaeology and geology of the formation. It brings visitors to the top of the crater to look down through the limestone dome opening as well as into the crater via a tunnel where you can get up close to the interior rock walls and geothermal water. If you are not going to swim, the tour generally takes less than one hour from start to finish.