Chasing Waterfalls in Utah Valley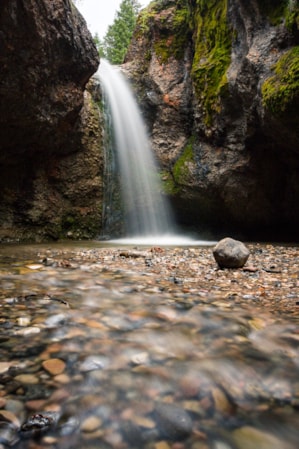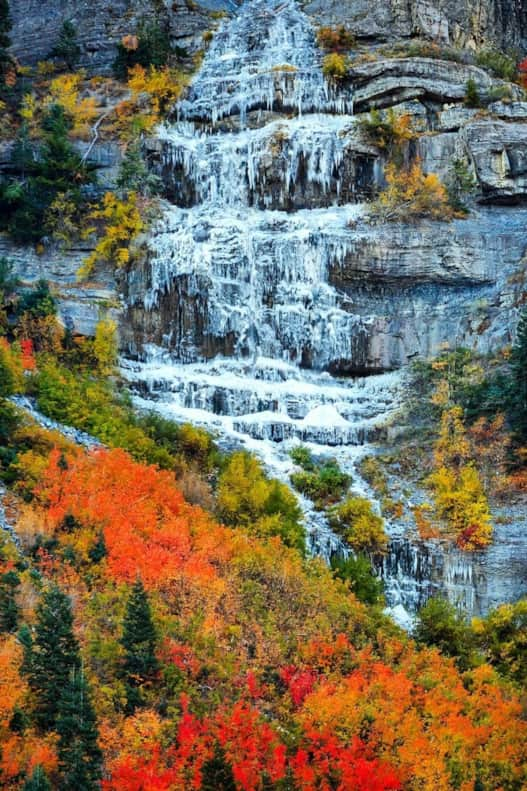 There's nothing quite like visiting a waterfall to experience the awe-inspiring sight of raw, untamed nature: Water thundering over a cliff edge or cascading down rock chutes engages all of the senses, captivating us with its power and beauty. In the Utah Valley and its side canyons, you'll find the state's most impressive collection of waterfalls — and most of them are reachable by short, scenic hikes through aspen groves and across wildflower-filled meadows, all within sight of snow-capped Mount Timpanogos, the valley's iconic landmark.
Come early in the summer to witness their pure force, when winter and spring snowmelt creates spectacular displays, or later in the season, when you can splash in pools below misty veils of sparkling water. Either way, you're in for a treat. (Just remember that despite their beauty, waterfalls can be dangerous. Keep away from cliff edges and watch your footing on slippery rocks.)
To get your Utah waterfall fix, here are the eight best in Utah Valley.
1. Upper Falls
Bridal Veil Falls attracts crowds with its sheer grandeur, but if you want your own private Eden, head up Provo Canyon to double-tiered Upper Falls. A short, steep hike scrambles to the base of the lower falls, a frothy plunge into a limestone amphitheater. Stand in the spray beside the waterfall on a hot afternoon and the rest of the world disappears. Bring plenty of water and trekking poles — the footing can be slippery on the hardscrabble trail, whether you're heading up or down.
GPS Coordinates: 40.344230, -111.590660
"In the Utah Valley and its side canyons, you'll find the state's most impressive collection of waterfalls."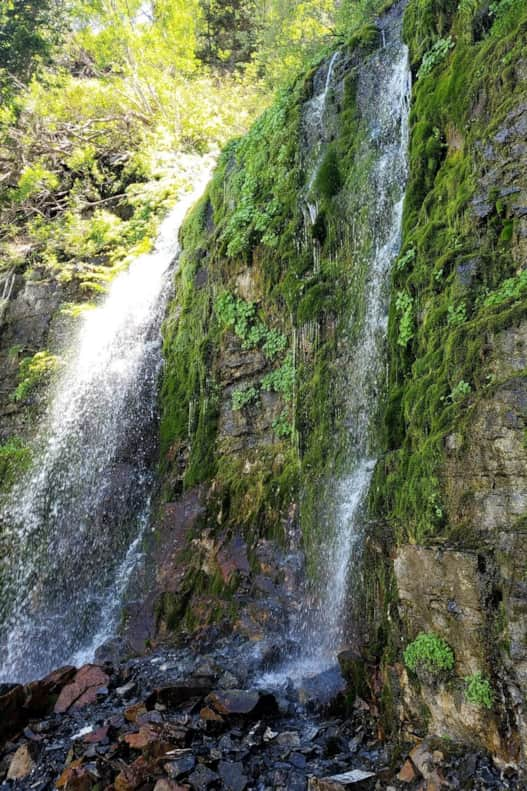 2. Stewart Falls
Champagne powder fills Cascade Cirque above chic Sundance all winter, but it eventually melts and gushes over Stewart Falls. Indeed, this 200-foot double plunger is Sundance's local landmark in the warmer months. While you can glimpse the falls from town, do yourself a favor and hike there to admire them up close. You'll trek a couple of miles through aspen groves to the waterfall base, where a cooling mist and dazzling views await (morning is best for viewing). Come in early summer for high water, avoid weekends when this crowd pleaser is packed and don't forget to dash through the secret passage behind the frothy falls.
GPS Coordinates: 40.386199, -111.604447
3. Timpanogos Falls
If you want a double dose of falls and the solitude with which to really soak them in, start from the same trailhead as Stewart Falls and hike a mile up a paved trail to Timpanogos Falls. This slide waterfall, which tumbles and crashes down rock chutes, sits below rugged Mount Timpanogos, the 11,749-foot high point of Utah County. Stay on the trail another quarter mile to reach the upper falls.
Visit in late July and early August to enjoy the added bonus of one of the state's best wildflower displays. Lupines, paintbrush, bluebells, alpine buttercups, columbines and elephant's head supply a riot of pleasing color.
GPS Coordinates: 40.403779, -111.621253
4. Scout Falls
Utah County's lush alpine hideaway is Scout Falls, a glorious twin waterfall plummeting off a dark cliff blanketed with a hanging garden of moss and wildflowers. The falls, fed by snowmelt from Timpanogos Basin above, thunders with nature's wild roar.
To get there, hikers follow Timpooneke Trail, one of two routes up towering Mount Timpanogos, for 1.25 miles to the waterfall. Come in July and August for a stunning wildflower display and watch for moose and elk grazing in aspen-fringed meadows along the trail.
GPS Coordinates: 40.417168, -111.639758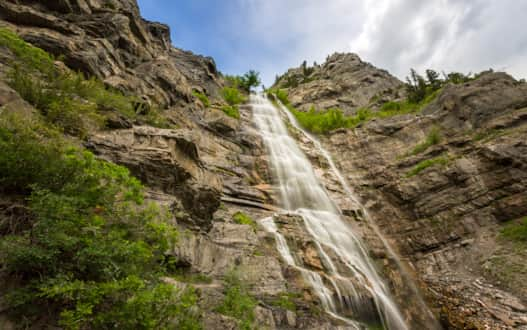 5. Bridal Veil Falls
This 607-foot double waterfall in Provo Canyon is Utah Valley's biggest and most popular waterfall. The tall falls, dubbed one of America's top 100 waterfalls, are a Utah natural wonder. Easily reached by a paved trail along the Provo River, the base is a wide pool stocked with rainbow trout in the warmer months. (There's no fishing, but bring a quarter to buy a handful of fish pellets for the little ones to feed the trout.) A rugged trail climbs to the waterfall's lower tier, but stay on the path and don't climb above the falls. Bridal Veil is not only gorgeous, but is also deceptively dangerous.
GPS Coordinates: 40.340183, -111.603039
6. Battle Creek Falls
A quick hike up a sharp canyon in the Wasatch Front above Pleasant Grove leads to Battle Creek Falls, a hidden twin waterfall pouring 50 feet off a vertical cliff. The falls, popular with families, make are a lovely oasis on a hot August day — there's no better antidote to the late summer heat than their refreshing mist. Come early in June to see the falls really kicking or later in the season when they're a cold shower; whenever you visit, you'll be treated to sublime views down the canyon to turquoise blue Utah Lake. For the extreme experience, some climbers opt scramble to the cliff top and rappel down ropes next to the gushing falls.
GPS Coordinates: 40.367393, -111.693015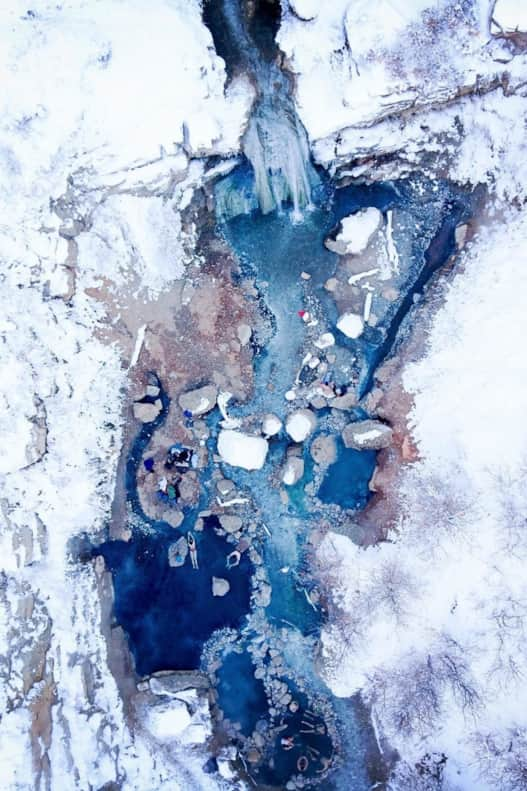 7. Grotto Falls
Tucked into a shallow wooded valley high above the city of Payson, Grotto Falls is a stunning, yet still somewhat unknown, spot. Snowmelt rushing down Peteetneet Creek plunges through a rock-walled gorge into a secluded grotto filled with spongy moss and birdsong. Reached by a short hike from the Mount Nebo Scenic Byway, the waterfall roars in springtime but ebbs to a trickle by late summer. After July, bring the kiddos and let them romp in the cool, clear pool below the falls for a sublime summertime delight.
GPS Coordinates: 39.950168, -111.676853
8. Fifth Water Waterfalls
The Fifth Water Waterfalls plunges down a travertine curtain into several hot spring soaking pools in a narrow canyon east of Spanish Fork and the Utah Valley. It's an absolutely gorgeous spot with a frigid 25-foot-high falls, cobalt-blue water and a spectacular wilderness setting (the only slight drawback is the occasional whiff of sulfur from the nearby hot springs). While the 2.5-mile hike to the waterfall and hot springs doesn't deter weekend soakers, come during the week for more solitude and your own private pool. Farther up Fifth Water Creek are two more waterfalls with plenty of rushing water — and no company.
GPS Coordinates: 40.082991, -111.318613
Written by Stewart Green for RootsRated Media in partnership with Utah Office of Tourism.