Hike + Dine: Provo
The foodie town at the foot of the trails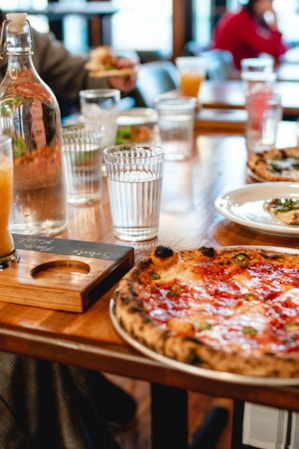 Ask a local what Provo's like and they may tell you it's a city with plenty of quirks but a lot of heart. Located south of the striking, snow-capped ridges of Mount Timpanogos — named after the Timpanogos Ute Tribe — and the Wasatch Mountain range, Provo is the third largest city in Utah and one with a unique social scene that blends together both the great outdoors and the greatest parts of the indoors.
There are almost 200 restaurants in Provo, and a short drive out of the city into surrounding mountain wilderness will take you to waterfalls stretching 200 feet and taller. While the YouTube-famous Cosmo the Cougar shows off his moves in a packed BYU basketball arena, his namesakes can be found prowling through the nearby Uinta forest and occasionally slipping into city limits for a change of scenery. Provo, you'll learn, is a collision of small worlds like these.
If you're planning a trip to Provo or just passing through, here are some of the best hikes and some of the best dining options to get you immersed in the unique duality of the city.
Stand beneath the spray of the scene-stealing Bridal Veil Falls.
Hike: When it's at its fullest, the 600-foot tall Bridal Veil Falls near the entrance of Provo Canyon leaves passersby on I-89 pressing their noses against their car windows and gaping in wide-eyed awe. It's one of the canyon's leading ladies, and crowds flock to see it every year.
Getting to the falls is pretty easy: the trail is a short 1.4-mile hike. There's a slight scramble to Bridal Veil near the end, but the path is mostly paved so that feet, wheels and paws can traverse it with ease. Families will enjoy playing in the water, and visitors looking for more of a challenge can hike further to the Upper Falls trail. Bridal Veil sees a lot of foot traffic during the year, so take care how you tread so that others can enjoy it.
Eat: It's about a 20-minute drive to get from the Bridal Veil Falls trail head to Mozz, a pizza restaurant in downtown Provo best known for its artisan pies. Though fairly new to the city — it opened in March 2019 — Mozz has quickly become a local favorite. It boasts pizzas made with humanely prepared meats sourced from local farms and locally sourced seasonings and vegetables. Mozz pizzas are made in a handcrafted, wood-fired oven, and these aren't your average pepperoni pizzas, either. Mozz's menu lineup includes a ratatouille pizza, a roasted cauliflower pizza, and a serrano and honey pizza.
After you're done filling your stomach with artisan pizza, hop a block south to Rockwell Creamery for some of the greatest ice cream in the United States. We're not kidding. Try their honeycomb, mint chocolate or biscoff flavors for a good scoop.
See the majesty of Mount Timpanogos from the Stewart Falls Trail
Hike: The hike to Stewart Falls is a moderate 3.5 miles out-and-back, and it takes you to the base of another beautiful, two-tiered Provo waterfall. Unlike Bridal Veil, this one is nestled in quiet green wilderness with a lovely view of Mount Timpanogos's spine in the backdrop.
Stewart Falls Trail takes hikers through stands of tall pine trees and aspens with several climbs to keep things exciting. The trail is particularly beautiful in autumn when the leaves are bursting with cold-weather colors. When you've reached Stewart Falls, make sure you look downriver towards Sundance Mountain Resort for a sprawling view of the valley below. For an Instagram-worthy shot of Timp's snow-striped peak, walk a little bit downriver and look back toward Stewart Falls.
Eat: It's referred to online as "revered Indian fare" and with good reason. Bombay House serves some of the greatest Indian food in the state, and is a definite must-go for visiting foodies. It's approximately a 30-minute drive from the Stewart Falls trailhead to where Bombay House is tucked on University Avenue. Once you've left the peace of the great outdoors, you'll find Bombay House a feast for the senses. The restaurant is always hopping with visitors. Be warned that you may find yourself waiting in line for 10 to 30 minutes. For a quicker way to experience it, you can order takeout on the Bombay House website. Along with classics, like their chicken tikka masala and kurmas, Bombay House offers plenty of vegan and gluten-free options. They also make a mean lassi.
Get a bird's-eye view of the city from Kyhv Peak
Hike: We recommend hiking Kyhv Peak because its view of Utah County and Utah Lake is worth the three-mile climb to get there. The Kyhv Peak trailhead can be found by hiking through Provo's Rock Canyon (which makes for another great place to explore) until you reach the place where the trail forks north. The Kyhv Peak trail has a steep finish and plunging cliffs, but the top boasts 360-degree views of the surrounding Wasatch mountains that you can't get from the valley below.
Eat: Perhaps no other Utah restaurant combines the flavors of the southwest with Native American cooking traditions as beautifully as Black Sheep Cafe. This restaurant was first opened by Bleu Adams, who was raised on a Navajo reservation before moving to Provo at 11-years-old. This restaurant uses local producers as much as possible, and emphasizes the Three Sisters of squash, corn and pole beans. Beyond serving up a fabulous Navajo taco, entrees include Hog Jowl Tacos and salads topped with elegant fixings like cactus pear-pomegranate vinaigrette and spice-dusted cotija. You hiked hard, finish the meal off with an orange habanero créme brulee.
Cultural Cuisines Find New Homes in Provo
Families share their heritage and culture in charming downtown Provo where restaurants showcase food from around the globe.