Best Après Ski Bars in Park City and Beyond
Master the art of après-ski. Find brats, beer, craft cocktails and charcuterie at these fan favorites.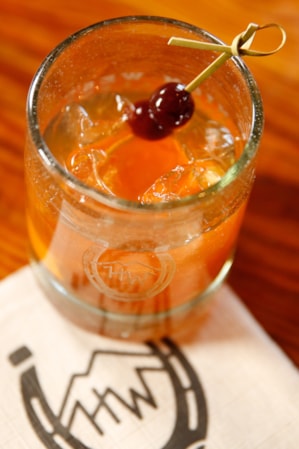 An act of celebration and relaxation, one simply must make time for après ski with your carving compadres after the lifts have closed. A tradition rooted and refined in many a European resort chateaux, this is the "after ski" enjoyment of good food and drink. Most après-ski establishments offer small plates for sharing or entrees for heartier appetites, in addition to warming winter drinks and tasty libations you can share with friends and family.
A day spent sliding and floating on
The Greatest Snow on Earth®
warrants such an afternoon of eating, drinking and reveling, refueling and toasting to the ski gods for more powder days to come. Take your last turns, stow away your skis or snowboard, then come with us to several world-class vintage bars at mountain resorts and modern classics in the city within walking distance of several hotels. It's the ideal way to end your snow day. These are some of the best après ski bars in Park City and throughout the Wasatch Front.
Après Ski Bars in Park City
Handle
136 Heber Ave, Park City – (435) 602-1155
One of Park City's newest culinary attractions, Handle has turned heads with its refined, yet casual, comfort cuisine made with local and regional ingredients. Prepared by former Talisker on Main executive chef Briar Handly and served in industrial-modern-decorated digs, the food ranges from imaginative small plates to quintessential high-elevation entrees and is backed by a well-crafted wine list and pre-Prohibition-era cocktails.
High West Distillery
703 Park Ave, Park City – (435) 649-8300
"Sunday brunch is one of the most popular times to visit the Wanship distillery," High West Distillery brand manager Jenny Goolsby says. "People come mid-morning for a relaxing meal. Then they find out they can stay for a distillery tour and will come back into the bar for a tasting flight after. It makes for a great day." Since construction finished in 2015, the Wanship site snuggled in the Wasatch Mountains off of I-80 has become the flagship destination distillery for tours and tastings in Utah (Read: "The Hills Are Alive with the Scent of Whiskey"). Originally started in Park City by Dave and Jane Perkins in 2006, High West Distillery's brand paved the way for distillers all over the state to apply for licensing. Visitors can still see the original distilling operation at the historic High West Saloon in Old Town Park City. The Saloon is still a ski-in hot spot from Park City Mountain while the distillery is a destination drive about 30 minutes away. (Contributed by Darby Doyle)
Umbrella Bar
4000 Canyons Resort Dr., Park City – (435) 615-4828
After some corduroy laps around Park City Mountain, watch the sunset from inside the Umbrella Bar. This unique yurt-like structure has full glass walls for 360-degree panoramic views. Conveniently located at the Resort Village, the Umbrella Bar is an unbeatable gathering spot on a sunny winter afternoon. Umbrella Bar serves grub like housemade chili and buffalo hot dogs, alongside an extensive selection of brews. Join your friends for a game of corn hole in your ski boots while sipping pints of local Uintah Hazy Nosh IPA.
No Name Saloon
447 Main St., Park City – (435) 649-6667
You can enjoy great food and drinks, relax in front of a fire, play shuffleboard or watch a sporting event at the
No Name Saloon
. The mission-style, red-brick building was constructed in 1905 by a mercantile company. Over time, the building housed multiple businesses before solidifying its status as a bar and restaurant. Now it's a beloved watering hole for locals and visitors alike.
The Spur Bar & Grill
352 Main St., Park City – (435) 615-1618
Enjoy amazing food, great drinks and live music every night at The Spur Bar & Grill. This comfortable, friendly establishment is famous for its wings, brick-oven pizza and Spur burgers. Live music performances include rock and country, blues and folk. It's the perfect low-key spot to relax and enjoy time with friends after a day on the mountain.
Boneyard Saloon & Wine Dive
1251 Kearns Blvd., Park City – (435) 649-0911
Whether you're looking for great comfort food or small plates and great wine, The Boneyard Saloon & Wine Dive is the place to be après ski. The Boneyard Saloon's menu includes wings, ribs, jambalaya and burgers — all house-made — and a great selection of local Utah beers. Across the hall, the Wine Dive offers a more elegant side of things, with unique small plates, artisan pizzas and unique new and old-world wines to keep things interesting. Both spots have a menu of signature cocktails and a fully stocked bar.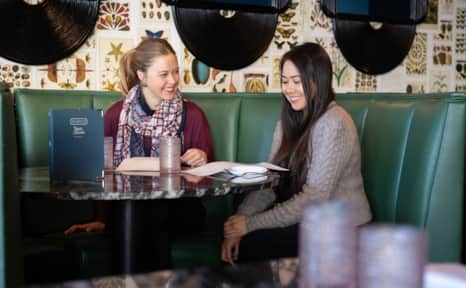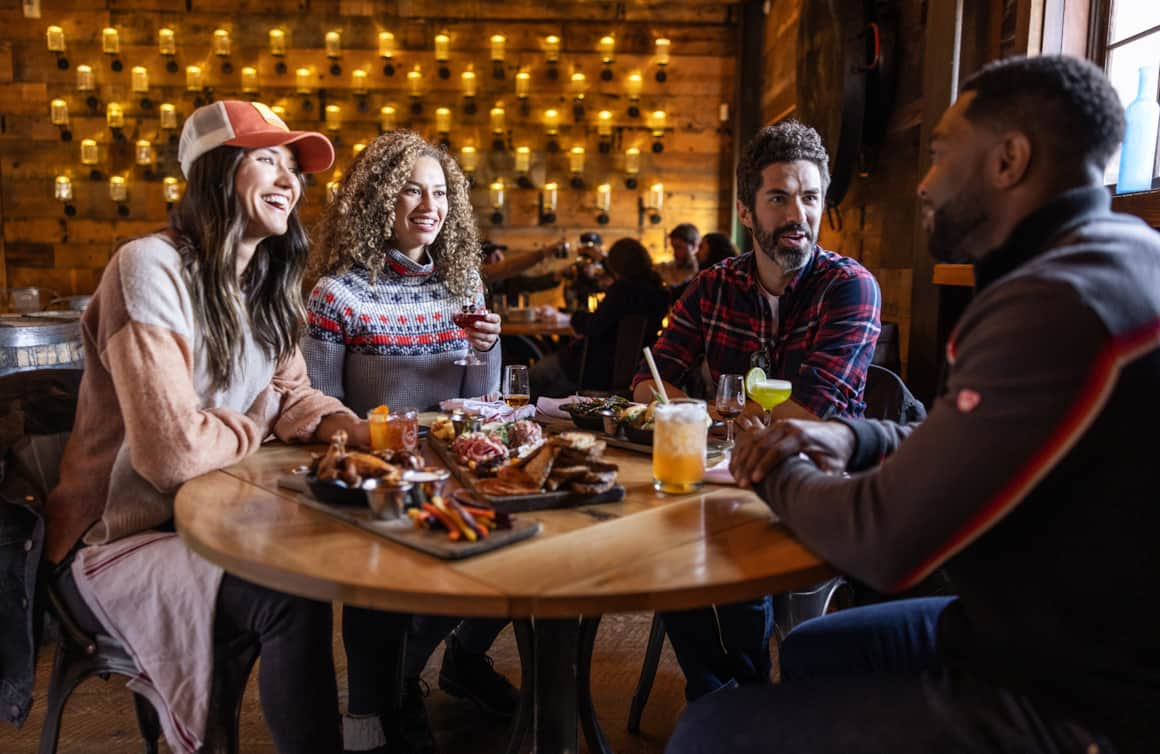 Après Ski Bars Near Salt Lake City
Beer Bar
161 E. 200 South, Salt Lake City – (385) 259-0905
The libation emporium complex co-owned by "Modern Family" actor Ty Burrell includes the craft-cocktail-minded Bar-X and the brew-centric Beer Bar. "A love letter to the beer of the world," Beer Bar pours nearly 30 beers on tap, with another 140-plus in bottles. What's more, there's always plenty of sports projected on the walls. And a menu — created partly by local chef and "Iron Chef America" winner Viet Pham — that gives the hungry après-ski crowd a choice selection of the best brats in the city, served till 1 a.m. (Read: "Short List: Local Salt Lake City Nightlife Picks")
Copper Common
111 E Broadway #190, Salt Lake City – (801) 355-0543
Celebrity restaurateurs in their own right, Ryan and Colleen Lowder have elevated the dining scene of Utah's capital city with big city skill, hospitality and a passion for locally sourced food. Though fine dining is their background, their original Copper Onion restaurant is a relaxed atmosphere focused on community, craft and sustainability. They quickly built a loyal local and traveler following and expanded their portfolio to include the sophisticated and urban Copper Common. Kick things off with the market cocktail at Copper Common to taste the best of the season, and with whatever plate you order, be sure to precede it with the tots. (The signature Copper Onion burger is always a good choice.) Open 5 p.m. to 12 midnight Tuesday to Thursday and Sunday; and until 1 a.m. on Friday and Saturday. (Copper Onion opens for lunch).
Cotton Bottom Inn
2820 E 6200 S, Holladay – (801) 849-8847
Many canyon locals will argue that Cotton Bottom Inn has Utah's best garlic burger. Dig in, because there are scant other food options here aside from the award-winning explosion of garlicky goodness. After eating, don't miss knocking around a few games of pool and putting some quarters in the jukebox at this dark no-frills tavern.
The Hog Wallow Pub
3200 E Big Cottonwood Canyon Rd, Cottonwood Heights – (801) 733-5567
The Hog Wallow is a local favorite spot for listening to live music four nights a week — Wednesday through Saturday — and devouring Tornado Tom's barbecue. Established at the bottom of Big Cottonwood Canyon in 1947, an oaky interior and wooden sculptures help give Cottonwood Heights' most notorious après-ski bar a rustic charm.
Sugar House Pub
1994 S. 1100 East, Salt Lake City – (801) 413-2857
Sugar House Pub attracts a diverse blend of patrons: college students from nearby Westminster College, skiers en route back to downtown Salt Lake City and everyone in between. Friendly bartenders serve cheap sips in this dimly-lit enclave, and the vibe is chill as you sit in comfy chairs or play a game of pool after your ski day. The Sugar House area is home to several new restaurants and old valley favorites, and a streetcar line connects to TRAX light rail for public transit back downtown.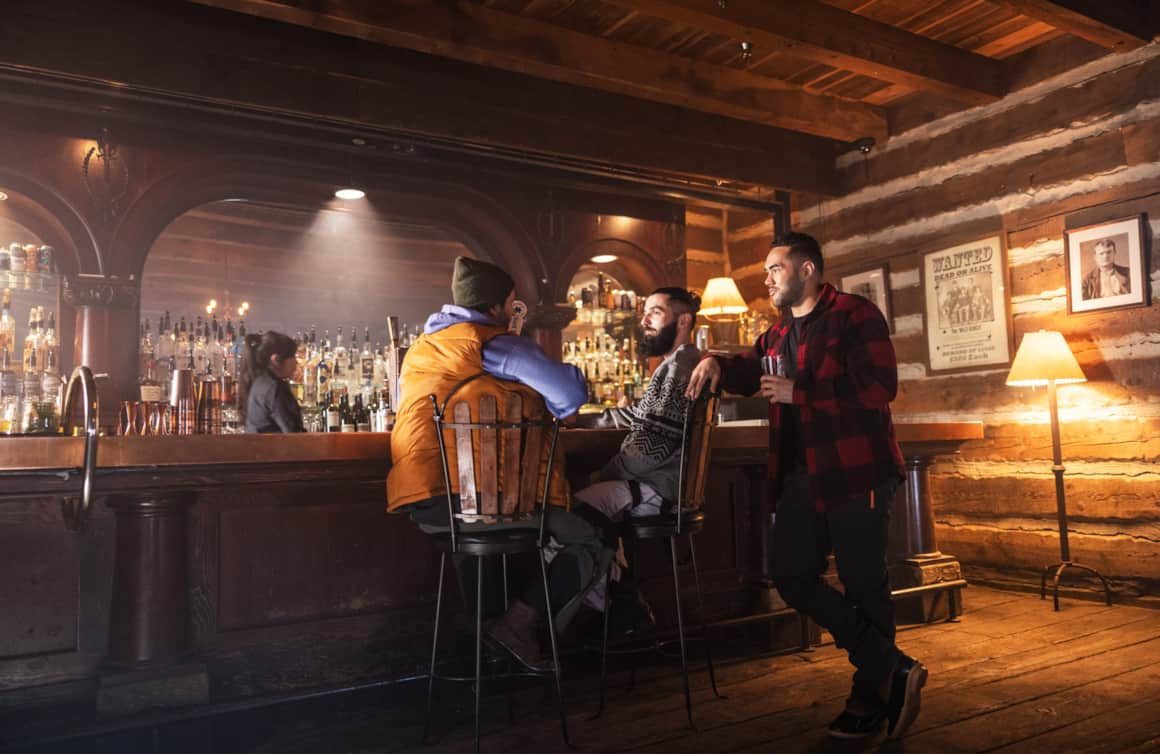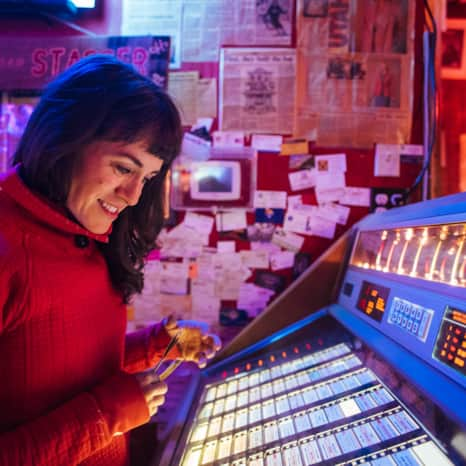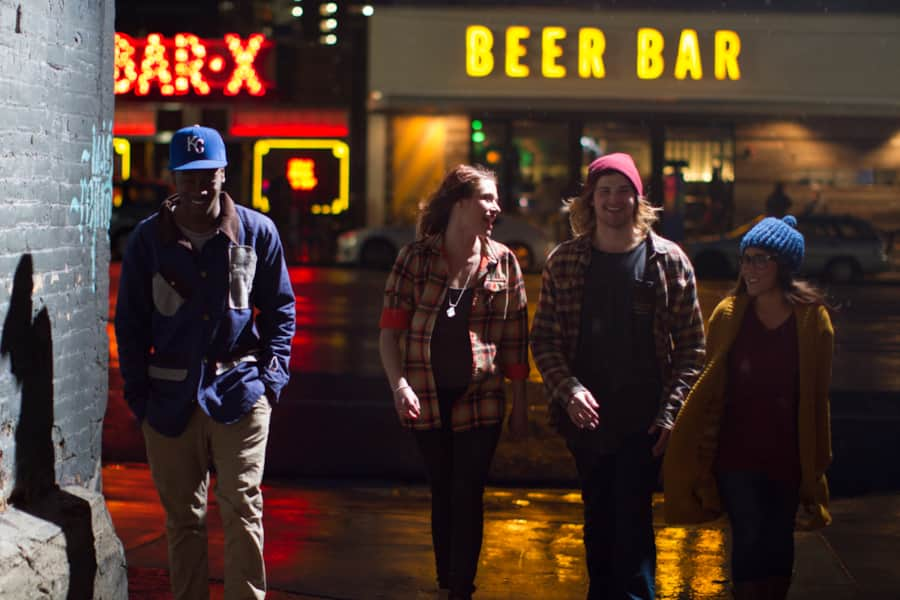 Even More Places to Après Ski
Sitzmark Club (Alta Ski Area)
Alta Lodge, 10230 UT-210, Alta – (801) 742-3500
A cozy space lined with knotty-pine panels and windows that open up to Alta's rugged terrain, Sitzmark Club is for the schussers of Little Cottonwood Canyon's skiers-only resort. Located upstairs at the Alta Lodge, the Sitzmark is a classic and historic ski-hotel bar that's seen little change since its opening in 1939.
Shooting Star Saloon (Ogden)
7350 E. 200 South, Huntsville – (801) 745-2002
The oldest continually-running bar in Utah (since 1879), Shooting Star Saloon is known for its eccentricities — namely, taxidermy and burgers. Hung over the "Buck Booth" is the stuffed head of the once-largest (298 pounds) St. Bernard, named Buck; other large game adorn the walls here, too. Comprised of two ground-beef patties, two cheese slices and a grilled knackwurst Polish sausage in the middle, the Star Burger must be ordered as-is (Don't want ketchup? You can scrape it off when the burger is served).
The Owl Bar (Sundance Mountain Resort)
Sundance Mountain Resort, 8841 N. Alpine Loop Rd. – (801) 223-4222
Sit at The Owl's 1890s rosewood bar and muse that Butch Cassidy once drank at this plank. The bar was located in Thermopolis, Wyoming, but was restored and installed at Sundance by resort founder Robert Redford. Explore an excellent Scotch selection by the fireplace and order food prepared at the Foundry Grill next door. (Watch: "Robert Redford Sets the Sundance Scene")
Thirsty Squirrel (Solitude Mountain Resort)
Solitude Ski Resort, 12000 Big Cottonwood Canyon Rd. – (801) 534-1400
By day, Solitude Mountain Resort lives up to its name, providing ample room to score pow stashes well after a storm. But for the après-ski hour, there's a place where people come together: the Thirsty Squirrel, located in Solitude Village. Relax as you eat life-affirming nachos and sip soul-warming hot wintery beverages. This is the classic mountain pub to tell tales of the glorious runs you've taken all day.
The Powder Keg (Powder Mountain)
6965 E Powder Mountain Rd, Eden – (801) 745-3772
Pow Mow prides itself on its no-frills, all-thrills experience, and the Powder Keg is no exception. Picture a hybrid of your favorite dive bar and your middle school cafeteria, throw in a bunch of characters in ski boots and you'll get this straightforward hangout that's a favorite among Northern Utah locals. You can munch on chili burgers, swig draft beers, and play darts or pool while swapping your best powder stories.