COVID-19 Travel
Please adhere to local guidelines for safe and responsible travel, including following the statewide mask mandate.
Read more
Cat Skiing
What about the rest of the resort? There are shuttles and snowcats that will transport you to your dream day. The Lightning Ridge Snowcat accesses 700 additional acres and if the phrase "Powder Safari" strikes your fancy, backcountry tours are also available. Keep in mind, this is serious get-yourself-purposefully "lost" kind of backcountry. Seven thousand acres is a hard number to envision. To overcome this gap in the imagination, you'll really want to opt for a guided backcountry tour.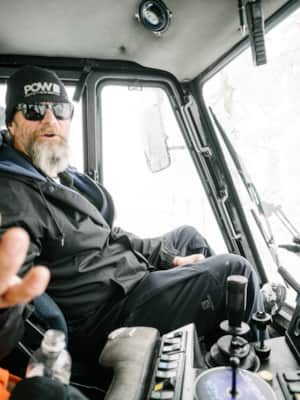 Another Day in Powadise
Join ski cat driver Kevin Irons on a day's adventures to Lightning Ridge at Powder Mountain, complete with pizza bribery, remote access and lots of powder.
Here's how cat skiing at Powder Mountain works in a nutshell: connect up with the "Pow-Mow" crew in the main village, hop in the cat then cruise out and pretty much ski anything you can point at. You are essentially dropped off at the top of the run and picked up at the bottom. There are single ride tickets or punch passes. "Buy 10, get the 11th free" on the Lightning Ridge snowcat is a much more exhilarating repeat customer reward than a free cup of coffee. With so much adventure awaiting, it's worth booking a ski-in/ski-out condo near the Timberline Lodge. Plus, the Powder Mountain Adventure Center yurt is just next door.
Step off Paradise's quad and you'll find a number of black diamond powder runs in either direction at your disposal. To the left, Hidden Lake Express accesses stunning views across the valley, and great beginner and intermediate terrain. Powder Mountain also replaced its Sundown-area lift with a new quad, a move that enhanced the resort's ski school capabilities. These improvements are part of a much broader master plan for the resort. Learn more about Powder Mountain
Where to Stay Near Powder Mountain
Ogden Valley is a quiet, idyllic place throughout the year free of the hustle and bustle of the city — though a number of excellent restaurants and a superb distillery do call the valley home. Choose from an assortment of condos and vacation rentals in Eden, Huntsville or Liberty for a base camp nearest the mountain resorts, or head down the short canyon to Ogden.
Ogden offers a wide range of lodging options close to the slopes for any desire and budget. The town makes a great basecamp for skiing adventures and offers dozens of options for accommodations, ranging from boutique bed-and-breakfasts to family-friendly hotels. Frugal travelers may also consider staying in nearby Layton, where certain hotels offer discount packages and quick access to Ogden Valley resorts.
Read more about where to stay and things to do in nearby Ogden:
Powder Mountain Power
Top 5 Ways to Master the Powder and Have Fun
It's no surprise that Powder Mountain is a great mountain for powderhounds. With more than 8,000 acres of terrain covered in 500 annual inches of powder, Pow Mow is ideal for experts to challenge themselves as well as for beginners to learn how to ski powder. Intermediate to expert skiers prefer runs off the Paradise lift and cat skiing at lightning Ridge, but beginners can get plenty at Hidden Lake and Sundown.
1. Advanced Super Loop | Black Diamond
Part of the ski adventure is all about how to link trails together to get maximum coverage (like a 4,630-foot vertical drop). For advanced skiers, start at the Hidden Lake Lodge (at Powder Mountain, you can drive to the top of the mountain) and ski down Powder Country to the shuttle, which will take you to the Sundown lift. From there, it's either a free hike to the top of Lightning Ridge, or an $18 snowcat ride. Zip down any of the wealth of black-diamond runs to connect with the Paradise lift. At the top, it's one more run over to the Hidden Lake lift, which brings you back to the starting point.
2. Learn Something New
Why not learn a bad-ass new sport, so you can remind your friends at home about how much you rule? Get fluent in snow kiting. Powder Mountain's Adventure Center has lessons for individuals and groups to get a grip on the basics and determine if you want to add the sport to your winter quiver. If you already love it and have the gear, sign on for a snow kite adventure and learn how to add to your skills.
3. Guided Sidecountry
Get into the sidecountry with an Adventure Center expert who knows where all the sweet runs are. The Pow Mow area called DMI is local code for "Don't Mention It" (a.k.a. Wolf Canyon) and you can get in the thick of approximately 1,000 acres and a 3,000 vertical drop if you're willing to take a short hike up to James Peak. This awesome terrain includes huge, wide-open bowls, thick trees and some steep chutes. Aren't you glad you have someone who knows it well?
4. Hidden Lake Lodge Break
Hearty ski lodge food is all part of the great winter experience, but sometimes it's nice to have a little something new to break up your ski day. Take a lunch break at Hidden Lake Lodge, which features authentic Mexican fare including freshly made tortillas and homemade salsas. Just remember to eat wisely, since burrito coma can make you a little slower immediately after lunch.
5. Easier Super Loop | Green Circle
Start with your advanced skier pal, split up for some individual fun, and rejoin each other back at the starting point. For a sweet ride with great views, begin at Hidden Lake, and ski down East 40 to the Sunrise lift. If you haven't used a Poma lift, here's your chance to learn. At the top of Sunrise, pause for a moment. On a bluebird day, you can see four states: Nevada, Idaho, Wyoming and Utah. When you're ready, hit Sunrise Ridge to Cat Walk to Cobabe Canyon. This canyon trail runs along a four-season creek, which isn't something you get every day when skiing or riding. At the bottom, catch the Paradise lift, ski Gateway and Burntwood to the Hidden Lake lift, and meet your pal.