U.S. Federal Shutdown Information
At this time, all of Utah's national parks, monuments and recreation areas remain open.
Learn more.
Utah's Bucket List Expert-Only Ski Runs
Five legendary steep and deep ski runs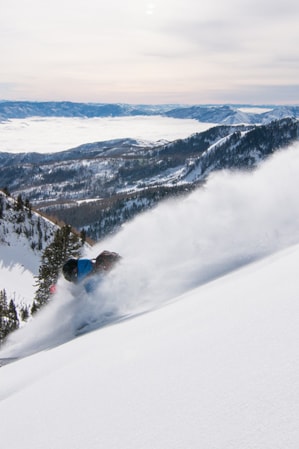 Caution: the terrain in this article is for experts only. For those of you with the skills to take on the legends of Utah's snow, read on.
Utah is renowned for it's legendary "steep and deep" ski runs, covered by The Greatest Snow On Earth®. To discover some of the very best, we checked in with Marcus Caston, a professional outdoor adventurer and powder skiing specialist. The following are five of the gnarliest runs in the state of Utah according to Marcus, and they are for experts only. Seriously, don't try these runs unless you are comfortable skiing or snowboarding in tight lines down narrow chutes and extremely steep terrain with no easy or intermediate exits.
Also, note that the difficulty level of each run is determined by its resort — so a blue square at one resort might be deemed a black diamond at another resort. But a double black diamond deserves a dose of cautionary respect at any and all resorts. Most of these runs are surrounded by other extremely difficult runs, so there's no going back once you're in. If you are truly uncomfortable, ski patrol can come to the rescue. Pay attention to resort signage. If the signs say "cliff area" or "danger," they mean it.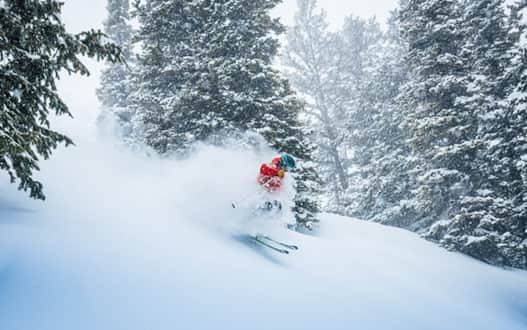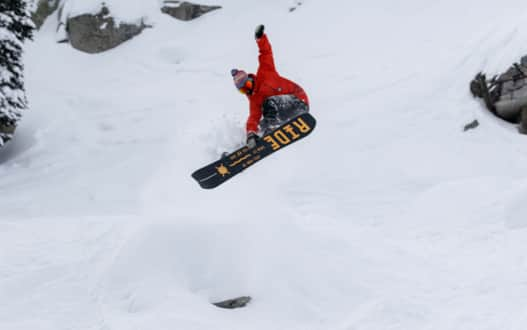 1. Alta's High Rustler
Alta Ski Area's High Rustler is one of the longest, continuously steep runs in the country. Even professional skiers have a hard time skiing top-to-bottom without stopping for a rest. The most technical part of this run is actually getting there. From the High Traverse, turn left at pass and traverse just below ridge line. Side-step or hike to the top of the knoll. Carefully make your way across exposed and barely hidden rocks, following the trail around the mountain. You'll know High Rustler when you see it — the trail opens up to a long, long, open run that seems like a straight-down drop. Make beautiful turns in the powder, and you'll be able to admire them from the lodges below.
2. Snowbird's Fields of Glory
Narrow chutes and cliff drops abound in Snowbird Ski and Summer Resort's snowy playground where classic American big mountain skiing was born, and still home to international big mountain freeskiing competitions. Take the Aerial Tram, and ski the ridgeline between Peruvian Gulch and Mineral Basin. If the rope is dropped, continue on the ridge instead of dropping down into either bowl to enter the High Baldy Traverse. Note, there are NO EASY OPTIONS to get down the mountain once you enter the High Baldy Traverse. Stay to the skiers' right until the trail hooks around to face more north rather than west. Fields of Glory will be the most open trail, but funnels into chutes and cliffs in the Amphitheater. Fields of Glory is at its best with fresh snow and a base depth of at least 100 inches of The Greatest Snow on Earth.
"Utah is renowned for it's legendary "steep and deep" ski runs, covered by The Greatest Snow On Earth®."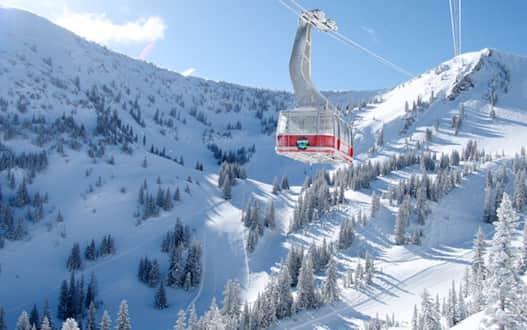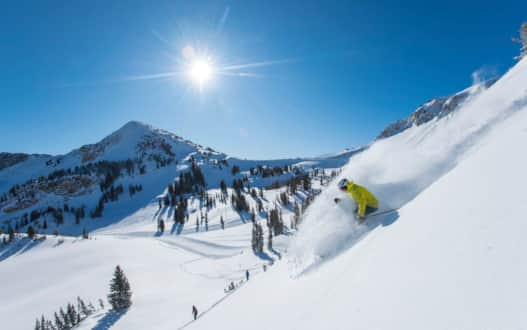 3. Powder Mountain's Cache Bowl
Powder Mountain's Cache Bowl is like a natural terrain park, starting from a huge bowl that funnels into a feature-filled natural halfpipe and shoots you out right next to Timberline Lift. Ride up Timberline Lift and head down to the Powder Keg lodge and admire your turns from the window. How to get there: Start from Sundown lift, at the top you will head right towards the saddle to wait for a snowcat to haul you up Lightning ridge. The snowcat shuttle is just $20 per ride with a season pass and $25 per wide with a lift pass. Punch passes are also available. From the top of Lightning Ridge, head to the skiers' right until you see an enormous bowl with some wind lips and cliffs on the right.
4. Brighton's Mary's Chutes
Brighton Resort's Milly Express lift is one of the only places in Utah to ski or snowboard a pillow line. You'll want to wait until the resort gets an epic snowstorm — at least two feet — for pillow lines to form. The result is some of the best skiing in Utah. Take Milly Express and hang a left off the lift. The run will be right there. You can traverse a bit to find acres of untracked powder, then navigate down chutes, spines and cliffs. Toward the bottom, merge onto the groomed trails to get back to Milly Express for another run, or take a well-deserved break at Millicent Chalet for hot chocolate.
5. Park City's Silver King Trail
Located off Crescent Express, Silver King run and its adjacent trails offer more than just heart racing steeps. Park City Mountain skiers and riders love the option of ducking into the powder covered glades or laying first tracks down onto the wide open trail. Silver King has an array of natural features and is visible from the Crescent Express so make sure your skills are in tune before taking on the challenge. Ski it right and garner respectful hoots and hollers from the chairlift above.