Everything in its Right Place
Citizens of Mountain Time: Mouse and the diggers create a world-class terrain park at Brighton Resort each week.
It's Thursday, and Thursdays are busy.
Blue skies and freshly-groomed runs — in between, rails and jumps meticulously curated just so. A stray snowboarder hurls himself into the air. A few minutes later, a grade-school-aged skier peers at an obstacle, thinks better, and cautiously avoids it. An early-morning chill hangs in the calm spring air.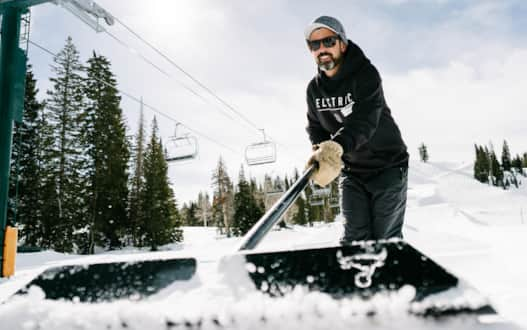 You might not see the hustle unless you get up close to Mouse and the diggers at a Brighton Ski Resort terrain park.
The terrain park designer and head digger, Mouse (who wishes only to be known by his nickname of more than two decades) has a shovel in hand as he finishes digging in the newly-placed rail.
His crew of diggers — called as much because they dig in park features, but whom also are called park rangers or crew — are hurriedly preparing the terrain parks for the busy weekend crowds. The masses will come hungry to shred Brighton's six parks and an ever-changing assortment and arrangement of features.
"It's up to the creativity between the crew and the cat drivers to build and design the parks each week to keep things fresh," Mouse says. "It keeps people wanting to come back again and again to your resort." Additionally, it's helped aid Brighton's reputation as one of the preeminent terrain park resorts in the country.
There are roughly 200 skiable acres at Brighton's six terrain parks, and Mouse pulls from a fleet of 110-plus rails and features each week. He, along with a bit of help, welded each and every piece by hand.
"There are roughly 200 skiable acres at Brighton's six terrain parks, and Mouse pulls from a fleet of 110-plus rails and features each week. He, along with a bit of help, welded each and every piece by hand."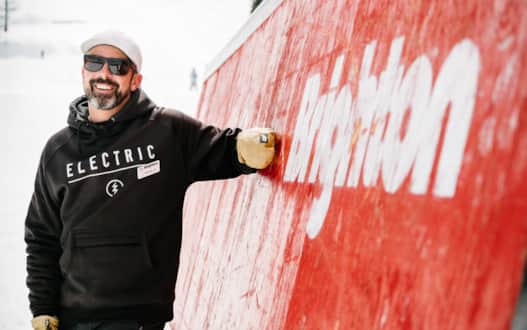 At any given time, there are approximately 60 to 70 features in the parks to create an ideal mix of rails, jumps, boxes, snow features, more rails and usually a couple of big features.
The parks range from My-Oh-My, located off of Crest Express, with its big-air jumps for advanced riders to Pee-Wee, which offers wee little jumps for the tiny tikes. Then, there's playfully delicious Candyland for all ski levels, and Upper and Lower Majestic, which live up to their name. Both areas offer an array of features to attract different skill levels.
Mouse and the diggers are tasked with making it interesting week after week. Monday through Wednesday are reserved for build days, where snow is pushed around the hill to accommodate a new weekly design. Thursday is when the main features are dug in, with any remaining digging wrapped up Friday morning.
"It's a fun process. At some point, you'll have this idea for the park, and you'll bring it amongst your friends or coworkers and, eventually, you'll see it all come together — then you get to ride it," Mouse says.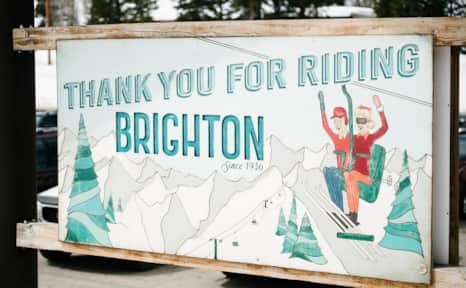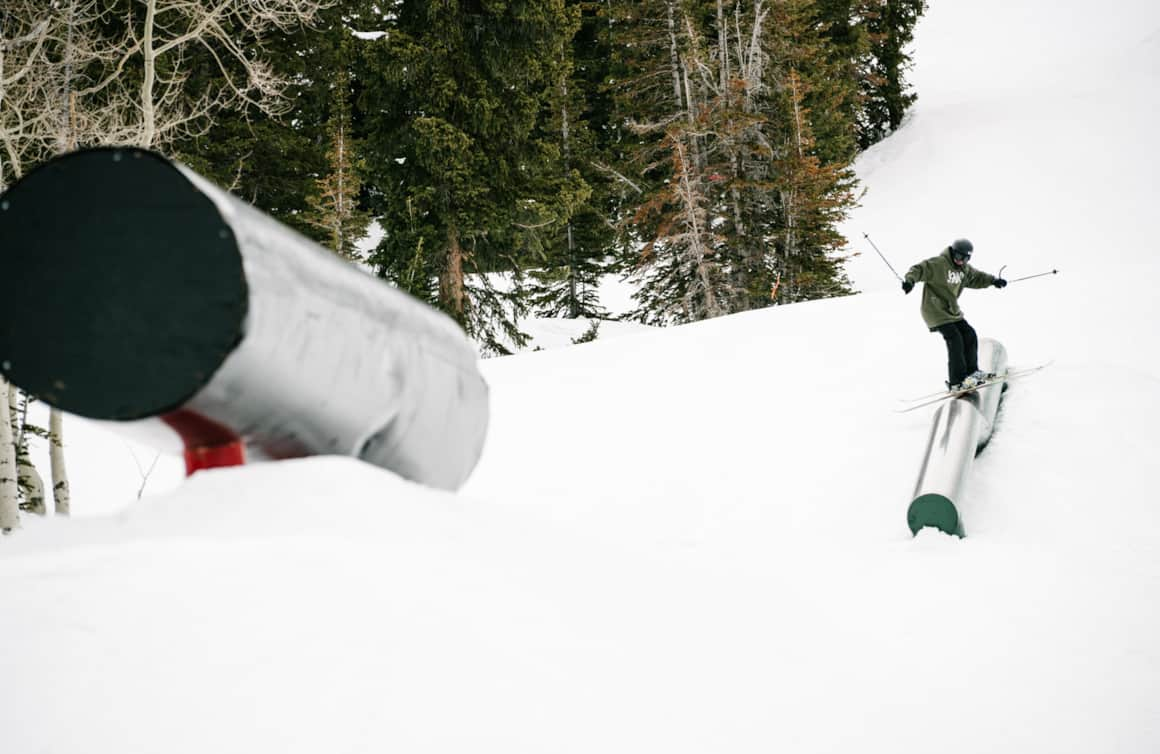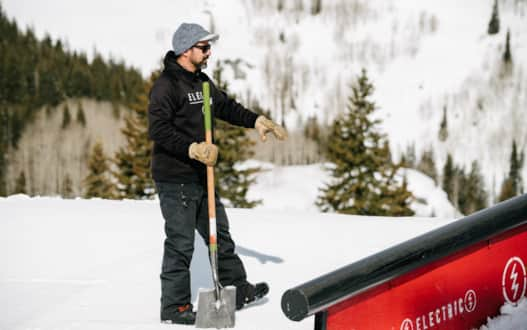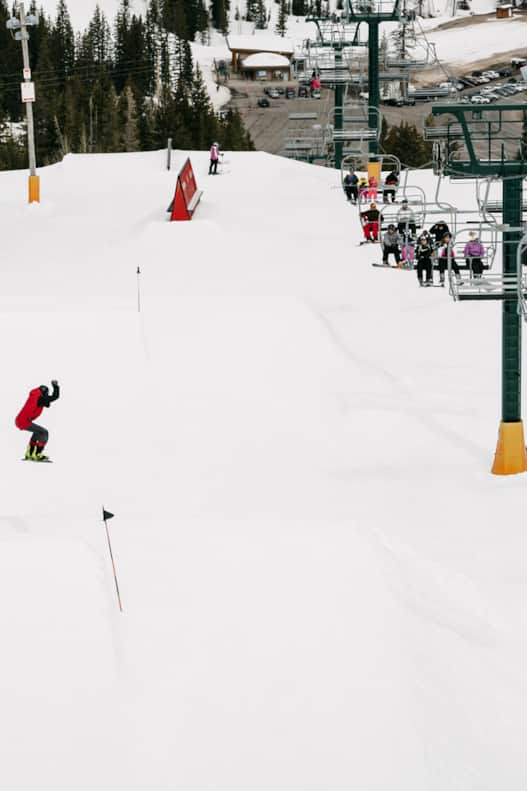 Terrain parks are in Mouse's lifeblood. A native of Duluth, Minnesota, he's skied since he was three years old. The ski hills were miniscule by comparison to those found at Utah's resorts, and without a lot of powder, the groomers got pretty boring, pretty quick.
"Riding in the terrain parks was just part of the culture I grew up in. Plus, during the winter in Minnesota, if you're not into snowsports, you're not doing much. Maybe drinking too many beers," he says with a laugh.
Like many, the fanfare and excitement of the 2002 Winter Olympics in Utah brought Mouse out West. He also credits some elevated terrain parks. He scored a job at Brighton in 2004, and split his time for five years between Brighton in the winter and Windells Action Sports Camp near Oregon's Mount Hood in the summer.
Mouse cut his teeth building features and digging them in, and when the opportunity came to step up as the head designer, he jumped all over it. Now, he's a bit of a fixture himself in the park, not to mention a local legends among the park rats and pro-level aficionados.
On this particular morning, from where Mouse pats down the last bit of snow with his shovel, you can see the iconic Milly tubes, built from the former lift towers. Continuing uphill, you can see flowing terrain and opportunity after opportunity to be creative with one's ride. Compared to other Utah terrain parks, Mouse says that Brighton is the most low-key and offers more options for a broader audience. The parks are simply ingrained in the culture of Brighton, whose director of marketing, Jared Winkler, is the former terrain park director and gave Mouse his first job at the resort.
"With the style of our features, I would say Brighton rides more like a skate park than a typical terrain park — there's more flow," Mouse says.
The sun is now high overhead and a steady trickle of folks have made their way down through the parks. It's time for Mouse and the crew to have a cup of coffee, then ride. Someone has to ensure that the features are as they should be.
Experience Brighton Ski Resort