Flaming Gorge: Boating and Paddling Paradise
Whether you come for the water sports, the fishing, or the elbow room, boating on Flaming Gorge offers everyone a chance to unwind and experience the same magical light, color, and country that John Wesley Powell's Expedition found nearly a century and a half before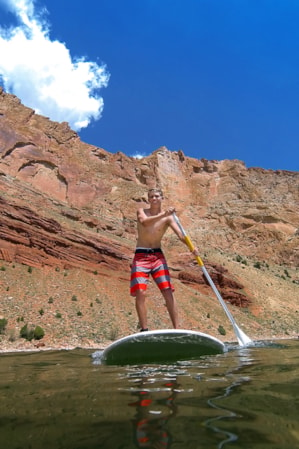 If you haven't yet boated Flaming Gorge Reservoir (and the Green River below the dam), you are missing out. Covering more than 42,000 acres, this 91-mile reservoir is located within a diverse geologic region that is as dramatic as it is beautiful. Spanning every type of terrain, from the mountainous forests, benches, and canyons of northeastern Utah to the rolling sage prairies of southwestern Wyoming, its position within the narrow course of the Green River presents boaters with endless opportunities to explore glassy waters in isolation. From water sports, cruising, fishing, and paddling, the potential for fun on this picturesque reservoir is unlimited.
The guarded position of the lake set low within narrow canyons makes Flaming Gorge a prime destination for water sports. As water temperatures climb into the 70s by late summer, water skiing, wake boarding, and jet skiing are extremely popular here. Access to this colorful playground has been made easy via any number of boat launches, campgrounds, and marinas surrounding the lake.
The deep and fertile waters of the lake have also made it one of the premier fisheries in the United States where trophy fish are reeled in year after year. Seasoned anglers from around the globe troll for brown and lake trout or drop a line at depth to lure kokanee salmon. Families cast for rainbow trout and smallmouth bass closer to the surface.
Kayaking and stand up paddleboarding, in particular, are fast-growing sports at Flaming Gorge. Paddling on the reservoir is a skill that is easily learned and allows you to explore at your own speed. All the excursions above are open to beginners with some level of fitness. For young explorers, try a tandem kayak and have them share paddling responsibilities with an adult. If you love water, viewing wildlife, and exploration, paddling the lake is definitely for you.
The Wake-free Route
Kayaks, canoes, and stand up paddleboards offer a peaceful and quieter way to explore Flaming Gorge, and have grown in popularity in recent years. From short jaunts to multiday excursions, you can build a paddling adventure of any size.
For paddleboarders, great place to start is the Lucerne Marina. Then, cross the open waters of Linwood Bay south to the peaceful and wake-free zone of Horseshoe Canyon. From Sheep Creek Bay you can paddle east to Kingfisher Island. Keep your eyes peeled for herons and egrets. And from Cedar Springs Marina, follow the south shoreline into the wake-free Cart Creek Canyon for a great excursion that takes you beneath the suspended Cart Creek Bridge.
But you really can't go wrong with whatever activity or route you choose. From its deserts to its mountains, Flaming Gorge offers numerous vistas that are not to be missed.
The Kingfisher Island Loop begins at the Sheep Creek Boat Ramp. This six-mile outing will take you along the southern shoreline where big horn sheep are known to hang out. Turning right into the narrow passage between the shore and Kingfisher Island will give you amazing views of towering bluffs above the vibrant water. Make your way counterclockwise around the island then retrace your course back to the boat ramp.
Dutch John Draw is a quiet side canyon that is home to a few smaller canyons just waiting to be explored — save some time to check them out. Beginning at the Mustang Ridge Boat Ramp you will head east following the north shoreline. After one mile the draw will open to the north. You can explore the finger canyons and then pull over for a swim at Sunny Cove Beach. Reverse your course to return to the Mustang Ridge Boat Ramp. This venture is about four miles and falls entirely within a wake-free zone.
Cart Creek is another great outing that will take you beneath an arched suspension bridge and into a wake-free zone. Start at Cedar Springs Marina and head east along the rocky south shoreline. After a mile you will turn right, south, and head under the bridge. Head up the narrow Cart Creek Canyon. The fishing in this area can be great so pack a rod. Reverse the course to return to Cedar Springs Marina for a four to five mile trip.
The Green River
Some folks consider fishing the Green River below the Flaming Gorge Dam a rite of passage. If you are in the Flaming Gorge area and fish, even just a little bit, you shouldn't leave without spending at least one day throwing your line across the blue ribbon waters of the Green River — it's known as one of the greatest spots around. There's also a popular 7-mile float that starts just below the dam, available either guided or on your own.
What Makes It Flaming?
Paddling into the narrow sandstone canyons you will see why the area was named Flaming Gorge. In the late hours of the day the sun glares off the crimson cliffs above. There are numerous spots along the lake's waterfront where you can park your vessel to eat lunch, swim, or just take in the scenery.
On the north end of the lake above the confluence of the Black Fork, be sure to check out the Firehole Canyon, where stone pinnacles of North and South Chimney Rocks, remnants of an ancient volcano, tower over the surrounding sage-covered badlands.
Southwest of Linwood Bay is the area after which the 1869 John Wesley Powell Expedition named Flaming Gorge. Despite the actual gorge being submerged below the lake's surface, one can still see the sunlight reflecting off the varnished red and orange sandstone above. Horseshoe Canyon, a side canyon of Sheep Creek Bay, is an incredible looping canyon that takes you through a narrow waterway with striking cliffs looming high on both sides. The gorgeous Red Canyon begins south of Kingfisher Island and runs to the dam. This narrow section of Flaming Gorge is where the water course turns east and makes its way beneath craggy walls of quartzite that loom 1,400 feet above the lake's surface. Bighorn sheep are often seen grazing among these burgundy cliffs.
Overnight
Northeastern Utah is a tranquil place away from it all. It is especially popular during summer, where cool waters and a higher elevation in this part of the state provide an escape from the heat. For lodging with best access to the reservoir, make a reservation for a night or two at Flaming Gorge Resort or Red Canyon Lodge. There are also a few options in the nearby town of Manila in Daggett County, including motels, cabins and yurts, and additional cabins for rent nestled in the High Uintas Wilderness.
If you prefer sleeping outdoors over staying in hotels, Flaming Gorge National Recreation Area also has several campgrounds so you can extend your adventure along the shores. The campgrounds offer affordable rates and range from fully developed sites with tables, fire rings, water, and toilets, to primitive sites that have few or no amenities. Opting for one of the scenic boat-to camps on Fisher Island in Hideout Draw or deep in Red Canyon is highly recommended. Either will give you an experience not commonly found in the Intermountain West.
Boaters and paddlers also have the option of primitive camping or anchoring somewhere along the 350 miles of Flaming Gorge's shoreline. With so much space, you are certain to find real solitude within this stunning environment. Check out Carter Creek and Trail Creek in Red Canyon for some particularly beautiful and secluded sites.
Rentals and Reservations
Boat rentals are available at the three marinas: Buckboard Crossing Marina on the north end, Lucerne Marina toward the center, and Cedar Springs Marina near the dam. All the marinas at Flaming Gorge offer supplies, fuel, and boat rentals. Gas can be found at any of the marinas and at the dam (diesel is not available).
Cedar Springs Marina is five miles south of Dutch John on Highway 191.
Mustang Ridge Boat Ramp is five miles from Dutch John. Drive north on 191 from
Dutch John turnoff for two miles. Turn left onto Forest Road 184 and follow for three miles to the boat ramp.
Sheep Creek Boat Launch is 30 miles from Dutch John. Head south on Highway 191 from Dutch John for nine miles. Turn right onto UT Road 44 and travel 20 miles to the Sheep Creek Boat Launch Rd. Turn right and follow .5 miles to the ramp.
You are not required to wear a personal floatation device (PFD) while paddling, but you are required to have one on board.
Whether you come for the water sports, the fishing, or the elbow room, boating getaways on Flaming Gorge offers everyone a chance to unwind and experience the same magical light, color, and country that John Wesley Powell's Expedition found nearly a century and a half before.