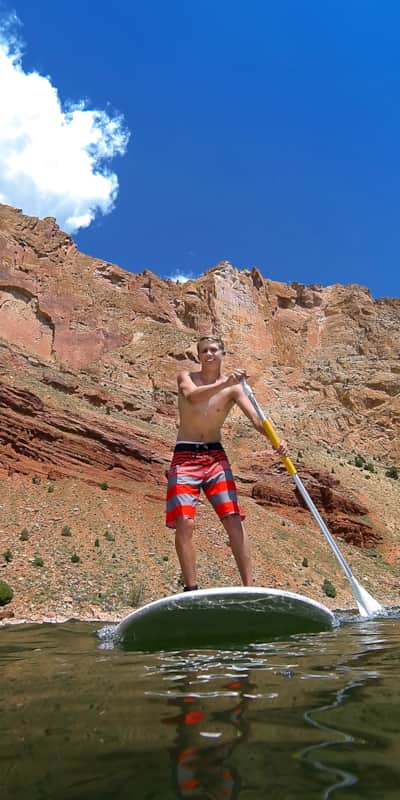 What You'll Remember About Paddling Flaming Gorge
Paddling into the narrow sandstone canyons you will see why the area was named Flaming Gorge. In the late hours of the day the sun glares off the crimson cliffs above. There are numerous spots along the lake's shore that you can park your vessel to have lunch, swim, or just take in the scenery.
The Kingfisher Island Loop begins at the Sheep Creek Boat Ramp. This six-mile outing will take you along the southern shoreline where big horn sheep are known to hang out. Turning right into the narrow passage between the shore and Kingfisher Island will give you amazing views of towering bluffs above the vibrant water. Make your way counterclockwise around the island then retrace your course back to the boat ramp.
Dutch John Draw is a quiet side canyon that is home to a few smaller canyons just waiting to be explored. Beginning at the Mustang Ridge Boat Ramp you will head east following the north shoreline. After one mile the draw will open to the north. You can explore the finger canyons and then pull over for a swim at Sunny Cove Beach. Reverse your course to return to the Mustang Ridge Boat Ramp. This venture is about four miles and falls entirely within a wake-free zone.
Cart Creek is another great outing that will take you beneath an arched suspension bridge and into a wake-free zone. Start at Cedar Springs Marina and head east along the rocky south shoreline. After a mile you will turn right, south, and head under the bridge. Head up the narrow Cart Creek Canyon. The fishing in this area can be great so pack a rod. Reverse the course to return to Cedar Springs Marina for a four to five mile trip.
Parking, Directions, and Regulations
The Flaming Gorge Recreation Area falls within a National Forest Fee Area. You may purchase multi-day passes at numerous locations along the way and at all boat launches.
You are not required to wear a personal floatation device (PFD) while paddling, but you are required to have one on board.
Cedar Springs Marina is five miles south of Dutch John on Highway 191.
Mustang Ridge Boat Ramp is five miles from Dutch John. Head north on 191 from
Dutch John turnoff for two miles. Turn left onto Forest Road 184 and follow for three miles to the boat ramp.
Sheep Creek Boat Launch is 30 miles from Dutch John. Head south on Highway 191 from Dutch John for nine miles. Turn right onto UT Road 44 and travel 20 miles to the Sheep Creek Boat Launch Rd. Turn right and follow .5 miles to the ramp.