U.S. Federal Shutdown Information
All of Utah's Mighty 5 national parks will remain open.
Learn more.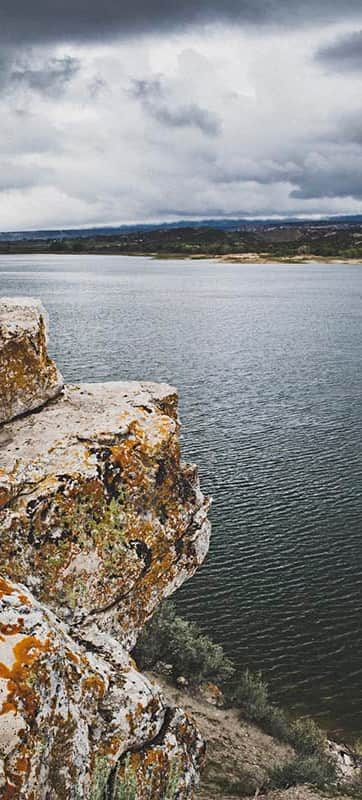 What Makes it Great
Since opening in the 1960's Steinaker has become a prime spot for serious anglers. Once you cast your line into the emerald water you can expect to pull in beautiful rainbow trout. When the water heats up during the summer season, you may even pull in a bass or two. The park has a concrete boat launch and if trolling is on your agenda you can spend the quiet morning hours cruising the 850 acres of water. If you are unsure of what lures are working just ask one of the helpful locals. With the fish practically jumping into your hands everyone is happy to share their success.
The warm water also makes Steinaker State Park ideal for water sports. Waterskiing, wakeboarding, and jet skiing all make for a great time. The lack of crowds will leave you with plenty of space to move around. The sandy beach at Steinaker is an awesome place to launch your stand-up paddleboard or kayak. Paddling the shoreline to the marsh at the north end of the lake is a perfect place to see waterfowl.
In the winter, it is an ideal place for remote adventure. Most years, locals make their own two-mile loop trail for cross-country skiing and snowshoeing. Other years, the locals devote time to clearing snow off the lake for homemade ice skating on 20 inches of solid ice. At the Annual Steinaker Ice Fishing Tournament, anglers compete over who can pull the largest trout out of the frozen reservoir. Maybe you decide to snowmobile on the national forest lands or take a day trip to the Utah Field House of Natural History State Park Museum. Vernal or the heated cabin at Steinaker make a great base camp.
In 2018, Steinaker State Park was granted international dark sky park status, so don't forget to look up on your overnight visit.
What You'll Remember
Accessibility is key: situated only a few miles north of Vernal, Utah, Steinaker State Park makes a great base for your exploration of the surrounding area. Pack a lunch and go adventuring. Hunt for fossils over at Dinosaur National Monument. Spend a day rafting on the Green River through Split Mountain, mountain bike the awesome trails at McCoy Flats or Buckskin Hills Recreation Complex, visit Fremont petroglyphs in nearby Dry Fork Canyon, study the past at the Utah Field House of Natural History Museum, or go searching for dinosaur foot prints over at Red Fleet State Park. The list goes on and on.
Back in camp at Steinaker State Park, which offers standard hookup amenities suitable for RVs and tents, you can sit back and watch the horizon light up with the setting sun as your fish is grilling on the barbeque. Tomorrow is another day full of options; you can catch more fish, relax and swim, pull out the map to drive to a nearby attraction or head out for another adventure, but for now you can relax.
Who's Going to Love It
Only a few miles from nearby Vernal are multiple gateways to some of the region's best adventures. For a little bit of everything, consider Steinaker State Park. If you enjoy fishing you should definitely put it on the list. If you like water sports, the warm summer water and lack of crowds will put a smile on your face when the weather gets hot. The park also is popular with ATV/OHV enthusiasts and now accesses some popular local doubletrack trails. Ride north on the campground entrance road to a trailhead. This route takes you to the moderate Doc's Beach and the advanced Red Mountain. Alternatively, get out the GPS and track down the park's three geocaches. Steinaker is the perfect location for multiple outdoor activities for people of all ages and abilities.
GPS Coordinates, Parking and Regulations
GPS Coordinates
40.51417, -109.54139
40°30'51"N, 109°32'29"W
Approximately 181 miles east of Salt Lake City. Take Interstate 80 east to US 40 to Heber City. Travel through Heber on this road through Duchesne and Roosevelt and into Vernal. From Vernal, travel on US 40 (Main Street), to Vernal Avenue (Hwy 191), turn left and follow seven miles to the park.
Entry Fee & Camping Reservations
Day-use entry fee required, purchase in-person or online. The Annual Utah State Park Pass is accepted for park entry. Advance camping reservations are recommended.
Address
4335 N. Highway 191
Vernal, UT 84078
435-789-4432