What Makes It Great
The silent, flowing singletrack in the desert highland of McCoy Flats are perfect for finding riding adventures as long, short, easy, or as hard as you need and allowing you to build confidence and have a fun day on two wheels.
Start easy with the two-mile singletrack Combo Trail. It's a beginner trail that follows the dirt road from Highway-40. It's perfect for those just starting out and young riders alike. You can even add on the trail "and Cookies" for a flowing loop back to the trailhead that remains in the beginner level with an entire length of less than four miles.
The "Got Milk?" trail plus "and Cookies" is one of the best intermediate rides anywhere. Coming in at six miles, this loop, when ridden clockwise, begins with a few rocky, technical step-downs and climbs less than 300 feet. The singletrack cuts through the mesa and skirts the sandstone buttes to the west before returning to the road and joining up with the fast, smooth and flowing return course of "and Cookies." You can add more distance onto this route by taking trails like "High Rollas" and "More Hoes," but please note that these trails are a bit more advanced.
For the more seasoned rider, The "Retail Sale" trail is an awesome eight-mile intermediate/advanced loop that begins on "Got Milk" then heads south after about 1.25-miles. It winds its course up and down the desert with a few technical sections that are easily walked by intermediate riders. It has a total 800 feet of climbing and includes narrow sections and off-camber turns. From this trail you can also access the advanced routes of "Firesale", a 2.3 mile, mostly downhill grade and the intermediate/advanced five-mile loop of "Slippery When Wet."
If technical riding is more your type, check out the more advanced routes, Serendipity and Jackalope, both located to the east of the trailhead. And once you've had your fill of McCoy, nearby Buckskin Hills Recreation Complex offers free mountain biking trails from April to October.
What You'll Remember
Because of the network's diversity, riders just starting out as well as those with their biking legs firmly beneath them will find something that works. If you are looking for a spot the whole family can enjoy, this is the place. The variety of trails and their levels of difficulty makes this spot quite memorable. The singletrack through the dry desert, along the mesa and sandstone buttes makes the scenery during the ride unforgettable. Though it's in the desert, there is a noticeable difference between riding here and the slickrock of canyon country. That said, McCoy Flats should be on your short list if you go mountain biking in Utah.
GPS Coordinates, Parking, and Regulations
From Vernal, drive west on Highway 40 approximately six miles from town center. Turn left onto McCoy Flats Road and travel approximately three miles. The trailhead is on the left side of the road. Park at the trailhead on McCoy Flats Road.
McCoy Flats has no official campsites, but camping along the dirt road is allowed in any number of spurs. You may also travel to nearby Steinaker and Red Fleet State Parks for camping.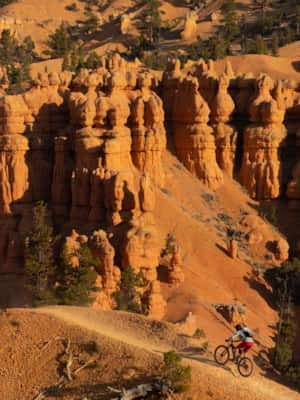 Mountain Biking
Explore Utah mountain biking on the state's most popular trails including Slickrock, Gooseberry Mesa, Thunder Mountain and Good Water Rim.