Where To Fish in Utah This Spring
We've got your Northern and Southern Utah recommendations for where to fish this spring.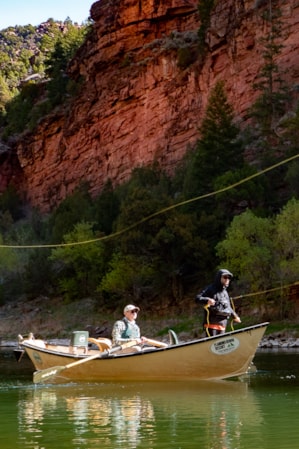 It's time to pack away the snow shovels and grab those fishing poles. We talked with the Utah Division of Wildlife Resources, and below are their location recommendations for this year's best spring fishing. For a list of all Utah fishing opportunities, visit fish.utah.gov.
In Utah, anyone under the age of 12 can always fish for free — and Saturday, June 10, 2023, is Free Fishing Day for everyone. Otherwise, a license is required, but it's affordable and easy to obtain. And before you hit the lake, river or stream, be sure to check the fishing rules for your destination.
Anglers should also be aware that due to this year's unprecedented snow pack, some lakes may still have ice cover and some rivers and streams may be experiencing flooding. Remember to practice ice safety and always stay out of fast moving water.
Fish Lake
Fish Species: Lake Trout, Splake, Rainbow Trout, Kokanee, Yellow Perch
The largest natural mountain lake in Utah, Fish Lake sits at more than 8,800 feet of elevation. Located near Richfield, Utah, in the Fishlake National Forest — about 43 miles northwest of Capitol Reef National Park — Fish Lake makes for a very scenic fishing getaway with lakeside lodging options. The best fishing will be from a boat and there are aluminum motor boats and pontoons available to rent at the three boat marinas on the west shore.
Lake Powell
Fish Species: Striped Bass, Walleye, Largemouth Bass, Smallmouth Bass, Bluegill, Crappie, Catfish
Lake Powell is a world-class destination for fishing, whether it's sport fishing or the zen-like fly fishing. Here, the waters are clear, the fish are abundant and your best fishing will be from a boat. The area offers accessible lodging, easy boat rentals and other excellent opportunities for outdoor recreation. Learn more about Lake Powell's fish and how to catch them.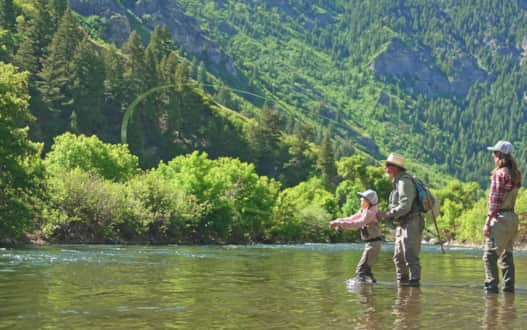 Middle and Lower Provo River
Fish Species: Brown Trout, Whitefish
A Blue Ribbon stream, the Provo River offers more than 15 miles of angling access, prolific hatches and stunning views of Mount Timpanogos. Both the Middle and Lower Provo maintain healthy stream-flow year round, enabling consistent dry fly, nymph and streamer fishing opportunities. A popular place to fish, you'll find great options for guided fishing tours and easy access from the Wasatch Front and Heber City. It's urban proximity also promises nearby lodging and great dining opportunities.
Flaming Gorge
Fish Species: Lake Trout, Rainbow Trout, Kokanee, Smallmouth Bass
People travel to Flaming Gorge National Recreation Area from around the globe to fish for record-breaking trout and kokanee salmon. When they arrive, diverse and colorful landscapes greet them — and then stick around for the entirety of Flaming Gorge Reservoir's 91-mile length. Late May to early June are great months to get a grand slam on species. Come for the trophy fish, beautiful scenery, guided fishing opportunities, easy boat rentals and accessible area lodging.
Scofield Reservoir
Fish Species: Rainbow, Cutthroat and Tiger Trout
A scenic byway passes through a Wasatch Plateau basin, only a few miles from U.S. 6, but Scofield State Park and Reservoir feels like a far-away land, a human-made paradise tucked away in time and space. About two hours south of Salt Lake City, this peaceful, scenic reservoir has an uncanny ability to produce big fish in quick fashion. And ice off fishing in the spring is always great from shore or boat.
Cottonwood Reservoir
Fish Species: Tiger Muskie, Wiper
Cottonwood Reservoir is located in Gusher, Utah, near to Fort Duchesne. It's a small irrigation reservoir where you can target big fish from a paddle board or kayak. Look for wiper in the evenings on top water. Just 23 miles west of Vernal, the reservoir is a lesser known water and offers a quieter, less crowded fishing experience.