Angling Secrets: How and Where to Catch Fish on Lake Powell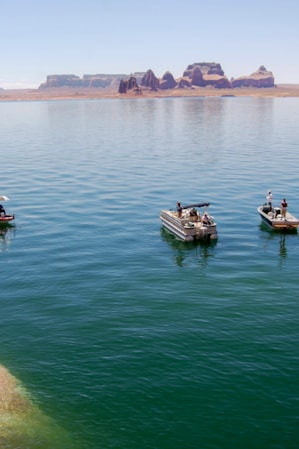 Lake Powell, within the Glen Canyon National Recreation Area, is a world-class destination for fishing, whether it's sport fishing or the zen-like fly fishing.
We've listed the goods: smallmouth bass, striped bass, largemouth bass, bluegill, green sunfish, black crappie, walleye, channel catfish, bullhead catfish, and northern pike. Now let us help you get them. Here's expect advice on when and where to get the prized fish you're chasing.
Learn more about Fishing on Lake Powell or explore the extended fishing guide.
Channel and Bullhead Catfish
The best times to fish for catfish are in the summer and early fall. They are perhaps the easiest fish to catch at Lake Powell. Most are caught at night with anchovies and table scraps fished on the bottom. Although they can be caught just about anywhere, catfish prefer shallow sandy flats. Often overlooked, catfish is a tasty dish. Channel catfish up to 20 pounds are not unheard of, but most are less than 3 pounds. Bullhead catfish are not as common, but are often caught on the upper half of the reservoir.
Striped Bass
One of the most common fish at Lake Powell is the striper. They're easy to catch from anchored houseboats or from shore. In some cases all it takes is an anchovy over the side.
Serious anglers have a variety of choices when it comes to catching stripers. In the spring, stripers tend to group in water 30 to 80 feet deep near river inlets—try the Colorado, Dirty Devil, San Juan, and Escalante arms. They also group near the dam and around the water pump for the Navajo Power Plant Generating Station. Fishing at these times is best with heavy spoons, bucktail jigs, and cut anchovy or sardine bait. To help anglers harvest an overpopulation of stripers, of which there is no limit, officials allow chumming with anchovies. Chumming attracts and holds striper schools, making it easier to catch a large number of them.
As the water warms in the spring, stripers leave the deep and stage in spawning areas around rock piles, main lake points, and reefs in water less than 40 feet deep. Fish anchovy cut bait along the bottom or troll Rapala Shadraps or lures with rattles. Casting plastic grubs and tubes in 3- to 5-inch lengths in shad and crayfish colors is also productive. Stripers stay in spawning areas through early summer until warming water forces most of them to go deep.
When fish go deep, they often hold in depths of 60 to 90 feet. Trolling the main channel at faster speeds, up to 5 mph, will trigger strikes with shad-colored crankbaits and spoons. To reach these depths, downriggers or leaded line are needed. Jigging or bait fishing will work, although the stripers will rarely hold in one spot for very long.
In the summer and early fall, look for the stripers to be on the move as they search for schools of shad. Keep your eyes open on the lake surface, as stripers will often force a school of shad to the surface, where a boil occurs. Move to the boil quickly and kill the engine to avoid disturbing the school. The bass are feeding aggressively and will usually take any lure presented. The most exciting way to fish a boil is with topwater lures. Stripers will attack these lures with visually violent explosions. Lures with a side-to-side action resemble shad and attract attention from striped bass, even when no surface activity is present.
Boils can happen at any time and any place. If you plan on fishing for stripers for more than one day, record what time and where a boil happened; they often occur at the same places at the same times. If a boil stops, don't leave. The stripers will linger in the area looking for stunned or wounded shad. Cast spoons and rattling crankbaits and cover the area to pick up any remaining stripers. Boils usually start near the end of June and go through late fall.
Fishing for stripers in late fall and early winter can be fast. They're usually grouped at 60 to 100 feet and are readily caught by anglers jigging heavy spoons or bucktail jigs. Once the water temperature goes below 50 degrees, they become less active.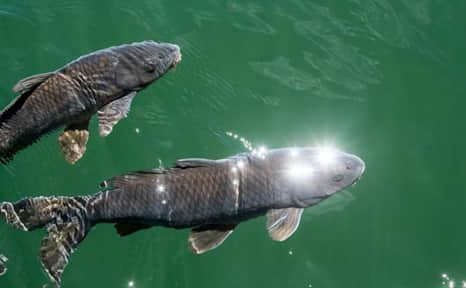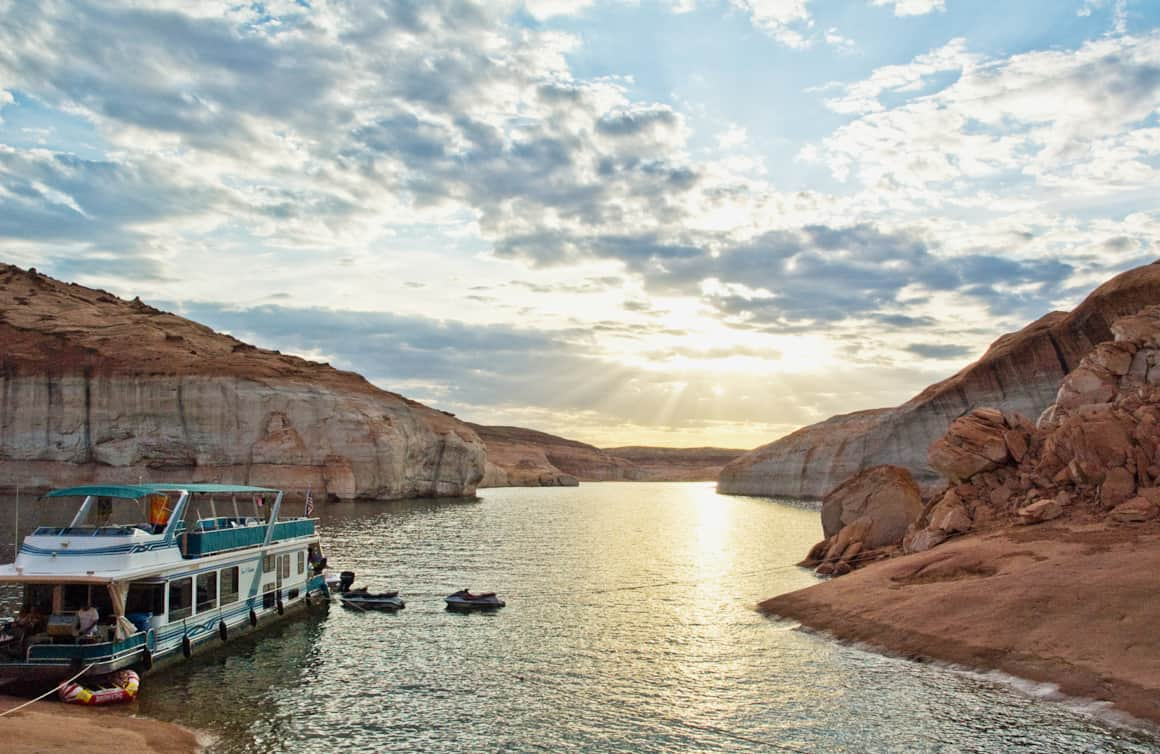 Largemouth Bass
Largemouth can be caught year-round at Powell, but when the water temperature drops below 50 degrees, the fish become less active and harder to catch. One of the best times to go after big largemouth is as the water starts to warm in the late winter (February and March). You'll find them on short flats and broken rock near deep water with jig-n-pigs, spinnerbaits, plastic lizards, and spider jigs in black, purple, smoke, white, chartreuse, and crayfish colors. Live water dogs (salamanders) are also effective.
As the water continues to warm, more fish concentrate in the shallows preparing for the spawn (April through May). This is the best time to find and catch a lot of fish. Look for flats with brush or trees, flat broken rock, and small, main channel pockets to find spawning fish. They are usually in less than 15 feet of water. Spinnerbaits, jig-n-pigs, spider jigs, and weedless plastic tubes or grubs work well at this time.
After the spawn, the fish pull from the shallows and scatter. They can be hard to find during midsummer, but can still be caught. Fish in the morning and evening with topwater lures and jerkbaits. During the day, look for broken shaded rock, walls, and main lake points. Use 3- to 5-inch plastic grubs, worms, spider jigs, and tube baits. The most productive colors are smoke, watermelon, bluegill, crayfish, and white. Fishing with a split-shot or Carolina rig can produce fish on tough days.
In the fall when the water begins to cool, the largemouth move to main lake shallows and eventually to the back of canyons as they follow shad. The fish sometimes school in areas where there are strong concentrations of shad. Topwater lures, crankbaits, jerkbaits, and small plastic grubs or tubes can be effective. Fish topwater in low-light conditions. Crankbaits are especially effective on windy points and shorelines. If the fish are hard to find, head for deeper water (down to 40 feet) with plastic grubs, spider jigs, and tube baits. The best colors in the fall are white, silver, smoke, chartreuse, pumpkin, bluegill, and shad colors.
Smallmouth Bass
Smallmouth bass are more numerous than largemouth, but they tend to be found in greater numbers on the upper half of Lake Powell. They are even more inactive than the largemouth when the water drops below 50 degrees.
As the water warms, smallmouth group on gravel or smooth rock points, flats, and shallow reefs to spawn. They're more concentrated, so you don't need to cover as much water for them as you do for largemouth. Spinnerbaits, jerkbaits, jig-npigs, spider jigs, and plastic tubes, worms, and grubs will produce fish. Smoke, chartreuse, watermelon, pumpkin, white, and black are solid color choices.
The smallmouth spawn lasts longer than the largemouths'. It usually wraps up at the end of May. After the spawn, smallies group on main lake points and rock piles and are caught on topwater lures in low-light periods or with 3- to 4-inch plastic grubs and tubes. Diving crankbaits are also effective.
Like the largemouth, smallmouth will move shallow in the fall as the water cools. Fish shorelines, points, and rock piles with small shad or crayfish-colored plastic baits, topwater lures, and diving crankbaits. The fish tend to school in areas where shad are concentrated and will sometimes cause boils.
Crappie
These panfish are most readily caught in the spring when they're spawning. Look for them in flooded brush in the back of canyons. Small spinners, crankbaits, plastic or feather jigs, and night crawlers are effective. Cast around the brush to locate schools, and once located, fish for them with small jigs or night crawler suspended below a bobber.
After the spawn, the schools leave the shallows in favor of deeper brush edges and will often suspend on ledges and over flooded trees most of the summer. Crappie are often found near shad in late summer and fall. There are some large ones here and occasionally they're caught by bass anglers using big lures.
Green Sunfish
Sunfish are not targeted by many anglers, but families with small children should consider fishing for them. These aggressive panfish will hit just about anything, including bare hooks. They tend to concentrate in the shade of boats and are commonly found around broken rock in shallow water. Use small plastic or feather jigs and night crawlers. Fly fishing for them with most dry flies provides nonstop action. Rubber-legged patterns are the best.
Bluegill
Spring and summer are the best times to fish for bluegill at Powell. Use small jigs, spinners, flies, and night crawlers. During the spawn, look for shallow flats with vegetation. In the summer, they head for large broken rock. Flies work best when the fish are concentrated in the shallows.
Walleye
Most walleye at Lake Powell are caught by anglers fishing for other species. Early spring through midsummer is the best time to target them. In early spring, usually February or March, walleye concentrate for the spawn. River inlets, rock flats, and shallow points are good spawning areas. Trolling with crankbaits or bottom bouncers trailing spinners with a worm can help anglers locate schools of fish. Once located, casting crankbaits or plastic grubs tipped with night crawlers is a better option. Chartreuse, white, yellow, orange, and crayfish colors work best.
After the spawn, they move to points and rock piles on the main lake. Trolling with diving crankbaits in chartreuse or shad colors will produce through the early summer. Some walleye are caught while trolling along shaded rock walls during the hot summer months.
Northern Pike
This toothy predator entered Lake Powell from the Colorado River. Pike are rarely caught, or seen, south of Bullfrog Marina. They're most often caught by anglers trolling crankbaits along main channel points and rock piles or in open water by striper anglers in the summer.
Fishing information adapted from Fishing Utah (Lyons Press), which includes lake, river and stream fishing descriptions and maps for the entire state.