The Wayward Path of a Utah Fly-Fishing Guide Led Straight to the Green River
Colby Crossland isn't quite sure how he ended up a guide on one of the country's best fly-fishing destinations, but he knows the perks are worth the tangles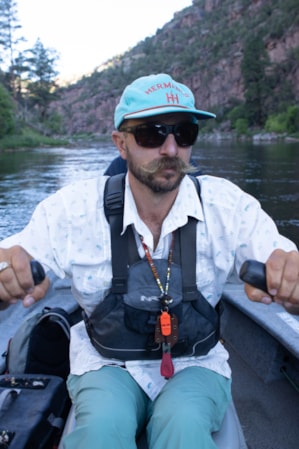 Colby Crossland seemed bound for New York City or Los Angeles in a quest to become a commercial photographer.
Instead, he ended up rowing people down the Green River below Flaming Gorge Reservoir in the least populated county in Utah. If he had ended up living in a big city, chances are he'd be working in an office building where more people were employed than in all of Daggett County.
Crossland wasn't planning to spend his days fixing bird nest fishing line tangles, helping clients get hooks out of their life jackets, or serving as a therapist during a 7-mile float. But after a decade of averaging more than 200 days a year on the water, he doesn't regret it.
"The Green is a cool spot in the middle of nowhere," said Crossland, who spends fishing season living on guide row in Dutch John while working for Spinner Fall Guide Service. "The red rock canyon and gin-clear water takes my breath away every day. The fishing isn't too bad, either."
When he first started guiding, Crossland dismissed the comment he often heard from clients: "You have the best job in the world. Just look at this place." He figured they were just trying to be nice.
But somewhere along the line, he realized they might be right. "What does it mean when someone who makes more money in a year than I will my entire life tells me how lucky I am?" Crossland asked. "It happens quite a bit. It's weird to hear that from someone who could quit their job and fish every day all over the world."
Some of the people he floats with are simply clients. Others have become friends over annual trips to fish with Crossland. Either way, it seems the therapy sessions begin not far from the boat launch ramp.
He often feels like sitting in the rowing seat of a dory could easily be compared to standing behind a bar. "Guides joke all the time about how the river is a safe place for clients," Crossland said. "How people believe 'What happens on the Green, stays on the Green.' I feel like a bartender a lot. Something happens on the water, even with a stranger. People open up and start talking about difficult things in their life."
Instructing anglers on where to cast, what to do with the excess line they have on the water, and when to set the hook usually allows Crossland to escape without having to respond with more than a token comment: "right" or "that's pretty harsh." But sometimes he can tell the person needs more than a standard reaction. He offers what support and advice he can and hopes a fish will soon take the ill-presented fly.
One of the reasons people enjoy fishing is the possibility it provides to get away from everyday life; to escape the stress and chaos of the world. "People seem to stop over analyzing and just let things out," Crossland said. "Fishing truly is a therapy, whether or not people realize it."
"The Green is a cool spot in the middle of nowhere. The red rock canyon and gin-clear water takes my breath away every day. The fishing isn't too bad, either."
River therapy may have had something to do with why Crossland ended up in Dutch John working as a fly-fishing guide in the first place. In his early 20s, just when the foundation for his life seemed to be coming together, Crossland lost his best friend, his mom Joni. She passed away from cancer after a long struggle with multiple sclerosis.
"I kind of went off the deep end when she left us," he said. "I was lost. She was a great person. Her life was trying to make the lives of other people better."
He had started taking photography classes at the University of Utah and worked an exciting gig during the 2002 Winter Olympics helping to process film that would eventually become the official Salt Lake City Winter Games book. Crossland completed a commercial photography program at Salt Lake Community College, then was hired to help set up photo shoots at the Sundance Film Festival. He was eventually contracted to take pictures at the event.
About that time, Crossland and some friends ended up at the Wasatch Fly Tying and Fly Fishing Expo. He entered a drawing and won a fly rod and fly-tying equipment. Years of fond memories of fishing with his grandpa — as well as a longing to escape — led Crossland to fishing adventures across the West.
When he heard that a friend from high school, Matt Lucas, was guiding on the Green River, his curiosity was piqued. "I spent a month sleeping on his floor," Crossland said. "He taught me how to row a dory and we bounced off some rocks together."
When he wasn't running shuttles for outfitters, Crossland was at the river wade fishing. The hook, so to speak, was set.
He arranged his schedule for a second summer in Dutch John and started to settle in. That also happened to be the year he met Laurel, now his wife.
Crossland had carved out a niche in Dutch John. He had friends and was growing more comfortable with the idea of taking strangers down the river. "I fell into the community and they roped me into their circle," he said. "I was running shuttles and fishing and wasn't really planning to guide."
But others noticed his work ethic and natural connection with people. Scott Barrus, owner of Spinner Fall Guide Service, asked him if he would be interested in guiding.
"Colby spent two summers camping out near Dutch John," Barrus said. "This showed me a commitment and sacrifice to be in the lifestyle. I hired him based on his personality and willingness to learn."
Crossland said Barrus didn't give him a chance to say no. "I told him I didn't have a drift boat and he said he could sell me one," he said. "I told him I couldn't afford it and he said he would carry the loan for me. I told him I probably still couldn't pay for it and he told me 'I'll give you enough trips to pay for it.' If it wasn't for Scott, I wouldn't be here."
The effort and investment paid off. Barrus says the now-seasoned-veteran is one of the most requested guides on the Green River. "I believe this is due mainly to his personality," Barrus said. "He is genuinely a fun person to be around, is excited to see others have a great time, and brings a positive energy every day."
Crossland is as generous with his own time, and often his employer's, as he is with his compliments on the river. Early in his time as a guide he started to donate trips to fundraisers. The number of trips he provides to nonprofit auctions has grown just as his free time has evaporated due to his popularity.
He hasn't kept track, but when pressed, he estimates he has donated between five and seven trips a year. Crossland's trips are a popular auction item and typically draw bids around $1,200. (The money is collected whether or not the trip is taken.)
In a conservative estimate, he has raised $60,000 for charities – primarily for Reel Recovery (a group that takes men with cancer on free fly-fishing retreats) and Casting for Recovery (a group providing fly fishing trips for women with breast cancer).
"Donating trips is easy," Crossland said. "I don't have money to give to these important organizations, but I can share my time."
Crossland says he doesn't think about his mom while guiding; instead, that happens when he is back at his childhood home in Taylorsville, which he bought from his father. And while he may not think about her, it's likely he's emulating Joni Crossland by trying to make the lives of others better.
"I get to hear people tell me I just gave them their best day of the year," he said. "What could possibly be any better?"
"I get to hear people tell me I just gave them their best day of the year — what could possibly be any better?"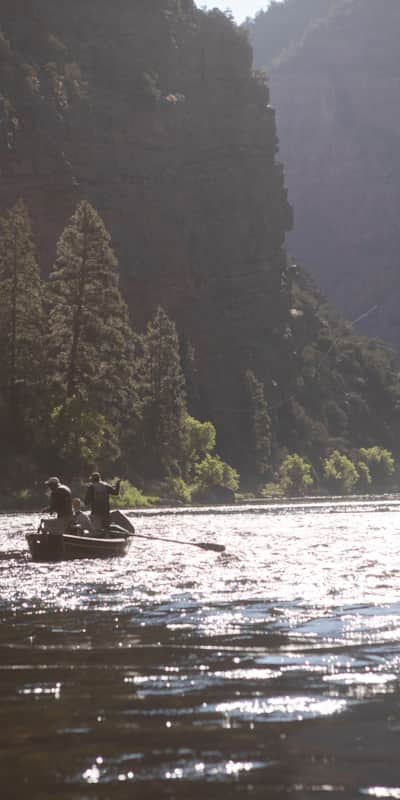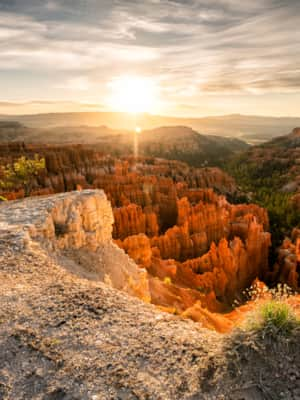 Field Guides: Voices From the Forever Mighty Landscape
Meet the people whose lives have been shaped by nature — and are helping others find their way.