U.S. Federal Shutdown Information
At this time, all of Utah's national parks, monuments and recreation areas remain open.
Learn more.
An Old Favorite Fishing Hole at the Flaming Gorge Reservoir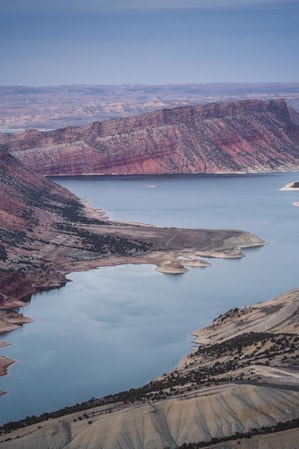 Years ago some friends and I found a great, secluded, scenic fishing spot on the huge, often hard-to-fish Flaming Gorge Reservoir. My "fishing hole" is located upstream of the Cart Creek Bridge near the dam.
It can be most easily reached by boat from the Cedar Springs Marina by traveling a short distance around the corner to the right and under the bridge to slowly motor less than a mile to the upper end of this scenic gorge.
We usually anchor the boat right up in the current of the Cart Creek inlet to fish downstream right out of the back of the boat.
It's a great opportunity for kids and inexperienced anglers.
We fish in the spring for both rainbow and cutthroat trout.
However, we find that fishing this area to be productive any time of the year for virtually all of the different fish in the lake. Simply bait fishing with Nightcrawlers or casting a fly or lure often results in enough fish for a great feast.
On our most recent visit, my wife, myself and a few friends hiked into the gorge where she out fished all of us casting a fly and water bubble combo. (See sidebar "Get the Fish" below.)
Though more popular these days, my old favorite fishing hole is easier accessed by camping at one of the nice campgrounds near Cedar Springs Marina, or the rental of a boat there.
Access is also possible by foot by making a short drive on an undeveloped Forest Service Road (FS-689) located on the east side of U.S. 191 only 0.13 miles north of the turnoff to the Cedar Springs Marina.
You can park along this undeveloped road depending on the abilities of your vehicle and your confidence. Regardless, you can continue to hike down the road to the well-used trail at its end.
This quarter-mile-long trail drops a little more than 150 feet into the gorge right to the secluded upper end of the Cart Creek Gorge where its small stream enters the reservoir, just as if you had boated there!
But there is so much more to Flaming Gorge National Recreation Area than the fishing.
"Over the years I have continued to fish the Gorge for an increasing diversity of fish including a great food fishery for kokanee (red) salmon, world-class sport fishing opportunities for lake trout, and more recently burbot, a freshwater codfish."
Me and "The Gorge"
My love affair with Flaming Gorge Reservoir started more than 30 years ago as a teenager when my dad would drive what we kids thought to be a long trip to the Gorge where I fished for beautiful 14- to 20-inch rainbow trout.
One of my favorite fishing spots in those days was a bay one-third mile south of the Antelope Flats Campground.
Although Antelope Flats is largely a dry desert, the area is appropriately named, because one can usually see American antelope there!
In those days, we bait-fished with nightcrawler floated off the bottom with a mini marshmallow, but today's anglers usually use floating trout baits.
That bay still offers great fishing for rainbows, but now also has some hard-fighting smallmouth bass and some beautiful western cutthroat trout.
Over the years I have continued to fish the Gorge for an increasing diversity of fish including a great food fishery for kokanee (red) salmon, world-class sport fishing opportunities for lake trout, and more recently burbot, a freshwater codfish.
Things for my wife and I got much better when my cousin inherited a trailer house in Manila, the closest community to the Gorge — he keeps his nice fishing boat there too!
I have to smile when I remember that I originally taught my cousin to fish, when he was a kid. Now he guides us out of that nice fishing boat. We mostly pursue yummy kokanee, although we have learned to fish for almost everything there, including hard to land trophy carp.
It is great to put his boat on the water in only minutes, and to be back at his nice kitchen to cook up what we have caught the same day – how cool is that?
For years we also attended the fun annual "Burbot Bash" ice fishing contest, and although we have never won anything, we always made yummy fish tacos from our fresh burbot.
Driving "The Loop"
Other than fishing, however, my wife and I agree the coolest thing about Flaming Gorge might just be the trip to and from the reservoir from our home here on the Wasatch Front.
If weather permits (and it usually does) we like to drive through Evanston, Wyoming, to the lake, and back through Vernal, Utah, for one of the more scenic drives found in the West.
Even if you're not looking for a fishing and/or camping trip, the drive to Flaming Gorge can easily be done in a day.
It's a great opportunity for both residents and visitors to tour a secluded and scenic corner of Utah.
"The Loop" starts by following I-80 across classic southern Wyoming landscapes with views south to the Uinta Mountains, complete with herds of wild antelope.
On the way towards Rock Springs we take exit 412 and go south on Wyoming 414 to Mountain View, where we usually stop to refuel, get a little food and rest, before heading to Manilla.
I think this road to Manilla might be one of the best drives found in both states, with wonderful geology, lots of wildlife including golden eagles and bighorn sheep, and a diversity of classic western scenery, including a great "badlands" moonscape stretch.
You'll find Manilla to be a cute little, rural western town, surrounded by cattle and chickens, and mule deer wandering around town.
"Downtown" is only a couple of minutes from this huge, deep reservoir, Flaming Gorge.
Manilla largely caters to anglers, has several eateries, motels, boat rentals, fishing guides, and a great general store with almost everything.
Heading south from Manilla on Utah State Route 44, the drive to the Cedar Springs Marina and the dam is almost unbelievably beautiful year-round.
Some of the most striking scenery occurs as you pass the surreal "flaming" gorge at Sheep Creek Bay, whence the lake got its name, and then along the toe of the North Slope of the Uinta Mountains.
If you have the time or staying longer, this route provides a number of good side-trip opportunities including several small fishing lakes right next to the highway.
I never grow tired of that drive, and always hope that someone else is the driver so I can look at the scenery and wildlife.
All that stuff is so captivating that the driver should be careful not to hit larger wildlife like deer, elk and moose crossing the road.
Dinosaurs and Geology: The Return Drive
Even if you are not planning to do any fishing, I highly recommend taking the turnoff to the north on U.S. 191 towards Cedar Springs Marina, the dam, and its visitor center.
All are amazing! It is even cool crossing the Cart Creek Span Bridge a short distance from the dam and its visitor center.
The tour of the inside of this amazing reservoir's dam is great.
There is even an opportunity to feed large trout right out of a viewing area at the base of the dam!
Heading back home following U.S. 191 south towards Vernal, Utah, the drive passes through the eastern end of the Uinta Mountains starting the completion of the loop back through Utah with an equally scenic drive.
As you approach Dinosaur National Monument to the east there is so much geological and Paleozoic signage and pull-offs along the road you may need extra time to stop and read stuff on the way to Vernal.
The rest of the drive back to the Wasatch Front also takes you past Strawberry Reservoir, which recently won a national award for its outstanding trout and salmon fishing. It's a reminder of the sheer volume of Utah's great fishing that Strawberry is so close to Flaming Gorge and Salt Lake. But Strawberry Reservoir is a whole other story.