Flood Safety
Due to record snowpack and high amounts of spring runoff, please be advised of potential flooding that could impact travel plans.
Learn more
Find a Winter Refresh in a Utah State Park
Find the beauty and intrigue of the winter season on a Utah state park adventure — from ice fishing and snowmobiling to eagle watching and cozying up in a yurt.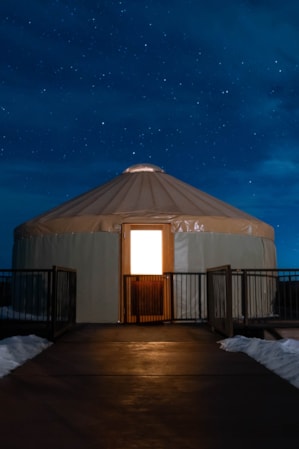 Winter demands a change of pace. Aside from the burst of exhilaration it provides when you're high-tailing it down a ski slope or pushing your skating skills on the ice, it's generally a time to cozy up and reflect. But maybe it's also a time to add something new to your usual winter itinerary.
When you're shoveling your walkways and your shovel handle decides to break, or that snow blower breathes its last breath and you're ready to head straight to your computer and book a vacation that trades in white snow for white sand. Pause. Gather yourself. Winter is cozy, remember. Maybe it's time to see winter from a new perspective. Immerse yourself in its beautiful offerings of places to visit in winter. In short, find a Utah state park.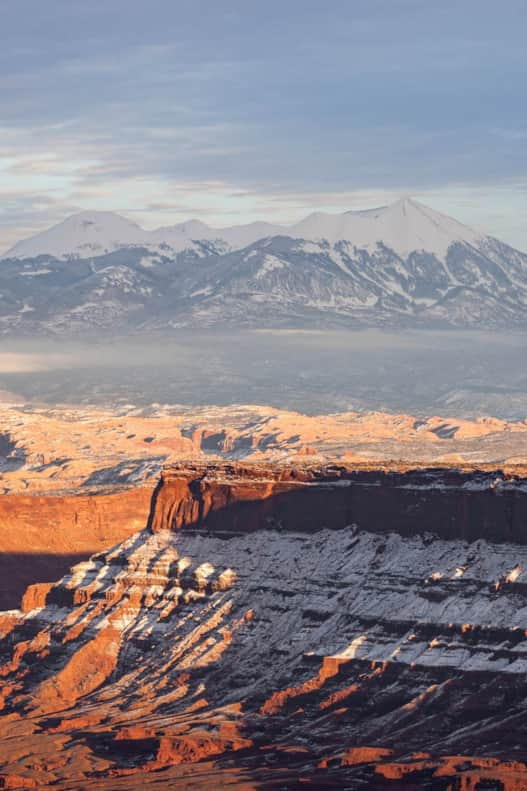 In that moment of winter-be-damned, your mind wandered to the lure of a white sand getaway, but what about the Caribbean of the Rockies: Bear Lake State Park? Have you tried ice fishing? Someone said something about staying cozy. What about the solitude of a cast iron stove-warmed yurt dropped in Dead Horse Point State Park's other-worldly scenery?
Your neighbor's child just nailed you with a snowball. Stay calm. Return the favor. And then remember this season is beautiful and intriguing. Let a Utah state park adventure help remind you.
Snow-Capped Vistas
If you're like most travelers, when you think about Dead Horse Point State Park, you think: overlooks. This park is full of them, many of which are as captivating as the Grand Canyon. Well, when you consider a winter vacation to this park, think: snow-dusted. That's right, snow-dusted red rock overlooks. There are few sites in Utah more beautiful than a light white dusting on red rock canyons towering 2,000 feet over the meandering Colorado River (Read: "How To Visit Southern Utah in Winter"). Park Manager Megan Blackwelder's favorite view is the visitor center's deck, saying "the alpenglow before sunset is particularly spectacular." And at this time of year, you'll have the yurts, views and trails — mountain biking, hiking, and even, fat tire mountain biking — to yourself, unless an unkindness of ravens decide to dance above you on the updrafts of the wind. This park is also an internationally certified gold-tier dark sky park, one of the best Utah state parks for magnificent dark. And Blackwelder is quick to point out another bonus: heated restrooms. This winter destination has got it all.
"There are few sites in Utah more beautiful than a light white dusting on red rock canyons towering 2,000 feet over the meandering Colorado River."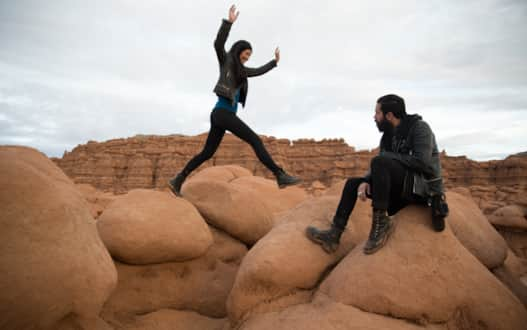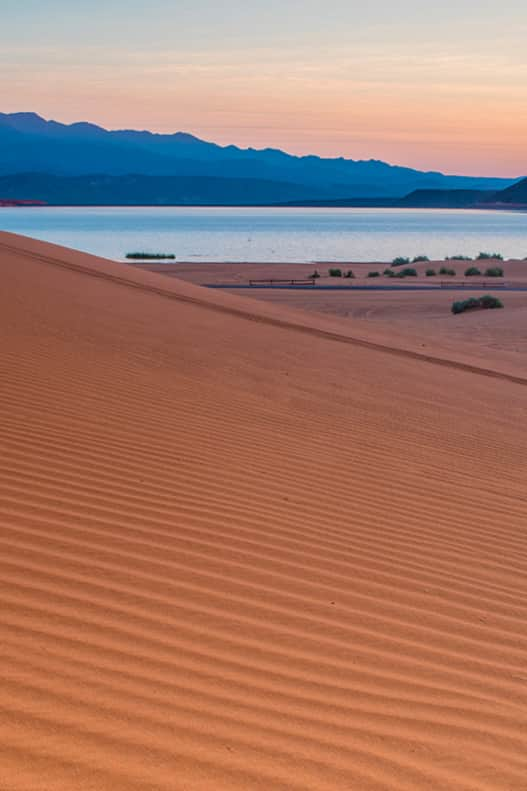 Stargazing and Yurts
Always a place of geological whimsy, Goblin Valley State Park might be even more fascinating in the winter. Covered with sandstone goblins and fascinating formations, it's kind of like trying out winter on Mars. This state park was recently granted internationally certified gold-tier dark sky park status, so step out of the warmth of your yurt for a moment of stargazing. What's this about yurts? Yes, the park boasts two heated yurts open for reservation. Nomadic, whimsical, magical — that's Goblin Valley. Plan a visit to see why it's a popular place to visit in winter.
Eagle Viewing
Though the weather is crisp, it's not the wind chill that catches your breath and momentarily forces a full-body flutter. It's the site of an eagle — a bald eagle — spreading its seven-foot-long wingspan and jetting downwards to pull a fish from a crevice in the lake ice. When the water freezes in Alaska, bald and golden eagles descend on Willard Bay State Park from January to March. Park Manager James Morgan's top viewing spots are along the mile-long hike on the Linda C. Higley Nature Trail or the dike near Pelican Beach. "What's really cool is seeing eagles sit right on the ice surrounding an open hole." Along the nature trail two heated cabins are available to rent, and RV hook-ups are accessible year-round. Don't forget your binoculars.
Remote Exploration
In the northeast corner of the state, Steinaker State Park is the ideal place for remote adventure. A reservoir nestled between Ashley National Forest and Dinosaur National Monument, there is no shortage of winter beauty and exploration, but it's always a surprise what each year will bring. Most years locals make their own two-mile loop trail for cross-country skiing and snowshoeing. Other years, the locals devote time to clearing snow off the lake for homemade ice skating on 20 inches of solid ice. In 2018, the park will host its 8th Annual Steinaker Ice Fishing Tournament, where anglers compete over who can pull the largest trout out of the frozen reservoir. Maybe you decide to snowmobile on the national forest lands or take a day trip to the Utah Field House of Natural History State Park Museum. Make Vernal or the heated cabin at Steinaker your base camp, and see where the road to Steinaker takes you.
Off-Roading Sand Dunes
If all of this sounds too cold, there's still a Utah state park for you. How about trading white snow for red sand beaches? With wintery mountain ranges visible in the distance, Sand Hollow State Park provides a winter experience and winter getaway simultaneously. Just under 20 miles from St. George, this park is easy to access and offers coral pink sand dunes, red rock formations and outstanding trails of all kinds. In particular, winter is a great time to visit for an off-road adventure in the mild 50 to 60 degrees temperatures. The park offers riders more than 6,000 acres of sand dunes that have open riding as well as technical trails where you can test your skills.
Ice Fishing
Ice fishing is a waiting game, but there's nowhere more scenic to pass the wait than fishing at Bear Lake State Park in Garden City. Caribbean blue iced-over water lined with snowy white shores sets the scene for a gathering of ice shanty shelters. Some prefer the call of the solitude, but for many ice fishing is a communal activity — anglers gather with family and friends to jig for trout and whitefish. Averages suggest that Bear Lake freezes over seven out of every 10 years, and when it does, you can ice fish for both trophy cutthroat trout (over 10 lbs) and lake trout (up to 20 lbs). You can also ice fish for two species of fish that cannot be found anywhere else in the world: the Bonneville Whitefish and Cisco. The Cisco can be dip netted, or as Scott Tolentino, a Utah Division of Wildlife Resources Fisheries Biologist at Bear Lake suggests, try jigging your pole at "the 'rock pile' area near Ideal Beach Resort or off of the artificial rock piles just north of the Utah State Park Marina." Grab your thermos, kick your feet up in your shanty shelter and enjoy a freshly caught double-digit pound trout served up with a view. Learn more about fishing at Bear Lake.
Note: The Bear Lake Monster Winterfest is an annual family friendly fundraising event held in January. Most activities typically take place in the Utah Bear Lake State Park Marina, and the park's entrance fee at the Marina is waived. Compete in the Cisco Disco and the Monster Plunge!