U.S. Federal Shutdown Information
All of Utah's Mighty 5 national parks will remain open.
Learn more.
Blazing Sandals in North Lake Powell
Human-powered and off-road adventures in North Lake Powell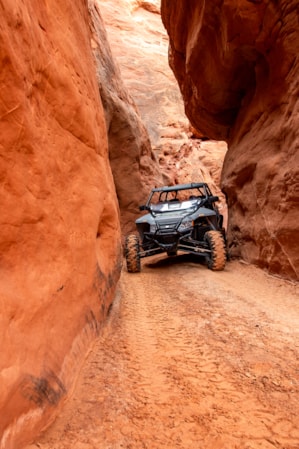 Lake Powell holds a special place in my heart. Maybe it's because my mom bumped into Robert Redford at the Bullfrog Marina Corner Store while pregnant with me. Is it fair to say I was on vacation at Lake Powell with "Uncle Bob" when I was a fetus? Perhaps I love it because every time I go there I have an overwhelming sense of zen. The combination of its dazzling turquoise waters and layered red hues always evoke a wakeful relaxation that's hard to beat.
Utahns know that when we get invited on a trip to explore this region to say yes because there's no other place like it. And it seems we're not the only ones who are on to its charms. Visitors to the expansive Glen Canyon National Recreation Area, home to Lake Powell, have more than doubled since 2013, bringing the estimated total visitors to 4.3 million in 2018, which makes it on par with Zion National Park.
Who can resist? With more than 1,900 miles of shoreline, the exploration possibilities are nearly infinite. Indeed, Lake Powell lives up to its reputation as a bucket list destination, but I know if I'm only going to pseudo-yacht on a houseboat and ride jet skis, I'm missing out on other explorations.
When I found myself with a last-minute opportunity to join a trip to North Lake Powell to go UTVing, canyoneering, and paddleboarding this spring, I jumped at it. In this little pocket of the world, you can do things that you can't do almost anywhere else. This is one of the only places you can experience true desert canyoneering. This is a place where it's not unreasonable or out of the ordinary to go UTVing and canyoneering in the same day.
I've been ATVing (All-Terrain Vehicle) before, but prior to this trip, I hadn't been on a UTV (Utility Terrain Vehicle) tour. I'm so glad I went! I took turns driving with my guide Ray Golden from the Ticaboo Adventure Center. It was fun to drive the UTV, but also great to be a passenger. Having a skilled driver at the wheel who has been riding these trails nearly every day for more than three years and can really show you what the vehicle is capable of makes the trip much more exciting. I was positive that we were going to roll the UTV several times as we rounded berms at nearly 40 mph, but these vehicles are made exactly for this kind of activity. I was surprised at how smooth the ride was given the bumpy trails and technical terrain. These wild trails led us to increasingly remote places in the Henry Mountains. As he drove, Ray shared fascinating stories about the geography and history of the land. He said that prior to 1872, the Henry Mountains were just referred to as the "Unknown Mountains" and they were the last range to be added to the map of the contiguous states.
One of the areas nearby that had been previously anonymous to western settlers became known as Robbers Roost after Butch Cassidy and the Wild Bunch hid out there after robbing a bank in Telluride in 1889 (Read: In Search of Robbers Roost). Today, the Robbers Roost area has hundreds of miles of off-roading trails in the Bureau of Land Management (BLM) network, many still little known. The probability of running into other people there is extremely low.
Long before outlaws became part-time residents of this swath of land, Ancestral Puebloans called it home before approximately 1300 A.D., and you can still find some of what they left behind, like pictographs, petroglyphs, and colorful glassy shard debris from the arrowhead-making. (Feel free to inspect, but leave artifacts where you find them.)
"Lake Powell lives up to its reputation as a bucket list destination, but I know if I'm only going to pseudo-yacht on a houseboat and ride jet skis, I'm missing out on other explorations."
There are plenty of sites of ancestral cultures to discover that are still unknown to many. Lucky for us, Ray knew right where to go to see some off-the-grid petroglyphs where Butt Canyon meets Muley Canyon. It's a good thing we hired a guide because there's very little chance we would have found our way to these petroglyphs. Even with directions, I think it would have been difficult to find it on our own.
Before we embarked on a side hike to see some petroglyphs, Ray gave us important background about not stepping on the cryptobiotic soil, aka crypto crust (Read: Soil Sleuth: Protecting Utah's Living Landscapes). Cryptobiotic crust sort of looks like a small mound of dirt topped with tiny black specks that look like poppy seeds. While it may look innocuous, its bacteria are a big part of what makes life possible on Earth, and it can take more than 250 years to recover and regrow if it's crushed. Long story short, learn to identify and avoid stepping on this ecological stabilizer. This environmental pep talk made me wish that everyone everywhere had a guide to teach or remind them about basic mindfulness and respect for nature.
These particular petroglyphs either have no name or one that is hard to find. Ray said there's some debate among local residents as to what one of the drawings depicts, but it could be argued that it's a Brontosaurus because it's possible that the artist found some dinosaur bones and shared this finding in his or her artwork. The area is absolutely teeming with dinosaur bones, so it's not out of the realm of possibility. Or it could be a drawing of a pet wolf with a long neck. Who knows? And without being able to know or decipher the artist's intent, perhaps it's OK they don't have a name.
Our next stop was an overlook along the Burr Trail that offered spectacular views of Bullfrog Creek Canyon. The spotty rain clouds afforded a fleeting rainbow and a few moments of earthly awe. I couldn't tell you our exact location, but having this little slice of creation to ourselves for the moment was quite nice.
We capped our UTV excursion at — well, as it turns out, there isn't an official name for where we went. It's unofficially called the "Golden Narrows" after Ray Golden who introduced this gem to the UTV community. It's a slot canyon you can drive UTVs through, but only some drivers can squeak through without bumping the UTVs against the steep canyon walls. It's fun and challenging and I drove through it like five or six times because it was so satisfying to master it.
Bright and early the next morning we met up with our guides from the Ticaboo Adventure Center to embark on a canyoneering journey through Hogwarts Canyon. So named as part of the "Hog" theme of slot canyons near Hog Springs, Hogwarts is a moderate canyoneering route with four rappels ranging from 40 to 90 feet and enough dicey stems and squeezes to keep it interesting. It takes between two and four hours to complete, depending on how many times you stop to take photos or stop to reflect on nature's beauty. It includes a roughly 45-minute hike to get to the entrance of Hog Canyon from the Hog Springs Rest Area parking lot.
When navigating to and through these canyons, I always wonder who first stumbled upon them and then decided to come back with climbing ropes to on-sight the slot canyons and rappels to find out where they go. I feel the same about cave exploration. Who are these nutcakes who decided to shimmy through unknown territory just for the sake of seeing where it goes? Anyway, hats off to the nutcakes for sharing their beta because it enables me to enjoy the same kind of exploration without the angst of an unknown outcome. I can only imagine the kind of problems this terrain presented to early inhabitants who didn't have modern luxuries like climbing ropes and GPS navigation.
I like canyoneering a lot and I've been many times, but only because I have good friends who have the gear and the know-how to pull it off. It's not a sport that anyone can just get into without a guide and the right gear. Having a couple of guides to help us get through such challenging terrain was a smart move.
Utah has some of the best canyoneering on the continent and although various versions of canyoneering exist in South Africa, Australia and Asia, none are like the desert slot canyons of the Utah's Colorado Plateau. (Read: How to Canyoneer Safely)
My favorite part of this canyon was the second rappel, which dropped us into a red room of rock under Hogwarts Arch. The views from both the top and bottom of the rappel made the whole trip worth it. My least favorite part was right after that when we had to stem over a watery semi-keeper (a pothole deep and smooth enough to keep a person from being able to get out). Once I got over my irrational fears about falling into a deep crevasse — which it wasn't — I was fine, but the dismount was tricky. Taller humans definitely have an advantage for the difficult part of this rappel.
"I like canyoneering a lot and I've been many times, but only because I have good friends who have the gear and the know-how to pull it off. It's not a sport that anyone can just get into without a guide and the right gear."
When we finished our hike out of the canyon, our guides took us to see the nearby Ancestral Puebloan pictograph called Moki Queen. This 1,000+-year-old piece of art is located high up in a large alcove located just a quarter-mile from the Hog Springs parking lot. You can hike up the loose rocks to get a close look at the detail work and also see some of the remains of fallen cliff dwellings. No one can be sure who the image is a depiction of, but I chose to imagine that the oval-ish graphic next to her is her pet.
After a quick wardrobe change, we loaded up the boat with paddleboards and headed over to the Bullfrog Marina to do some lake exploring. We launched and anchored the boat near the entrance of Forgotten Canyon so we could hike the three miles up to one of the most famous and best-preserved Ancestral Puebloan dwellings and pictographs called "Defiance House."
The site was discovered by archaeologists in 1959 who were exploring Glen Canyon before it became Lake Powell. They named it Defiance House for the large pictograph of three warriors with weapons and shields. Was this their hideout? Apparently, when those archaeologists found the site they were thrilled to see that most of the roofs of the dwellings were still intact and there were even two bowls with scraps of food in them. That's quite a find considering the people who occupied this space were living there around 1250 to 1285. It's crazy cool that we can still see these fragile fragments of human heritage. That we can get a glimpse into the archaeological record of the place is such a gift.
Continuing our day of unique adventures, we pulled on our life jackets and hopped on paddleboards to do some human-powered lake cruising. Paddleboarding is a great way to explore Lake Powell. Slower, for sure, but slower can be better. It's such a peaceful way to access the narrow canyons and get a bonus arm workout. We paddled until the sun set and then headed back to the marina for a delicious pizza dinner at Anasazi Restaurant.
We capped the night and trip with some well-earned ice cream, but while gazing at the image of Defiance House on the wall of the restaurant, my thoughts drifted back to the power of the place. Even if it was just a hideout, surely its heroes must have also been bewitched by its beauty. Perhaps, they too found some zen there.