Lake Powell Trash Boat
Attention good samaritans: In exchange for an unforgettable multiday tour of Glen Canyon National Recreation Area, sign up early in the year for the Trash Tracker houseboat and help clean up the debris that has collected on the shores.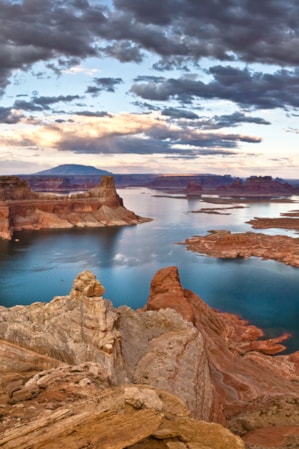 Attention good samaritans: Sign up for the Trash Tracker, a houseboat on Lake Powell, and help clean up the debris that has collected on the lake's shores. Explore some of the 1,960 miles of shoreline on this man-made lake in the Glen Canyon Recreational Area while at the same time helping to keep it clean.
Lake Powell sees more than 3 million visitors each year and while many of them pack out all their trash, there are a few who are not careful stewards of the Lake, so the clean-up help is much needed. The Trash Tracker program was instituted nearly two decades ago, and each year volunteers collect approximately 50,000 pounds of trash.
You can apply to volunteer beginning on February 1 each year. Spots fill up quite fast, so you'll want to act quickly, or be flexible with when you are able to go. Participants in the program become members of the National Park Service Volunteer-in-Parks Program. They board a houseboat donated by Aramark, the head concessionaire on Lake Powell, and launch out for five to seven day voyages.
The stay is free, but volunteers are expected to provide their own food, sleeping bag, and personal supplies. Trips leave from the Wahweap Marina in Page, AZ, and the Bullfrog Marina in Utah. Each trip will have a different destination.
The work days can be long, and you'll be exposed to the sun and unpredictable natural elements. But look at this as your opportunity to become a treasure seeker, finding forgotten things ranging from bottles to sunken boats (no joke!).
Throughout the trip, there are plenty of remote vistas to see and inspiring shores to check out. Once your work day is done, you're free to explore the terrain and visit arches, petroglyphs, and more. Each trip gets one "play day", and a detailed guidebook will help you find the best places to explore in the area. Also after a day of work, you can enjoy BBQing on your beautiful houseboat with old friends, brand-new friends, or family.
Now, that's a vacation you can be proud of!
GPS COORDINATES: Departing
marina and destinations
vary by trip. Learn more at the
NPS website
.