Southwestern Utah's Legendary Panoramas
Bright colors and extreme contrasts of textures define southwestern Utah. These six adventurous panoramas near Kanab, Utah, draw in those with an artistic eye.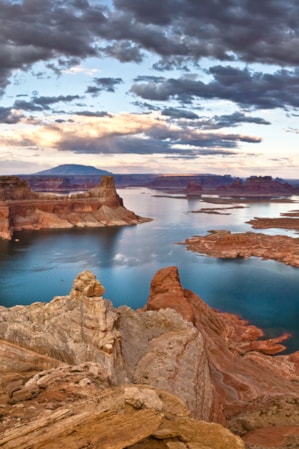 Known for its bright colors and extreme contrasts of textures, the adventurous panoramas of southwestern Utah draw in those with an artistic eye, especially photography enthusiasts. Light and color interplay on the gradient of sandstone, shifting sands, deep canyons and cooling waters. Capture swooping arches at first light or pink sands at sunset. Chase shafts of light in narrow slots or shift to monochrome to preserve high contrast landscapes in full artistic glory. This pocket of natural wonders is any painter, photographer, or landscape lover's dream. Set up a base camp in Kanab, Utah, and check some of these photo-shooting destinations off your bucket list. You'll even pick up a few helpful tips about photographing the parks in the descriptions below.
Coral Pink Sand Dunes State Park
You've never seen sand dunes like these before. Coral Pink Sand Dunes State Park is one of Utah's most photogenic locations — filled with contrast, from evergreen pines against pink sand to the soft, sloping dunes sitting in front of rough, rocky cliffs. These ever-shifting sand mountains change shape with the wind, which creates photogenic patterns and can move hills as much as 50 feet per year, meaning the landscape you're drawing, painting, or photographing is never quite the same. Pro tip: If you're looking to capture the park's best colors, be sure to head in at sunrise or stay until sunset when the light plays up the natural pinks and oranges of the sand against the blues and purples of its desert backdrop.
Grand Staircase–Escalante National Monument
Set on nearly 1.9 million acres of land — nearly the size of Delaware and Rhode Island combined — the Grand Staircase–Escalante National Monument marks examples of erosion that date back to between 50 million and 275 million years ago. The monument is named for the series of plateaus that drop down from Bryce Canyon, creating an illusion of natural steps. Artists can capture the landscape's sweeping views of rugged erosion from the paved surfaces of Scenic Byway 12 and Highway 89, or if conditions permit, in the heart of the monument on Hole-in-the-Rock or Cottonwood Canyon roads. To get an even closer look, hire an outfitter and rappel down into the deep canyons scattered at the bottom of the monument. The Grand Staircase-Escalante National monument will provide you with a variety of stunning spaces to capture on film, paper or canvas — be sure to add this one to your list.
Lake Powell
Who said southwestern Utah was all bone-dry desert? Lake Powell, a reservoir on the Colorado River, is a paradise for boaters, fishermen, and other watersport enthusiasts, not to mention the second largest reservoir in the country. The sparkling body of water sits in a desert landscape of the Glen Canyon National Recreation Area with nearly 2,000 miles of shoreline that varies from beaches to canyons, creating one of the most interesting blends of elements in the state. Home to walleye, sunfish, and many types of bass and other wildlife, Lake Powell branches off into countless coves and canyons that make for some of the most interesting opportunities for photos in the state.
If you get tired of paddling or motor boating around the water, check out the natural arches that surround the desert lake. Some, like Rainbow Bridge National Monument, are just a few miles from the water. The unique mix of water and desert elements in this part of southwestern Utah create an interesting blend for photographers and artists to capture.
The Wave
Nature lovers: Here's a lottery for you. Forget coastal beaches and surfboards. The country's most unique wave sits in the desert between southern Utah and northern Arizona. Composed of layers of different colored rock, the legendary Wave swirls together oranges, reds, and pinks to create a dizzying natural pattern. The Wave, located in the Bureau of Land Management's Coyote Butte, is best photographed, painted or drawn in direct sunshine at the peak of the day because shadows can distract from the spellbinding pattern in the rocks. It's important to note that hikers need to apply for a permit before entering Coyote Buttes North via a lottery system, but the hike in is more than worth it for the views.
White Pocket
Also located on the border of Utah and Arizona is White Pocket of Coyote Buttes South, another rocky area that features beautiful blends of desert colors — and permits aren't as difficult to obtain as Coyote Buttes North. Travelers seeking fewer people will drool over the rainbow rock layers and variety of textures in this special place. Lace up your hiking shoes and walk two miles in to view the full span of delicate formations and spiraling rock towers that reach up into wide open skies.
Buckskin Gulch
This breathtaking canyon marks one of the most unique areas in Utah. As the deepest and longest slot canyon in the southern part of the state, Buckskin Gulch draws canyoneering enthusiasts from all over the world. The winding nature and extreme depths of the canyon creates swooping shadows that lend to epic panoramas and interesting new composition ideas. For the full experience, you'll need to set aside a couple days to backpack in, wade through the knee-deep waters, and explore the pink and orange walls that make up Buckskin Gulch.