Roaming Grand Staircase–Escalante
Follow Ace Kvale and his doggo around the national monument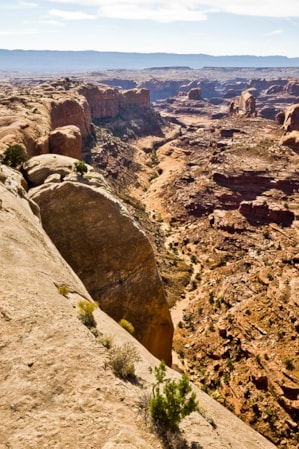 Ace Kvale is a photographer and guide in Boulder, Utah. Whenever possible, he roams Utah's Grand Staircase–Escalante National Monument. Along for most of his wanderings is Genghis Khan.
Genghis Khan is the desert dog of Ace's Desert Dog brand, and co-star of a short film about a 60-day backpacking hike through the backcountry trails of Utah's canyon country. Arguably, he is one of the luckiest dogs in the world. Though there are pockets of Grand Staircase and Escalante River Canyon where dogs are not permitted (Coyote Gulch) or must be on a leash (Calf Creek Falls and crossing over into Glen Canyon National Recreation Area) well-behaved dogs under their owner's vocal control have many opportunities to enjoy a leash-free lifestyle.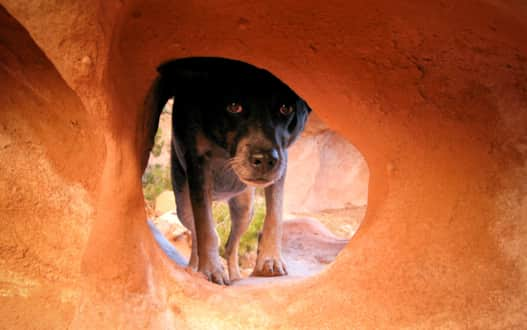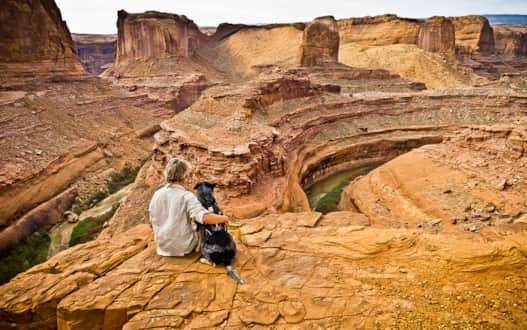 Ace began his relationship with Grand Staircase–Escalante National Monument about 10 years ago while on-assignment for National Geographic and was immediately struck by the the area's beauty and relative obscurity. He fell in love with the canyons moved to Utah to pursue his newfound love and "obsession" noting, "We don't have big peak or the vista points. What we have is space. Beautiful, beautiful space. It's a vast wilderness where red rock canyons meet the forest and it speaks to my soul. And I think it speaks to a lot of people."
In some respects, the monument is one of Utah's most visited. Driving the All-American Road: Scenic Byway 12, auto tourists pass through the margins, catching glimpses through the windshield of the rolling, rugged landscape. While visitors can discover some of the area's beauty and most popular trailheads right off the main highway, many sites are well off the beaten path (see our travel tips), requiring backcountry preparedness and even high-clearance, 4WD vehicles but resulting in scenic wilderness and great solitude.
The designation protects many hidden treasures, from colorful sandstone cliffs soaring above narrow slot canyons and picturesque washes through seemingly endless slickrock to prehistoric village sites and abandoned old Western movie sets. Perhaps most importantly, the Grand Staircase-Escalante region has spurred a scientific renaissance as the designation opened the doors to its abundant resources for paleontologists and archaeologists to research. Many new discoveries — even entirely new dinosaurs — are on display at the Natural History Museum of Utah in Salt Lake City, but visitors to the southern side of the monument can learn more at the Big Water Visitor Center.
As Ace Kvale says, "To know a place is to love a place. After moving here, I was very careful with my approach."
Ace believes that photography reflects the photographer.
"Some people are shooters and capturers and takers and not givers. And the givers, sometimes, can get the strongest photography."
To achieve his approach to photography and this lifestyle, Ace says you have to be dedicated to be helpful, kind and a great listener.
"Because everybody has a story."