Escalante River Canyon Trail
Located in the Grand Staircase-Escalante National Monument, the Escalante River Canyon river trail winds and knots its way east and south. Start at the Highway 12 trailhead and choose a short out-and-back or an overnighter through the full canyon with shuttle to or from Escalante.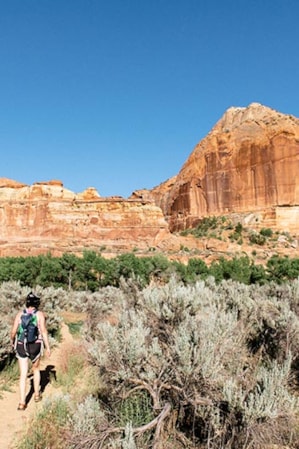 The Escalante River is one of the mightiest and most important waterways in Southern Utah. That said, many folks visiting from more lush climates might think it a bit dainty. Either way, the 85-mile-long canyon is stunning as it stretches from the town of Escalante to Lake Powell.

Located in the Grand Staircase–Escalante National Monument, the river winds and knots its way east and south. Over time, it has carved an expansive canyon, one that is wide, tall, and painted with desert varnish, and laced with wildflowers and foliage.

A popular two-day or a long single-day trip starts at the trailhead in Escalante and goes for 15 miles one way to the Highway 12 bridge. Hikers with limited time will prefer an out-and-back hike starting at the Highway 12 bridge trailhead, which offers multiple points of interest to entertain you for the long haul or give you a rewarding destination to pause at before the return trip. This section of the trail is the most scenic and offers a well-rounded mix of sites.

The Escalante River trailhead is one of the most popular in the area, that said, it is highly likely you will only see a handful of other hikers on this particular trail.
What Makes it Great
Upon beginning this trail, there is a mandatory river crossing. You are going to get a little wet on this hike, but don't fret — it feels great. For most of the year the water is merely ankle deep. Plan your footwear accordingly.
Moving along, you walk through a corridor of tall cottonwood and juniper trees as the trail meanders along the river. As the trail opens up and the canyon expands, you'll come to Escalante Natural Bridge, the largest bridge in the National Monument.

Continue a third of a mile down trail and approach a skyline arch, a most impressive natural wonder, just look for a thin arch on the south canyon wall. Take the time to venture towards it because just below is an ancient cliff dwelling.

A half-mile past the arch is Sand Creek. It's a canyon that's easy to miss. Be on the lookout for a large sandy field on the opposite side of the river from the side canyon. Enjoy the cascading stream and its pools as you hike beneath colorful cliffs.
When you've had your fill of Sand Creek you get to head back east and see it all again.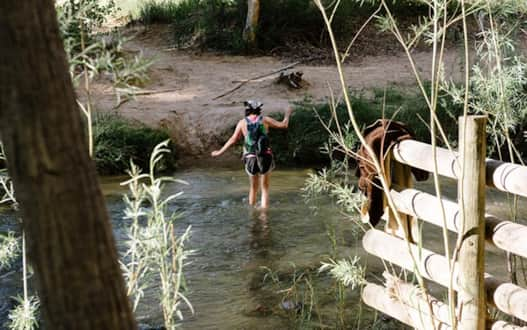 Hiking an Oasis in the Desert
Unspoiled cliffs streaked with multi-color bands of desert varnish towering above you as the cool water of the river sweeps into your sandals and through your toes. And, the sound of your hiking buddy saying, "aaaahhhh," during such instances. If that's not enough, the juxtaposition of sweetly fragrant desert wildflowers along the trail and massive cliff bands rising up to 400 feet above you.
Everyone from experienced, adventurous hikers to those looking for a big visual payoff with minimal effort. The Escalante River day hike provides a little something different for everyone, whether you decide to take a brisk in-and-out hike or enjoy the rocks and scenery off the trail all day.
GPS Coordinates, Parking and Regulations
Backcountry hiking permits are free and can be acquired at the BLM or NPS office in Escalante or filled out at trailhead register boxes. Dogs are allowed on the trail and do not have to be kept on leash. The prominently signed Escalante River Trailhead is located west of UT 12 immediately north of the Escalante River bridge, 14.6 miles south of the UT 12/Burr Trail Road junction in Boulder, and 13.3 miles east of Escalante.

Due to excessive heat during July and August, the best time to hike is April through June and September through October. If you desire to hike in the summer, go in the early morning or late evening. Learn more about the Escalante River trail options to a natural bridge (3.2 miles, round-trip) and Maverick Bridge/Phipps Arch (6.6 miles, round-trip).