The Creature Comforts of Kanab
(And why it's an ideal place to recover from your Southern Utah adventure)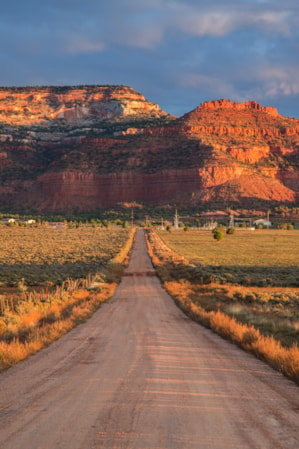 The late afternoon light slowly dissipates, saturating red cliff tops as the sun sinks. I glance up from the two-lane highway as often as safely possible, sneaking peeks of the spectacular vista of the sunset in Southern Utah. Wisps of clouds brighten to yellow, then orange, and fade to pink as the desert dims around me, and soon all is dark.
As I head toward my destination, the small town of Kanab, I relive my day. I hiked all morning to reach a spectacular view in Zion National Park, and then spent the afternoon wandering the narrow twists and turns of the region's famous slot canyons. This is why I've come to Southern Utah: for outdoor adventures from sunup to sundown, followed by restful nights beneath a star-filled sky. The stars are now twinkling, and rest is the next thing on the agenda.
Around one last curve in the highway, the lights of Kanab appear. Once known as "Little Hollywood" for its fame as a filming location in the heyday of Westerns, Kanab is set in a stunning natural landscape that features Zion National Park, Lake Powell, the Grand Canyon North Rim, Vermillion Cliffs National Monument and other iconic natural landmarks of the Southwest. (View the 6-day itinerary: Base Camp Kanab)
Today, it's still a hub for exploring these bucket-list experiences, but Kanab itself remains small and inhabited mostly by longtime locals who welcome travelers from everywhere. A smiling face at the hotel desk reminds me how grateful I am for 24-hour, small-town charm in the middle of sparsely populated Southern Utah. Even after multiple visits to the region, I tend to underestimate drive times in between destinations and overestimate my road trip stamina.
"Maybe the trails can wait until tomorrow. An extra day in Kanab seems like exactly what I need at the moment."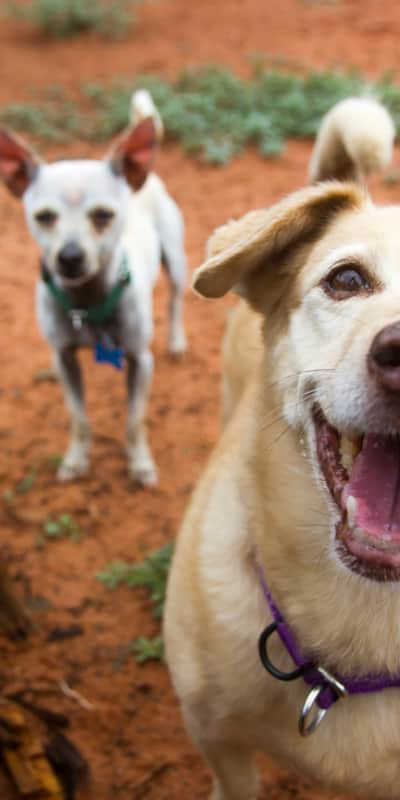 Upon waking in a soft bed and stretching my still-sore hiking muscles, I briefly second-guess my plan to arrive early at the BLM visitor center to try for a hiking permit into The Wave at nearby Coyote Buttes, a spectacular sandstone formation that, like its name implies, resembles a giant wave. But, the chance to stand among these massive orange-sherbet swirls entices, and I groan to my feet. I open the curtain and look outside. One couple strolls on the sidewalk below, coffees and pastries in hand, as a handful of cars roll along Center Street. It's another beautiful, peaceful day in Kanab.
Soon I am on the streets, hunting the scent of hot breakfast in the cool air, and the urgency of hitting the road fades away as I ponder the chance to relax on a patio with the newspaper and a cup of coffee. Maybe the trails can wait until tomorrow. An extra day in Kanab seems like exactly what I need at the moment — and my aching legs agree.
What to Do
For any visitor to Kanab, the surrounding desert wonderland is a must-do. Pick from a number of scenic drives and short hikes close to town that are perfect for recovery days. Cruise Johnson Canyon Road, just east of town off U.S. 89, to see horses and cattle grazing in green pastures among natural corrals of white cliffs. To tour Utah's wild canyon country, venture farther along Skutumpah Road, beyond the point where the pavement turns to gravel.
Farther along U.S. 89, but still within easy distance from town, you'll find a short hike among fantastical rocks called the Toadstool Hoodoos, part of a federal Wilderness Study Area near the old boundaries of the Grand Staircase–Escalante National Monument. These aptly named formations resemble giant mushrooms, worn smooth from the hillsides by wind and rain. The Coral Pink Sand Dunes are another natural spectacle close to town with easy access. In the state park, you can walk right onto the large dunes — a giant sandbox of fine grains weathered from the landscape's red stone.
To get a look into the history of the area, head to the Kanab Heritage House, which displays the town's rich past in a historic building complete with gardens and an orchard.
For a soul-nurturing rest day, animal lovers will delight in a free tour at the Best Friends Animal Sanctuary (BFAS), a no-kill animal shelter tucked inside an idyllic red-rock canyon and the home for dogs, cats, birds, farm animals and wildlife. Best Friends is known around the country for taking in animals from difficult cases, and if you have time to volunteer, take one of the dogs for a walk among the red rocks or settle in to snuggle with a bunny.
Where to Eat
A fusion of homegrown Western and world influences, the friendly, family-owned restaurants of Kanab satisfy nearly any taste. (Read the Story: Kanab: It's About the Sizzle)
Jumpstart your day with a visit to Kanab Creek Bakery, where you'll not only find tasty coffee, but also delicious breakfast options, such as the Jambon-Fromage omelette with ham and gruyere cheese, and Quiche Florentine with spinach, sundried tomatoes, parmesan cheese and garlic. At the Willow Canyon Outdoor gear shop you can pick up your morning espresso drink and chat up the employees for insider info on local trials.
For lunch or dinner, treat the family to a blend of international flair on local favorites with the tapas-style menu of Sego. Stop into the Rocking V for a slew of scratch-made specialties spun with handmade care, featuring only the freshest veggies and choicest meats. (Read:"Utah's Unexpected Pit Stops".) Vegetarians will love Peekaboo Wood-Fired Kitchen, which turns out diverse pizzas as well as other casual fare. At Escobar's, hearty plates of authentic Mexican cuisine are the perfect fuel-up after a day spent exploring outside.
If you've got a hankering for down-home cooking, Houston's Trail's End is as close as it gets, with country classics made from scratch daily. These are just a few of Kanab's diverse eateries, and with plenty more to choose from, you'll find the right flavors to fuel your adventures.
Where to Stay
If you're just seeking a late-night check-in and hot coffee in the morning, Kanab offers an array of hotels and motels to fit your needs. But to properly put up your feet and savor your downtime, consider some of the town's more unique accommodations. Canyons Lodge brims with an Old West ambiance, with the added convenience of modern amenities. Kanab Cottages offer private stays in beautiful houses near downtown. Many local properties are also available through Airbnb, ranging from rooms in the heart of downtown to a ranch on the outskirts.
Discover more soul-nurturing adventures in Utah