U.S. Federal Shutdown Information
At this time, all of Utah's national parks, monuments and recreation areas remain open.
Learn more.
Winter Wonders in Greater Zion
As you're mapping out your winter trip through southwestern Utah, consider adding the following parks and natural wonders to your itinerary.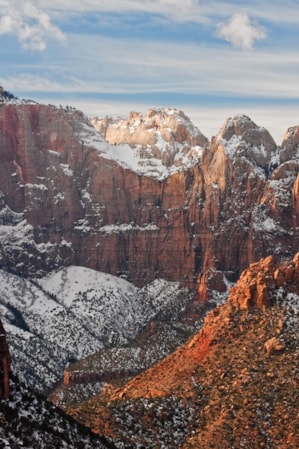 When winter sweeps into southwestern Utah, the crowds roll away, and park visitors can enjoy quiet trails and sunny days. While there are fewer daylight hours, it's a fantastic time to explore the outdoors. In the southwestern region of Utah, winters are surprisingly mild, making it a pleasant time to experience the natural wonders of scenic areas like Zion National Park, Snow Canyon State Park and Joshua Tree National Natural Landmark (see more places nearby Zion). During winter, these landscapes are hauntingly beautiful with rainbow-tinted rock layers, twisting slot canyons, wooded highlands and turquoise skies. (Read: "How to Visit Southern Utah in Winter")
Be prepared for warm days and little precipitation or snow in the lower elevation parks like Zion and Snow Canyon — which was named for early settlers Lorenzo and Erastus Snow rather than a blanket of winter white. The city of St. George, the snowbird capital of the southwestern region, boasts Utah's mildest winter weather for hiking, golfing and sightseeing. Visitors who crave a winter wonderland can head to the snow-bound rim of Bryce Canyon's 9,000-foot plateau for snowshoeing and cross-country skiing. As you're mapping out your trip to the southwestern region of Utah, consider adding the following parks and natural wonders to your itinerary.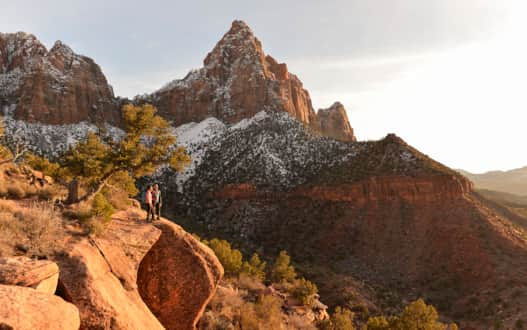 Zion National Park
Utah's crown jewel is Zion National Park, a massive refuge of deep canyons, towering sandstone cliffs and soaring peaks chiseled by wind and water. Winter is the ideal time to visit Zion, as you'll encounter less crowds (Read: "How to Visit Zion").
Zion Canyon, the most visited park sector, offers raw nature and unforgettable experiences for winter visitors. You can explore a dozen trails or take a scenic drive up the majestic canyon while enjoying warm daytime temperatures and colorful sunsets. For an easy stroll, walk the half-mile (one way) Grotto Trail. Or, follow the Watchman Trail, a 3.1-mile loop, for excellent views of the 2,200-foot Watchman Spire. If you're seeking a more strenuous hike, and you don't have a problem with heights, the Angel's Landing Trail receives fewer visitors in the winter. On this 2.4-mile (one way) hike, you'll follow a knife-edge ridge surrounded by breathtaking scenery — but check conditions when attempting this hike in winter. To enjoy a quiet overnight spot, stay at the mostly deserted Watchman Campground.
Time requirement: 1-2 days, depending on number of trails you tackle
Special gear needed: Bring warm clothes for the afternoon after the sun leaves the canyon. If you're camping, bring a sleeping bag rated for frigid temperatures. Use trekking poles if you're hiking on snow-packed trails. (Read: "Stay Warm in Southern Utah: How to Pack for a Winter Trip")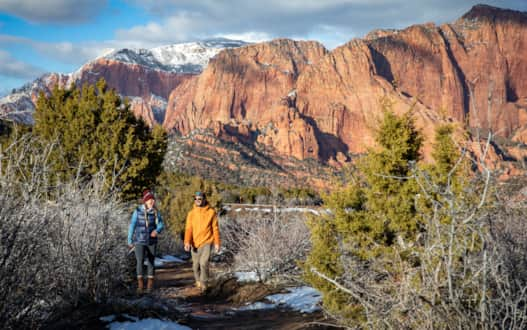 Zion's Kolob Canyons
Tucked in the northwest corner of Zion National Park, Kolob Canyons is a perfect winter stop off I-15, about 30 miles north of St. George. The five-mile Kolob Fingers Road Scenic Byway climbs to spectacular lookouts. Plus, the road leads to a short trail that visits the impressive Timber Creek Overlook. From the overlook, you'll have expansive views of the Kolob finger canyons, Shuntavi Butte and the North Rim of the Grand Canyon, which lies more than 100 miles to the southeast.
Kolob Canyons receives more snow than other parts of southwestern Utah, so most trails are icy. Bring snowshoes, trekking poles and microspikes if you want to hike out to the 287-foot-long Kolob Arch, the sixth-longest arch in the world.
Time requirement: 1 day is plenty of time to stop at the visitor center, drive the scenic road and do a couple of short hikes.
Special gear needed: Wear warm clothes since the canyons are at high elevations. Bring trekking poles and microspikes or snowshoes for long hikes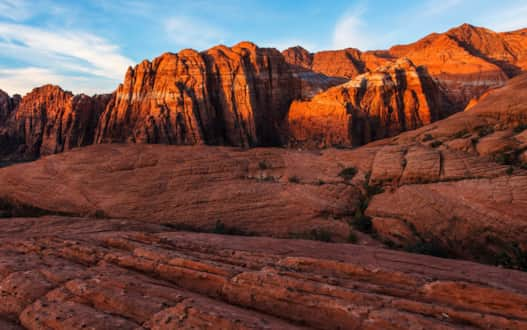 Snow Canyon State Park
Lying on the northern edge of St. George, Snow Canyon State Park is an incredible winter destination with unspoiled views, dazzling cliffs, petrified sand dunes and 38 miles of trails (Read: "Unexpected Southwest Utah: Snow Canyon State Park"). Snow Canyon's beauty rivals that of neighboring Zion and, in winter, there are usually no crowds, and temperatures are perfect for hiking. Snow Canyon's 13 trails offer everything from challenging hikes to carefree romps. You can explore windswept dunes, rugged canyons, Native American rock imagery sites and slender slot canyons. Rock climbers can try trad and sport routes at excellent crags like the Circus Wall, which is part of the Island in the Sky series of rock formations. If you're a cyclist, you'll enjoy riding the scenic park drive.
Time requirement: 1-2 days to explore the park, stop at the visitor center and hike several trails.
Special gear needed: Pack a light jacket, sun hat, sturdy hiking shoes and drinking water. Pack extra clothes if it's possible that you'll be on the trail at sunset when the temperature drops.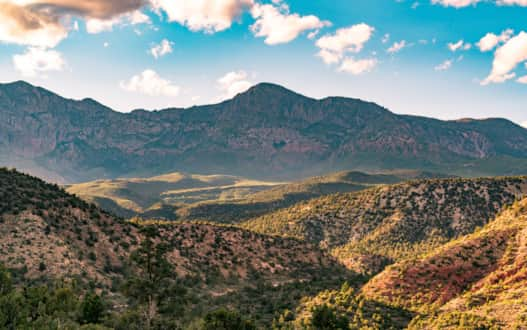 Smithsonian Butte Back Country Byway
The nine-mile Smithsonian Butte Back Country Byway is an off-the-beaten-track dirt road that climbs to stunning vistas across Dixie National Forest. Beginning in Rockville, the byway follows a single-lane bridge over the Virgin River and bends past the ghost town of Grafton (Read:"Utah's Unexpected Pit Stops"). As you're traveling this route, stop at the old townsite, a movie set for Butch Cassidy and the Sundance Kid. You can also see a house built in 1862, an abandoned church and a cemetery filled with weathered pioneer gravestones. The road, impassable when wet, twists south up Crybaby Hill to marvelous views of Zion Canyon, Mount Kinesava, Eagle Crags, Gooseberry Mesa and the Vermillion Cliffs before bumping south across Big Plain to Highway 59. It's recommended that you travel this route in a 4WD vehicle with high clearance.
Time requirement: A half-day to drive the backcountry road and visit Grafton.
Special gear needed: A four-wheel-drive vehicle is ideal, because sections of the dirt and gravel road could be muddy or packed with snow.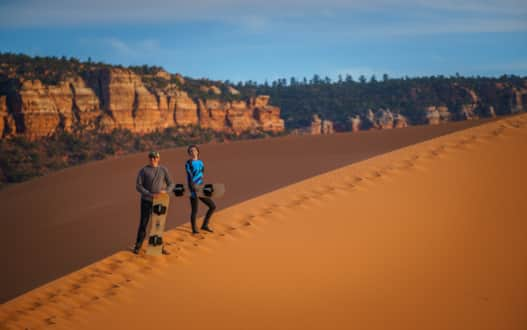 Coral Pink Sand Dunes State Park
Westerly winds funnel grains of sand through a gap between the Moquith and Moccasin Mountains, forming the Coral Pink Sand Dunes, the largest dune field in southern Utah. The rippled, windswept dunes are a giant sandbox for playtime, nature study and wondrous scenery.
Visit in winter and have the state park to yourself. Hike across the dunes, go sandboarding (snowboarding without the snow), maneuver an off-highway vehicle (OHV) on more than 2,000 acres of sand and study the diverse plants and animals that live on the bleak landscape. Before heading to nearby Kanab for the evening, hang around for sunset when sunlight bathes the dunes and mountains in an unearthly red glow. (Read: "Escape Tourist Hotspots on a Quiet Winter Getaway to Kanab")
Time requirement: 1 day is ideal to explore the dune field, hike park trails, take an ATV ride and photograph the sunset. (Read: "A Photographer's Guide to Mindful Travel")
Special gear needed: Wear warm clothes since it can be windy and wear sturdy shoes for hiking in sand.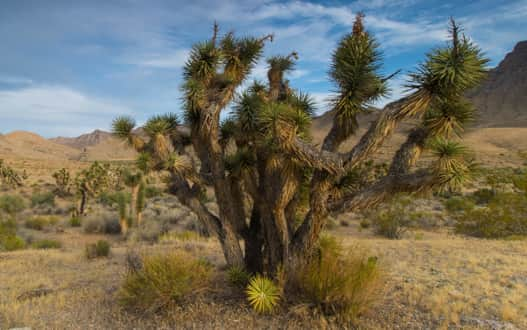 Joshua Tree National Landmark
The far southwestern corner of Utah is home to the only Joshua tree forest in Utah and the northernmost grove in the United States. The fanciful yucca trees, named by early Mormon settlers for the bearded biblical prophet, are protected on 1,052-acres in Joshua Tree National Landmark. To see vast stands of Joshua trees, take a drive on the Mojave Desert-Joshua Tree Scenic Byway. Head down the west side of the rugged Beaver Dam Mountains to reach Beaver Dam Wash, Utah's lowest point. In the desert valley, a few miles north of the Arizona border, you'll find not only Joshua trees but also the endangered desert tortoise.
Time requirement: 1 day to drive the scenic route and see the Joshua trees.
Special gear needed: The road has a maintained gravel and dirt surface that is usually passable in two-wheel-drive vehicles. A high-clearance, four-wheel-drive vehicle is recommended after rain or if the road surface is wet and muddy. Bring drinking water since it's often warm and dry.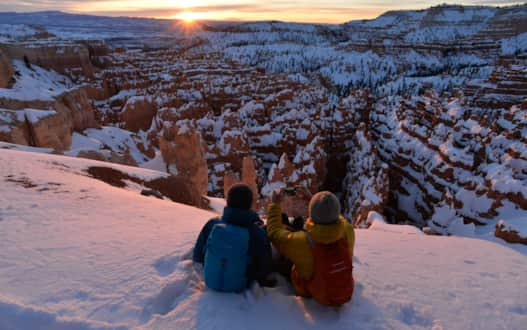 Bryce Canyon National Park
Winter is the quiet time at Bryce Canyon National Park, an eroded fantasyland of skinny hoodoos and slender spires crowded into Bryce Amphitheater. The summer tourists are gone, leaving behind sparkling fields of deep snow, plowed roads and cross-country ski trails that skirt the lofty rim of the Paunsaugunt Plateau. At sunrise, you can hike or ski to the rim to glimpse the strange rock formations glowing in fluorescent orange, yellow sienna and flaming red. If you want to walk among the obelisks, flying buttresses and minarets below the rim, check with the rangers at the visitor center to see which trails are open. Also, wear microspikes on your boots for traction. A good time to visit is President's Day weekend when the annual Bryce Canyon Winter Festival celebrates the chilly season.
Time requirement: 1-2 days to hike to overlooks, descend a trail into the hoodoo wonderland and snowshoe and cross-country ski to more distant viewpoints.
Special gear needed: Wear warm clothes since the rim is above 8,000 feet. Sturdy winter boots are essential because you'll be hiking in snow. Bring snowshoes, cross-country skis, microspikes and trekking poles for hiking and ski touring along the rim and in Bryce Amphitheater.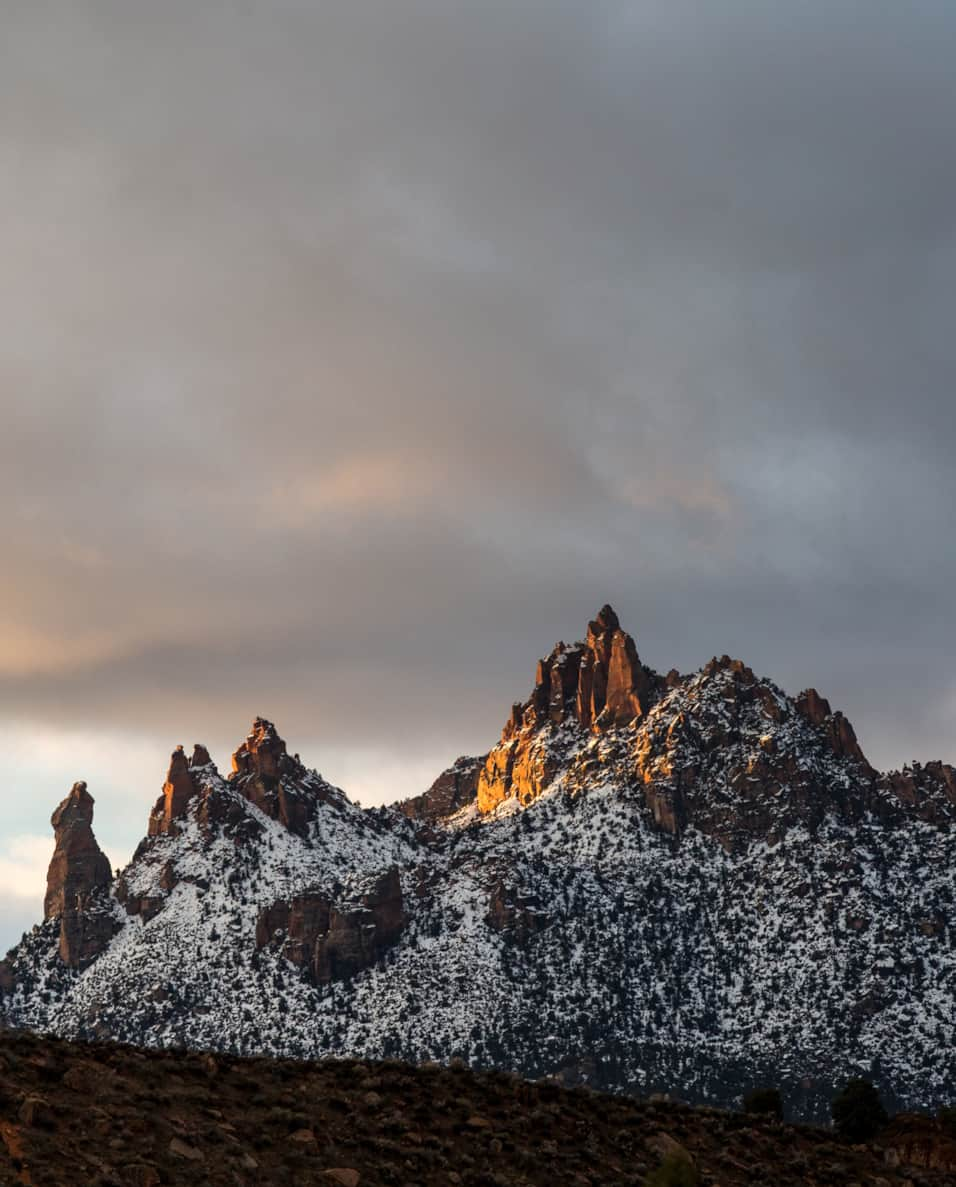 Larger Than Life: Winter in Southwestern Utah
This desert is dramatic. In a really good way. Experience the towering heights of Zion, the depths of Buckskin Gulch, the dunes of Snow Canyon, the sunset over Gooseberry. Southern Utah's wilds are wearing their winter splendor.
Highlights
Zion National Park
Coral Pink Sand Dunes State Park
Best Friends Animal Sanctuary
Mountain Biking on a Red Rock Mesa
Hike Zion's Most Iconic Trails