Hiking Trail Overview
Trail Length: 1 mile (round trip)
Hiking Time: About an hour
Difficulty: Moderate
Elevation Gain: 163 feet
Pets: No
Directions to the Trailhead: The trailhead for this hike is on Highway 9, about a 20-minute drive from Springdale. It sits just east of the Zion-Mt. Carmel Tunnel.
GPS Coordinates: 37.213404, -112.940522
Hiking Information
Starting across the street from the parking area on Highway 9 just east of the tunnel, the trail begins with a collection of stone steps north of the road. Along the route to the overview, you'll get an impressive glimpse of the Pine Creek slot canyon. There's also a nice shaded alcove (with ferns growing out of the walls) that offers a bit of a break from the otherwise exposed path. While the trail is relatively flat and well-traveled, it has its share of switchbacks, steps and slickrock, so wear appropriate footwear for hiking. (Despite its short length, the trail earns its "moderate" difficulty designation.)

The path ultimately emerges onto a hilltop covered with hoodoos, or pillars of eroded stone. It then weaves across the slickrock and between pinyon pines to reach Canyon Overlook, which is the trail's real stunner. East Temple looms to the north, while to the west spreads a panorama highlighted by Bridge Mountain, the West Temple, the Towers of the Virgin and the Streaked Wall. If you have binoculars, look toward the southern cliffs to see desert bighorn sheep, which have been reintroduced into Zion National Park.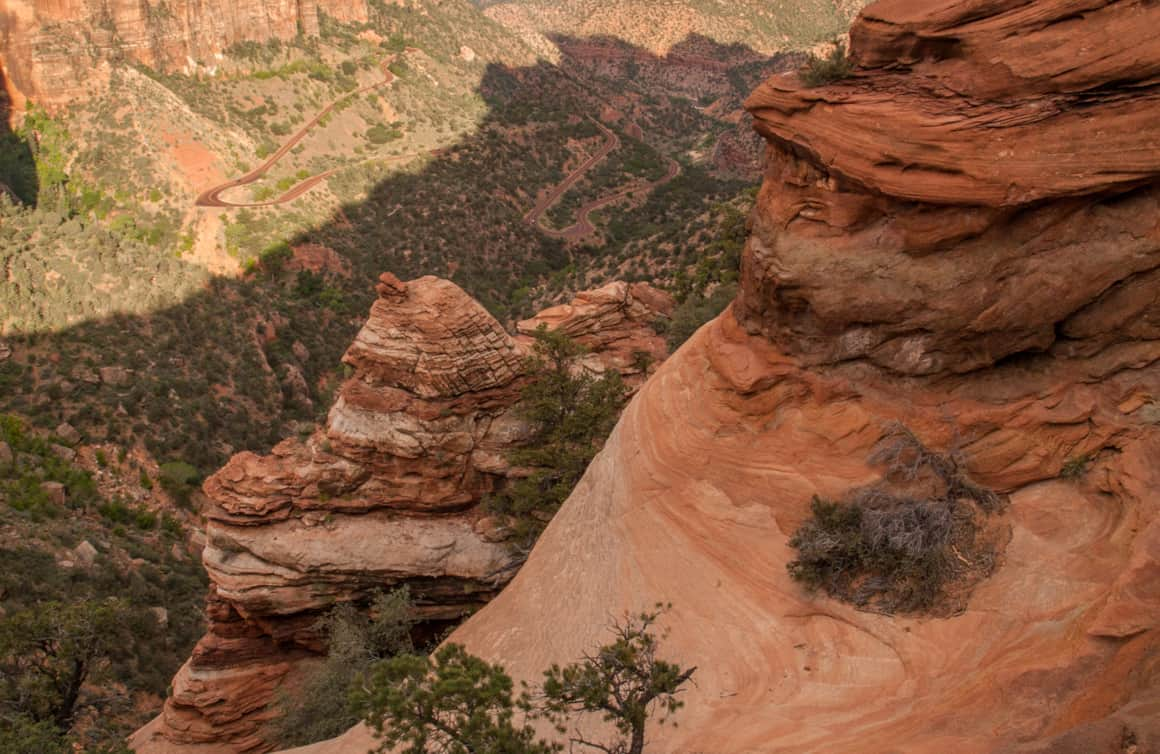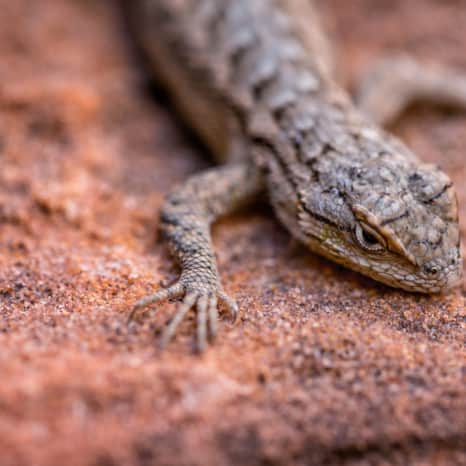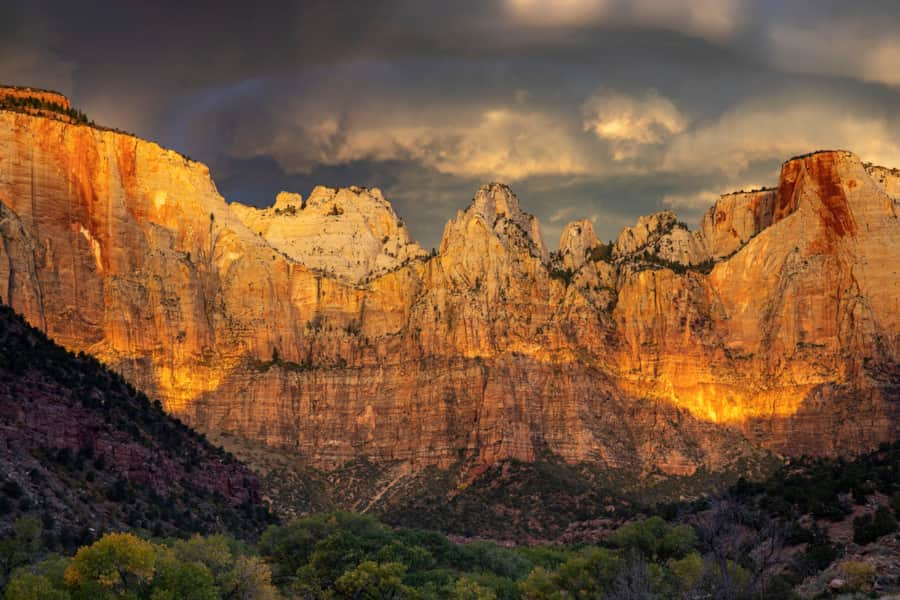 More Things To Know
Amenities

The Zion Canyon Overlook Trail isn't accessible from the shuttle. It can only be reached via private vehicle. Parking is limited to the lot near the trailhead, and it fills quickly during busy times in the park. Often multiple visits are required to find a spot. Visitors will find pit toilets in the parking area.

Hiking with Kids

While mostly family-friendly in terms of exertion, this trail does feature several long drop-offs that are fenced but could be concerning for parents of young children.

Trail History

The trail was originally known as the "Great Arch Trail," but the name was changed in the 1940s to the Zion Canyon Overlook Trail. While you take the trail to the Great Arch, you're standing above it, so you can't actually see it. The hike is not far from the Zion-Mount Carmel Highway for more sightseeing adventures.

Weather

In the summer, the most popular time to visit Zion, the temperature routinely hits 100 degrees. But that doesn't tell the whole story of the weather in Zion, as it's known for its wide range of temperatures, depending on the elevation and time of day. The spring and fall bring more moderate temperatures to Zion but expect cool mornings and evenings. In the winter, the high temperatures often reach 50 to 60 degrees, but it typically falls below freezing at night. Be sure to check the forecast whenever you visit so that you can plan for your trip.

What To Pack

At about a mile in length, it's easy to underestimate this trail. But visitors should be prepared to be exposed to the elements for at least an hour. That means bringing along water and sunscreen — and a snack wouldn't hurt. Wear hiking boots or similar-soled shoes designed to handle the rocky terrain. A hat and sunglasses are generally a good idea as well.

When To Hike

Because of the limited parking, it makes sense to hike this trail early in the morning or late in the afternoon. You will also find fewer crowds during the less-busy fall and spring seasons. But the trail is generally open any time the park is open.