Zion National Park Winter Weather
Weather can vary significantly throughout Zion National Park, so visitors should be prepared to encounter an array of different conditions. Temperatures change with elevation and region, and they can drop sharply at night. Daytime winter highs can reach 50 to 60 degrees Fahrenheit, though nighttime temperatures often drop below freezing. Winter is often wet, so expect rain, snow and mixed precipitation.
At lower elevations, snow will usually melt off fairly quickly after a storm, but at higher elevations, snow and ice can persist, especially in shady areas, so be prepared and consider "over the shoe" traction devices over sturdy boots. Some trails can be closed due to wintry conditions (including falling ice hazards). If you're planning on hiking The Narrows, expect a cold journey and check with the park about conditions — a drysuit rental from a local outfitter may be necessary. Be sure to check Zion National Park's winter weather and climate information before your trip.
Average Daily High and Low Temperature
Oct.

Nov.

Dec.

Jan.

Feb.

78/49 F
25/9 C

63/37 F
17/2 C


53/30 F
11/-1 C

52/29 F
11/-1 C

57/31 F
13/0 C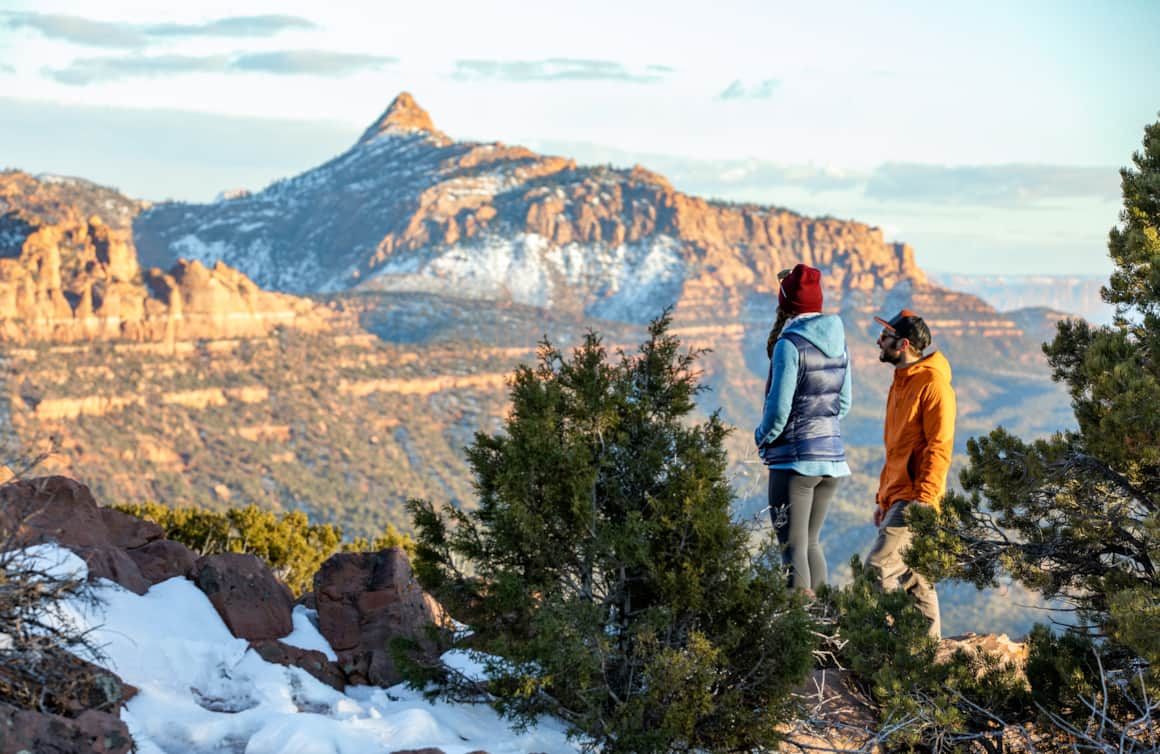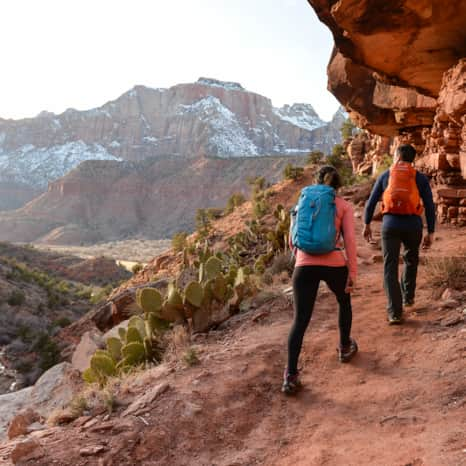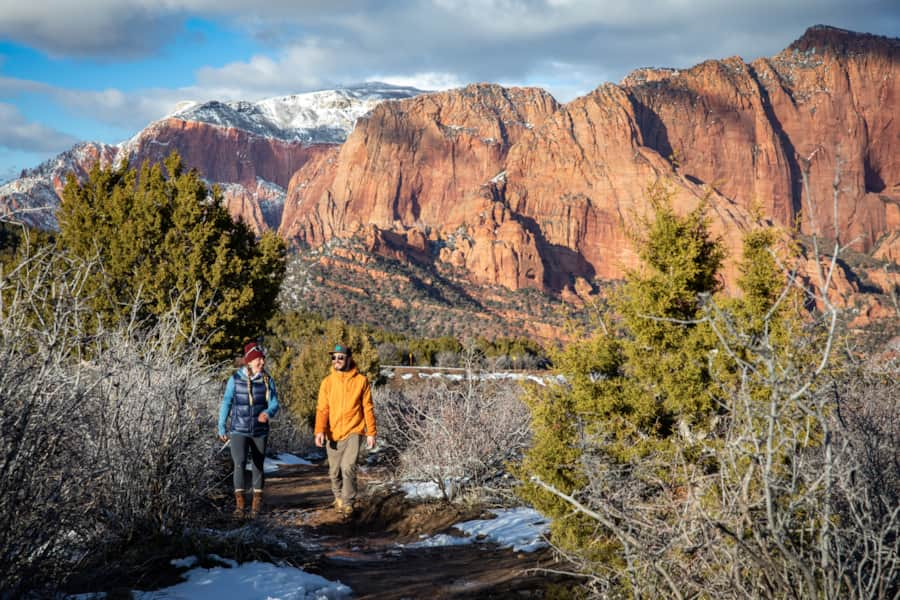 "A winter visit to Zion includes sunshine, moderate temperatures and a stunning sandstone kaleidoscope of reds, oranges and pinks."
Winter Activities in Zion
Winter Hiking
Zion National Park offers fantastic hiking opportunities year-round. When selecting a trail for a winter hiking adventure, be sure to check conditions and be aware shadier hikes are likely to be icier. Choose a hike like the Riverside Walk, Pa'rus Trail or Lower Emerald Pool Trail, or opt for an even more challenging adventure. The park offers plenty of hiking trails for every level of hiker. Beware of icy patches, especially on steep trails and those with drop-offs. Traction devices may make hiking easier and safer. Also, be aware of ice that could fall from canyon walls above and use caution.
The Narrows should only be attempted by well-prepared and outfitted hikers, but is possible with support from local outfitters in Springdale.
Photography
Winter is a photographer's dream in Zion National Park. Shorter days make it easy to catch both sunrise and sunset as the red rock walls transform into a swimming sea of golden and fiery hues with red, orange, yellow and purple dancing on the landscape. The soft winter luminescence provides a contrast to summer's strong light.
Since winter is a less crowded season, photographers will have an easier time taking images of iconic locations without getting too many other visitors in the shot. Please always be mindful of the land and other visitors when taking photos. Photography tours and guides are available throughout the region for those who want to learn more about the art.
Stargazing
Night sky-friendly light fixtures are in place throughout Zion National Park, casting light downward in order to preserve the dark night sky. The park is a perfect location for stargazing and taking time to look up in amazement. Pa'rus Trail is a favorite paved path for viewing. The park encourages people to stick to paved front country paths for sky viewing to avoid nocturnal encounters with wildlife, cliffs, drop-offs and other dangers. Make sure you bring a light with you and select a location where you can easily return to your car (such as a paved path) for safe viewing.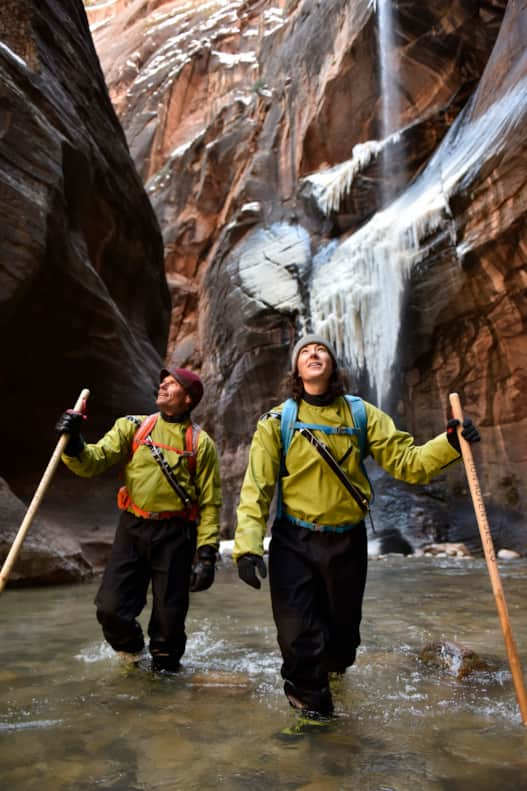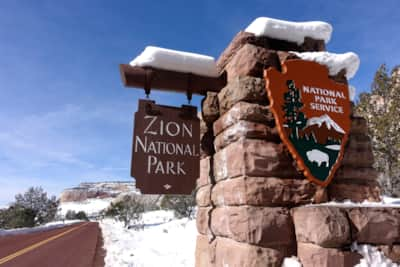 Winter Camping Near Zion
Watchman Campground is located in Zion Canyon and offers both electric hook-ups and tent sites. It is open year-round; reservations are required and can be made up to six (6) months in advance. A number of other campgrounds throughout the region are also open during the winter, and people can find plenty of other lodging options including glamping, hotels, motels and resorts in Springdale, East Zion, St. George, or even Kanab.
Winter Travel Tips
The park is open year-round, though some services like the visitor center, have limited winter hours, and others are closed.
Check the park website or call to get the most up-to-date information on current conditions. Areas, roads and trails can be closed or restricted with little notice, and some areas can become hazardous in certain conditions.
Zion has a park shuttle bus which is typically only used in winter during the busiest times around holidays.
Roads are usually plowed soon after storms, though winter driving conditions, including icy and slippery roads, can persist at any time during the winter. Make sure you and your car are prepared for winter driving, with chains or snow tires and a full winter emergency kit.
Always bring appropriate winter gear, including plenty of warm clothes for layering along with extras in case your clothes get wet, as well as sunglasses and sunscreen. Be sure to properly prepare for a winter visit.
The park encourages visitors to carefully plan their trip and leave a trip plan with an emergency contact.
Be flexible with your plans. Check the forecast the day of the trip and be prepared to switch to Plan B (which could be staying indoors) depending on conditions.