Across a Snow-Covered Desert: Southeast Utah Winter Road Trip
A Week-Long Winter Road Trip Itinerary through Southeastern Utah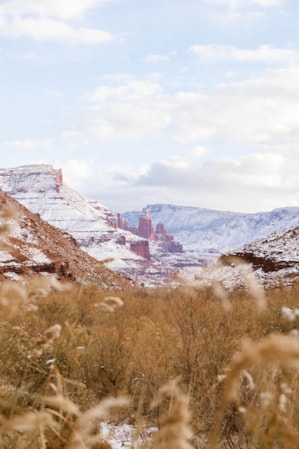 This itinerary includes visits to archaeological sites where there are important ancient artifacts. Please read our travel advisory and remember to visit with respect.
The red rock expanse of Southern Utah is stunning in all seasons, but winter is unique. The snow nestles on desert towers and lingers in the shadows of the canyon walls. While the snow is a constant reminder of winter, mild daytime temperatures and sunny skies provide a welcome respite from frigid conditions. And wherever you roam, you find few other travelers and plenty of peace and solitude (Read: Winter in Southern Utah Like a Local). With summer crowds gone, it seems like you have this slickrock paradise all to yourself.
If winter in southeastern Utah sounds like heaven to you, let the following itinerary inspire you to map out your own weeklong road trip through the desert.
Day One: Moab to Blanding, Comb Ridge Canyon Archeological Sites
Driving time: 3 hours
Start your trip in Moab, where you can stock up on snacks and supplies before driving into more remote territory. Head south on U.S. 191 toward Bluff. For the best introduction you can get to this area, visit Edge of the Cedars State Park Museum in Blanding (open year-round, but check their seasonal hours). It houses an extensive collection of Ancestral Puebloan pottery and relics from the area, and is the site of an old dwelling with a reconstructed kiva. Before leaving Blanding, fill your gas tank, as stations become sparse from here.
Starting in Bluff, drive north on the Butler Wash Road. Along this route, several short trails lead to Ancestral Puebloan art, such as the Wolfman Petroglyph Panel, while other paths visit ancient dwellings like the Split Level site and Monarch Cave site. (Read: The Petroglyphs of Comb Ridge)
Dispersed campsites exist along the Butler Wash Road and S.R. 95, such as the Comb Wash Campsite. However, Blanding also offers accommodations for those looking for a warm bed and a shower.
"The red rock expanse of Southern Utah is stunning in all seasons, but winter is unique. The snow nestles on desert towers and lingers in the shadows of the canyon walls."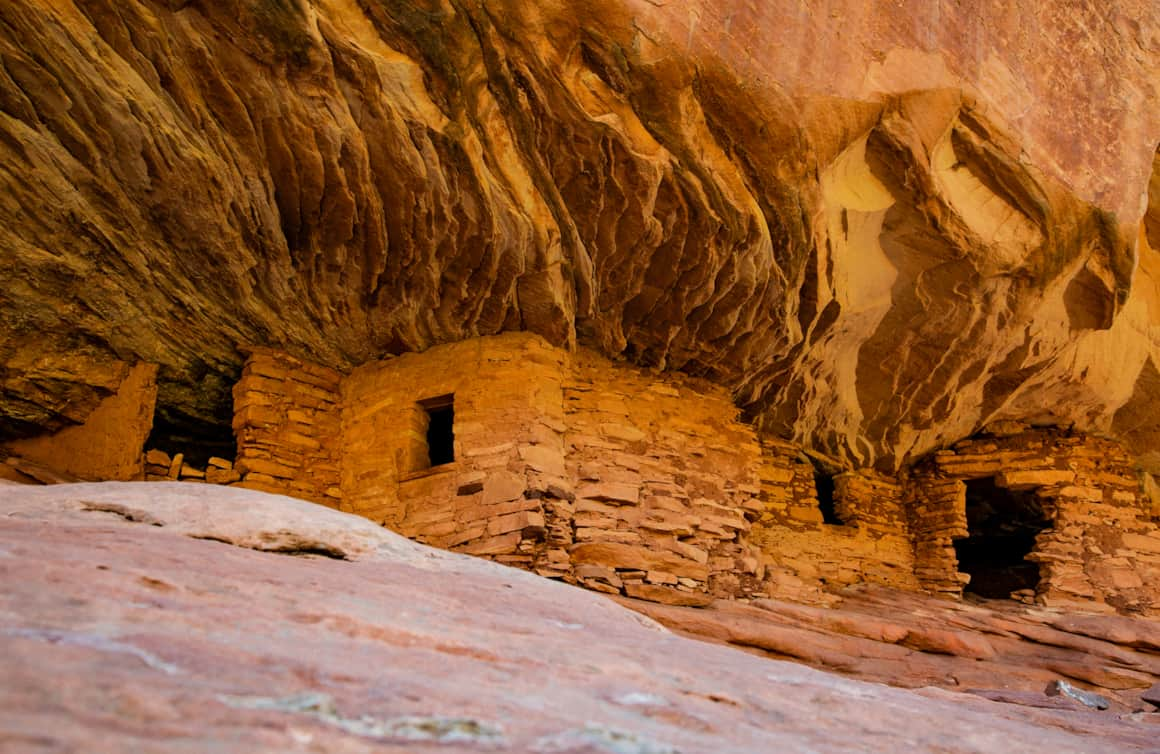 Day Two: Mule Canyon, Natural Bridges National Monument, and Junction Ruin in Cedar Mesa
Drive time: 2-5 hours, depending on whether you camp or stay in Blanding
This day is jam-packed with activities, as the area surrounding Blanding is rich in both natural and archaeological history (Read: How to Visit Rock Imagery Sites Like an Archaeologist). If you're well prepared to camp where nighttime temperatures can drop below freezing, pack up the car and continue north on S.R. 95. If you're staying at accommodations in Blanding, grab your day pack and head out the door.
Make your first stop Mule Canyon to visit the House on Fire. This famous archaeological site sits beneath flame-like striated sandstone, so arrive mid-morning to catch the light show. A one-mile hike into Mule Canyon takes you to the House on Fire; however, you can explore for miles before turning around. Other dwellings rest in nooks high above the canyon floor, so bring binoculars and keep your eyes out as you wander along the wash.
With an itch for more observation of the ancient, hike Junction Ruin at Grand Gulch, the shortest hike to an archaeological site in this area. Junction Ruin is a unique Ancestral Puebloan site that sits right at the "junction" with Grand Gulch and Kane Gulch. The location features pictographs and petroglyphs as well as other glimpses into the ancient way of life. Just shy of 20 miles west from Mule Canyon, this hike is 8 miles roundtrip from the Kane Gulch Ranger Station — the most easily accessible/safest trailhead to leave your vehicle at. All of the roads are paved and no 4WD or high clearance is necessary. Day-use permits are available at Kane Gulch Ranger Station ($5 a person, per day). For additional permit information, trailhead distances and maps, check with the Bureau of Land Management.
From the Kane Gulch Ranger Station, you'll drive about 18 miles to Natural Bridges National Monument. It sits at 6,500 feet of elevation and is susceptible to harsh winters, so check the forecast before you go. Bring hiking poles and wear microspikes in case there's ice on the trail. If you decide to brave the winter weather, you're in for a treat: three natural bridges glisten under the low winter sun as they span snow-filled valleys. The Horse Collar archaeological site overlook and Owachomo Bridge hike melt out quickly and make great winter destinations. If trails are clear of snow and ice, consider hiking the entire park loop. During winter, the park offers fewer visitor amenities, so come prepared with food and supplies for your trip. The campground in this national monument stays open year-round but is not cleared of snow.
Day Three: The Burr Trail Road
Drive time: 5 hours
Day three of your road trip will take you on one of the most stunning roads in Utah.
Drive from Blanding to Bullfrog, either via Hite or via the Charles Hall Ferry. The ferry may run on winter weekends, but the schedule changes each year depending on conditions (the ferry closes when water levels are too low). Check the current ferry schedule online or call UDOT at (435) 893-4747. When you reach Bullfrog, head northwest on the Burr Trail Road toward the small town of Boulder. You'll begin in sagebrush-speckled canyonlands and then cross into the piñon-juniper forests of the high desert. Excellent views of the Henry Mountains greet you as you gain elevation.
The Burr Trail, developed as a cattle trail in the late 1800s, takes drivers up and over the Waterpocket Fold, an impressive bend in the earth's crust spanning more than 100 miles. Trailheads line the road, and you can do anything from a quick leg-stretching jaunt to a challenging day hike. Singing Canyon (in Long Canyon) and Muley Twist Canyon (either Upper or Lower) are great options.
Stay the night in the charming town of Boulder and enjoy a farm-fresh meal at Hell's Backbone Grill, or opt to stay at one of the numerous campsites in the area.
Day Four: Boulder to Fruita
Drive time: 1-2 hours
Before leaving Boulder, consider hiking to Lower Calf Creek Falls. While this is a very popular day hike in the summer, fewer people make the trek in the winter months. After you visit the falls, drive north from Boulder to Torrey on Scenic Byway 12. For those seeking accommodations, Torrey offers numerous options. Continue along S.R 24 east into Capitol Reef National Park. Enjoy a scenic drive through the park, or choose from a variety of hikes. The three-mile round-trip hike through Cohab Canyon offers sweeping views of Fruita. For those seeking more mileage, connect Cohab Canyon with Cassidy Arch via the Frying Pan Trail. Once you get settled at camp or your hotel, head back to the park's Sunset Point to take in panoramic views as the last light of the day is cast upon canyon walls.
Day Five: Goblin Valley State Park
Drive time: 1.5 hours
On day five, you'll leave Capitol Reef and drive 48 miles to Goblin Valley State Park. During winter, this park transforms into a wonderland of snow-capped hoodoos. Rental yurts sit amidst towering red and white sandstone, and the night sky provides endless wonder for bundled-up stargazers. During the day, explore the Valley of the Goblins, a vast area prime for off-trail exploration. As you wander through the enchanting shapes of the goblins, be respectful of the fragile, ancient hoodoos.
If you plan to rent a yurt, keep in mind that advance reservations are essential, especially for weekends and holidays. Reserve your yurt up to four months in advance if you want to guarantee accommodations. For weekdays, it's possible to reserve a spot two weeks (or less) prior to arrival. However, earlier is better. Reservations for late December through the first week in January should be made as early as possible. Yurts cannot be reserved less than 48 hours in advance.
Day Six: Goblin Valley and the San Rafael Swell Area
Drive Time: Up to an hour if visiting multiple trailheads
Stay another night at the Goblin Valley yurt and explore the San Rafael Swell region. You'll drive just 10 minutes to reach the trailhead for the Wild Horse Window Arch. You'll hike only one mile, traversing slickrock, to reach the arch. This hike lacks shade, making it brutally hot during the summer, yet the perfect choice for a winter hike. Once you reach the arch, red pictographs line the cave walls as golden light beams through the cathedral-esque windows. For another great hike, trek through Farnsworth Canyon. You'll pass through a narrow slot in the canyon, and then enter a wide, boulder-strewn wash with well-preserved petroglyph panels.
After your day hikes, return to Goblin Valley and take another stroll around the Valley of the Goblins. Or, take a bike ride on the seven miles of trails in the park. At this point, you'll probably be pretty worn out, so settle in for a final night in the valley.
Day Seven: Return to Moab
Drive time: 1.5 hours
Breathe in the fresh air and bask in the stillness of the desert on your final morning. Listen for the songs of wintering birds and the pattering of lizards darting between the brush. When you're ready to head out, you'll travel about 1.5 hours to reach Moab, where you could easily extend your trip to explore this outdoor recreation hub. Miles of hiking and biking trails wind through the canyons. If you're craving a classic winter experience, the La Sal mountains offer ample opportunities for cross-country and backcountry skiing. (Read: A Wintertime Yurt-to-Yurt Excursion in the La Sals)
With your winter road trip complete, you can make your way home, reflecting on the fascinating things you encountered in the desert. The ancient artwork, the curious hoodoos and the rust-colored peaks draped in snow create a mysterious and beautiful environment. It's at once strange, surprising, inspiring and unlike any other place that you'll experience in winter.
"Breathe in the fresh air and bask in the stillness of the desert on your final morning. Listen for the songs of wintering birds and the pattering of lizards darting between the brush."