How to Have a Wintertime Yurt-to-Yurt Excursion in the La Sals
Utah's La Sal Mountains have long been a summertime escape from the Moab heat, but they are also an excellent winter destination, with yurts available to help you explore this scenic range with one of the country's most country's most iconic views.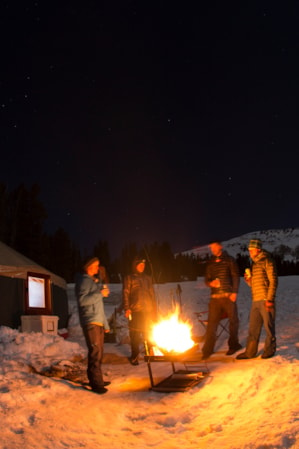 Even if you've never been to the La Sals, if you've driven west of Grand Junction, Colorado, on Interstate 70, you've seen them. The mountain range stays snow-capped well into summer and towers over Moab from seemingly every direction, including most famously in the window of Delicate Arch. (If you've never camped at the Sand Flats Recreation Area, consider staking out a spot there for a view of the sunset over the La Sals.)
The La Sals have long been the summertime escape from the Moab heat — Edward Abbey famously journeyed into the hills to get out of the blistering triple-digit temperatures — but they're visited far less frequently in the winter months. This is good news for hardy adventurers because it means if you're willing to make some effort, you can have this rugged range largely to yourself when the snow starts to fall.
Solitude aside, it's definitely worth the effort to head to the La Sals in winter. Imagine swishing or snowshoeing along in the bright snow on a characteristically blue southeastern Utah morning. From here, you can see some of the country's most iconic views: Arches National Park and Castle Valley to the north, the distant Henry Mountains just beyond the Island in the Sky district of Canyonlands National Park to the west. And on top of all that, you've got the Talking Mountain Yurts.
The yurts opened in 2016 after almost two years of construction. Owned by Jonathan Dutrow and Will Kelly and operated under a special use permit from the U.S. Forest Service, the three Talking Mountain Yurts are intentionally situated close to trailheads, meaning visitors can wake up, walk out the door and get to adventuring.
The Yurts
Two of the three yurts are open year-round, meaning they're the perfect base camp for your winter adventures in the La Sals. The 24-foot Geyser Pass Yurt is situated at 10,500 feet near the base of Haystack Mountain and close to the trailhead for the world-famous Whole Enchilada mountain bike trail. It's also close to Moonlight Meadows and Burro Pass. Geyser Pass Yurt houses up to eight winter visitors in two bunk beds — which sleep one on the top and two on the bottom — and a full-size futon. The yurt features a kitchen with cooking equipment, a dining area and a wood-burning stove for maximum coziness. It also has a small library with games, books and magazines. For an overnight, you'll need to bring your own outdoor gear, food and bedding (a sleeping bag is recommended). Keep in mind that there is no electricity in the yurts.
The winter parking lot for the Geyser Pass Yurt is just 25 miles from Moab proper, leaving you with about a 3.7-mile tour on snowshoes, cross-country skis or snowmobile from the trailhead into the yurt. The well-maintained trail is mostly groomed, with the exception of the last quarter-mile to your base camp. You can book the yurt online for $175/night in the summer and $295/night in the winter, with slightly lowered nightly pricing as the length of your stay increases.
"Imagine swishing or snowshoeing along in the bright snow on a characteristically blue southeastern Utah morning with some of the country's most iconic views."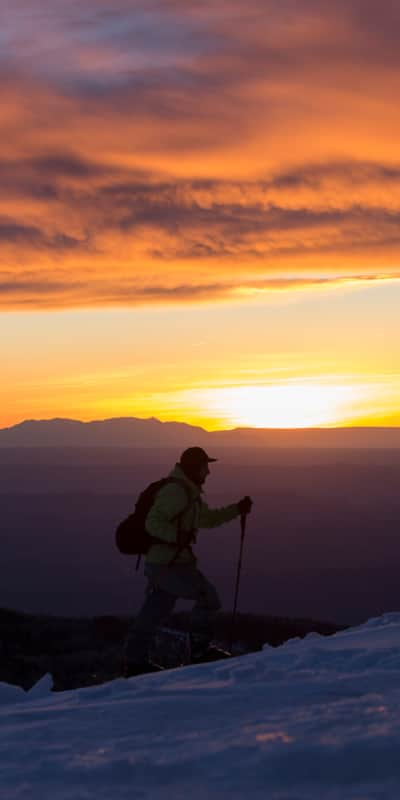 If the tour into the Geyser Pass Yurt sounds like a bit much, you have another option: Consider a shorter tour into the 20-foot Gold Basin Yurt (only available in the winter), which also sleeps up to eight people and is just a mile and a half trip on a groomed, well-marked trail. There's minimal elevation gain from the winter trailhead, so the tour usually only takes less than an hour, depending on your mode of travel. Intermediate experience is recommended for access to both yurts, but this one is a better fit for those who are still getting their bearings. (There's a quicker way in that involves cutting a mile of groomed trail, so depending on your backcountry experience, it can either be a shortcut or a similar travel time either way.)
The Gold Basin Yurt trailhead is about a 45 to 60-minute drive from Moab, depending on travel conditions, and the building itself is equipped with all the same amenities as its counterpart. You can book it online, as well, though you'll want to plan your trip well in advance — availability is often limited since this yurt is so accessible. Winter bookings typically become available in May. The third yurt in the Talking Mountain family is the Jimmy Keen Yurt, but it's temporarily closed.
What to Bring
In addition to your Nordic skis or snowshoes, accompanying boots and poles, you'll need all the standard gear you'd take for a winter outing:
Dress in layers, bring a puffy jacket for stops and a waterproof jacket in case the weather picks up. Pack a warm hat, waterproof gloves and plenty of sunscreen.
Once you arrive at the yurt, you'll want some comfortable shoes to change into, like down booties or even house slippers (you'll thank yourself for carrying them in).
Pack all the food you'll need, plus a little extra, in case stormy weather keeps you around longer than anticipated. The kitchen includes all necessary cooking equipment, but bring any spices or oil for your planned meals. There's also no electricity or running water at either yurt, so plan on melting snow (large pots and purifying tablets are provided).
Bring all your devices fully charged, or, if you're staying longer than one night, a solar charger or battery pack.
The furniture you'll be sleeping on is ready to go, but you'll need to bring bedding and a sleeping bag.
A yurt with a wood-burning stove will get plenty warm and cozy just before bedtime, but unless someone stays up to feed the fire all night (or you take turns), you'll wake up chilly, so consider bringing a warmer sleeping bag than you think you'll need, depending on the weather conditions.
Talking Mountain Yurts also provides a handy winter packing list for those who might have questions about the best gear to pack.
Safety Precautions
Like any mountain range, the La Sals have its share of unpredictable weather. Here are a few tips to help keep you safe:
Always check the forecast before heading out so you can make sure you've got everything you need.
Anytime you're traveling in the backcountry in winter you should be thinking about avalanches — they can happen on slopes as shallow as 25 degrees, so you should be aware of the possibility. (Read: "Hiring a Backcountry Ski Guide")
Check the Utah Avalanche Center's advisory for the Moab area before you head out, and if you'll be venturing off the groomed trails and onto steeper slopes, bring along your rescue gear.