Exploring Utah's Little Sahara
A Sandy Slice of Paradise for ATV Enthusiasts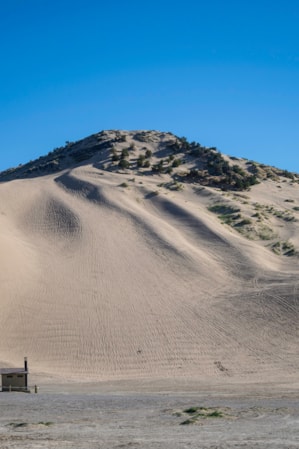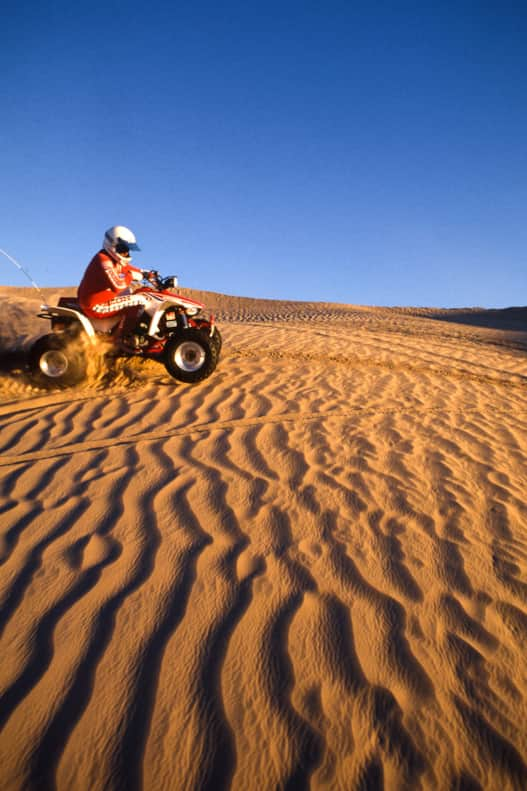 While Utah may be best known for its snowy peaks and towering red rock cliffs, those are just some of the diverse landscapes to be found in the state. The stark yet beguiling Sevier Desert spreads through the middle of the state, drawing savvy adventurers for adrenaline-packed explorations of its iconic sand dunes. In the northwest corner of the vast Sevier Desert — and only about a half-hour west of I-15 — the 60,000-acre Little Sahara Recreation Area (LRSA) has become a playground for ATV enthusiasts, sandboarding and sand-skiing.
Little Sahara sits 115 miles southwest of Salt Lake City, less than a two-hour drive away. This part of Utah has few towns and is short on paved roads, and the recreation area is surrounded by yet more desert to the north, west and south, adding to the landscape's remote feel.
The Little Sahara dunes, one of which towers to some 700 feet, are the remnants of the 12,500- to 20,000-year-old Sevier River Delta, whose namesake river once flowed into the ancient Lake Bonneville. As the lake began to disappear, newly exposed sand from the river delta was picked up by strong winds and collected in the present-day dunefield. The dunes continue to move, too, shifting by an average of five to nine feet every year.
Today, Little Sahara is overseen by the Bureau of Land Management. It sees upwards of 300,000 visitors a year, with the busiest periods on the holiday weekends around Easter, Memorial Day and Labor Day. As with most popular recreation hotspots, if you can plan a trip during the week, you won't have nearly the crowds to contend with. Keep in mind that although average temperatures don't reach the triple-digit numbers common in Moab and other desert areas, the sand gets incredibly hot — so plan your adventures accordingly.
Where to Ride
Beginners will want to head for the dunes southwest of Black Mountain, which provide excellent newbie terrain since it's lower-lying and less crowded. The White Sands dunes, in the northern portion of Little Sahara, are appropriate for riders of all skill levels, with plenty of bowls to ride and easy dune access. Sand Mountain, rising 700 feet tall, is one of the park's highlights and offers super-challenging hill climbing. If you're ready for a break from all that sand, head to Black Mountain and its vast network of dirt trails.
If non-motorized recreation is more your speed, consider a fat bike. The super-wide tires keep you afloat where a standard mountain bike would sink into the sand, and it's no surprise that the dunes are a popular place for the growing sport. In addition, you can also try sand-skiing or sandboarding, or simply sit back and watch the wildlife in the Rockwell Natural Area.
Responsible Recreation
Much of the Little Sahara is wide open spaces when it comes to ATV riding, which means that you can explore to your heart's content. There is, however, a 9,000-acre section in the recreation area's northwest corner — the Rockwell Outstanding Natural Area — where vehicles aren't permitted. The idea is to protect fragile desert plants and wildlife (including antelope, mule deer and great horned owls), so it's crucial to follow this rule to preserve access. Fortunately, the rest of the dune field covers almost 80 square miles, so there's plenty of room to roam.
Helmets are mandatory for riders under the age of 18 and are strongly recommended for adults. Utah state law also requires ATVs to display flags while they're riding in dune areas. As with all motor vehicles, riders should check for other vehicles and potentially steep drop-offs before hitting the gas and heading over the crest of a dune.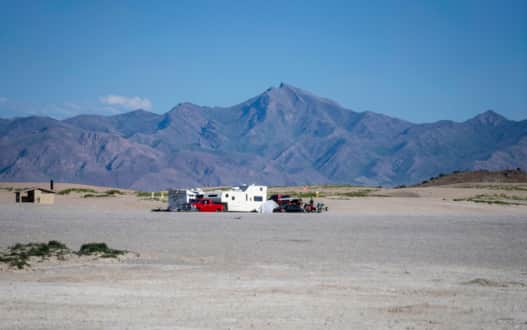 Where to Camp
The BLM maintains four campgrounds for a total of 255 improved campsites. The 114-site Oasis Campground is the most developed and includes an RV dump station, as well as access to some trails and smaller dunes. The Jericho Campground, originally a picnic area (it still has shady shelters for its picnic tables), is great for groups and is often used for overflow camping. White Sands Campground is the most picturesque of the four. Dotted with junipers, it offers easy access to nearby dunes. The Sand Mountain Campground is the most primitive, and it's especially coveted on busy weekends.
Each campground has a potable water source and plenty of maintained toilets (flush during the summer; vault in the winter months). Dispersed camping is also allowed away from established roadways — be sure to follow Leave No Trace guidelines if you're camping outside an official campground.
Trip Planning & Logistics
The fee is $18/day fee for each vehicle entering the park — even if the booth is closed, in which case you'll need to use the self-service pay station.

If you're headed to the area for more than a couple of days, consider investing in a $120 annual pass.

Be sure to stock up on supplies before leaving home, or plan for stops in Fillmore or Delta from the south or Utah County from the north — there are few places in the immediate vicinity. Consider the benefits of supporting local while passing through these towns.

GPS Coordinates to Little Sahara: 39.7260651,-112.3038832