U.S. Federal Shutdown Information
At this time, all of Utah's national parks, monuments and recreation areas remain open.
Learn more.
The 7 Best Off-Roading Trails in the Carbon Corridor
Take in the amazing scenery at locations only accessible with four-wheel drive.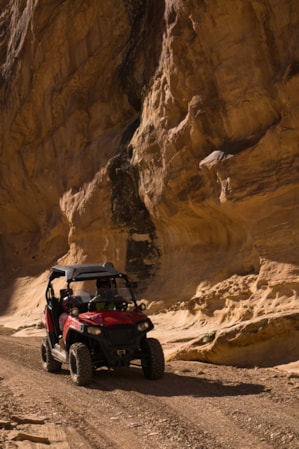 Looking to go off-roading in Utah? You're not alone. Riding off-highway vehicles (OHVs) has become one of the fastest-growing sports in the state. It attracts both families and adventurers looking to explore off-the-beaten-path destinations that are only accessible with four-wheel-drive.
Located about two hours southeast of Salt Lake City, the Carbon Corridor has a huge variety of terrain to explore — including mountains, canyons, deserts and forests. The area, previously known as Castle Country (as is reflected on some regional maps), includes parts of Carbon and Emery counties, and it features the incredible sights of the San Rafael Swell, the Manti-La Sal National Forest and Nine Mile Canyon, among many others.
While the area has become more and more popular with off-roaders, it remains sparsely populated and largely under-the-radar among visiting tourists. Both Price and Helper, towns in Carbon County, make great basecamps for riders. Each has all the amenities you need for a memorable trip, including restaurants — like The Tangerine Eatery in Price or Balance Rock Eatery in Helper (Read: Turning Carbon Into Culture). You can also find hotels and off-road rentals and guide services in and around both areas.
You could spend weeks covering the extensive trail network in the region, which is organized like a ski resort, with ratings for easiest, more difficult and most difficult trails. You can plan an outing using the maps of the region, but here are seven of the top rides that keep people coming back for more. Just remember to Tread Lightly and
ride responsibly
.

1. Devil's Racetrack
As you may have guessed from the name, Devil's Racetrack is a challenging trail requiring some technical skill to navigate the rugged sandstone in the San Rafael Swell. The trail is filled with memorable sights along the way, starting with Dutchman Arch near the beginning of the ride. You'll find a variety of terrain as you navigate the 17.6-mile round-trip. At times you can cruise along relatively flat straightaways, while other times require slow and careful climbing over significant rocks. The views of Devil's Canyon are spectacular, but just about everywhere along the route has something to impress.
Getting there: From Green River, Utah, head west on I-70 to exit 131. Follow Temple Mountain Road about 9 miles to the trailhead.
2. South Skyline Drive
The South Skyline Drive is the backbone of the Arapeen Trail System, which features more than 300 miles of trails between Utah Highway 31 to the north and the Fishlake National Forest to the south. The trail runs through the scenic Manti-La Sal National Forest, and it's a good option for beginners looking to start exploring with off-road vehicles. It stretches for 58 miles and is a relatively easy drive with a high-clearance, 4x4 vehicle. (Read: Riding the Arapeen OHV Trail of Central Utah)
If you want to make things more exciting, there are many spurs that will put your driving to the test. You'll enjoy magnificent vistas as you drive over the western ridgeline of the Wasatch Plateau, and the trail has ample opportunity for camping, fishing and hunting. Make the drive in mid to late summer to enjoy the wildflowers on display.
Getting there: To reach the western start of the trail, take U.S. Highway 89 from Sanpete Valley. On the eastern side, you can reach trailheads from Castle Dale and Ferron, located along Highway 10.
3. Gordon Creek Falls Trail
Located just northwest of Price, this mild/moderate trail gives riders a chance to cool off with a quick dip in the creek. They'll also get to enjoy the sight of two waterfalls, a train trestle, an abandoned cabin and plenty of wildlife amidst the rugged terrain. The 15-mile trail makes for a good afternoon outing and can be completed in a couple of hours, depending on how much time you spend splashing around. Note that this area is susceptible to flash floods, so keep an eye on the weather. Those looking for a longer ride can take advantage of the off-roading trail system west of Price, which makes it easy to create a 60-mile loop.
Getting there: From Price, travel north on U.S. 191 toward Helper. About four miles outside of town, turn left on Consumers Road. After 3.2 miles, turn left on Trestle Road. This dirt road will take you to the Gordon Creek Falls trailhead.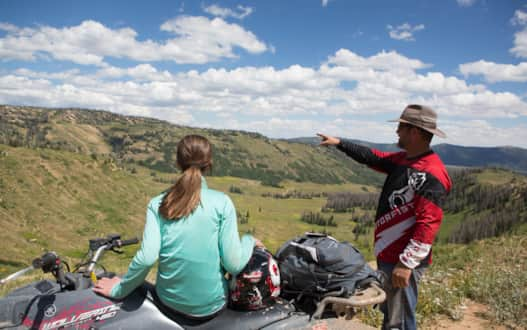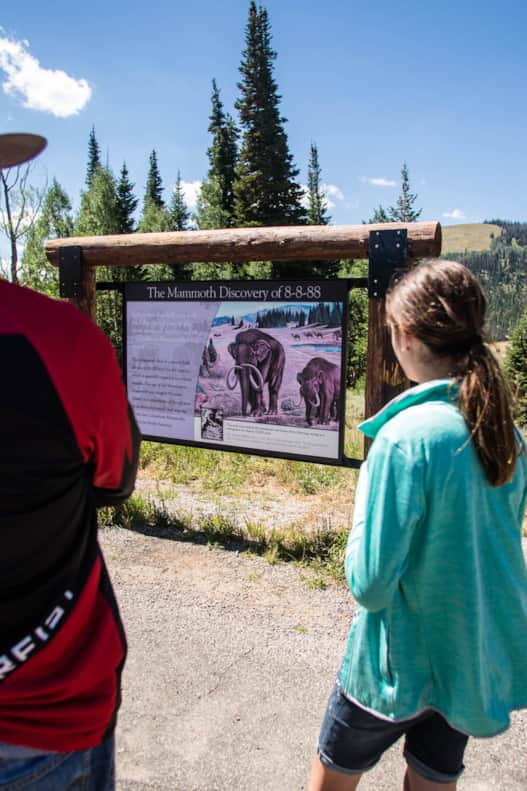 "Located about two hours southeast of Salt Lake City, the Carbon Corridor has a huge variety of terrain to explore — including mountains, canyons, deserts and forests."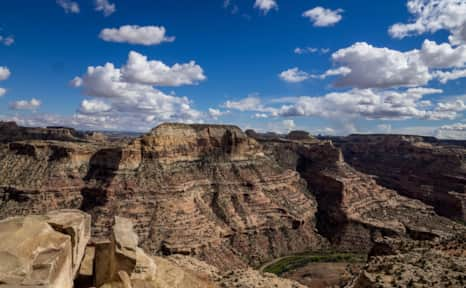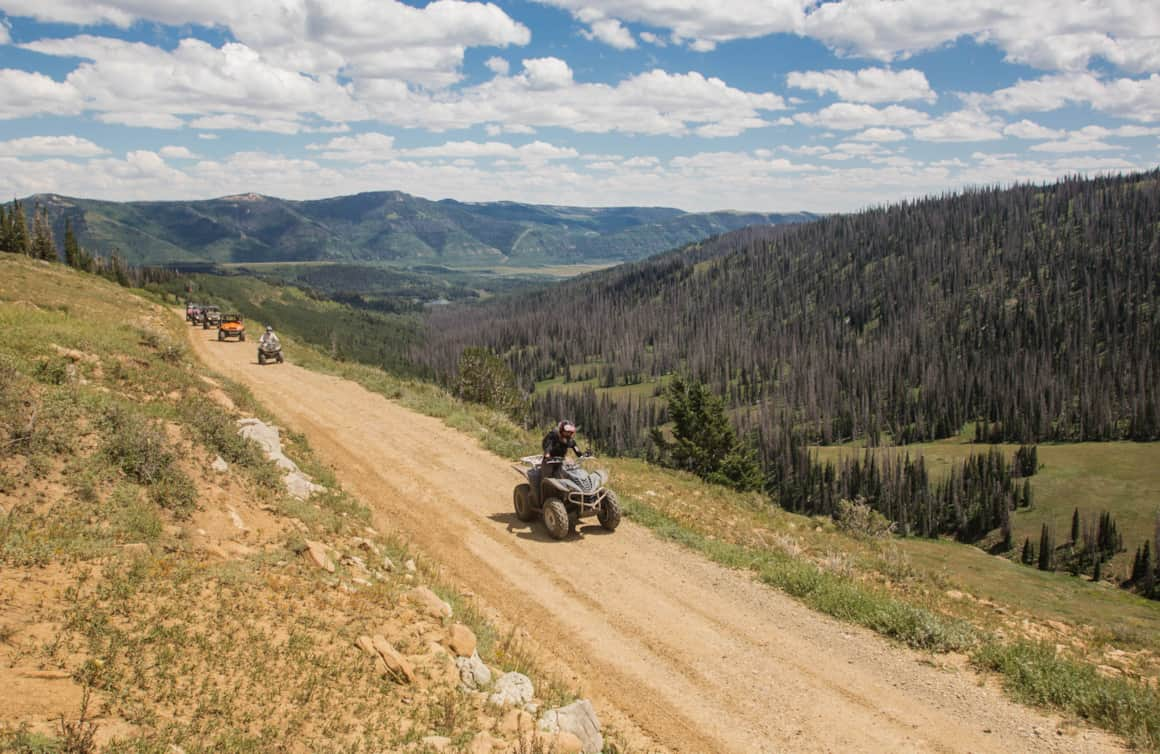 4. Eva Conover/Fixit Pass Loop
You can thank the construction of I-70 for this off-road trail. In order to build the interstate in the 1960s, a road was created to get the equipment necessary for building large highway bridges into the canyons. County Commissioner Eva Conover was instrumental in getting the access road built, so it's named for her.
Today, the narrow trail is an excellent way for dirt bikes and side-by-sides to take an unforgettable tour of the San Rafael Swell. Along the route, you'll see the Swasey Cabin, built in 1921 for cowboys who were running cattle in the area. You'll also get to drive under those highway bridges that take I-70 travelers far above the canyon. Fixit Pass is a 4.9-mile route that connects to Eva Conover, and it's a lot more rugged. It's rated intermediate, but the pass itself is technically challenging.
Getting there: Reach Fixit Pass from Ferron, while the Eva Conover Trail is best reached by Exit 131 off I-70.
5. Nine Mile Canyon
One of the more accessible natural wonders in this area is Nine Mile Canyon, which features a large number of Fremont Indian ruins, petroglyphs and pictographs (Read: A Rural Community Leading the Way in Stewardship and Preservation). So many, in fact, that the area is dubbed the "World's Largest Art Gallery." Nine Mile Canyon is much longer than its name would suggest, with the road through it (paved since 2014) stretching for 46 miles. The road makes it more accessible, but that doesn't mean that off-roaders won't find some fun places to play in the region. You can start on the paved road near Wellington and take it to Trail 0, a dirt road also known as the Backbone Trail. Head west and this trail will take you to Coal Creek and the town of Price (and beyond). There are lots of smaller trails to explore between Price and Nine Mile Canyon, making it a fun place to play after you see the petroglyphs (Read: How to Visit Rock Imagery Sites Like an Archaeologist). While many of these trails are mild or moderate, make sure to have a good map with you (good advice for any off-roading outing) as cell service isn't usually available.
Getting there: From Wellington, take U.S. 191 east before turning left on Soldier Creek Road. That will turn into Nine Mile Canyon Road after about 3.5 miles.
6. Reeder Canyon Loop
Get some variety from the desert and rocky landscapes with this loop in the Manti-La Sal National Forest. Start your ride at Joe's Valley Reservoir, where you'll find both a campground and excellent fishing. You'll start at 7,000 feet of elevation and make it all the way up to 10,500 feet, so you can expect lots of ups and downs along the route, but it's all rated beginner/moderate, so you don't have to deal with much that's overly technical. Instead, take the time to enjoy riding among the pine trees and quaking aspens that line the route. The total distance is about 30 miles, and it makes for a good half-day ride.
Getting there: The trailhead is just outside of the Joes Valley Campground, which is on the western side of the reservoir just off of Highway 29.
7. Behind The Reef Trail
The "reef" in the name of this trail refers to the giant sandstone uplift that sits on the southeast edge of the San Rafael Swell. This difficult trail isn't for that faint of heart, as at times it edges alongside 200-foot cliffs. The remote location also means limited to non-existent cell service and support.
If you are craving an adventure, you'll be rewarded with beautiful views of Temple Mountain and a thrilling ride. This area was also part of the uranium mining boom, so you'll find lots of mining roads in addition to an airstrip and some abandoned buildings. A highlight includes the ride through the shallow stream (or streambed, depending on the time of the year) at the bottom of the canyon, with tall, rugged walls on either side. The total ride is about 57 miles, and it's one you'll never forget.
Getting there: The trailhead is on the west side of the San Rafael Reef. Take Highway 24 to Goblin Valley/Temple Mountain Road, and instead of turning into Goblin Valley, continue west through the reef. Continue on Behind the Reef Road about 6 miles to the trailhead parking area.