U.S. Federal Shutdown Information
At this time, all of Utah's national parks, monuments and recreation areas remain open.
Learn more.
A Grand Tour of the San Rafael Swell
This grand tour goes into the heart of the Swell from north to south, connecting the uplift's spectacular views with playful slot-canyon hikes, bike excursions, rock art, dinosaur bones, and soft-serve cones in town.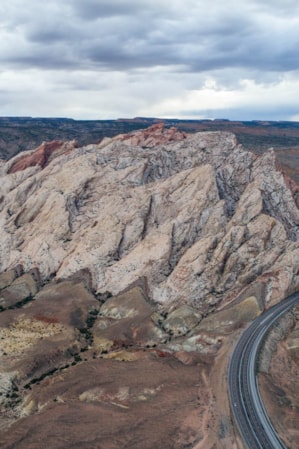 As folk singer-songwriter Conor Oberst says, "There's nothing that the road cannot heal." When I close my eyes and picture the ideal road trip to heal the isolation and stress my family and I have endured since the outbreak of COVID-19, I think of Utah. Specifically, I imagine us coasting along the San Rafael Swell, exploring the uplift's scenic sandstone formations, remote winding canyons, pristine river miles, and expansive views, all less than a half-day drive from Salt Lake City.
My husband and I discovered the Swell before kids and instantly preferred its quiet canyons and open views to crowded parks. Once we had children, we kept returning for the spectacular hiking and biking, paddling, backpacking, canyoneering — the endless canyons, hoodoos, towers and cliffs. (Read: "The Underrated Trails Within the San Rafael Swell.") We found fossil deposits, rock writing and kid-friendly cultural sites, too.
"My husband and I discovered the Swell before kids and instantly preferred its quiet canyons and open views to crowded parks. Once we had children, we kept returning..."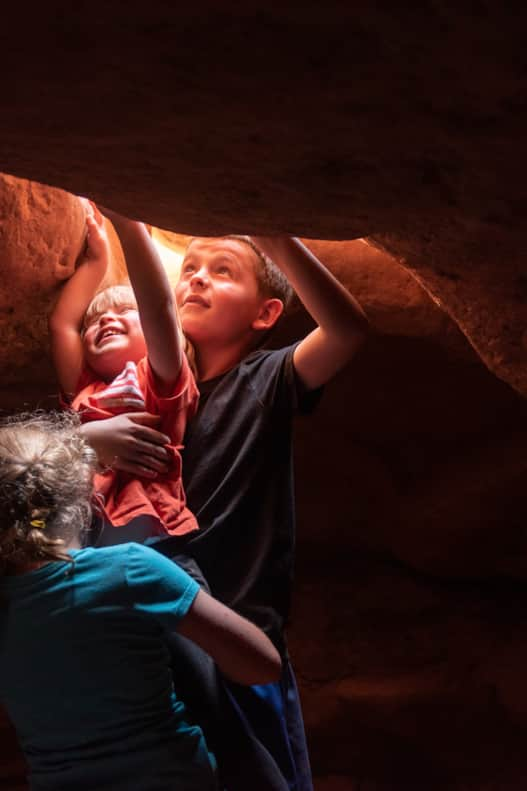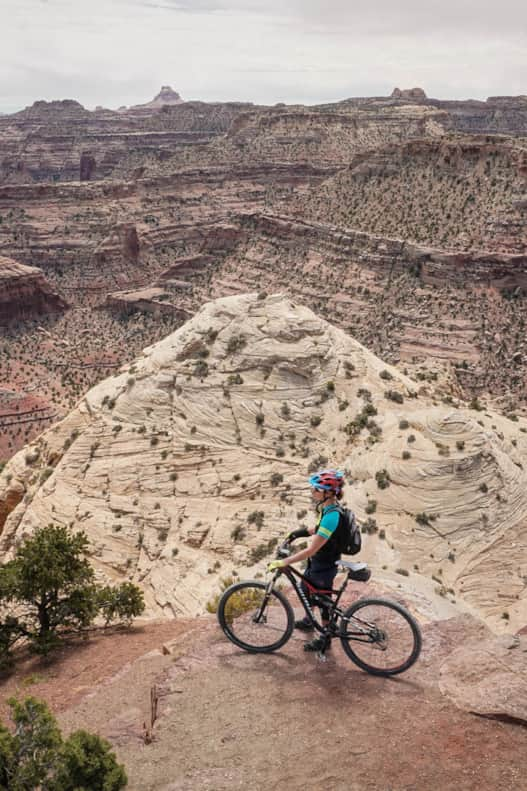 Thanks to an earth-bulge (called an orogeny) that created the Swell between 40 to 70 million years ago, the roughly 75-mile long and 40-mile wide area contains geologic marvels to rival those in nearby national parks. Bisected by I-70, the Swell displays variegated desert color, from layers of ancient blue-gray shale and greenish limestone to the newer strata of reddish Wingate or golden-buff Dakota and Navajo sandstones.
Every year as the snow starts to melt, we imagine ourselves venturing in the Swell from a new angle. This grand tour of the San Rafael Swell is our family's fantasy road trip, connecting the dots between our personal discoveries of more than two decades. Sure, we could see some of the Swell's major features in a day, but a week allows us to see deep into its interior, balancing drives and adventurous activities with sightseeing, museums, and meals or ice cream in town.
Northern Swell
Entering the Swell's upper half (north of I-70) from Price, the northwest shoulder is bordered by the mountainous Wasatch Plateau and Manti-La Sal National Forest. The first time we approached the Swell from this direction, I was struck by how a traveler could drive straight through, never guessing at the nearby canyons, 1,200-foot cliffs, hundreds of millions of years of geologic time in full display, carved by the San Rafael River and its tributaries.
Ancient Creatures, Ancient Formations: Cleveland-Lloyd Dinosaur Quarry and Cedar Mountain Overlook
One of the first major sites to hit is the Cleveland-Lloyd Dinosaur Quarry located in the Jurassic National Monument. (Read: "Hidden Secrets of the Jurassic National National Monument's Cleveland-Loyd Dinosaur Quarry."
First excavated in the 1920s, the quarry has yielded more than 12,000 bones belonging to 74 individual dinosaurs and boasts a full 28-foot long allosaurus skeleton. To round out the day, we drive up to Cedar Mountain for a birds-eye view of the Swell's major geographic features, then stop in Castle Dale for ice cream.
Taking in the View: The Wedge Overlook and San Rafael Canyon Rim
For years, our family only explored the southern end of the Swell. We had heard of the Little Grand Canyon but simply loved our southern spots. That all changed a few years ago when we camped on Bureau of Land Management land not far from the Wedge Overlook. Not only are the canyon views spectacular, but dozens of rough double-track roads lead to quieter spots of equal splendor.
The first time we visited it was May. High-desert spring wildflowers were out in full force — globe mallow, primrose, yucca, and brilliant red and pink cacti blooms everywhere. This year we're planning to add one of the Swell's best bike rides to our itinerary, the intermediate-level Good Water Rim trail, which starts at the Little Grand Canyon Overlook and follows 15 miles of curving canyon along breathtaking views of the San Rafael River.
Exploring Geology: Buckhorn Wash and San Rafael River Gorge Trail
Heading down to the river via Buckhorn Wash is a gorgeous lesson in geology. The road descends from newer sandy-yellow Navajo sandstone down through reddish Wingate sandstone and deep red Chinle layers, and finally to greenish limestone near the San Rafael River. On the way, we stopped at the three-toed dinosaur footprint (take a picture next to your own hand, for perspective) and Buckhorn Wash Pictograph Panel where figures painted thousands of years ago grip staves and snakes.
"Heading down to the river via Buckhorn Wash is a gorgeous lesson in geology."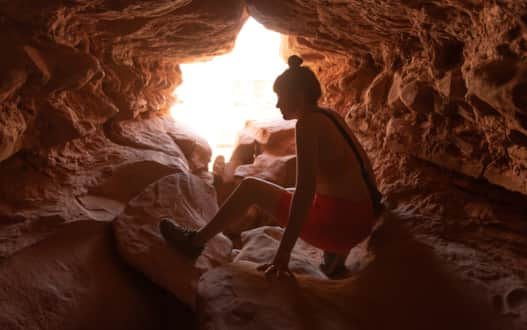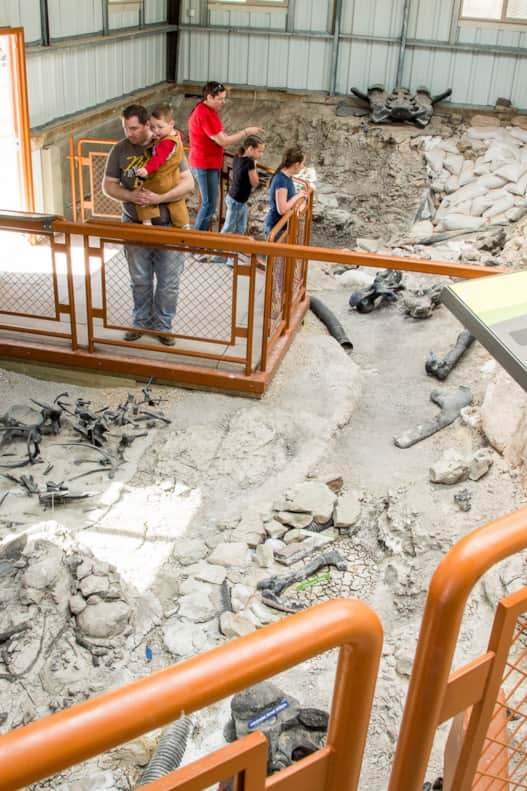 We parked at the San Rafael River Gorge trailhead to hike a few miles of the 16-plus miles of trail along the river, which ends at the alternate trailhead in Fuller Bottom. So many folks were floating/paddling the green spring run in pack rafts, kayaks or SUP boards, we put that activity high on our list for our next visit. From there, Cottonwood Wash Road is an excellent scenic option to get to I-70 and the southern half of the Swell.
Northern Swell highlights also on our list: Black Box Canyon, Black Dragon Canyon, Head of Sinbad and Dutchman Arch.
Southern Swell
The wide-open flats along Utah SR-24 give perspective to the San Rafael Reef, the dramatic fin-like cliffs that mark the Swell's eastern edge. Wind and water erosion have cut hundreds of canyons into the rock here. Rock art panels — what some tribal elders prefer to call "rock writing" — are common, featuring anthromorphs, animals and geometric symbols left by people of Fremont, Barrier Canyon and Ute cultures. On an early trip, weary from too many road miles, we pulled onto a side road and stumbled into a camp-spot above which — we discovered in the morning — was a full panel of anthromorphs. We were awestruck.
From Powell History to Alien Terrain
Before heading down into the southern Swell, we typically stop for gas, ice, and groceries in Green River. The John Wesley Powell Museum shows just how burly river adventure was before the invention of modern inflatable rafts. We've driven S.R. 24 countless times but are still delighted when we hit Goblin Valley, one of the Swell's most popular spots filled with hundreds of globular spires, known as hoodoos.
If you're a sci-fi fan, you may recognize it as an alien planet from "Galaxy Quest" or the 2009 "Star Trek." (Read: "Movies Filmed in Utah: Planning a Cinematic Drive-Through.") Goblin Valley State Park is an enticing basecamp for families but its otherworldly shapes and open slopes make kids of us all. (Note: This area can get quite busy. Visit on a weekday if you can.) Alternately, we enjoy a peaceful day hike in one of the best canyons of the reef, Eardley Canyon, north of Goblin Valley — just 2.5 miles to an amazing pool.
Exploring Slot Canyons: Little Wild Horse/Bell Canyon and Ding and Dang Canyons
Just a handful of miles from Goblin Valley, the Little Wild Horse trail is one of the most popular destinations in the Swell. When the kids were really young, we didn't have to go far up canyon to meet narrowing walls and fun scrambles. At least once the kids were able (with plenty of gummies, snacks, and water) to complete the 8-mile loop combo with Bell Canyon, which offers beautiful gorges, cliffs, intermittent water and more erosional splendor. Nearby Ding and Dang Canyons offer a fun 6-mile scramble through the V-shaped gaps eroded in varied, undulating rock Note the excellent dispersed camping options along access roads.
"Beware: The San Rafael Swell is indelible. You'll want to stay, adventure more, and return again to that feeling you get when exploring Swell's hidden playground, the awe and childlike joy in it all."
History and High Points: Temple Mountain Roads
Heading into the heart of the uplift and toward the gentler western slope, the Temple Mountain Road climbs along canyons and buttes to the Swell's highest point, Temple Mountain, at 6,798 feet. Surrounded by a complex of rugged roads left by former uranium mining operations, Temple Mountain itself is a popular but technical day climb. If not adept in technical climbing, explore the area by car (4WD or AWD recommended) or park and hop on gravel or mountain bike and pedal the 10-mile loop around the mountain. (Note: The road continues to I-70 but is exceptionally rugged in places, not generally recommended.)
Alternate southern Swell highlights: Moon Shine Tanks Wash Slot Canyon, Mckay Flat and Hondu Arch Backway, Devil's Canyon, Muddy Creek Canyon, Hidden Splendor Mine/Reds Canyon.
Exiting the Swell
As you leave the Swell via I-70, don't miss the stop-worthy Rochester Panel, Dutchman Arch and San Rafael Reef Overlooks. Here's the thing: You can't go wrong in the Swell. There are so many options, it's easy to change things up. Have a few destinations in mind but keep it open. Follow your hunches (while staying safe, of course). You could even simply dip into the Swell on a trip to adjacent areas — Moab, Arches, Canyonlands or Capitol Reef. But beware: The San Rafael Swell is indelible. You'll want to stay, adventure more, and return again to that feeling you get when exploring Swell's hidden playground, the awe and childlike joy in it all.
Tips For Your Trip
Visit in the spring or fall for best temperatures.
Campgrounds offer conveniences, but there is excellent dispersed camping throughout the area if you crave more solitude.
Nights are often cold, even in summer. Be prepared for windy conditions, especially if tent camping.
Bring technical hiking shoes and water-friendly hikers like Chacos.
Bring maps, water, food, and supplies with you while exploring. Don't count on cell phone coverage or services that might be a few hours away.
Ensure you have the appropriate vehicle for your planned activities.
Practice Leave No Trace and Tread Lightly! principles including planning ahead, packing out your trash, being careful with fire, traveling or camping on durable surfaces, and respecting cultural sites, wildlife and other visitors.
Avoid abandoned mine openings and structures.
Flash floods can occur with limited warning in the slot canyons. Check the weather forecast, plan ahead, and do not enter slot canyons when you see storm clouds or when rain is in the forecast.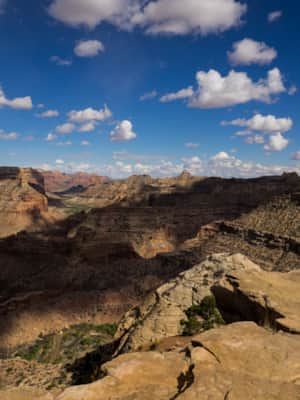 The Undiscovered San Rafael Swell
Circle back to the San Rafael Swell, a gem of public lands in Central Utah you may have missed on your last visit through some of Southern Utah's Mighty 5® national parks. The Little Grand Canyon of the San Rafael Swell is a stunning panorama from above, and an incredible adventure within.