U.S. Federal Shutdown Information
At this time, all of Utah's national parks, monuments and recreation areas remain open.
Learn more.
Searching for Dinosaur Bones in Capitol Reef Country
A Hiker's Guide to Hanksville-Burpee Dinosaur Quarry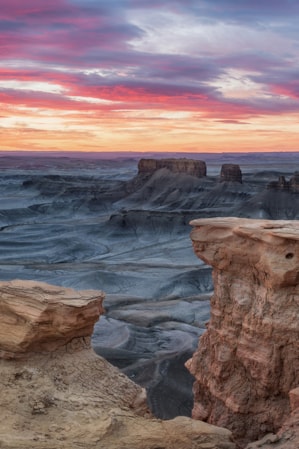 Driving south along Highway 24 from Salt Lake City en route to Capitol Reef National Park, the San Rafael Swell stretched out into a vast, open expanse before me. As far as I could tell, I was the only human to dot the landscape. My eyes dropped down to check the gas gauge, as I've learned that driving through areas like this requires some extra vigilance and planning because gas stations can be few and far between. Thankfully, I had enough fuel to make it to the next town: Hanksville, population 214. It's one of those towns so small that if you blink, you could pass right by and never know the better.
But missing it would be a real shame. While the town first seems quiet and unassuming, it turns out that Hanksville was an epicenter for the giants of our past. Or, at least for their remains. Just 10 miles northwest of the town is the Hanksville-Burpee Dinosaur Quarry, an active paleontological excavation site that has yielded the discovery of thousands of pounds of dinosaur bones since scientists first traveled to research the area 11 years ago.
Utah: A Fossil Hunter's Mecca
The San Rafael Swell sits atop the Morrison Formation, a rock group that formed at least 145 million years ago during the Late Jurassic period (Read: A Deep Dig into Utah's Deep Time). During this time, the landscape looked much different than it does today. Instead of the high, dry desert containing a sparse patchwork of pinyon pines and junipers, there were rivers that cut between green forests of ginkgo trees and ferns.
And then there were the dinosaurs — some of the biggest animals to have ever roamed Earth. There was the Stegosaurus, the iconic herbivore with leaf-like plates running along its back. There was the Apatosaurus, another species of plant-eater that had a long neck balancing out an even longer tais. And there was the Allosaurus, the fierce predator with sharp, serrated teeth to tear through the flesh of other dinosaurs.
"Being surrounded by a landscape of striking copper-colored rock and expansive vistas does a lot to spark the imagination."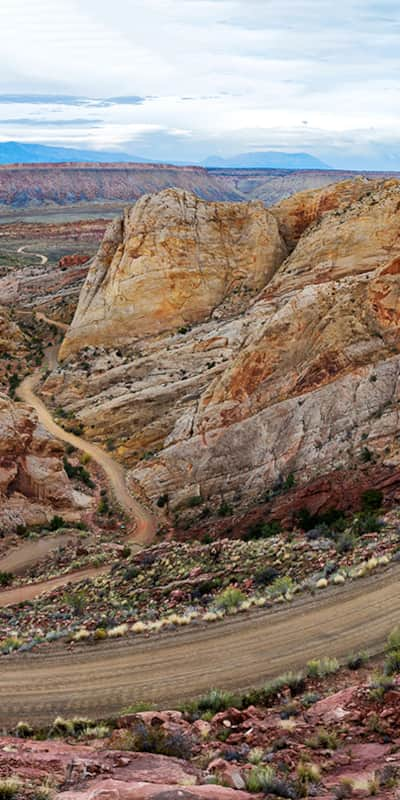 Even though scientists had been uncovering the mysteries of these ancient animals in Utah for more than a century, when a small team from the Burpee Museum of Natural History in Rockford, Illinois, expressed interest in organizing an excavation in 2007, Utah state paleontologist Jim Kirkland knew exactly where to go. He led the group into the desert just north of Hanksville. Upon arriving, they almost immediately began to find bones sticking out of the ground. The next summer the team returned to the same spot — now dubbed the Hanksville-Burpee Dinosaur Quarry — and held its first three-week "Jurassic Journey" volunteer field expedition. Discoveries there now include the remains of at least seven dinosaurs, including complete skeletons.
Why Are There so Many Bones Here?
After uncovering a trove of fossilized freshwater clams, snails and plants, the researchers arrived at the theory that there was an ancient grouping of channels that ran through the area (known as a braided river), and a bend at this location collected the remains of animals that died near the river before being washed downstream.
Try a Volunteer Dig This Summer
The Burpee Museum's summer volunteer digs are still a yearly event, and they often end the season having discovered hundreds of pounds of dino bones from at least five different species. Even if you can't join the museum-led expedition, you can still visit the 10-acre site, which is on federal land administered by the Bureau of Land Management. When the Burpee Museum's paleontological team is at work in June, you also can take a free tour of the quarry led by an expert.
"You'll need a high-clearance vehicle for the unmaintained dirt road."
If you visit the quarry when the research team isn't there, you might not see prehistoric skeletons lying all about — these days, finding the fossils usually takes a trained paleontological eye and patience. But being surrounded by a landscape of striking copper-colored rock and expansive vistas does a lot to spark the imagination. Stay there long enough and you might begin to picture the raging river, lush forests, and enormous creatures of a bygone epoch.
And if you are lucky enough to find a Jurassic fossil, that specimen, more than 145 million years old, will be a good reminder: Not only are we a mere dot on a vast landscape, we're also a mere blip in time. You'll be glad that you kept your eyes wide open when you were driving through Hanksville, and you didn't let this moment blow right by you.
Getting There
Go to the BLM Field Station located at 380 South 100 West in Hanksville. You'll need a high-clearance vehicle for the unmaintained dirt road.
Dinosaur Quarry GPS coordinates: 38.4522,-110.7915