Flood Safety
Due to record snowpack and high amounts of spring runoff, please be advised of potential flooding that could impact travel plans.
Learn more
Time Traveling at Ogden's George S. Eccles Dinosaur Park
Many have dreamed of exploring jungles and forests only to discover a land filled with dinosaurs of all shapes and sizes? The George S. Eccles Dinosaur Park is the place to bring that dream to life, with 100-plus exhibits and realistic, full-sized dinosaur replicas, capturing the imagination of young and old alike.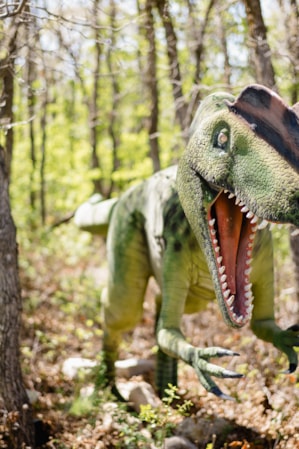 What kid has not dreamed of exploring the jungle and discovering a land filled with dinosaurs of all shapes and sizes? Walking alongside a quiet lake and watching a prehistoric creature "climbing" out of the water, and another "approaching" to take a sip?
It's fascinating to think that the very ground we stand on today was once roamed by gigantic prehistoric beasts. Even as adults, it's easy to get lost in the idea that dinosaurs wandered the vast deserts, wet marshes and thick woodlands of the sweeping Utah landscape. (Read: A Deep Dig into Utah's Deep Time)
Welcome to the George S. Eccles Dinosaur Park
Along the Ogden River Parkway and just north of Salt Lake City, the George S. Eccles Dinosaur Park is in the business of fulfilling these daydreams. With more than 100 exhibits and realistic, full-sized dinosaur replicas, the 8.5-acre park appeals to dinosaur-loving types of all ages in an entertaining, interactive setting. The sculptures encompass an array of prehistoric creatures, from crawlers to flying reptiles and — of course — the fearsome predators made famous by Hollywood films.
The sized-to-scale replicas are based on actual fossils and skeletons, and several come to life thanks to robotics, intricate details and a state-of-the-art sound system. A few older sculptures dot the park as well, a curious reminder of our deeper understanding of these former inhabitants of our home. "We're a pretty unique facility," says park director Casey Allen. "We have a museum with real dinosaur fossils, but also an outdoor park with over 100 sculptures, showcasing the dinosaurs' skin, texture, feathers and details. Kids and families love it."
An on-site museum offers hands-on activities, including an Education Center with an interactive children's dig of a Stegosaurus, bringing paleontology alive for aspiring youngsters. Visitors can watch prep work in a fossil lab in the museum and peruse exhibits of gems, historical items, various artifacts and — of course — the fossils, the star of the show. In addition, a well-executed animatronics section showcases how the fearsome creatures may have moved and interacted, bringing the past to life in a unique fashion.
"Paleontology changes every day," remarks Allen. "It's still a living science; new things are found every day." For kids, the park helps build their interest at a young age. "We've got the hook out there, we need to get the interest to continue — not just in paleontology but in sciences overall. And also encourage critical thinking skills." For those like Allen who operate the dinosaur park, it's not just a diversion, but a chance to shape the minds and ignite the imaginations of future scientists.
Making the Most of Your Visit
Adults, in particular, are often drawn to the gem and geology section of the park, while paleontology tends to draw the kids, Allen notes. In April 2018, this section reopened following a remodel and renovation, ensuring exhibits are presented in the most engaging ways possible. The park hosts professional talks every Saturday in the summertime, drawing large crowds of paleontology lovers and both gem and geology enthusiasts, and a formal gem and geology meeting is held once a month.
Various holiday events, including a popular summertime lecture series and the occasional scavenger hunt, ensure there is always something new to explore. In the summer months (mid-May through September, pending weather), "Science Saturdays" are held at the park, each showcasing no fewer than ten special activities and exhibits—a perfect diversion on a lazy weekend afternoon. Check the park's website and Facebook page for the most up-to-date schedule, or call (801) 393-3466.
Make the most of your time in the park by packing a lunch or snacks to enjoy in the picnic area while the kids play on the swing set and playground. Trails meander along the river and it's often quiet, offering a relaxing stroll — that is, until you run into a dinosaur or two around the corner. Thanks to the park's self-guided nature, you can explore at your own pace. (Insider tip: Bring along a handful of quarters to buy food to feed the fish.)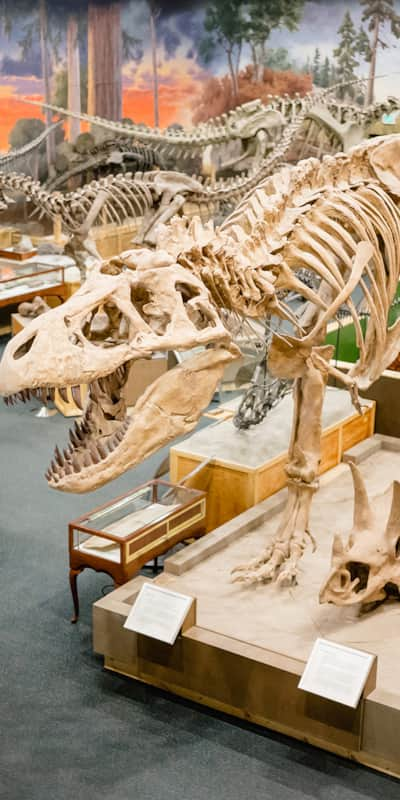 "The park constantly works to ensure it is inspiring the newest generations of dinosaur lovers."
The Past — And the Future
The Dinosaur Park was founded in April 1993, part of a plan the late Dr. Bob Marquardt envisioned to help create an interactive walkway along the Ogden River. With the help of the George S. and Dolores Doré Eccles Foundation, the city of Ogden and other donors, the site began as an outdoor sculpture park. Fourteen years later the Stewart Museum was added and now the park is home to dinosaur skeleton casts, fossils, an animatronic dinosaur display, a working paleontology lab and a natural history collection.
The park constantly works to ensure it is inspiring the newest generations of dinosaur lovers. Recently, it has highlighted sculptures featured in the upcoming Jurassic World movie trailer, including the Baryonyx walkeri and the Carnotaurus sastrei. For visitors of all ages, the timeless allure of dinosaurs rarely fails to spark the imagination — making the Dinosaur Park an ideal option for an afternoon of adventure.
Trip Planning & Logistics
The park is open from Monday-Saturday 10 am to 7 pm and on Sundays from 10 am to 6 pm. The outside park is open an hour past the indoor space's closing time.

Admission fees are $7 for adults, $6 for seniors (62+) and students (13-17), $5 for children (2-12) and free for children under 2.

The park is located about three miles outside of downtown Odgen.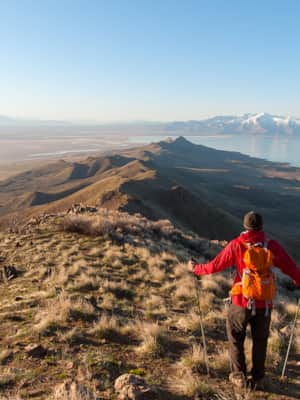 Hike + Dine: Davis County
Here are a few of Utah's Davis County's best hiking trails and eateries to check out during your next visit.