A Deep Dig into Utah's Deep Time
Utah is one of the most important archeological zones on the planet. Visitors can see or excavate undiscovered dinosaur species at the USU Eastern Prehistoric Museum in Price or visit ​​Jurassic National Monument, with the densest concentration of late-Jurassic bones ever found. The dedicated, local paleontologists and volunteers teach stewardship alongside exploration.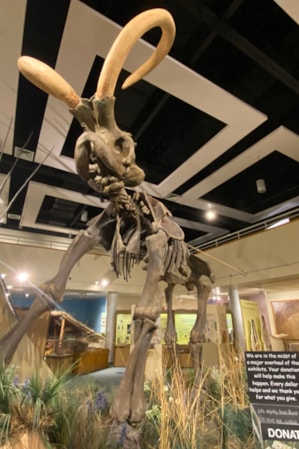 I stumble upon Dr. Joshua Lively, bent over what appears to be a dinosaur horn, as he works in his archeology lab at the back of the Utah State University (USU) Eastern Prehistoric Museum in Price. "Come in," he says warmly, waving me over from the window as I step into the bright, inviting room.
Sure enough, it is a horn, one that belonged to some kind of ceratopsian, the same family as the well-known Triceratops. I marvel at it up close, grayish and curved, and about the length of my hand. Lively uses a tool called an Air Scribe that sounds like a swarm of bees and resembles something found at the dentist's office — a "mini jackhammer," as Lively describes it — to remove rock from the horn's base as a long vacuum tube sucks up the stray dust.
The story gets better. Lively tells me that a 20-something volunteer named Marjie Cone came across this horn during an excavation in the nearby Book Cliffs. A postorbital eye socket in the horn reveals a different orientation than a typical ceratopsian.
In other words, Cone likely discovered a new kind of ceratopsian. This one, right before me.
With that incredible knowledge, I'm smitten with this dinosaur. Even though I haven't thought much about them in my day-to-day grind since the years of playing with my brother's plastic T. rex, and especially not since watching "Jurassic Park" as a terrorized child with a blanket covering my eyes the entire time, I'm captivated by the reality of this dinosaur's existence and its mysterious, distant world here in Utah, about 75 million years ago. I want to know more.
"Carbon, Emery and Grand counties are some of the most important places on the planet for paleontology," Lively explains. As curator of paleontology at USU Eastern Prehistoric Museum, he says there are plenty more discoveries to make and many clues that are just waiting to be found (Read: "Dinosaurs in Utah"). Today, Lively wears a teal t-shirt that reads: "Be a Steward. Preserve History. Xplore the Corridor," the same shirt worn by all the helpful volunteers in the museum today.
When I think of the word "museum," I typically think of a coldness beyond the aggressive A/C, artifacts blocked off with glass and informational signs printed in impossibly small font. Thanks to the SPX Fest — a three-day celebration of the history of Utah's Carbon Corridor in places like Helper, Nine Mile Canyon and Jurassic National Monument — this museum feels nothing of the sort (Read: "A Rural Community Leading the Way in Stewardship and Preservation"). At the USU Eastern Prehistoric Museum, volunteers and staff bring to life and make accessible a history so vast it's otherwise almost impossible to grasp. This is an active, working museum, interested in ongoing discovery as much as preservation and education.
"The span of what can be found in the paleontology at USU Eastern Prehistoric Museum is, in Lively's words, "all of life," from over 500,000 million years old until up to 13,000 years ago."
SPX Fest aims to unify so much local history, and I can see why the collaborators make day three — with its focus on "deep time" as it relates to Utah's ancient history — the finale of the event. By interpreting the past, we can better protect the future of these special finds.
At one point, I am standing before Zach Heywood, an undergraduate at USU Eastern and a collections volunteer, who sifts through ant hill dirt. He's trying to find tiny, needle-sharp teeth from sharks who swam here when this area in Central Utah was covered by sea. Around the bend is a real brontosaur femur bone that visitors are allowed to touch — a big hit for children. Ahead, my jaw drops at a giant clam the size of a bus wheel. This Inoceramid, a staggering 85 million years old, is much larger than any giant clam in current existence. The pale, rough surface is scarred from dozens of other fossilized creatures: oyster colonies and remnants of tiny fish who got trapped inside when this area, a red rock desert, used to sit hundreds of feet below the Mancos Seaway. If I close my eyes, I can almost smell the salt.
This is "a very dynamic place," Lively explains of the active research institution. They host researchers from all across the world and run eight weeks of expeditions per year, with lots of day trips too since, unlike many other places, the fieldwork area is so close by. They take three to seventeen volunteers each time and welcome anyone over the age of 18 who wants to come, regardless of background or skills. "We want as many volunteers as we can get," Lively says. Interest is the only requirement to join a dig or pitch in on lab work. Anyone can be the next Marjie Cone (Read: How to Experience Utah's Dinosaur History at the Prehistoric Museum in Price).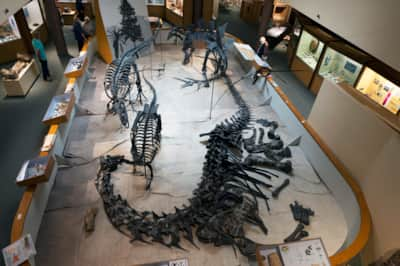 The span of what can be found in the paleontology at USU Eastern Prehistoric Museum is, in Lively's words, "all of life," from over 500,000 million years old until up to 13,000 years ago. It's enough to make my eyes widen and head spin.
In another section of the museum dedicated to more recent life, such as exhibits that enliven the Fremont culture and rock imagery sites found in Nine Mile Canyon, I face a floor-to-ceiling skeleton of one of the last living mammoths. Its enormous curved tusks jut forward and blackened bones (95 percent recovered) confront me head-on, making me feel how terrifying it would be to cower before this beast over 10,000 years ago when glaciers covered the plateau. Jean Semborski, a friendly museum volunteer, tells the story of how this skeleton was discovered. A man riding a tractor was working one day when he hit something hard. Fortunately, he had the good sense to stop and make a call. Locals are used to stumbling across things like this, especially three-fingered Allosaurus prints — the state fossil of Utah.
With dinosaurs roaring in my head, I culminate the day at SPX's final event: tours through the Cleveland-Lloyd Dinosaur Quarry at the Jurassic National Monument. Driving through the San Rafael Swell's mesmerizing stark landscape of juniper trees and pinyon pines, an open gate flanked with metal raptors greets incomers (Read: "Reef Walking, Petroglyphs and Bones"). Inside, Blake Baker, the outdoor recreation planner, says that, here, they've uncovered the "largest concentration of late Jurassic bone ever found." They've dug up more than 13,000 bones along with a great mystery: an enormous concentration from predators like the Allosaurus, of which they have found 46. Of all the total bones, 75 percent belong to predators, a disproportionate amount for any given population. How? Why? (Read: "The Real Story Behind The Dinosaur Quarry")
Guests are welcome to witness the way experts chip away at this mystery as they piece together bones jumbled up like a puzzle. They have a picnic area for children to play (complete with a giant T. rex skull and Stegosaurus rib cage to climb) and a shade tent for folks who want to stay awhile as they read museum signs, peek inside the excavation tents and take hikes around the grounds where dinosaurs once walked. Like the other event hosts of the SPX event, the passionate collaborators hope understanding and appreciation lead to conversations about the preservation and stewardship of these irreplaceable treasures, and lead to a
Forever Mighty
travel ethos for all visitors.
The sun glints as I tent my eyes at the rolling, endless landscape. Imagination cracked open, I can see Earth's history in a series of snapshots: a watering hole for saw-toothed predators straight out of nightmares, a teeming inland sea of sharks and giants clams, a glacier landscape full of mammoths hunted by early humans, then the rocky desert of today where I stand, a single spec, with a sudden impulse to throw away my phone with its silly apps and calendars and its aura of importance. I smile to think of Marjie Cone, cheesing for the camera as she grips that horn jutting from the cliff for a moment, a rare meeting between vast eras of deep time that reveals how much still lurks below the surface.
"Passionate collaborators hope understanding and appreciation lead to conversations about the preservation and stewardship of these irreplaceable treasures..."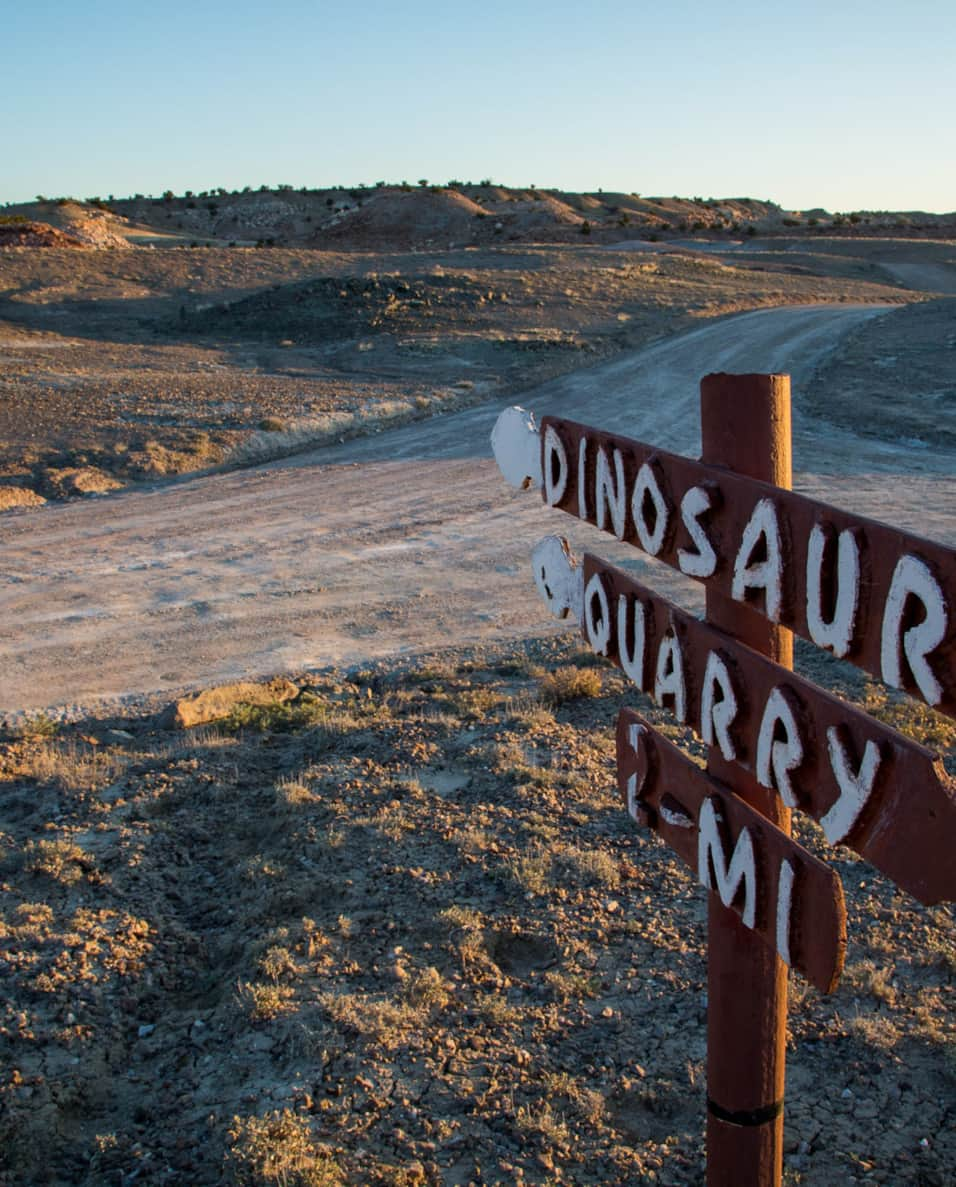 Trekking Along the Dinosaur Diamond Highway
Utah's Dinosaur Diamond Highway is the perfect guide to experience ancient history, millions of years in the making.
Highlights
Dinosaur National Monument
Jurassic National Monument
San Rafael Swell
Dead Horse Point State Park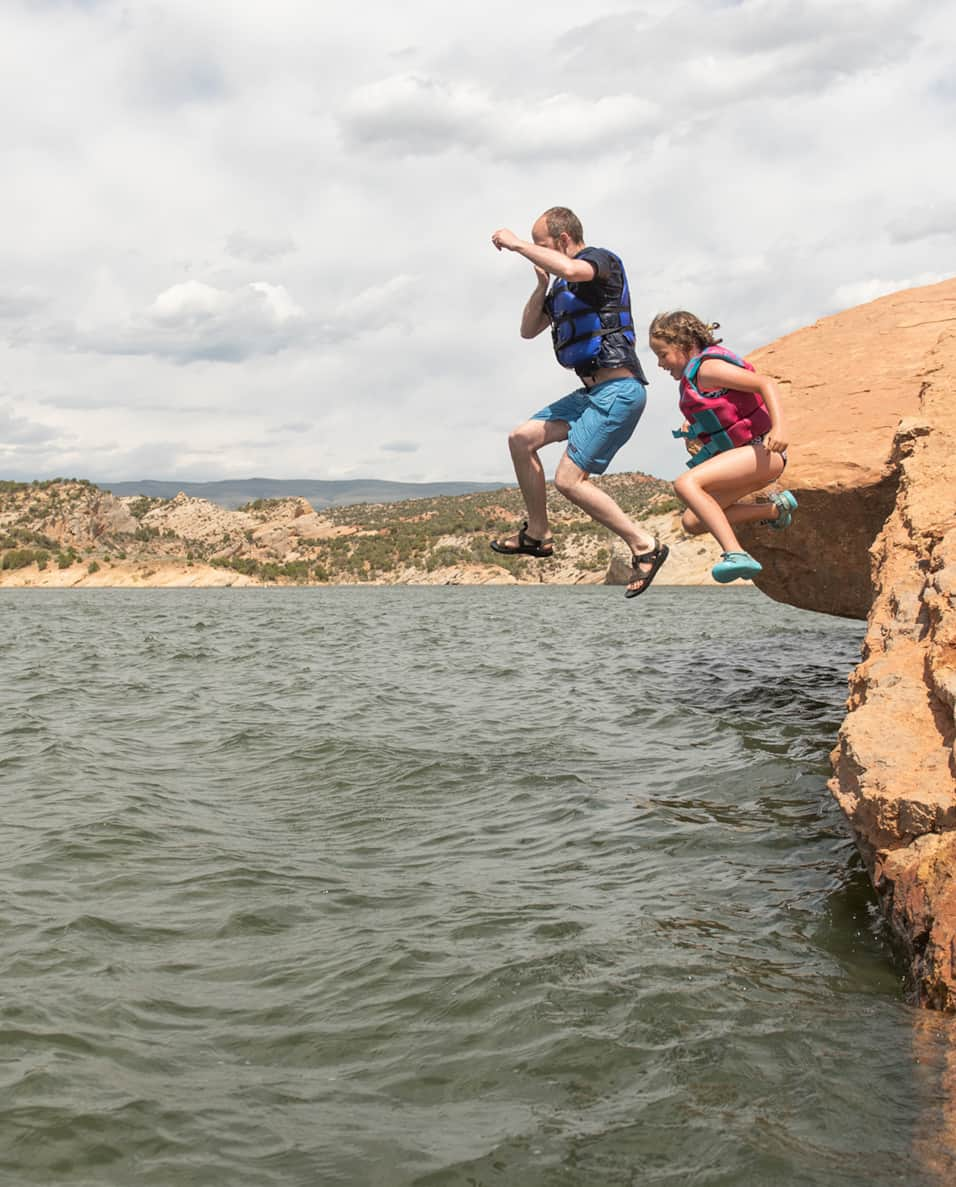 Sandstone Spires & Swimming Holes
Walk the paths of dinosaurs and descend through 200 million years of geologic history in this six-day road trip from Vernal to Kodachrome Basin. It's a kid-friendly desert drive in search of dino tracks, slot canyons and swimming,
Highlights
Dinosaur Tracks in Vernal
Crystal Geyser in Green River
Hoodoos & Slots of Goblin Valley
The Red Cliffs of Capitol Reef
The White Cliffs of Grand Staircase
Sandstone Spires in Kodachrome Basin