Red Fleet State Park to Close for Construction
Red Fleet State Park will close on June 1, 2023, for renovations and improvements, with plans to reopen for the 2024 season. Access to the Dinosaur Trackway trailhead will remain open.
Learn more at stateparks.utah.gov.
U.S. Federal Shutdown Information
At this time, all of Utah's national parks, monuments and recreation areas remain open.
Learn more.
Sandstone Spires & Swimming Holes
Walk the paths of dinosaurs and descend through 200 million years of geologic history in this six-day road trip from Vernal to Kodachrome Basin. It's a kid-friendly desert drive in search of dino tracks, slot canyons and swimming.
If you have kids, you are well-acquainted with the infamous words, "are we there yet?" — which is why this road trip will get you out of the car every two hours. The memorable drive includes dinosaurs, geology, hikes that kids will like, minimal crowds, and maybe most importantly, swimming. The trip begins in the north eastern town of Vernal and snakes its way down through the Ashley National Forest towards the plains near Green River, observing 200 million years of geologic history as you pass between the San Rafael Swell and the Book Cliffs. Capitol Reef and Escalante are perfect points to stop for an afternoon, or to land for a day or two. If you're up for the full adventure, plan a day at Kodachrome Basin State Park.
Itinerary designed by Provo local, Ashley Mae Hoiland. Read her first-hand narrative of her family's travels: A Family Drive Through Utah's Quiet Places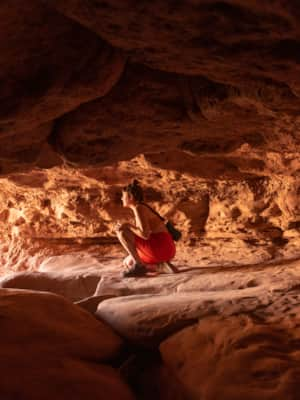 View Millions of Years of Geologic History in an Afternoon
Unlock new levels of understanding about the land you are traveling through, around and on by learning about the geology in Utah.