U.S. Federal Shutdown Information
All of Utah's Mighty 5 national parks will remain open.
Learn more.
Art Deco in Motion: Ogden's Creative Remodel
Ogden may be Art Deco's best-hidden gem. Come for the Art Deco, stay for one of the most vibrant art scenes in Utah.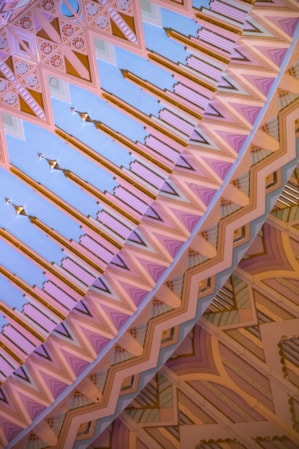 One hundred years ago, America was entering the Roaring Twenties, recovering from World War I and embracing new technology at a frantic pace. The upcoming two decades would see a new style to match the mood. Art Deco's bold geometric shapes, detailed craftsmanship and soaring modern lines represented the energy and optimism of the era. Though World War II brought an end to the movement, Art Deco buildings remain some of the most iconic in the United States.
Visitors looking for Art Deco architecture and art often travel to New York, Chicago or Los Angeles. But the Intermountain West has preserved what may be Art Deco's best-hidden gem: Ogden, Utah.
Ogden has always had an interesting reputation among its more conservative Utah neighbors. In the 1920s and 30s, when Art Deco was making its mark on the country, Ogden's 25th street was full of speakeasies and gamblers and occasionally featured a local madam walking her pet ocelot.
As I walk on Ogden's Historic 25th Street or head down Harrison Boulevard, I get a glimpse of 1930's Ogden in three massive Art Deco edifices: the Municipal Building, U.S. Forest Service Building and Ogden High. "The stylistic quality of these buildings would not be out of the place in the wealthy suburbs of Los Angeles or Boston, but in Northern Utah, the casual passerby cannot help but feel that he or she is observing something distinctly out of the ordinary," says historian Michael MacKay.1
These Art Deco buildings manage to both root Ogden in the past and point to the future. These buildings "give you a sense of place, of where you've been and what you can become," says Greg Montgomery, Ogden City planning manager. If 25th Street is any indication, what Ogden can become is a growing city with one of the most vibrant art scenes in all of Utah.
On the first Friday of each month, I attend the art stroll on 25th Street. I like taking friends to the art museums in the historic Union Station or the Victorian-era Eccles mansion (Read: "Where to See Women's Art in Utah"). Everywhere I turn, I find street art and murals against the backdrop of historic buildings. It's this partnership between history and modernity, remembering and updating, that make Ogden a must-see. (Read: "Ogden's Star is Rising, Downtown to Dark Skies")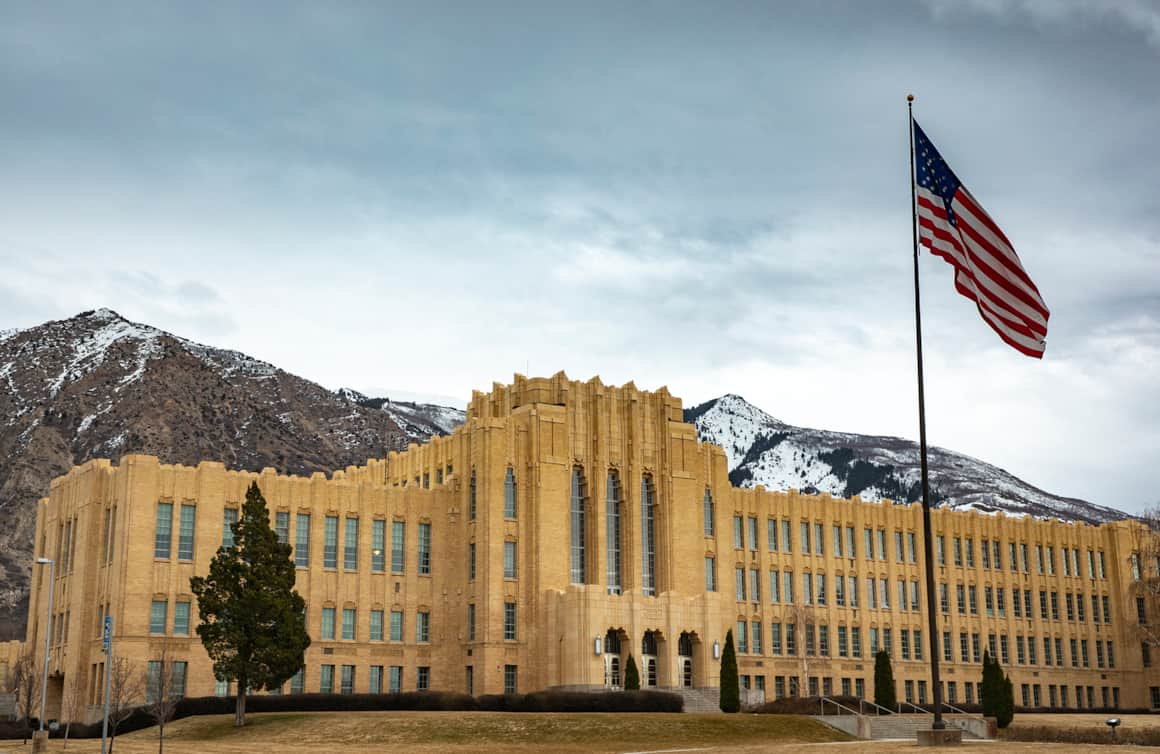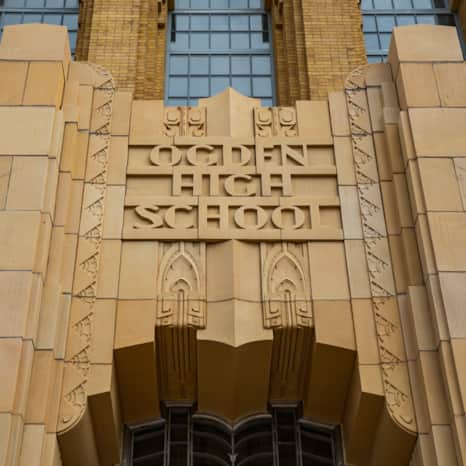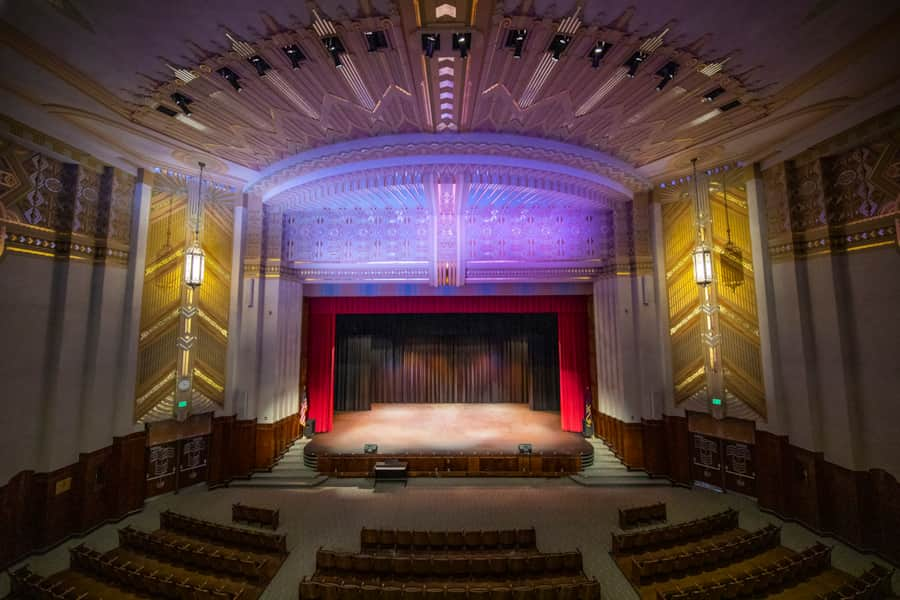 Ogden Art Deco: Modern History
The Art Deco masterpieces in Ogden highlight the vision of the city's most famous architect: Leslie Hodgson. Born in 1879, Hodgson studied under prominent architects in Salt Lake City and San Diego before returning to Ogden. As the depression ravaged his community, Hodgson saw the federal government's New Deal public works funding as an opportunity to make Ogden shine.
With this funding, Hodgson designed and built the Forest Service and Municipal buildings using the new Art Deco style: brick and terra cotta façades, repeating geometric motifs in exterior and interior spaces, granite foundations and elaborately stylized front doors.
Between these two projects, Hodgson completed his magnum opus: Ogden High School. The school uses similar materials but features more elaborate exterior and extensive interior Art Deco details. Montgomery told me what this school meant to the community: "It was the [nation's] first million-dollar high school. Those that went to Ogden High had a brand-new school with all the bells and whistles and suddenly had a standing in the state."
In an article on Hodgson's architecture, historian Michael MacKay explains, "Without question, the civic structures built during these decades defined Ogden as the foremost exemplar of Art Deco architecture, not only in the state, but also in the entire Intermountain West."1
Hodgson's version of Art Deco style was unique. He took inspiration from the mountains and materials around him, especially in his Ogden High design. "When viewed from the southwest to the northeast, the building unmistakably mimics the contours of the Rocky Mountains behind it," MacKay writes.
Jeanine Downing, Hodgson's granddaughter, reflected on his impact on Ogden in an interview: "He loved Ogden and he wanted to make it great."2
"Hodgson's version of Art Deco style was unique. He took inspiration from the mountains and materials around him, especially in his Ogden High design."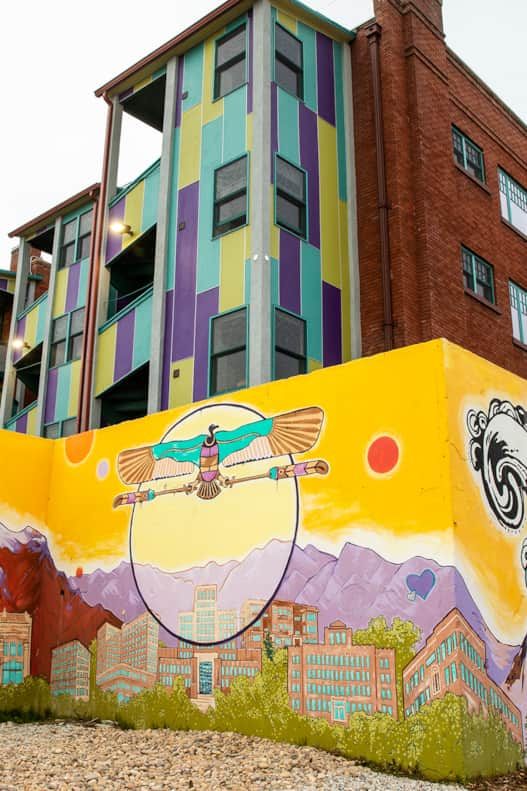 Restoration and Revitalization
Those who visited Ogden a few decades ago may not have seen much greatness. After a surge in prosperity as a transportation hub for World War II, Ogden began a steady decline. Many historic buildings were shuttered or fell into disrepair.
But as I walk down 25th Street today, I find a city alive with restless, building energy. The population is growing, business is booming, and more people are visiting.
How did Ogden make the change?
First, officials, nonprofits, businesses and artists had a vision of what this historic mountain town could be. Kim Bowsher, head of the Ogden Downtown Alliance, says, "We've gotten some really good buy-in from some of our resident businesses and from our city and partners. We've done a lot in a short amount of time and are excited to see where it goes."
City planners are ensuring Ogden's history stays relevant, remodeling the Municipal Building to fit their future needs. "Sure, maybe I could build a new building for less, but you'll never have the craftsmanship that the old designers put into it," Montgomery says.
In 2004, Ogden High received grant money to restore and expand the school. When the district asked voters about a bond to cover the remaining cost of the restoration, the public spoke overwhelmingly in support of restoring the school instead of replacing it. Good thing, too, because as my father-in-law, Ogden High class of '66, told me, "If they'd tried to tear it down, we would have barricaded the doors." Artists carefully restored the Art Deco details in the main lobby and auditorium.
Ogden is not just restoring old buildings in a bid to hold on to the storied past. City leaders are repurposing these buildings to emphasize art, small businesses and the outdoors.
One of Hodgson's earlier Art Deco buildings, the Ogden Exchange, is becoming a business center. In a few years, a fully restored Exchange will be surrounded by industrial buildings, restaurants, local breweries, pedestrian trails and a bike park.
The city has also established the new 9 Rails Creative District, named for the nine railroad lines that once connected a bustling Ogden to the world and inspired the then-city motto: "You can't get anywhere without coming to Ogden."
I asked Montgomery why the city is focused on this new artistic district instead of putting all resources toward growing business. He explained, "Cultural refinement tells something about a city. If you ignore those things you ignore something that makes the city vibrant and makes it a place I want to live."
The hub for the new creative district is The Monarch, an event space and artists' collective. The original industrial structure was built in 1929 as an enclosed parking garage. In 2011, Fischer-Ragan Enterprises purchased the run-down building, applied to have it added it the National Register of Historic Places and started the remodel. Today, The Monarch houses artist studios, retail and large event spaces while maintaining its historic architecture and character.
I asked Thaine Fischer, the owner and visionary behind The Monarch, why he chose this venue. "When we travel, we usually gravitate to those cities and communities that have great architecture," Fischer says. "Within those cities we seek out the creative/artists/culinary areas because of their cultural interest, the experience and how they make us feel. Historical architecture adds to this."
The Monarch is bustling with activity. More than 30 creatives have rented studio space. The venue has housed craft fairs and art markets, giving artists and creatives a place to display and sell their work. Fischer explained that there is something special about Ogden that makes all this possible: "Most communities require a lot of capital to make an impact. Ogden is the rare exception that a single individual with a creative idea can truly make a difference."
Not only is Ogden less expensive than other metro areas, there are also organizations and programs dedicated to helping foster creative ideas. Ogden City even provides grants to support artists and public participation in the arts.
Lorie Buckley, Ogden's arts coordinator, has organized community-based art projects in vacant sites throughout Ogden, a volunteer effort to paint street murals in the 9 Rails district, and a concert series that brought more than 40,000 people to Ogden last year. Her department is also working on new street murals and a plaza for arts programming and public art displays. If you want to see the latest in Ogden arts, stop by the kiosk on the corner of 25th and Washington.
"We hope that we can continue to foster organic growth in the creative community that will spread throughout Ogden not only benefiting the locals but drawing surrounding communities to visit and enjoy high quality arts and cultural programming," said Buckley.
"Ogden is not just restoring old buildings in a bid to hold on to the storied past. City leaders are repurposing these buildings to emphasize art, small businesses and the outdoors. "
Blending the Old with the New
Ogden has realized there's magic in blending the old with the new. It's a pioneer town, rich with history. Older residents are fiercely loyal, eager to preserve the things that made the city a great place to live when they were growing up. And yet, they welcome new and prospective Ogdenites and encourage them to leave their mark on the town.
So how does Ogden balance history and progress? One way is by ensuring new construction celebrates historical styles. In a few areas of the city, officials have mandated that new construction include elements of Arts and Crafts or Victorian style.
A tour of Ogden Art Deco is incomplete without a visit to the grounds of the Ogden Temple, which was completely redesigned in 2014. Architects and designers from The Church of Jesus Christ of Latter-day Saints understood the importance of celebrating the past, incorporating Art Deco details similar to those in Hodgson's buildings in their design.
All of this combines to make visiting Ogden an unforgettable experience. It draws lovers of art, architecture, nature, history and a civic Cinderella story, securing Ogden a place on my list of must-see cities. (Read: "Mountains, Markets & Music, Spend 48 Hours Exploring Ogden")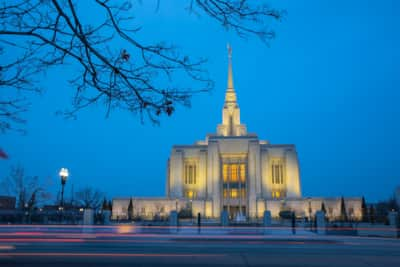 Sources: 1. "Utah Architect Leslie S. Hodgson and the Architectural Environment of Early Twentieth Century Ogden, Utah, 1900–1940" by Michael H. MacKay, Mormon Historical Studies; 2. "Granddaughter of Leslie Hodgson recalls man who built Ogden", Standard Examiner.