Sundance: The Story is Utah
For Sundance audiences and filmmakers, the Story is Utah, one with many visions and interpretations and where revolutions are encouraged.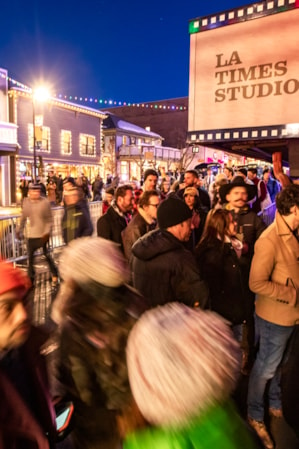 "Art is either plagiarism or revolution," declared Paul Gauguin. If so, then few would debate where the Sundance Film Festival and most of its entries would land. Independence — Indie movies, for goodness sake — are synonymous with the Fest, the annual event where thousands take over Utah theaters, streets and my favorite restaurants in Park City and Salt Lake City each January. Yes, January! Red carpets are replaced with snow melt on the sidewalks. Celebrities don down coats and hiking boots instead of Valentino dresses and sling-back pumps. It's the premier film event not limited to Hollywood-types; normal Joes and Janes can pick up same-day tickets, sit wherever and find themselves trading reviews with a budding or established film editor, including, the one who worked on the film you're about to watch. Power to the people!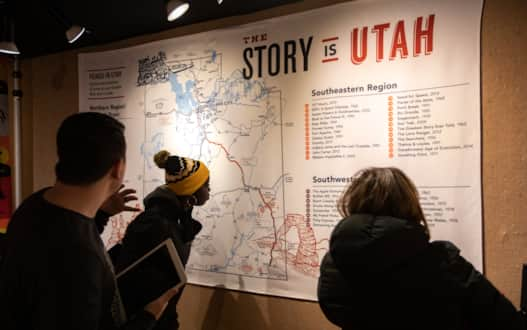 The films, a term collectively used to describe the ever-evolving forms of visual media showcased, are the expressions of love, hate, want, need, beauty, pain, destruction and creation of their writers, producers, directors, actors and all others committed to bringing their art to these enthusiastic audiences. With this in mind, it is no surprise that founder, Robert Redford, chose Utah as the Festival's physical and spiritual home, a place that attracts explorers and adrenaline junkies, that is both cosmopolitan and ancient, grounded and revolutionary.
This is a story about the Sundance Film Festival and why filmmakers and audiences come here but, as cinema's famed investigative reporter and philosopher, Irwin M. "Fletch" Fletcher, pronounced before getting out of Los Angeles to find the answer to his mystery, "The story is Utah."
How to Sundance and Why
The Sundance Film Festival showcases more than 100 films and other media projects. But don't get overwhelmed. There is no way to see them all and, frankly, you shouldn't. See some and savor the rest of the Fest. Take in the sights and sounds on and off Main Street. Stroll the sidewalks. Ski the mountains. Breathe the mountain air. Watch people. Listen to them. Go to the concerts. Movies are just a part of "The Sundance Experience." Create your own experience, your own Sundance story.
That said, movies are an important part, and many people don't bother coming, because they assume the Festival is only for celebrities and stalkers. Actually, my retired in-laws and out-of-state guests have the most fun, I think, because, unlike the industry folks, they don't have to schmooze and promote their movies or, like me, get the kids to school and head to work. Although tickets to some movies are difficult to get (someone will have to explain why tickets for a movie starring Zac Efron playing serial killer Ted Bundy were impossible for anyone I know to obtain), tickets are available for most flicks sometime during the Fest.
The easiest way is to purchase them online in advance, but I and many others wait until the Festival starts, grab our coffee or cocoa and hit the Park City or Salt Lake City box office at 8 a.m. each morning when tickets (often extras from producers) are released.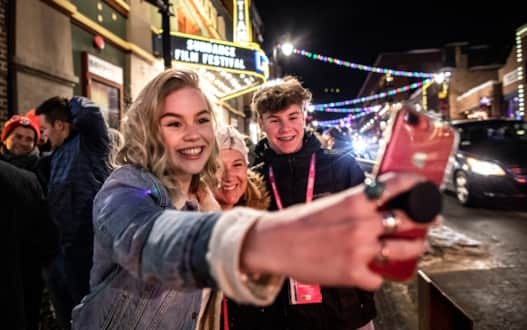 And seeing the films in person is worth it.
I used to tell people it was because of the Q&A. Following many Sundance movies, the producers, directors, production staff and/or cast members stand in front of the screen and describe the inspirations, challenges and, often, very funny stories that went into the creation of the film. Then, they field questions from anyone in the audience. Some even stick around after that to continue the conversation and take photographs. (You can tell a lot about your relationship if you send a selfie with Jon Hamm to your husband at work, and he tells you to have a good time. FYI — Mr. Hamm is one of the nicest and, indeed, most freakishly good-looking people at the Fest.)
The Q&A can, also, fill in plot gaps for the audience and even the director. In fact my friend Julie once asked a director about a final scene in a terrific thriller that didn't connect. Despite his meticulous writing, shooting and editing, the director's (slightly surprised expression and non-condescending) answer followed by a collective "Ahhh!" from the audience likely prompted him to make a simple edit so the connection was clear before its general release.
But the Q&A is only part of it. I was reminded recently why queueing up an hour in advance, sometimes outside in a Utah winter, to see a movie premiere that hasn't even been reviewed is special. There's a nostalgia and a wonder about it. Before the Internet, audiences learned of movies and showtimes by looking in a newspaper or calling a movie theater and listening to a lightning-fast recording, then, purchasing tickets at the theater and lining up early to get a good seat. They knew little about the film unless they happened to see reviewers Siskel and Ebert on public television the weekend before. It's the difference between using Google Maps versus TripTik, a narrow, top-spiral-bound set of custom paper maps from AAA that travelers commonly used on road trips before smartphones. About every 50-100 miles, you'd excitedly flip to a new page, another sliver of the journey, that revealed rest stops, monuments and oddities you'd otherwise miss. Its purpose wasn't just to get you from A to B as...recalculating...fast as possible; it encouraged you to explore, to get out of your car, to absorb and interpret your surroundings.
But Why Utah?
There are few good things that surprise us anymore. Someone has already tweeted about it. A Sundance movie is special, because we usually know little about it, and we get to share that anticipation with those around us. We get to spontaneously laugh and unabashedly cry, sometimes in the same movie. We get to decide whether we like a movie — without tomato ratings.
Seeing a movie today is done with too much information and too much expectation. For the filmmakers and producers, there's a pull to play it safe, because there is a lot of money involved and, for audiences, there is so much content, we end up relying on the opinions and tastes of a few critics to tell us what is good. So, it's no surprise that film creators hope they can premiere at Sundance — not LA or NY — because, the Sundance audience typically isn't there to see a "Hollywood ending" or sequel and responds accordingly.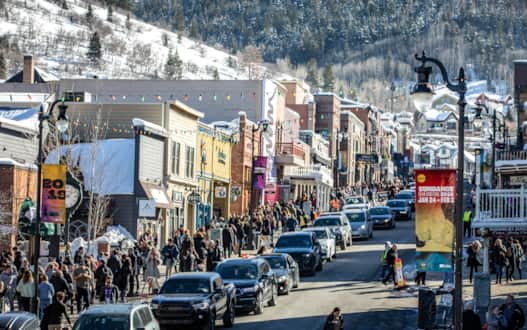 The audience in the mountains of Utah rewards risk takers. The best compliment around here is, "That was a Sundance movie!" Sundancers want to feel the rush of hearing a new story — such as 2018's heart-pounding, genre-defying "Sorry to Bother You" — or an old one told differently, a new face or a recognized one playing against type, like watching Oscar® winner Lupita Nyong'o and definitely-not-Disney's-Olaf Josh Gad herd kindergarteners and hurl insults while avoiding zombies in an Australian petting zoo in the dark comedy and, yes, love story, "Little Monsters." Like the downhill skiers, mountain bikers or hikers that live and laugh and play in Utah, audiences here crave the adventure of the nostalgic unknown.
There must be something in the air.
Revelation or Revolution?
Sundance finds a home here for the same reasons filmmakers do. Spoiler Alert: The story is Utah. Because as someone at the Fest recently explained to me, filmmakers just "dream bigger" here. While few places on Earth can boast of mountains and plains and deserts and lakes and an inordinate number of production facilities and professionals, Utah's openness physically, culturally and spiritually have provided filmmakers opportunities to explore artistically, as well, in dramas, comedies, sci-fis and musicals (read: Movies Filmed in Utah: Plotting a Cinematic Drive-Through).
Director John Ford launched John Wayne's film career when he put him on a horse and sent him riding across Monument Valley in "Stagecoach" even though this cowboy lived in Southern California, and the early rumblings of the MeToo movement echoed across Dead Horse Point when heroines "Thelma and Louise" sailed into movie history (See the itinerary: Thelma & Louise: A Tribute Road Trip Through the Classic Film's Utah Settings). Many movies shot in Utah have reached iconic status, including: "2001: A Space Odyssey," "Planet of the Apes" "Butch Cassidy and the Sundance Kid," "Jeremiah Johnson," "Footloose," "Dumb and Dumber," "Independence Day," "Forrest Gump" and, even, "High School Musical," the Disney Channel juggernaut that introduced us to (a much nicer, kinder, non-homicidal) Zac Efron and inspired every kid born after 1995 to try out for musical theater.
Regardless of their commercial or critical successes, these movies and others are distinct, because they moved the needle for the artists and their audiences. They were different and caused people to see and do and experience things differently. People wanted to talk about chocolates after "Forrest Gump," but more wanted to run like him with a long beard on a remote highway near Mexican Hat. Others wanted to jump into a water-filled slot canyon like James Franco in "127 Hours." They can and did in the Homestead Crater in Midway where it was shot as well as searching for other adventures in Canyonlands National Park. Fans of "2001," "Gravity" or "Westworld" were transported to outer space or an alternate reality watching stranded characters exploring heady themes of existentialism, artificial intelligence and the limitation of technology. The best in the industry come here to dream and dream bigger.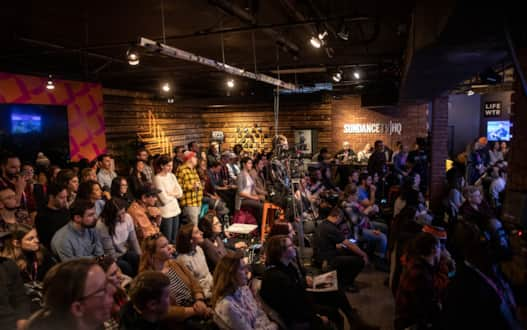 This is why the story is Utah.
When driving up the canyon to the Festival in Park City or down the interstate to Zion National Park, people are awestruck. As a resident, you just pinch yourself to remind you it's real and how doggone lucky you are; as a filmmaker or Instagrammer, you cannot help but feel inspired to capture what makes it so unique or to create something entirely new. The canvas is bigger, the paints are more numerous and luminous, and the subjects cannot be found anywhere else in the world. For Sundance audiences and filmmakers, the Story is Utah, one with many visions and interpretations and where revolutions are encouraged.
For tickets, schedules, trip-planning tips, merchandise and more, make use of the Sundance's festival website.
Sundance, Full Circle
When visiting the Sundance Film Festival in Utah, movies are only part of the experience.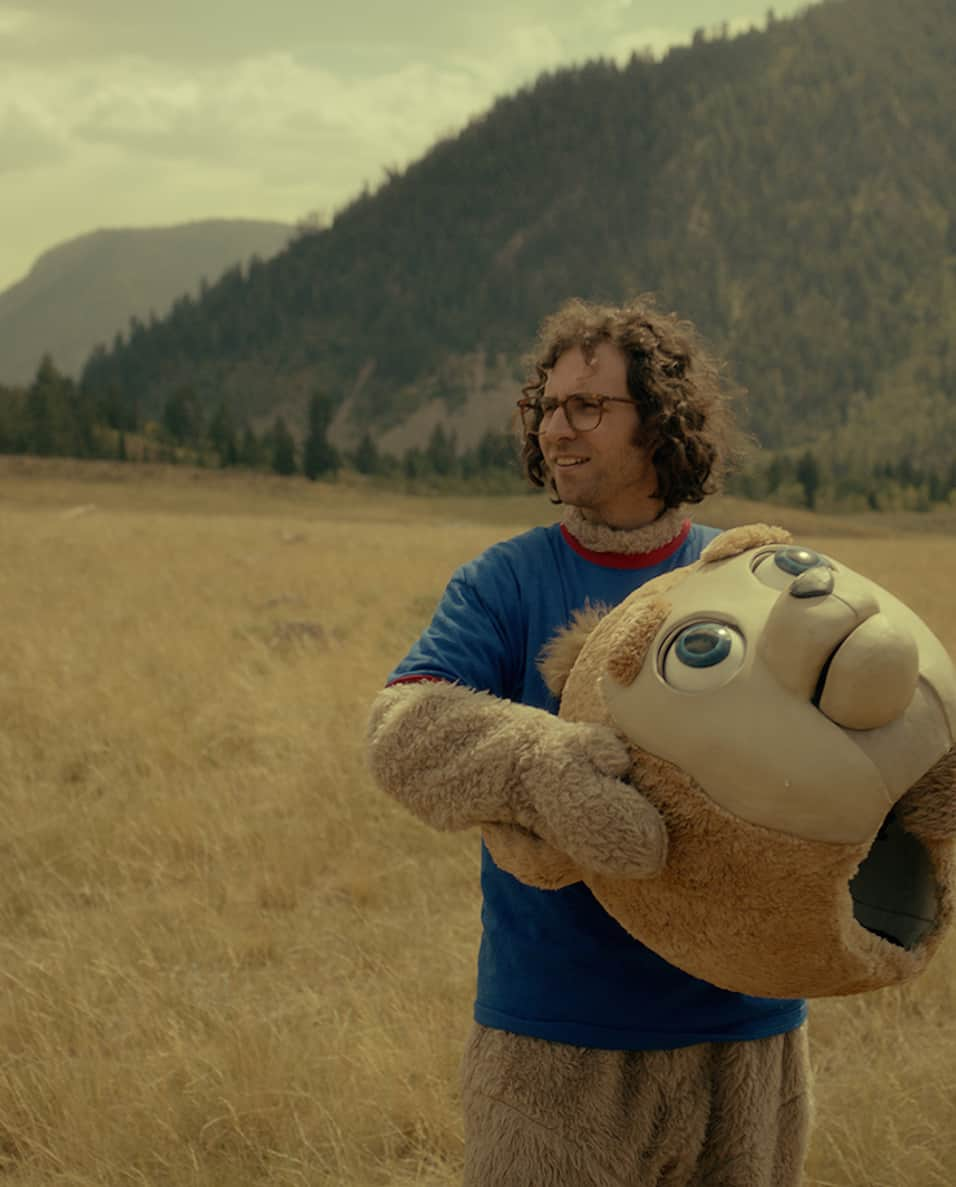 Filmed in Utah: Explore the Settings of Sundance Movies
It's a film buff's dream — a three-day northern Utah road trip through the mountains, desert flats and cityscapes featured in Sundance standouts such as "Brigsby Bear," "SLC Punk!," "Nine Days," "Hereditary" and "Frozen."
Highlights
"Hereditary" film location in Park City
"Deidra & Laney Rob a Train" film location in Heber
"Brigsby Bear" film location in Uintas
A grand film tour of Salt Lake: "SLC Punk!," "Hereditary," "Nine Days"
"Wind River" film locations at Weber Canyon and Coalville
"Frozen" film location at Snowbasin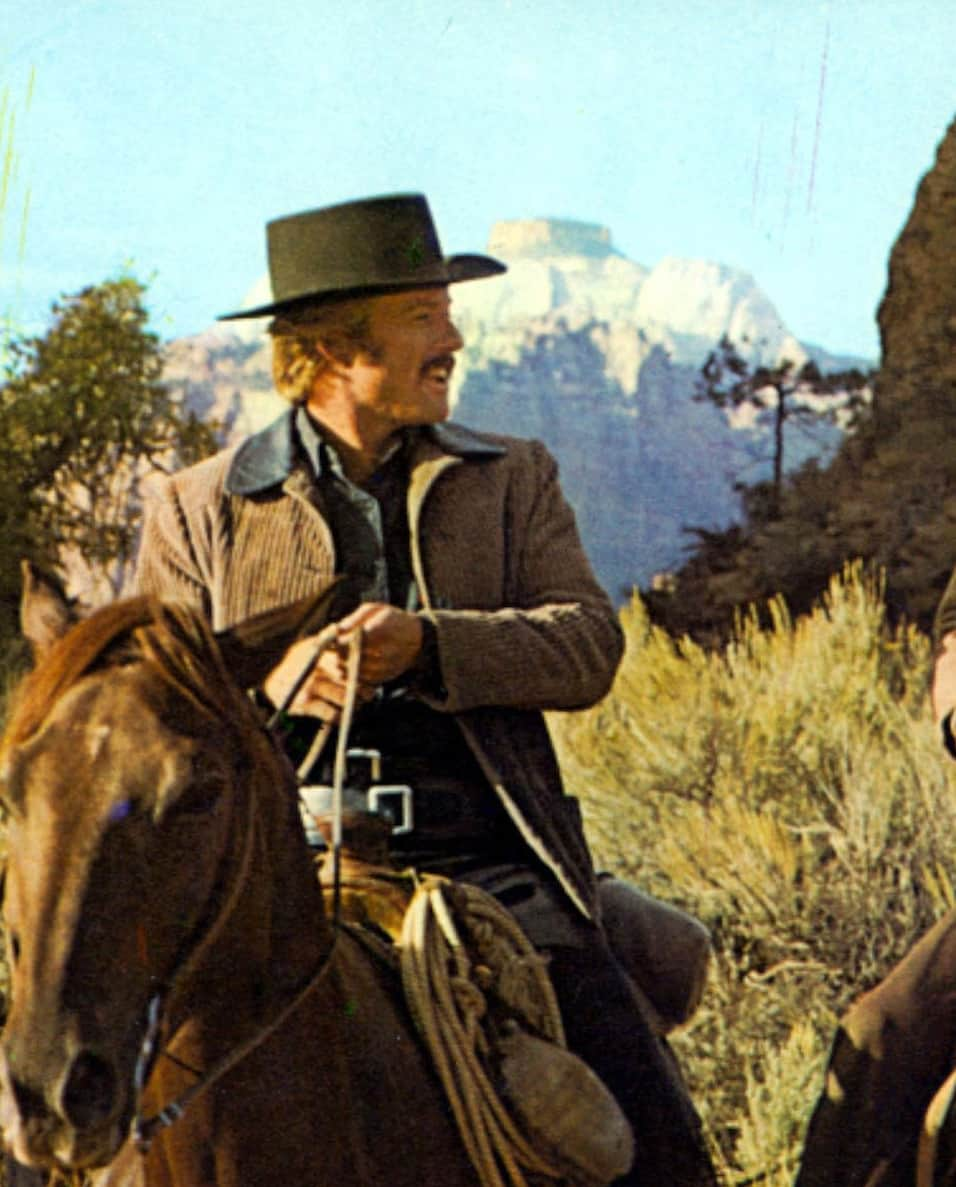 Robert Redford's Sundance Scenes
Journey through some of Utah's most striking mountain and desert filming locations to experience the awe of the all-American frontier immortalized in Robert Redford's "Butch Cassidy and the Sundance Kid," "Jeremiah Johnson," and "The Electric Horseman."
Highlights
"Jeremiah Johnson" film location at Sundance Resort
Kolob Canyon film location of "Butch Cassidy and the Sundance Kid"
Zion National Park film location of "Butch Cassidy and the Sundance Kid"
Snow Canyon film location of "Butch Cassidy and the Sundance Kid" and of "The Electric Horseman"
Stroll Historic St. George