15 Non-Technical Slot Canyons
Hikers of all abilities can slip into these stunning slot canyons without specialized gear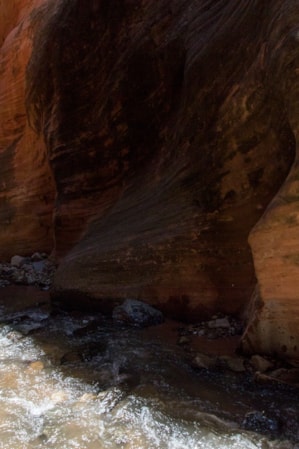 Unique hiking adventures await visitors of all abilities in the depths of Southwestern Utah, where the region's famous slot canyons are perfect for a family day trip or weekend getaway.
Visitors can explore the intricate and narrow gorges cut through beautifully layered sedimentary deposits over immense time in the Colorado Plateau, which provides the artistic foundation for the natural wonders found in The Mighty 5® national parks, the immense Grand Staircase–Escalante National Monument, and surrounding majestic mountains and red-rock canyons.
Utah is considered to have the largest concentration of slot canyons in the world, and while a majority of them are fairly technical — requiring a lot of equipment and expertise for exploration — many are more than accessible and beckon even the youngest of hikers.
Some of these canyons are wide and meandering, with towering 100-foot striated walls. Some are dry and some are wet. Some of the narrowest will trigger either your inner yogi or your inner claustrophobe. All are fun and photogenic.
Note: Always check the weather before visiting any slot canyon. Even light, distant rainfall can render slot canyons extremely dangerous — including flash floods.
Plan your journey to some of these top Utah slot canyon destinations:
Kanab Area
Buckskin Gulch
At 20 miles long, Buckskin Gulch is one of the longest and deepest slot canyons in the Southwest, with its iconic and dramatic Navajo sandstone striations and towering walls.
Hike the entirety in a day (or overnight) with the help of a guide service or on your own if well-prepared and carrying a permit from the BLM. But perhaps what makes the Gulch so special is the three separate adventures (or trailheads) that offer radically different approaches to the area, said Kyle Walker, a Utah local and owner of Grand Circle Tours, a professional guided tours company
This hike is beginner-friendly because it is mostly flat and there is no specific destination to reach. How far you spend on the trail depends on how far you want to go. Along the trail, you'll see strange and magical rock formations.
Wire Pass is the more popular of the day-hike trails as it serves as a (mostly) flat and easy direct route to the Buckskin's classic narrows. Hikers will step right into a squeeze, where the canyon is rarely more than 10 feet wide. The corridor, hundreds of feet deep, presents lovely, rich colors perfect for photographers and families alike.
If you're scared or sick of heights, this trail may not be for you. Middle Route is considered the most strenuous of these three hikes, mainly because of the downclimbing to enter the Buckskin Gulch. However, local guides say it's scarier mentally than physically. Before you enter, you overlook a cliff with some of the deepest (and most spectacular) views of the canyon.
Location: Along the Utah/Arizona border near Kanab
Family-Friendly: Kids will enjoy the Buckskin Gulch and Wire Pass trailheads. The Middle Route is more challenging, but doable (even for adventure-seeking older kids). Consider hiring a guide for the Middle Route.
Learn More:
Grand Staircase–Escalante Area
Peek-a-Boo Gulch and Spooky Gulch
While actually two hikes, these slot canyon destinations can be done in one 3-mile loop of stellar views that require zero technical gear or knowledge. Having a fondness for super tight spaces, however, is a must.
The Peek-a-Boo portion will require a bit of rock-scrambling to get through twists and chutes, including a 12-foot climb to enter the canyon. Spooky Gulch is narrow, only 10 inches wide in some spots, but the squeezing is worth it as you'll experience beautifully sculpted red and purple rock.
Location: In the Dry Fork of the Grand Staircase–Escalante National Monument
Family Friendly: Yes, though claustrophobes might want to steer clear.
Zebra Slot Canyon
Zebra Slot Canyon is a 5-mile round-trip trek that's easy to access but more challenging once inside, as you'll be required to scramble in some places and sideways shimmy through 10-inch openings. But once you reach the pink and red-striped walls, its spectacular beauty will leave you starstruck. With the exception of the hotter summer months, Zebra Slot Canyon will likely have several inches to several feet of cold water to wade or through or climb around. Come prepared with waterproof shoes.
Location: Grand Staircase-Escalante National Monument
Family-Friendly: Yes, but it can be challenging for children in tighter spaces and if crossing cold, deeper water.
Learn More: Visit the BLM Visitor Center in Escalante
This mellow, remote 4.8-mile hike along smooth and curvaceous rock walls won't be as crowded as other popular canyons. You'll feel dwarfed inside the 8-foot-wide narrows that will tower 100 feet above you at one point and display the delicate colors of the sandstone. Willis Creek typically flows 1-to-3 inches deep, winding its way through the canyon, though it's easy enough to hop, skip or step across.
Location: Off Skutumpah Road in Grand Staircase–Escalante National Monument
Family-Friendly: Yes, for all ability levels and ages. Best narrows are along the first 1.3 miles.
Burr Trail's "Singing Canyon"
When temperatures are high, your time is limited and the sound of music in nature is more than enticing. Burr Trail's "Singing Canyon" is the perfect family outing. Almost immediately, you enter walls of red, purple and pink with greenery dotting the desert landscape. But its natural acoustics make this canyon unique, beckoning musicians from all over to sometimes grace visitors with beautiful melodies.
Location: On the Burr Trail Road, between Boulder and Capitol Reef National Park
Family-Friendly: Yes. The trail to access the canyon is a flat, 10-minute walk. The canyon walls are wider and spacious.
Cedar City Area
Kanarraville Canyon Falls
Visitors will encounter almost immediate majestic, multi-hued red rock views in this 4.4-mile hike, on which you can go as long or as little as you like. Two beautiful, 10-foot waterfalls are the highlight of this slot canyon trip that is perfect for travelers, though be prepared to get wet while crossing numerous canyon creeks and scrambling along red rock. Permits are required and it's strongly suggested you reserve online ahead of your visit.
Location: East of Kanarraville, off Interstate 1-15 from Cedar City
Family-Friendly: Yes, for kids 7 or 8 and older. Be prepared to cross sometimes-knee deep water. Summertime is the best to visit, as the water is the warmest.
Learn More: Kanarraville Canyon Falls
Price Area
Furniture Draw
If you're near Price and in need of an easy family- and claustrophobe-friendly slot canyon adventure, then Furniture Draw is a great option with its waving rock walls of muted and earthy colors. It's 2.5 miles round trip, flat and more spacious than other typically narrow canyons.
Location: Off Buckhorn Wash Road near Price
Family-Friendly: Yes, but it will likely be wet, so come prepared with proper waterproof shoes.
San Rafael Swell
Little Wild Horse and Bell Canyon Loop
Colorful cliffs, swirls and near-endless exposed, eroded rock formations guide visitors through the 8-mile loop of Little Wild Horse and Bell Canyon — the most visited area of the San Rafael Swell. The canyons can be hiked individually for as far as you feel comfortable or together for a moderately strenuous day trek.
Location: Little Wild Horse trailhead is 5 miles west of Goblin Valley State Park visitor center.
Family-Friendly: Yes. Kids and adults in decent shape can make their way with some assistance.
Ding and Dang Canyons
Near Little Wild Horse is Ding and Dang Canyons trail, slightly more difficult and best suited for more experienced hikers. This trek challenges your problem-solving skills as you encounter obstacles to pass on or around, but it can be super fun for the more adventurous.
Location: 1.3 miles past the Little Wild Horse trailhead
Family-Friendly: More challenging. Good for experienced hikers, but you may consider a local guide service to take a sure-footed family of kids.
Moonshine Wash
Hidden away in the middle of the San Rafael is the remote Moonshine Wash slot canyon, with beautifully sculpted narrows that transform from smooth, striated walls to more angular and jutted. Some down-climbing techniques are required, but mostly it's fun to scurry around obstacles and find the best route.
Location: Just off the Lower San Rafael Road, south of Green River
Family-Friendly: Best suited for experienced hikers with some navigation skills who can be joined by older kids and other adults in good physical condition.
Capitol Reef National Park National Park Area
Burro Wash, Cottonwood Wash and Sheets Gulch
Capitol Reef's best non-technical slot canyons can make even the least agile feel like a rock star. Beginner slot canyon hikers can test their mettle with challenges like scrambling over rocks wedged in between the slot walls — known as chockstones — to navigating around water and squeezing through narrow spaces. Burro Wash, Cottonwood Wash and Sheets Gulch are all within a few miles from each other.
Location: On BLM land south of State Route 24, down Notom-Bullfrog Road
Family-Friendly: Yes, for older kids who have an adult ready to give a boost up and over various chockstones or support some slightly technical maneuvers.
Other Slot Canyon Options
Ultra Kid Friendly
Ranger-guided
Challenging
Stay in Your Car