Insider's Guide to Hiking Rainbow Bridge National Monument
Feel a world apart and make the triumphant trek to one of Utah's natural bridges.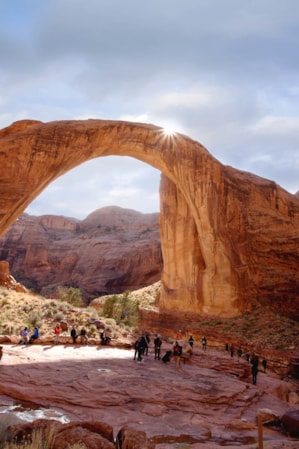 Rainbow Bridge, the sixth-longest natural bridge in the world, is an elegant arch vaulting 290 feet over the dry bed of Bridge Creek in Rainbow Bridge National Monument, a small parkland tucked in a side canyon on the south coast of Lake Powell National Recreation Area. The iconic bridge, chiseled from Navajo sandstone, was once one of America's most remote natural wonders, reached only by a multi-day hike or horseback ride down twisting canyons from Navajo Mountain. With the creation of Lake Powell from the construction of Glen Canyon Dam in 1964, Rainbow Bridge became accessible to the masses via a tour boat ride to a dock and short amble up a trail. For extremely well-prepared and thoughtful adventurers who want an unforgettable journey, there are two rugged trails that trek through squiggly canyons, and some of the wildest and least accessible country left in the lower 48 of the United States.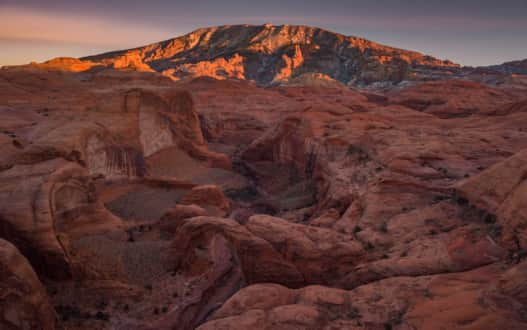 Discovery of Rainbow Bridge
While Native Americans, including Navajos who call Rainbow Bridge Nonnezoshe or "rainbow turned to stone," regard the stone bridge as a sacred site, the graceful span wasn't seen by Anglos until 1909 when two separate parties finally found the mythic bridge. The expeditions, led by Byron Cummins from the University of Utah and government surveyor William Douglass, joined forces to find the hidden bridge but remained in competition. After spotting Rainbow Bridge, the two leaders spurred their horses to be the first to ride beneath the span. However, John Wetherill, one of the guides and an early explorer at Mesa Verde, defused the competition by beating them to the arch. The following year the arch was protected in the 160-acre Rainbow Bridge National Monument.
Easy Hike to Rainbow Bridge from Boat Dock
Rainbow Bridge can be reached by three trails. Over 200,000 people visit the national monument every year and all but a few hundred take a seven-hour boat ride on a private, rental, or tour boat across Lake Powell of Glen Canyon National Recreation Area to a floating dock in the flooded canyon west of Rainbow Bridge.
The all-day boat tour travels over 50 miles across the lake from Wahweap and Bullfrog Marinas to the dock, where an easy 0.75-mile trail threads up the twisting canyon to a spectacular overlook near the bridge. The trail length varies, depending on water levels in Lake Powell. Despite development and the ease of access, Rainbow Bridge remains a culturally significant site for Native Americans, and signs ask hikers not to venture beyond the viewpoint to the formation. There are no services at the national monument except the dock and toilets.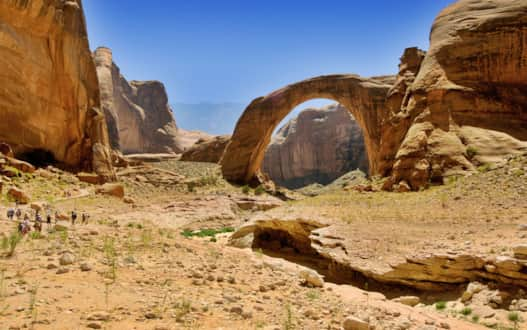 Two Backcountry Trails to Rainbow Bridge
Hardy hikers reach Rainbow Bridge by following two rough trails that begin from remote trailheads on the flank of 10,346-foot Navajo Mountain, a huge rounded peak on Navajo Tribal Lands in Southern Utah. The strenuous Rainbow Bridge North and South Trails twist 17.5 and 16 miles respectively down deep canyons walled by dazzling cliffs, across arid benches, and through an uninhabited wilderness of bare rock. Most hikers do the round-trip trek in three or four days, stopping overnight in remote campsites. Hikers need to carry detailed topo maps and have route-finding skills to follow the rugged trails. Water is scarce so plan on carrying plenty.
Just as important, since most of the hike traverses Tribal Lands, backpackers must not only follow Leave No Trace principles but also respect the beliefs and traditions of the Navajo Nation as guests in their place.
Rainbow Bridge North Trail
The Rainbow Bridge North Trail, beginning at a trailhead near the old Navajo Mountain Trading Post on the north side of Navajo Mountain, winds 17.5 miles through several canyons before following cliff-lined Rainbow Bridge Canyon to the iconic natural bridge. The scenic trail, traversing the rugged landscape, is unmarked and hard to follow in places. Small cairns or rock stacks usually mark the trail, although the first few miles are crossed by deer trails which can be confusing. It's best to bring USGS topo maps and plot strategic waypoints along the trail with a GPS unit. Allow two to three days to hike the trail round trip.
Rainbow Bridge South Trail
The Rainbow Bridge South Trail starts at a trailhead by the ruins of the abandoned Rainbow Lodge and Trading Post on the southern edge of Navajo Mountain and a half-mile south of the Utah-Arizona border. The unmaintained, 16-mile trail dips across three canyons to Yabut Pass, then steeply descends into Cliff Canyon and squeezes through narrow Redbud Pass to Rainbow Bridge Canyon. Plan on two or three days to make the 32-mile round-trip hike, which includes about 8,400 feet of elevation gain, more than the North Trail. The trail is for experienced hikers only since it's difficult to follow in places and occasionally marked with stone cairns and short metal pipes. No water is found on the first nine miles of the trail, so carry plenty to drink, particularly on warmer days.
Hiking Seasons and Logistics
The National Park Service advises hiking the trails during the spring and autumn when temperatures are moderate, and precipitation is low. Summer days are hot, water is hard to find and there's a high risk for flash flooding after heavy thunderstorms. Winters are generally cold and snowy. And, again, this experience is not for casual or inexperienced hikers.
Since both trails are located on Navajo lands, a permit is required for hiking and camping, though no camping is allowed in Rainbow Bridge National Monument. You can obtain a permit from the Navajo Nation Parks and Recreation Department in Window Rock, Arizona at 928-871-6647. The National Park Service recommends not parking at either trailhead but instead hiring a local Navajo to drop you off and pick you up after the hike.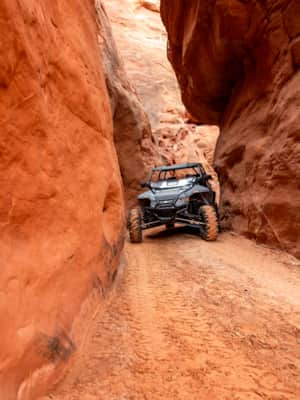 Blazing Sandals in North Lake Powell
It's not unreasonable or out of the ordinary to go UTVing, paddleboarding and canyoneering all in the same day (or weekend) at Lake Powell.